How to get H1B Visa, Find US Employer, File Green Card
H1B Visa - Path to green card with US employer. Step by step guide to find H1B sponsor, stamping and green card process. Valid for 3 years. Stay upto 6 years.
AM22Tech Team
Updated 5 Sep, 21
#1 Find H1B Employer
The first step in starting your H1B journey is to find a US employer who can sponsor your work visa. Search for an H1b sponsor on USCIS website.
Once you have found the employer, they can file your H1B irrespective of your physical location i.e. it does not matter if you are currently in US or outside US.
As per practical experiences, it is easier to find an H1B employer if you are currently in US.
For people outside US, you will usually have to find a local employer in your country like India, China etc which has a branch and projects in US. The employer would be able to file your H1B and then relocate you to work in US.
#2 Employer Files Cap Subject Lottery H1B
This process can take 3 to 15 months.
Each new first time H1B application needs to go through yearly lottery which starts on April 1. It is called lottery in normal daily life because it is always oversubscribed and hence USCIS runs a computer based draw to select applications.
If it is not oversubscribed, there is no lottery process conducted.
The chances of selection in lottery are higher for people who have studied in US university.
Step 1 – Employer will file LCA (Labor condition Application) at your intended work location in US. Normal LCA Processing Time is 2 weeks.
Step 2 – US employer needs to file Prevailing Wage Determination based on your work location address. The salary in US varies for each city and zip code. Your employer needs to pay you at-least the same pay as others are getting in same area for jobs similar to your profile.
Step 3 – Employer's attorney (an immigration lawyer) will file form I-129 application for non-immigrant worker with United States Citizenship and immigration Services (USCIS).
This application is called filing an H1B petition.
As per the new process introduced starting April 2020, H1B employer needs to just register electronically and wait to submit form I-129 until your application is selected in lottery.
Step 4 – Once you are lucky to get selected in lottery, you will wait for approval of your H1B visa application. The earliest date that USCIS approves your work authorization in US is Oct 1 even if you get approval before Oct 1.
USCIS sends an H1B RFE (Request for Evidence) for applications that need some extra paperwork or additional proof. The most common RFEs are for proving H1B specialty occupation and Employer Employee Relationship Proof .
Your chances of getting a straight approval are higher if you will work for a full time position with direct end client.
Step 5 – USCIS usually gives about 60 to 90 days time to respond to RFE. The exact time will be mentioned on your RFE request letter sent to your attorney.
Once you submit your RFE documents, you can expect an approval or denial in about 60-120+ days. There is no fixed timeline unless you have filed your H1B with premium processing.
Premium processing clock will re-start from day 1 counter once RFE response is submitted.
Step 6 – Keep checking the current H1B Processing Time to know the approximate time that each USCIS service center is taking to approve.
Step 7 – Once your H1B is approved, USCIS will send the approval to your attorney. The H1B approval is printed on a form called i797. Here is a sample i797 approval notice which is also called H1B petition.
Step 8 – If your H1B is denied, then USCIS will send a denial letter which will explain the reasons of rejection. Your employer can appeal USCIS denial decision if they think it is wrong.
Denial does not mean that you cannot refile in next H1B lottery season.
#3 File H1B Visa with US embassy
Filing an H1B visa is the next step after H1B petition approval from USCIS.
H1B Visa is issued by US embassy and H1B petition is issued by USCIS. Both organizations are different. Approved petition is required to apply H1B visa with US embassy.
You will start your visa process by filling form DS160 online for you and your dependents separately.
After DS 160 form is completed, you need to visit usaTravelDocuments (a third party company) website for your country and take an appointment for visa interview. The appointment taking process may be different for each country. So, it is important to first search for it on Google for your location. For some common countries, here are the links:
Dependent family members of H1B applicant can come to US using H4 visa. There is no H4 petition approval required separately. You can straightway file H1B and H4 visa for your spouse and kids less than 21 yrs old.
I strongly recommend to book same interview slot for whole family.
#4 Visa Interview at US embassy – Visa approved
You should be ready to answer visa officer's questions about your H1B job in detail. The officer will try to find if you have genuine real job in US as per the details given in your H1B petition.
If visa officer is not convinced, they may issue a form 221 refusal and may ask you to submit more documents. This is pretty similar to RFE issued by USCIS.
Do not worry and submit the documents. Your application will show the status as 'administrative processing' when you check it on CEAC website using your DS160 number.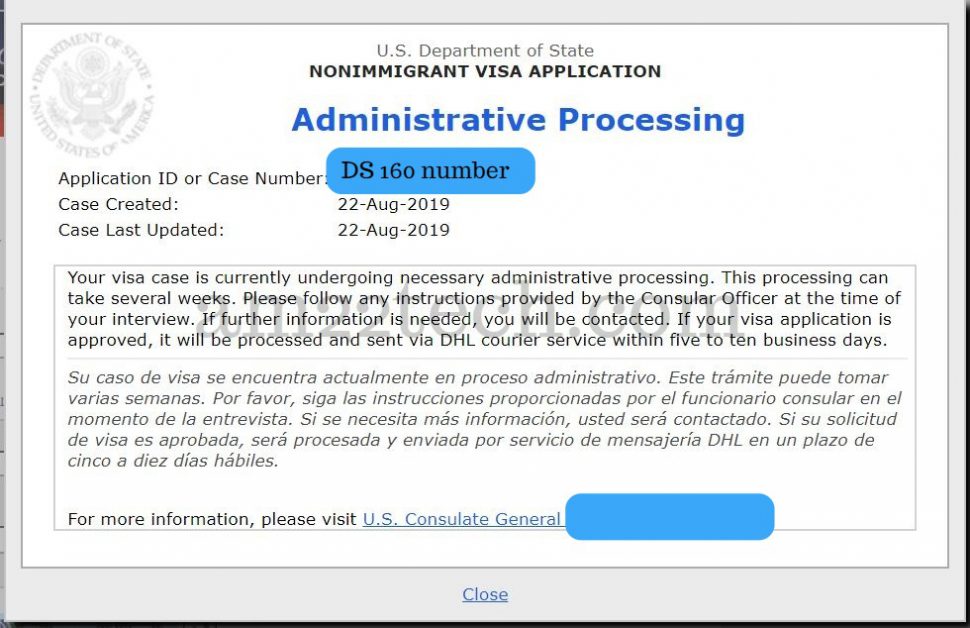 You can travel to US with approved visa. Expect one more short interview at US airport (called port of entry). You would be required to show both H1B i797 and H1B visa.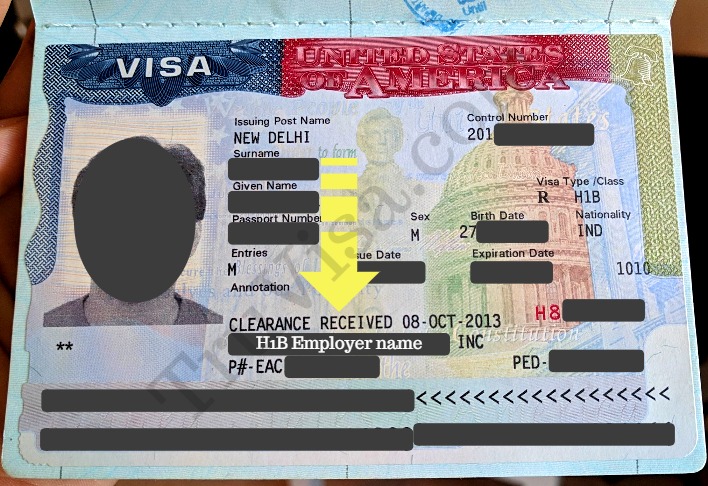 CBP Immigration officer will issue an i94 form which is nothing but an entry card. i94 denies the time you can stay in US irrespective of expiry dates on H1B i797 or H1B visa. So, carefully note the validity date.
#5 Start working in USA on H1B Visa
Once you are out of airport, you are not a free bird. You can only work at a location and employer mentioned on your H1B approval.
If this is your first time in USA, you will need to start a new financial and personal life. Do check our guide as it will help you apply SSN, open a bank account and find rental apartment in good school area.
Your employer will ask you fill form I-9 which is used to report legal employment to US government.
Most US based employers run your payroll bi-weekly. Some Indian employers like TCS and other run payroll monthly.
H1B Transfer, Amendment, Extension
Many people leave consulting company and join full time direct client by filing H1B transfer. You can also file H1B amendment if your project needs a change. H1B extension is filed to extend your stay in US.
If you lose your H1B job, you have 60 day grace period to find a new H1B employer.
File Green card Application
H1B is a dual intent visa which means that you are allowed to file a green card application even though you came to US for temporary work.
Once you have crossed a certain stage called i140 in your green card process, your H4 dependent spouse gets eligible to apply for work permit.
This work authorization is called H4 EAD and comes with full freedom to work in any job or open a business.
H1B 6 Years Quota
Each H1B can be extended only up-to 6 years unless a green card application has been filed for you.
There are two stages in green card process that allow you to stay and work in US after your 6 year term has been completed:
Green Card Priority Date Waiting
Once your i140 has been approved, you are assigned a date called 'priority date'. This date is basically your spot in the Green card queue which is formed for each country separately.
Your country of birth defines your country and not the passport. Since there are only 1,40,000 employment based green cards available every year, there are backlogs from previous years. Hence, USCIS has created a waiting list called 'visa bulletin'.
This employment based visa bulletin is updated every month.
You will get the chance to file form i485, which is application to get green card as and when priority date is current. Until then, you can keep extending your H1B.
Once your i485 is approved, you will be given the prized green card and work authorization to work anywhere without any restrictions.
You will be eligible to file US citizenship after spending 5 years on US green card and paying income taxes.
Live life US style. Enjoy.