I-140 Status Initial Review – Updated Your Name (EB2 to EB3 Premium)
i140 premium status updates to Initial Review or Name was updated if accepted. Approval in 7-12 calendar days. EB2 to EB3 premium downgrade allowed.
AM22Tech Team
Updated 27 Nov, 21
I140 is a green card sponsorship application filed by an employer for an employee. The application goes through various statuses once it is properly filed with USCIS.
i140 status updates follow this sequence in most cases:
Received – The status changes to 'Received' as and when USCIS receives your application.
Initial Review – Usually this is the status you see when you file the premium processing upgrade for i140.
Name Was Updated – Some people see this status after filing a premium upgrade. There is no real difference between 'Initial Review' and 'Name Was Updated' in this case as both mean that your application for premium has been accepted.
RFE (Request for Evidence) – USCIS may send a request for additional documents if required to process your i140. You may or may not receive it based on how your employer or attorney has created your package. The most common reason for i140 RFE is the employer's ability to pay.
Approved (Post Decision Activity) – Approval means i-140 has been approved and your Green card priority date has been locked.
This article will discuss:
Most i140 applications are eligible for premium processing except EB1-C. You can file a premium upgrade at the time of filing i140 or anytime after i140 has been filed.
The i140 premium processing fee is $2500 at this time and can be paid either by you or your employer. You can pay the premium fee legally to USCIS.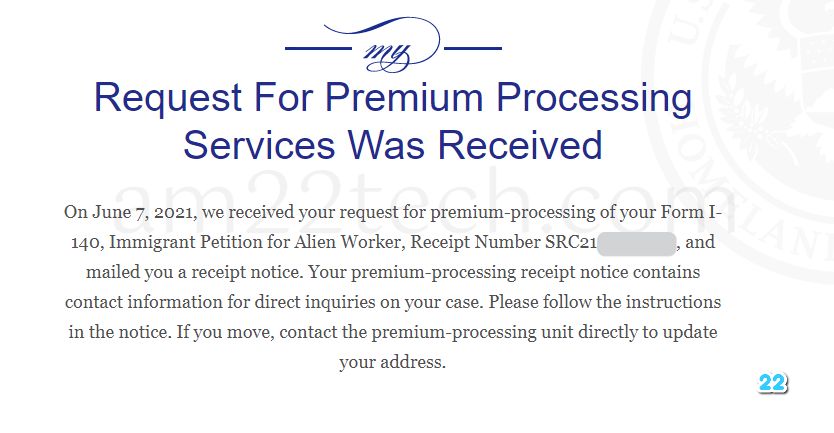 Once the premium processing fee check is cashed, you can be assured that USCIS has accepted to process your application in 15 calendar days.
You can check your application status on the USCIS website and it should show that 'Request for premium processing service was received'.
EB2 to EB3 Downgrade Premium
Many people who file EB2 to EB3 downgrade i140 might not get their premium upgrade accepted easily by USCIS. The USCIS officer looks at the original PERM that you filed with EB2 in their records and then makes a decision with respect to allowing premium processing in 15 days.
The premium service has a direct call and email address for employer queries. This is an example for Texas service center:

It is possible that the officer denies the premium upgrade immediately on the i-907 receipt. In this case, your i140 application status will not change at all.
There is no need to worry if the premium processing request is denied as it does not affect the underlying i140.
You can retry requesting the i140 premium again in 2-4 weeks without any risk.
In most cases, attorneys refile the premium request in 3 weeks and have got accepted in their second or third attempt, if not first.
Once the officer accepts the i140 premium request, your i-140 case status will either change to 'Initial Review' or 'Name was Updated'.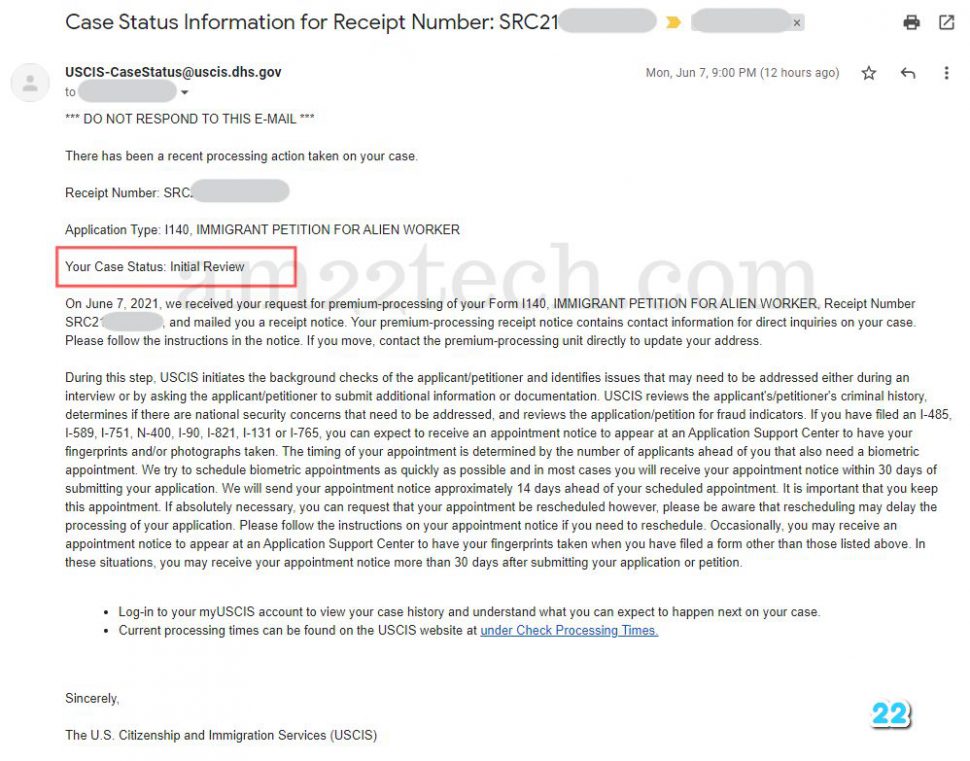 Both mean the same to us but may have different meanings in USCIS internally. We are not aware of any adverse decision in either case. Hence, it does not make any difference and you should get the approval within a week or two after this status change.
This general language on the i-140 status update email may not be applicable to cases where you did not file the i-485 simply because your priority date is not current.
During this step, USCIS initiates the background checks of the applicant/petitioner and identifies issues that may need to be addressed either during an interview or by asking the applicant/petitioner to submit additional information or documentation. USCIS reviews the applicant's/petitioner's criminal history, determines if there are national security concerns that need to be addressed, and reviews the application/petition for fraud indicators. If you have filed an I-485, I-589, I-751, N-400, I-90, I-821, I-131 or I-765, you can expect to receive an appointment notice to appear at an Application Support Center to have your fingerprints and/or photographs taken. The timing of your appointment is determined by the number of applicants ahead of you that also need a biometric appointment. We try to schedule biometric appointments as quickly as possible and in most cases you will receive your appointment notice within 30 days of submitting your application. We will send your appointment notice approximately 14 days ahead of your scheduled appointment. It is important that you keep this appointment. If absolutely necessary, you can request that your appointment be rescheduled however, please be aware that rescheduling may delay the processing of your application. Please follow the instructions on your appointment notice if you need to reschedule. Occasionally, you may receive an appointment notice to appear at an Application Support Center to have your fingerprints taken when you have filed a form other than those listed above. In these situations, you may receive your appointment notice more than 30 days after submitting your application or petition.
Example
For this EB2 to EB3 downgrade case with a receipt date of Oct 27, 2020, for EB3 i-140, the premium processing was accepted by USCIS on June 7, 2021, in the first attempt itself at the Texas service center.
Jan 7, 2021, was the USCIS notice print date for this EB2 to EB3 downgrade case. Oct 27, 2020, is the same date as FedEx delivered the package to the USCIS lockbox in Texas.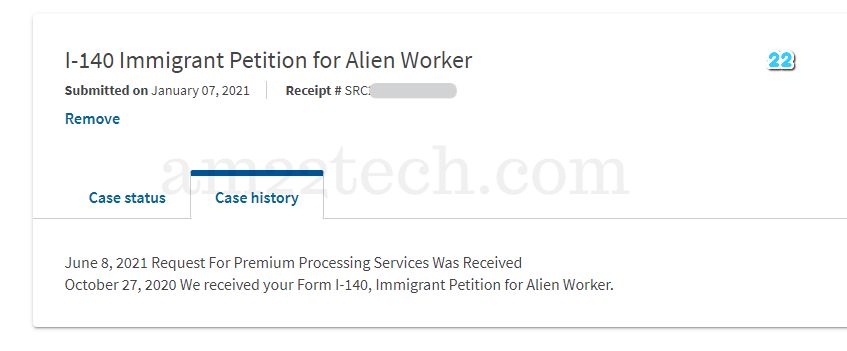 You can assume that the i-140 premium processing application has been accepted by the USCIS office in downgrade case if:
The status of the case was changed to 'Initial review' or 'Name was Updated' OR
The premium processing check was cashed.
Should I Upgrade My i140 to premium?
A straightforward answer is yes if you do not have any H4/L2-dependent kids.
If you do have kids that need a green-card based on you, then you should take time to analyze and evaluate the age-out factor.
As a general rule of thumb, if your child is 16 or above and your 'final action' is not going to be current in the next 3-4 years, you should wait and not upgrade to premium. The more time USCIS spends on your i-140 application, the better it is for your child.
The number of days i-140 is pending will be reduced from your child's age as and when the date gets current in the 'Final action' chart.
You can track the visa bulletin and predict your Green card dates using this app. This app uses Artificial intelligence to estimate the future visa bulletin movements and then suggests the month when your PD date may get current.
This can give you a ballpark estimate on when to expect the 'Final Action' to be current to lock your child's age.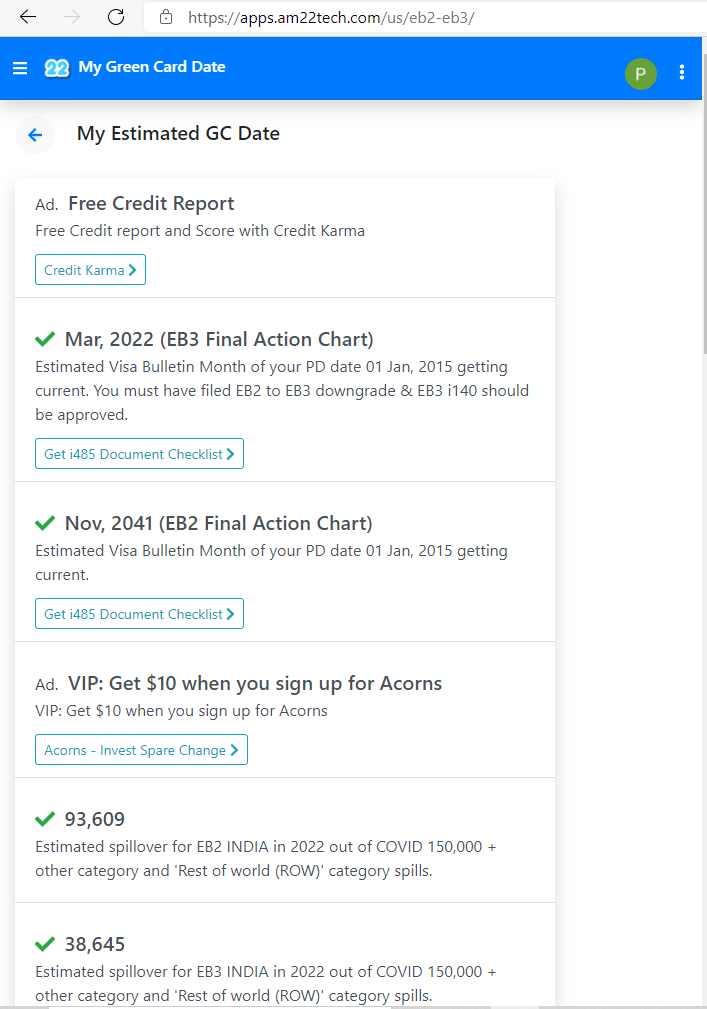 FAQ
Should I upgrade my i-140 to premium if my child needs CSPA protection?
We strongly recommend against upgrading your i-140 to premium if your priority date is not 'current' in the 'Final action' chart and your child needs CSPA age protection.
I 140 status moved back from Initial Review to Acceptance?
There is no need to worry if your status is changed back from Initial Review to Acceptance. We have seen that USCIS case status updates sometimes get mixed up and show a different order than expected.

Your case should still be processed normally.
Is the i-140 premium processing clock stopped if USCIS sends RFE?
Yes, the i-140 premium processing clock is stopped when USCIS sends an RFE.

The 15-day timer is restarted as soon as your employer sends the RFE response and is received by USCIS. Most employers and attorneys use the FedEx overnight service to send the packages to USCIS.

USCIS also recognizes the FedEx delivery dates as receipt dates in most cases but you should not assume that the dates will be the same. The final authority is USCIS and they can print a different receipt date than the FedEx delivery date on the i797 notice of receipt.