Indian Embassy PCC Process (in USA for NRI)
PCC from Indian Embassy in USA by mail or in-person for Green card, Australia, Canada PR. Processing time 4 day to 6 week. Fees $27. Valid Visa, Address Proof, Passport.
Anil Gupta
Updated 14 Mar, 22
You can get an Indian police clearance certificate when you are staying in the USA, UK, Canada, or any other country from the Indian Embassy.
Indian Embassy can issue PCC only if you are an NRI living outside India with address proof.
If you are living in India, then the process is different and you need to apply PCC on the Passport India Website.
Police clearance might be required for Visa or immigration to countries like Australia, Canada, New Zealand including USA green card interviews.
Documents Required
Original Passport – Most recent and valid.
USA Residence Address proof – Self-attested (Notary for SFO)- Check valid acceptable US address proof here.
Photocopy of passport pages containing personal particulars (first three and last two pages) – Self-attested.
Copy of valid Visa/Green Card – Self Attested (Notary for SFO).
Indian Embassy Miscellaneous services form.
Validity of Indian Police Clearance
There is no expiry date mentioned on the Indian police clearance issued by the Indian consulate.
Indian PCC expiry based on the purpose:
USA Green card interview: The common guideline is that it is valid for 12 months.
Australia PR: Valid for 12 months.
Canada PR: Valid for 6 months
The only exception is that you should have NOT moved back to INDIA and stayed there for 6 months or more.
If you have gone back to India after the issuance of the last Indian PCC and stayed there for more than 6 months (182 days), then you need to get a NEW Police clearance certificate.
PCC Processing Time
Same Day in-person: Indian Embassy will issue the PCC immediately on the same day if you visit in person and your passport was issued by that embassy.
4-5 days by postal mail: If your most recent Indian passport was issued in USA (any consulate) or an Indian Embassy in the country where you are currently residing, the PCC is issued within 4-5 days by mail.
6-8 weeks: If your most recent Indian passport was issued in India, the embassy will send a police verification request to Indian RPO (regional passport office). It takes about 6-8 weeks to complete the whole process.
Miscellaneous Services Form
Download Misc Services Form from your specific India Embassy Website.
Use Sample Police clearance certificate India application form for Indian Embassy in Houston, TX, USA. The information required is the same except for the format.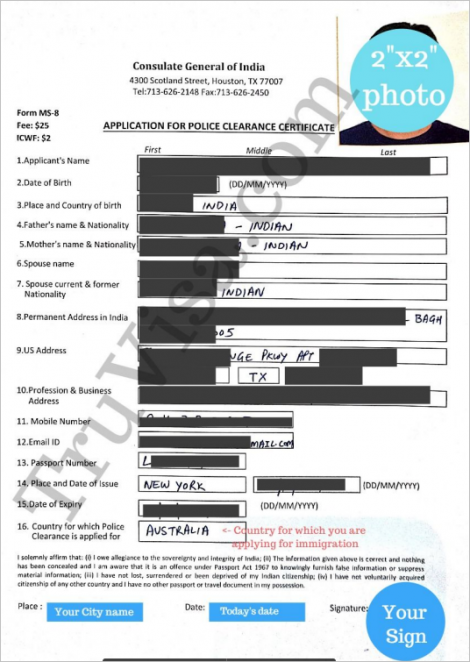 Fees
Indian PCC Fees is USD 27 ($25 + $2) per person.
TOTAL = $25 + 2 + 20 = 47 (Get 3 separate checks).
Payment by Certified check or Money order is acceptable drawn in favor of "Consulate General of India" if sending the application by postal mail.
Cash is also accepted if visiting the embassy in person. Personal checks, Debit cards, and Credit cards are not accepted.
SFO, Chicago Personal Particulars Form
Here are answers to common confusing fields on this form:
#1 – Q 8(A) Permanent Address & Tel. No. along with Police Station.
Your Indian Address with the Police Station name that caters to your Home Address location when you were residing there.
#2 – Q 8 (b) Present Residential Address & Tel. No, along with Police Station and residing since
You can either give your Parent's/or your same 8(a) address.
#3 – Q 9. If you have not been resident at the address given at COLUMN 8(b) continuously for the last one year, please furnish other address(es) with duration(s) resided (Please furnish an additional set of PP Forms for each address with Police station.
Write your US address
#4 – Q 10. References: Names and Addresses of two responsible persons in the applicant's locality who can vouch for the applicant. Write any two neighbors/relative addresses from India residing near the Indian address you wrote in point 8(A).
NOTE:
The embassy is only concerned with Indian addresses and their police stations. Remember, this PCC is only for your stay in India and not for the US.
US police station information is NOT required. Whatever Police station was attached to your locality in your Indian residence time is what is needed.
How to Apply?
#1 Fill Miscellaneous Services Form
#2 Collect Fees
If sending by mail, an extra payment of $20 is required for return shipping. No email or soft copy is sent by the embassy.
Some Indian Embassy just requires you to send the return envelope instead of money. Check the website before sending money or an envelope.
#3 Fill Personal Particulars Form – SFO, Chicago
#4 Package and Send by mail
#5 Keep Original passports with forms and send them to the Indian embassy by mail.
No prepaid return envelopes are required by Houston Indian Embassy. The embassy will take care of it.
NY Indian Embassy requires you to send 'Return Envelope', in which case, get an envelope from USPS, UPS, or FedEx (your choice) and buy their shipping label address to you.
Paste the label on the packet and put it in your sender envelope along with other documents.
#6 Your original passport will be returned with your police certificate.
Sample Indian PCC
Issued by Indian Embassy in Houston, USA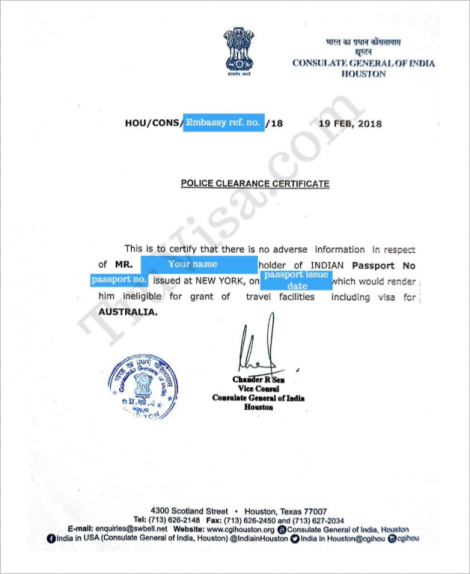 You can apply for Indian PCC at your local district police station if you are not a citizen of India AND you live in India.
FAQ
Difference between Character Certificate and Police Certificate?
A character Certificate is not the same as a police certificate.
Is Indian PCC required for Canada PR Express Entry?
Indian PCC is required for the Canadian Express Entry process.
Is Indian Police Clearance required for Australia PR?
Indian police clearance certificate is required for Australia PR.
Is police verification done at Indian Address if applied in Indian Embassy?
There is no physical Police verification done at the Indian address.

If your passport was issued in India, the embassy sends the request to the Indian passport office and waits for their response.
Send All Family PCC applications in One Package to Embassy?
You can send all family member's PCC applications in the same package to the Indian Embassy.

You can send multiple fees checks and multiple applications in the same envelope.

Just make sure that you keep the application form and their fees check separately in a smaller envelope and then keep these smaller ones in the final bigger envelope.

This is helpful if you are applying for PCC for both you and your wife at the same time.