Sell Car with Power of Attorney (Virtual Notary Allowed)
Use power of attorney to sell car in USA if stuck in form 221g admin processing outside US. Color copy required. Online virtual notary service available.

By Anil Gupta
Updated 15 Jul, 20
Looking to sell your car using power of attorney? It is pretty simple to give the power to your friend or relative physically present in the USA to sign a car sale agreement on your behalf.
Many people face issues with managing their property, car loan, or car sale if their US visa gets denied or face a long delay due to form 221g administrative processing.
This article will discuss:
How to the create Power of Attorney?
Each US state has its own rules with respect to the power of attorney for the sale of vehicles.
I will take the example of Texas as that's what has been tried and tested for this article.
Car sales in the US done using POA are considered legal.
How to create Power of Attorney in USA:
Texas DMV has a special Power of attorney form called VTR-271.
You can download, print, and fill the form.
Sign, scan, and send a color copy of the form by email to your friend in the USA.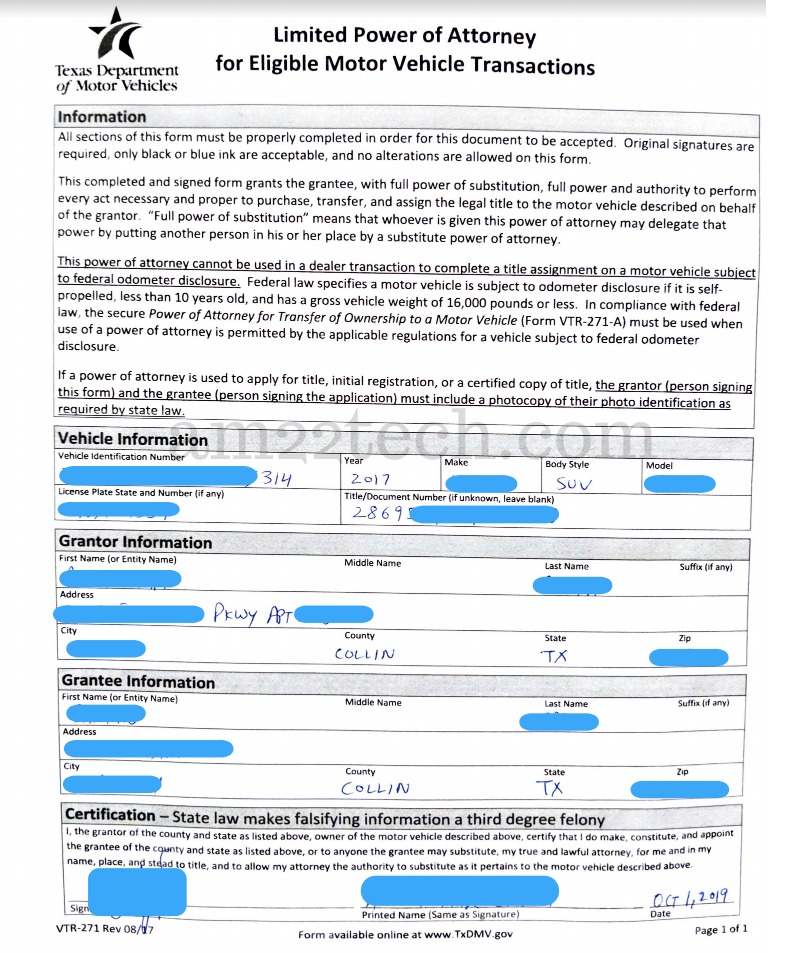 In this example case, the buyer was a US citizen and the person selling the car was working on an H1B visa in the US.
The H1B worker moved outside America and then was stuck in form 221g H1B stamping delays.
The car sale was executed using this POA by a friend in the state of Texas. A valid passport copy of the car owner was also given to the buyer.
This process is also helpful in case your US visa is denied and you cannot return to sell your belongings.
Documents Required
Power of Attorney.
Valid Photo ID – US driving License or passport copy.
Original Car Title.
Car Sale Agreement on plain paper.
Your friend in the USA, preferably in the same state, can use take a color print of this POA and use it to sign your car's title and sale agreement on your behalf.
Power of attorney is a legal document and you should attach your photo ID proof to make it authentic.
Notarization of PoA
Some states may require a notarized power of attorney before you can use it to sell a car.
There are two options for notary:
If you are in the USA at the time of the creation of POA, you can simply visit any closest public notary and sign in front of them.
If you are outside the USA, you can use the services of an online virtual notary.
Texas DMV's POA form does not need notary at this time.
Remote Notary from Outside USA
You may not be able to enter the US territory due to visa issues and the solution is to use remote virtual notary.
The virtual notary will have a video call on Skype or similar video chat software and will ask you to show your valid photo ID.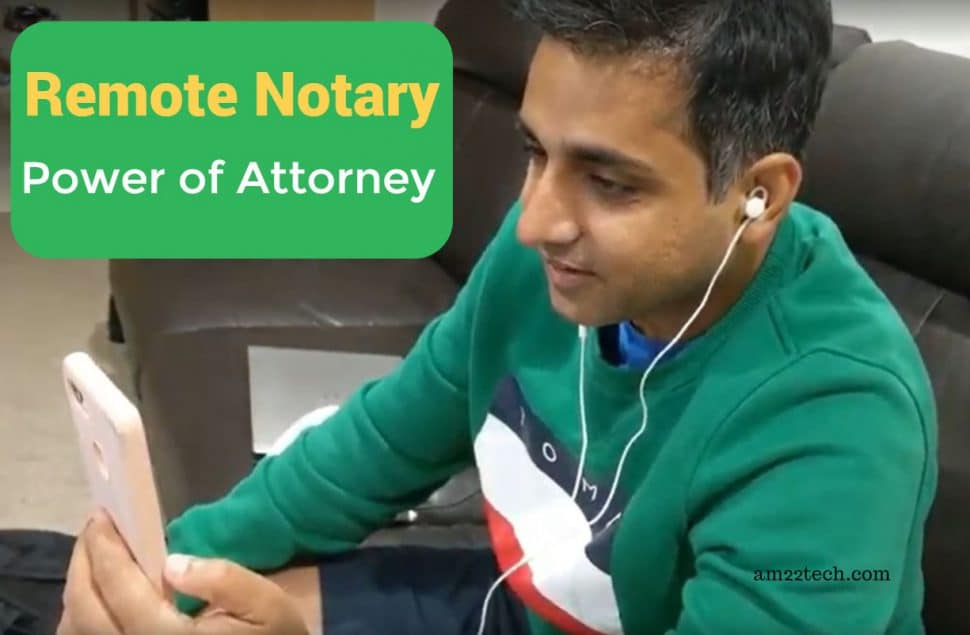 Once verified remotely, notary in the US can stamp your document and make it a legal notarized POA.
Some of the Online Notary companies that offer end-to-end remote notarization systems are:
Online notary fees vary with each website. You can expect to pay from $20 to $100 per document notary.
National Notary organization has listed the states which have passed the remote notary law and which one is scheduled to pass soon.
FAQ
Can I sell my car Using Power of Attorney in the USA?
You can sell your car in the US using a simple power of attorney.

You may need to use POA if you are outside the USA and cannot return and sign on the sale agreement.
Is it legal to notarize online using virtual video call?
It is legal to get notary done using virtual video calls.

The law varies by each state but most of the US states allow online notary these days.
Can power of attorney be used to sell houses?
You can use the power of attorney to sell your house in the USA.
Can Notarized power of attorney be used to Close car or home loan?
You can use the power of attorney for banking transactions in the USA.

Normally, there is no power of attorney needed to close your pending car or home loan.

Once you pay off your home mortgage or car loan, the bank will automatically send you the car title or home documents by mail.
Should I sell my car during USA travel Ban?
We suggest holding on to your car if you are hopeful that you will be able to return to the USA once the temporary travel ban is over.

If you cannot wait due to the high cost of Car insurance in the USA, you can try to convert your comprehensive insurance to only liability one.

If you have no other option, then you can sell the car using the power of attorney.
Can I sign the POA from India or China and send the Color Scanned copy to friends in the USA?
You can sign the POA from your home country like India or China and send the scanned color copy to your friend in the USA.

It does not matter where you are physically located at the time of creation of the POA.