NRI Registered Power of Attorney In India
Registered power of Attorney In India required if you are NRI with Indian Embassy attestation. Sample POA template to register in SDM or registrar office.

By Anil Gupta
Updated 9 Nov, 20
Power of Attorney (POA) lists out the powers that you want to share with the POA holder. It is primarily used by NRI (Non-resident Indians) to manage their property in India.
If you have bought or thinking about buying an apartment in India and can't visit personally to take possession, use PoA.
Register Power of Attorney In India
Sharing rights with any of your family members or a friend by issuing a registered power of attorney is the legal and correct way of managing the property, bank loans, stocks, and other assets located in India.
Builder or developer will also ask for a registered POA to give you possession of the flat and get it registered in your name.
Print this template for special power of attorney to share the property or apartment possession or rental rights.
If you are physically present in India and plan to leave soon
#1 Write down the POA terms on an INR 100 stamp paper. At this point, the POA is termed as simple POA.
#2 Visit the office of Registrar (commonly known as the office of sub-registrar) for your residential location. Each region within your city may have different offices.
Example: Residents of Karol Bagh, Delhi would have a regional Registrar office located at Asaf Ali Road, Daryaganj.
#3 Office of registrar would need 2 witnesses to sign the POA in front of the registrar (Physical presence is required).
Tip: Arrange any 2 friends or relatives to visit the registrar office with you. There are always some people available outside the registrar office to help with money.
#4 Carry self-attested documentary proof like address proof, voter ID card, passport, Aadhar card in original along with their photocopies. You never know what they can ask for with no official published list of documents.
Create Indian Power of Attorney Online >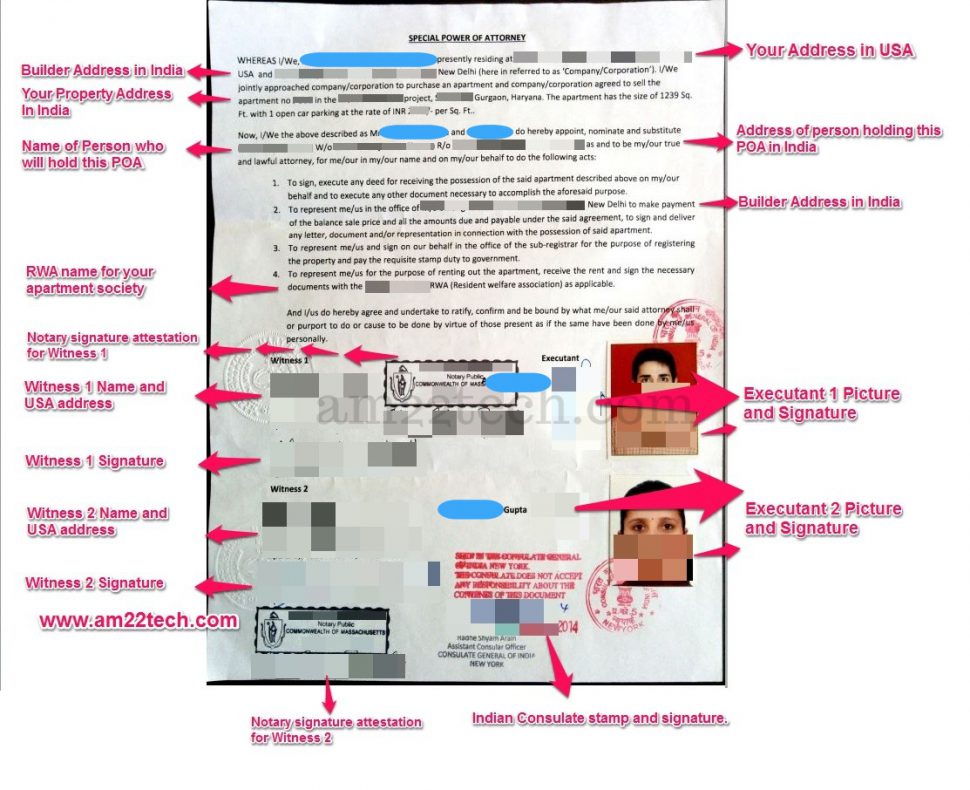 #5 Registrar will click and store pictures of you, the POA holder, and the witnesses in the government records.
#6 Registrar will keep a copy of POA in government records and provide one to you with his office registry stamp. At this time, your simple POA becomes 'Registered Power Of Attorney'.
You are physically NOT present in India – NRI holding Indian passport
#1 Write down POA terms on an A4 size plain piece of paper. Since you are not in India, you don't need the Indian stamp paper.
#2 Get the POA attested by Indian Embassy/Consulate in your country of current residence.
#3 Send consulate / Indian embassy signed or attested POA to India by postal mail.
#4 The PoA holder in India needs to get this POA registered to actually make it a valid document and term it as Registered power of attorney.
#5 Visit SDM (Sub-divisional magistrate) office in the POA holder's residence district in India (the person who you name in POA) and NOT your own address.
NOTE: The SDM (Sub-divisional magistrate) office and the office of the registrar are two separate government departments/offices.
Be prepared for bribes!
Documents Required for registration of POA
If you are an NRI, you should have the attested power of attorney from Indian Embassy
Affidavit (on stamp paper of Rs. 100) for PoA holder's swearing for his/her identity. Nominal stamp duty of Rs. 4 or Rs. 10 also needs to be paid. Check with your local SDM office for details.
The Envelope which was used to send the POA from the US to India is also required. Sounds strange but it was asked by the officer in the SDM office (smelling bribe?).
Passport photo-copies of the Executants (Person/s who have created the POA) in the Power Of Attorney. For example, both husband and wife are executants of the POA.
2 (number) Address and ID proof of the POA holder. One could be a passport and another can be an electricity bill, water bill, etc.
A document that can prove the relationship between the POA holder and POA executants. This is completely illogical since the POA holder can be your friend too. In our case, my wife had the name of her mother listed in her passport and this proved that she is her mother.
You will have to submit the original POA along with the documentary proof to the SDM office.
#6 Processing time is 15 business days, if you paid quick work tax!
#7 Once this POA is stamped by SDM, it is considered a registered power of Attorney.
No witness is required in SDM office for registration.
#8 Registered POA is acceptable in any government office for the purpose of possession and registration (also known as conveyance deed) of property.
FAQ
What is the difference between Notarized & Registered POA?
Notarized POA is not the same as Registered POA.

Notarized POA is equivalent to simple POA and has no legal validity in cases of property management.
Is Registered Power of Attorney Required for Home Loan?
Banks in India accept notarized Power of Attorney for the purpose of home loans. There is no need to get the POA registered.

Banks like SBI, HDFC, ICICI, PNB, etc. do accept Notarized special POA.
What is the Cost of Registration of Power of Attorney in India?
The total cost of registration of power of attorney should be around Rs. 2500 including government fees and any lawyer fee that you may have to pay.
Where To Register Power of attorney in India?
The power of attorney should be registered in the state where you have residential address proof.

Example: If you live in Delhi and the property is in Gurgaon, the POA should be registered in Delhi.

As per the information provided to me by the Gurgaon's Registrar office at the time of writing this article, you can ONLY get the POA registered in Gurgaon, if you have an existing address proof from Haryana.

But, this rule may be different in other states.
Can POA holder Register Property?
The registered POA allows the POA holder to register the property on the behalf of POA issuer/grantor.

Registered POA is a legal document.
How long is Registered Power of Attorney valid?
The power of attorney stays valid until you explicitly revoke or cancel it.
How to Cancel Registered PoA?
The cancellation process is the same as the registration process. You have to visit the Office of registrar where the POA was earlier registered in person and submit an application.

The registrar would take the cancellation note in the government records and the registered power of attorney would stand as revoked.