How to file US Tax on NRE Interest 1099-INT
Anil Gupta 27 Nov, 18 66 Finance

File NRE account interest in USA tax return. Exchange rate for USD conversion by IRS. 1099-INT is not given by Indian bank. NRE NRO FD interest is taxable.
---
First quarter of the year is tax return filing season in USA and many questions hover in mind, when you hold a NRI or NRO or both accounts in an Indian bank.
Normally, you would hear the advice from friends that you do not need to file Indian NRE/NRO account interest tax in USA. Please don't listen to them as this is completely wrong.
You are supposed to add all your income from India, to your US income and pay taxes, if you are a Green Card holder, PIO, OCI or legal resident (working on H1B, L1B, H4 EAD or any other work visa).
NRE FD, NRO FD interest is also taxable.
The income includes the dividend too, if you have invested in mutual funds or SIP (systematic investment plan) in India.
Calculate dollar amount for US Tax on NRE Interest or NRO account
The question has a simple answer if you know the exchange rate to convert your total Indian interest earned.
Well, IRS publishes the exchange rate for all foreign countries on their website and is called year end treasury rates. Use this rate to convert Indian (or for that matter, any other country) to reach a USD amount.
For year 2015, the rates are available here.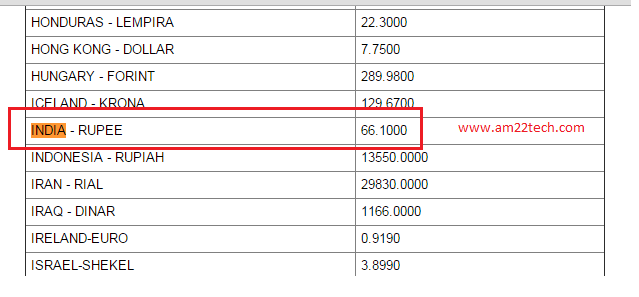 Example,
If you earned total of 10,000 INR as interest (add the sub-totals of all your foreign bank account's interest), then your interest income in USD would be
---
10,000 / 66.1 = $ 151.285
In case of NRE account, the interest income is non-taxable in India. Hence, no tax was withheld/paid in India.
On the other hand, NRO account interest is taxable at straight 30% (plus applicable surcharges and cess).
I would advise you to file the US income tax form 1040 with online services like TurboTax, TaxAct or H&R block. I have been using TurboTax for last 2 years and it's interface is pretty user friendly. I am sure other services are equally good.
Irrespective of the service you use, you should fill up Schedule B to disclose your foreign income. Online services would make this task a lot easier as they would fill up most of the fields for you.
Enter zero on the fields that ask for tax already deducted.
If you also have (NRE) of account, you would enter zero. If it is NRO, find the total amount of Tax (Called TDS) deducted by bank (by looking at bank statements). Bank would also send you Form 16. (ICICI normally sends it by postal mail or email – if you have registered).
On the other hand, If you really paid any income tax, in your foreign (the tax might have been applied, if you are not from India) country, you should enter the information in appropriate section.
Frequently Asked Questions FAQ
---
Do Indian banks issue form 1099-INT for interest income?
No, they do not. You are responsible for disclosing the foreign interest income on the income tax return.
Even US based banks do not issue 1099-INT even the total interest for the year in less than $10.
How to find total interest earned in Indian Bank for the year?
This is pretty simple. Almost all the banks in India pay out interest quarterly (every 3 months).
So, you just need to pull out your each bank (e.g ICICI, SBI, HDFC, Kotak etc.) statement ending in March, June, September and December. Find the interest pay-out and add to grand total.
Count March (of preceding year) interest as well. Remember, financial year in USA is counted from 1 Jan to 31 Dec whereas in India, it is 1 April to 31 March.
For example,
For tax year 2015, count March 2015's foreign bank account interest.
Do we have to pay tax on NRO account Interest in USA?
Yes, you have to.
NRO account interest income in taxed in India at the rate of 30% (plus applicable surcharges and cess). You have to add it as part of your income while filing for US taxes. Use the above method of INR to USD conversion for getting a dollar value.
NRE account tax implications?
There are no major tax implications apart from:
Reporting the account details using FBAR form and
Adding interest income to your US income tax return.