Check US Visa Dropbox Eligibility 2023-24 (With App)
Check US visa dropbox eligibility for stamping in USA embassy using app online in 10 seconds. Visa fees required. Form 221g Admin processing possible.
AM22Tech Team
Updated 6 Jan, 23
The US Department of State has allowed a 48-month period (of visa expiry) for dropbox eligibility instead of 12 months. There is no end date to this rule at this time.
US visa Interview waiver is the term used for the dropbox facility. This means that you can get a US visa stamp without any personal interview by a US visa officer.
Dropbox is also called a mail-in facility in countries like Australia, Canada, Denmark, and others.
There is no box as such but you need to submit your documents to the VFS location assigned by the US embassy. The facility to submit documents without an interview is called 'DropBox'.
Dropbox Processing time varies from 1 day to 6 weeks. We strongly recommend keeping a buffer of at least 3 weeks after dropping your application as you can be called for an interview. Many applications also receive form 221g which can delay your passport.
Am I eligible for DropBox? Check with App
Check your eligibility using this simple online app by selecting the country you are applying for a visa.
The app currently has Dropbox options for India, Canada, China, Mexico, Denmark, and Australia.
Open App in new Window
You just need to enter your current stamped visa and the details of the visa that you are applying for and the app will suggest options and your eligibility.
Example: H1B Dropbox in India
Here, the user is an H1B worker in the USA and is planning to visit India for a new H1B visa stamp using the approved H1B extension i797. He is eligible for Dropbox and can skip the interview.
AM22Tech's Dropbox App suggests that you can visit Mexico for stamping even if you are not eligible for Dropbox there as a third-country national.
Dropbox app also takes into account all the criteria as set by the US embassy for that specific country.
Example: H1B to H4 change of status stamping in Mexico
The user in this app is checking if they can visit Mexico for changing their visa from H1B to H4 and they are eligible: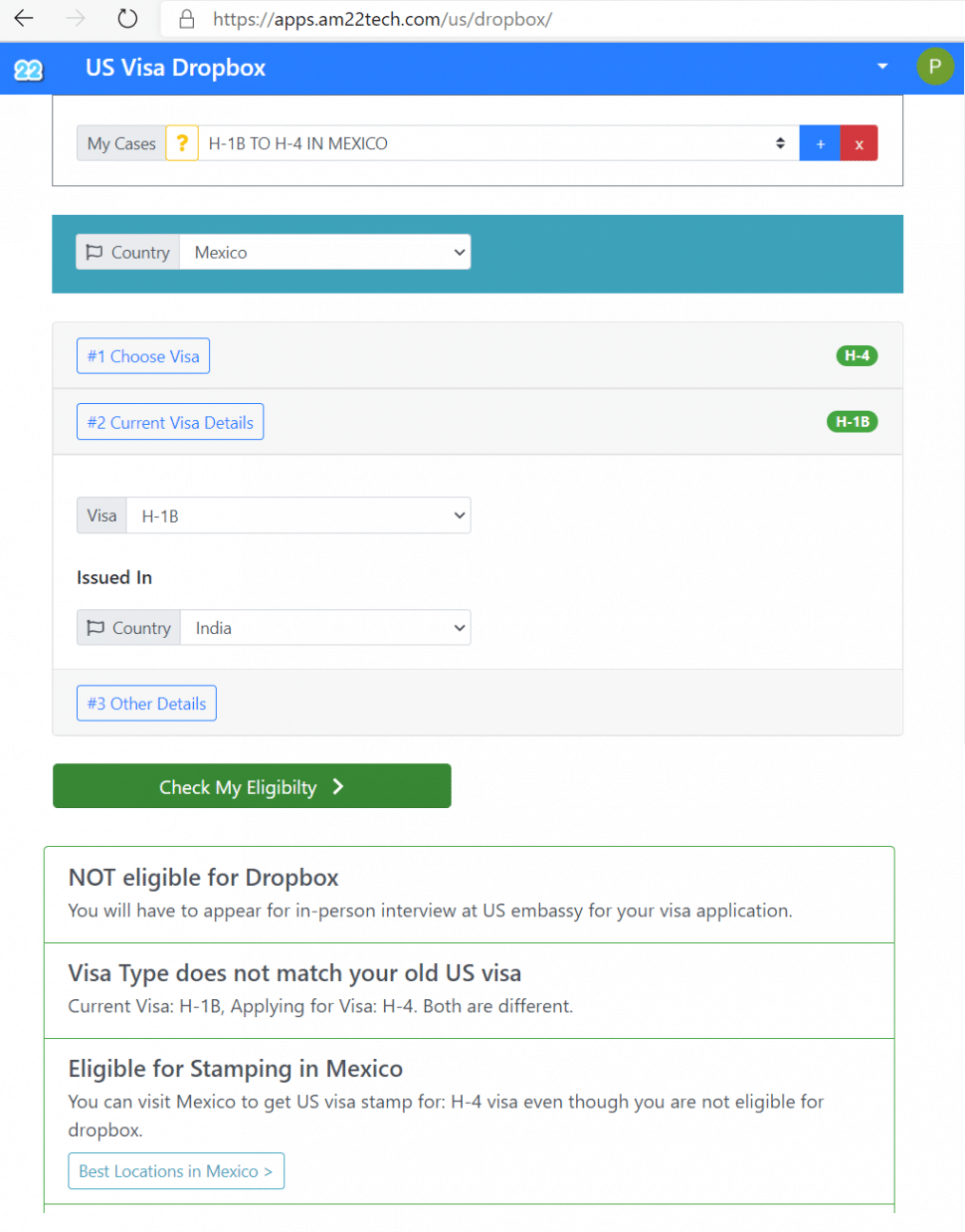 It is possible that you receive a form 221(g) green slip after dropping your documents in the US visa dropbox asking to appear for fingerprints.
Am I eligible for Dropbox if the last stamping was done in Canada or Mexico?
You are eligible for Dropbox in India if the last stamping was done outside India including Canada or Mexico as per the most recent rule changes done in Aug 2021.

Many H1B, H4, and F1 students do get their US visa stamps in near-shore countries but this makes them ineligible for an interview waiver in the Indian US embassy.
Can I get Form 221g After Dropbox?
You can receive form 221g or a call for an in-person interview even when you are eligible for dropbox.

My suggestion is to book your plane tickets back to the US after at least 3 weeks from the date of your document submission.
Dropbox Visa Stamping Processing Time?
Dropbox visa processing can take between 3 to 21 days.
Can US Embassy call for a visa interview after Dropbox?
The US embassy can call you for a visa interview after you have dropped your documents. There is no need to take a visa interview appointment if they call you.
Green form 221(g) was issued after Dropbox for Fingerprinting.
The US embassy can issue a green form 221(g) and ask you to visit in person for fingerprints.
Is an H1B extension denial the same as a visa denial?
H1B extensions, amendments, and transfers are called 'petitions' and are filed with USCIS. Petition denial is not the same as the H1B visa denial that's denied by the US embassy.
How to Use DropBox?
If you qualify for an interview waiver, you will receive a submission letter containing a document checklist. You will need to follow the same process on the USATravelDocs website to pay the visa fees and then answer the dropbox eligibility questions.

The system will automatically ask you to take a DropBox appointment if you are eligible.
Documents for DropBox
Drop off your passport along with the listed documents mentioned in the submission letter at one of the 11 service centers.
One copy of the submission letter – You will get it after you have submitted your DS-160 form.
Your current un-expired passport (original)
Your current or most recent visa – If the visa is stamped on an old expired passport, then submit that passport too in original
One photograph was taken within the last six months (according to US visa photo specifications).
Do not submit the same photograph that you used on your LAST US visa. They are smart and might reject your case if you use the same photograph and your case will be delayed.
Supporting documentation – 1 set in original + 1 set photocopy.
Children applying through an interview waiver should submit photocopies of their parent's valid visas and passport bio-page.
Supporting documentation varies by each US visa type:
Family Member not Eligible for Dropbox
It is possible that you are eligible for dropbox individually but one of your dependents is not. In this case, you can drop your documents separately but your dependent will have to appear for an interview in front of the visa officer.
Example:
Primary H1B is eligible for dropbox but dependent H4 is not. In this case, there are two options:
H1B primary uses dropbox and H4 dependent appears for the visa interview. H4 cannot get an interview waiver just because H1B is dropbox eligible.
H1B gives up his option of dropbox and combines his application with H4 to appear for an interview along with H4. In this case, the H1B application should be added to 'ustraveldocs' online website after first adding the H4 i.e. the application that's not eligible for the interview waiver.
If you are interested in evaluating the DropBox eligibility rules yourself, you can read further.
Dropbox Questions
Age Between 14 to 80 years
You are eligible for the Dropbox facility if you can answer YES to all these questions
#1 I have a previous U.S. visa in the same class as the visa for which I wish to apply.
The class now means exact same visa including the alphabet and number.
Example: H1B and H4 are different visa classes now as per new updates on the usaTravelDocs website.
#2 My most recent visa was issued in India (Condition removed recently around Aug 2021)
This clause was removed from Dropbox India's conditions recently in Aug 2021. It is possible that it was done due to COVID but there was no official announcement in this respect. We hope that this has been removed permanently.
If you got your visa stamp in Mexico, Canada, or any other non-Indian country, you are eligible.
Example: If you got your first-time H1B visa stamp in Mexico or Canada or any other US embassy outside India.
#3 I received my visa after January 1, 2008
#4 My prior visa is not annotated as "Clearance Received" or "Department Authorization"
If your last visa stamping got a form 221g for any reason, your US visa stamp will have the marking of 'Clearance received" or "Department Authorization".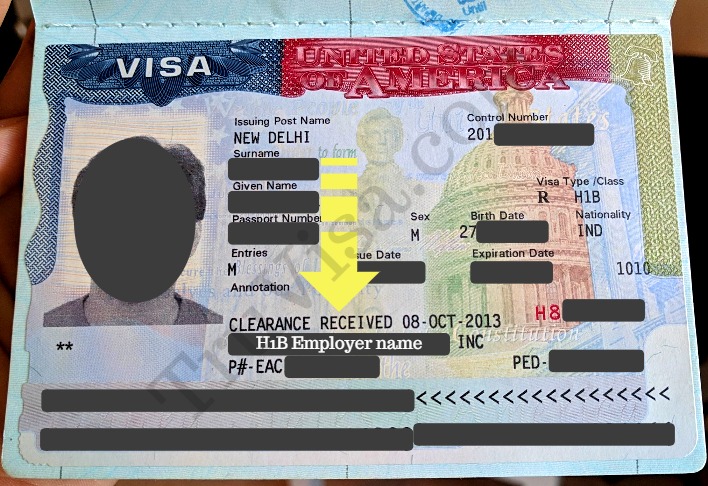 #5 My most recent visa (in the same class for which I am applying) was issued on or after my 14th birthday.
#6 My most recent visa (in the same class for which I am applying) was not lost/stolen
Example: If you got your US visa replaced after the passport was lost in Europe on your travel, you will need to appear for a visa interview.
#7 I have no refusals for a visa in any class after my most recent visa issuance.
This question asks for visa refusal after your last visa issuance but when you actually go for appointment booking online, the question changes to 'any visa refusal anytime in past'. Hence, we have changed it here.
H1B extension or transfer petition denial in the US is NOT the same as an H1B visa denial at the US embassy. Your visa is counted as denied only if you applied for it in any US embassy and not USCIS.
L or H visa petitions are sent to USCIS and H and L visa applications are sent to the US embassy.
If you ever got a B1/B2 visa denial and now applying for an H1B visa, you are still not eligible for dropbox as your B1 was denied.
#8 If I am applying for an H or L (individual) or R visa, my prior visa in the same class is still valid or expired within the last 12 months.
OR
If I am applying for any other class of visa, my prior visa in the same class is still valid or expired within the last 12 months.
Note: Blanket L1 visa applicants do not qualify for the Interview Waiver, but Blanket L2 spouses are eligible.
If I am applying for an F visa, I am continuing as a student at the same school for which my previous visa was issued.
If I am applying for a J visa, my current DS-2019 is issued by the same institution as the institution listed on my previous visa.
Age Less Than 14 years
You should be applying for a visa stamp before your 14th birthday along with the other criteria mentioned above.
Note: Children under 14 must submit a photocopy of both parents' passport biographic information and a valid U.S. visa page.
Age more than 80 years
Your answer should be 'YES' to both questions:
I am applying on or after my 80th birthday AND
My most recent visa application was not refused.