USCIS Email: Reviewing your case, no updates – Taken action on your case
USCIS case status email - We are still reviewing your case can be ignored. We have taken action on your case - real update show up in 1-7 days. System generated automatic notifications.
AM22Tech Team
Updated 9 Jun, 21
This article will discuss:
USCIS Case Status Emails
If you have registered and created an account on the new USCIS – DHS website and added your case receipt number, you might see an occasional message in your email inbox.
#1 We are still reviewing your case and there are no updates at this time
We are still reviewing your case and there are no updates at this time. We will notify you when your case status changes. We last took action on your case on April 11, YYYY.
There is not need to worry. This message does not mean that your case has received any approval or denial or RFE.
It is just a system-generated common message that the DHS case status website is sending every week or 10 days if you have opted to get email notifications for your case.
The case status email is sent for all types of immigrant or non-immigrant applications including i485 Green card applications.
The last action date mentioned in the email message would be same as your last case status.
Example:
If USCIS transfers your i485 case to any field office, they would update it in their system and the last action date would be recorded.
Most people who are waiting for their naturalization ceremony get worried as to why they are receiving this email.
You can ignore this email. It is not a glitch in USCIS system.
#2 USCIS Email – We have Taken Action On Your Case
We have taken an action on your case.
Sign in to your account to view your case status.
You might also get this message by email or SMS text if your case is pending with USCIS.
It is not clear when USCIS really sends you this message as people have received it even when there was no status update online.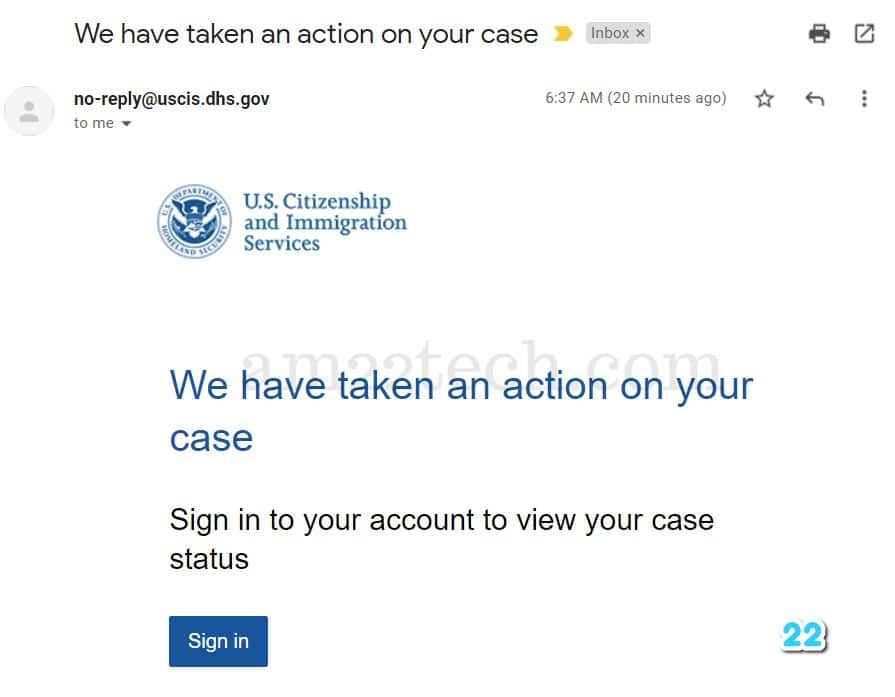 This does not mean that there is no update on your case. It is possible:
That your case has been approved but the status is not yet reflecting online on the USCIS website. Usually, it gets updated in about 1-5 days as shared by many Reddit users.
The action on your case can be anything like Approval, RFE, Denial, Biometric appointment issued, etc. It is not possible to guess the case status until you actually receive a notice by USPS mail or the status is reflected in your USCIS online account.
You should keep checking the USCIS case status website or the account that you may have registered to find the most recent updates.
If no physical paper notice (called i797C) is received by you or your attorney in the next 1-21 days after this email, then you can ignore the update as it was sent due to a possible glitch in the system.
The USCIS status update system is not correct 100% of the time. It mixes the status updates too. There is no guarantee that the status sequence will match the exact order of actions taken by the USCIS officer.
USCIS Case Status Mobile Text
The real case status update happens when you receive a text message on your mobile. This is the time you should log in to the USCIS account and check the new case status.
Example: This text message was sent by USCIS when the H1B premium case was approved by the Nebraska service center. The SMS does not have the real status but only an update that some action has been taken.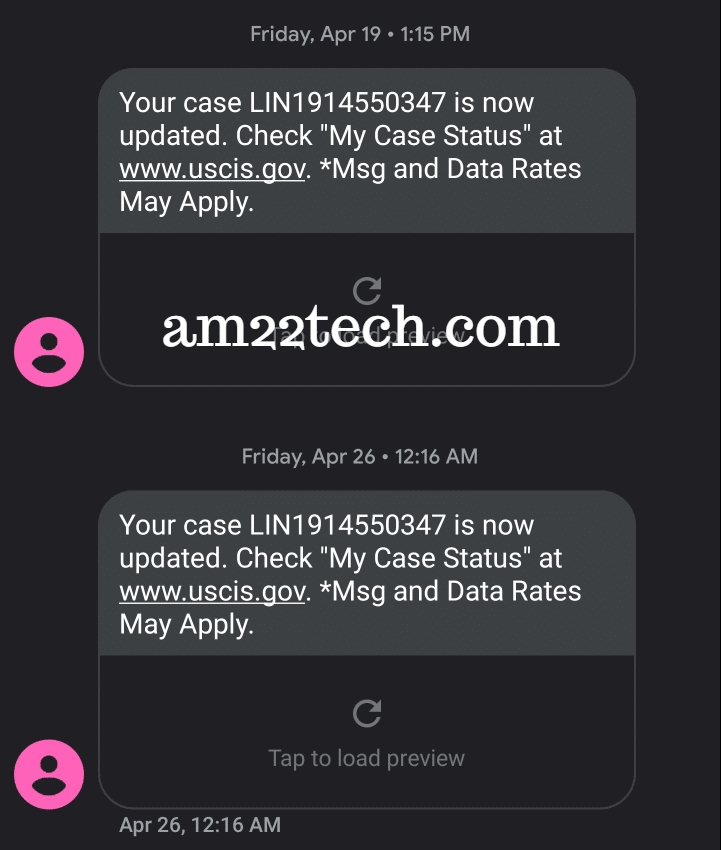 USCIS Case Status After Email
The case status will remain the same even after receiving the automated email from the DHS website to the last action taken on your application.
Example:
This H4 EAD case is added to the DHS website for tracking and keeps sending the email notifications every week automatically even though there is no change in real status.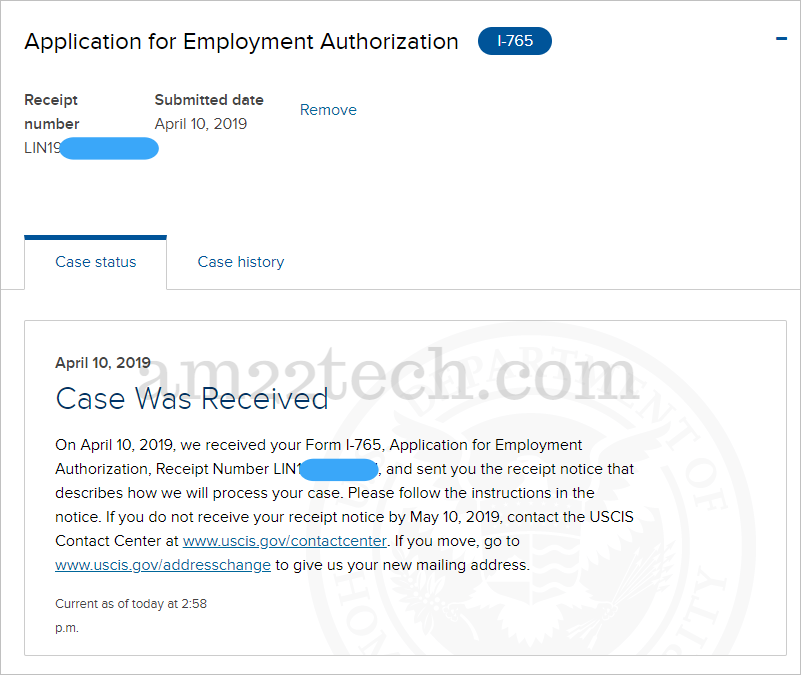 You can solve the USCIS website receipt number is not recognized error easily.
Stop Email Notifications
We strongly recommend keeping the notifications on but if you want to turn them off, you can go to your Account->Settings and edit the email notifications: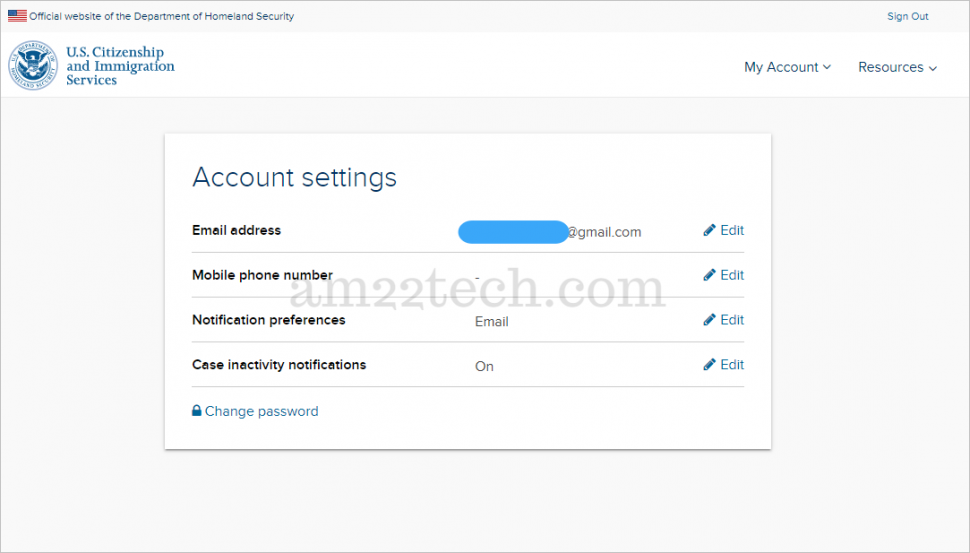 If you keep the email and mobile notifications ON, you will get a text message as and when your case is approved.
Example:
If your H4 EAD application status changes to "New card is being produced", you will get an email as well as an SMS message on phone.
FAQ
Why is USCIS Email/Text Notification Sent Twice?
We do not know why USCIS email and text notification is sent twice for same status update. It is possibly an error in their system.
Why USCIS email status update says We have Taken Action on Your case – Log in to Check and there is no update?
Many users have reported that they have received USCIS case status updates which says an action was taken on the case but they could not see anything new once they logged in to USCIS website.

There is no clear explanation shared by USCIS. But, users have reported that the status does get updated in about 1-5 days after this email/text notification.

Usually, the action is in the form of approval, denial, RFE or biometric appointment notice issued. You will get a paper mail too for this USCIS action.