Fast Green Card for AI Experts – Will Indians Get it? (USA Executive Order)
Faster H1B, O-1, F1, Green card for work and study in AI fields. Indians may still be left behind due to country of birth limit. EB1-B and EB2 criteria may be changed to give priority to workers in AI field.
Anil Gupta
Updated 31 Oct, 23
White House issued an executive order on 30 Oct 2023 which aims to create AI (artificial intelligence) related laws.
The EO is a big announcement and shows that the US government is taking the advancements in AI technology extremely seriously.
The most important aspect of this EO order is the immigration part where President Biden has asked DOS to consider creating processes to give Green cards faster to people working in AI-related jobs and research fields.
What does a faster Green Card mean?
As per my understanding, the faster green card means expedited processing of the i485 application.
It does not mean giving extra green card numbers to a specific country or increasing the number of green cards issued to employment-based categories.
What can Indians, stuck in a vast backlog gain from this executive order?
It is possible that USCIS will create a relaxed or separate category within EB1-B where they allow people to work in the AI field.
This is just our assumption based on the language in the EO, which has asked DOS to create processes and streams for easier Green cards in EB1 and EB2 categories.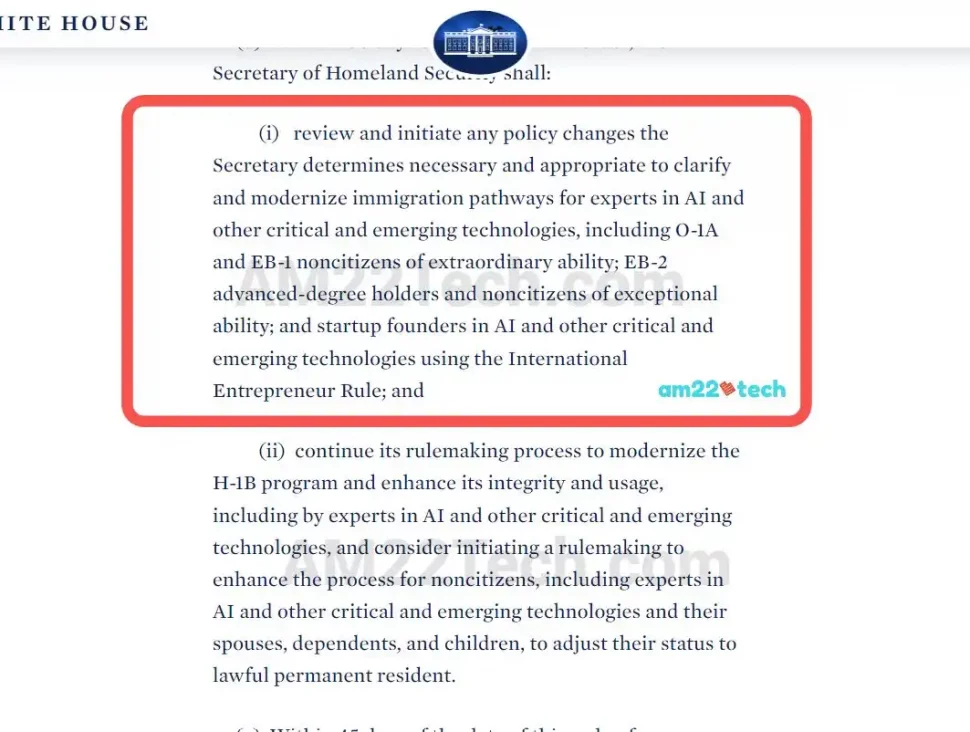 There is no mention of country-based limits and it can't be changed either with an executive order. Hence, whatever they intend to do, has to be done within the EB1 and EB2 categories.
DOS has been given 180 days:
To analyze, create, and publish the policies that help foreign nationals working in the AI field to stay and convert to green card status.
Create a program to identify and attract top talent in AI at US universities, research institutions, and the private sector overseas.
Expedited visa renewals for AI workers within the USA (through the pilot program starting in 2024).
Faster H1B, O-1, and J-1 visa processing, and expedited visa appointments for people working in AI fields.
Support and attract foreign nationals with special skills in AI and other critical and emerging technologies seeking to work, study, or conduct research in the United States.
FAQ
When will the AI-related immigration policies be published?
It is expected that USCIS and DOS will come up with concrete policies and processes within 180 days from 30 Oct 2023.

Hence, the expected date is 1 May 2024.
Can I convert my existing H1B job to AI technology and be eligible for new favorable policies?
You should be able to change your H1B job profile if the AI job is the same or similar to the existing H1B job.

Same or similar is a general rule which means that if your new job profile is about 50% same, you should face no issue.

Example:
A Java software developer on an H1B visa should be able to easily change to an AI (artificial intelligence) job and get an H1B extension, amendment, or transfer approved.

At this time, there is no such policy available.
Will a new PERM be needed for the EB2 Green card if I change my job profile to an AI job?
You may need a new PERM if the job profile and/or job location is changing. This will depend on many other factors.
Can I upgrade my EB2/3 application to EB1 if I am eligible for this new policy?
Yes, you should be able to upgrade your EB2/3 application to EB1 if you are eligible for it based on what rules/policies USCIS sets up.

We will update as and when USCIS publishes any such rules.
What are Emerging Technologies apart from AI?
These are the technology areas that will be prioritized for US green card, work, and study visas.
Advanced Computing

Supercomputing, Edge, and cloud computing
Data storage
Computing architectures
Data processing and analysis techniques

Advanced Engineering Materials

Materials by design and material genomics
Materials with new properties
Materials with substantial improvements to existing properties
Material property characterization and lifecycle assessment

Advanced Gas Turbine Engine Technologies

Aerospace, maritime, and industrial development and production technologies
Full-authority digital engine control, hot-section manufacturing, and associated technologies

Advanced Manufacturing

Additive manufacturing
Clean, sustainable manufacturing
Smart Manufacturing
Nanomanufacturing

Advanced and Networked Sensing and Signature Management

Payloads, sensors, and instruments
Sensor processing and data fusion
Adaptive optics
Remote sensing of the Earth
Signature management
Nuclear materials, Chemical weapons, Biological weapons, Emerging pathogens detection and characterization
Transportation, Security, Health, Energy, Building, Environmental sector sensing

Advanced Nuclear Energy Technologies

Nuclear, Fusion, Space nuclear power, and propulsion energy systems

Artificial Intelligence

Machine, Deep, Reinforcement learning

Sensory perception and recognition
Next-generation AI
Planning, reasoning, and decision-making
Safe and/or secure AI

Autonomous Systems and Robotics

Surfaces, Air, Maritime, Space

Biotechnologies

Nucleic acid and protein synthesis
Genome and protein engineering including design tools
Multi-omics and other biometeorology, bioinformatics, predictive modeling, and analytical tools
for functional phenotypes
Engineering of multicellular systems
Engineering of viral and viral delivery systems
Biomanufacturing and bioprocessing technologies

Communication and Networking Technologies

Radio-frequency (RF) and mixed-signal circuits, antennas, filters, and components
Spectrum management technologies
Next-generation wireless networks, including 5G and 6G
Optical links and fiber technologies
Terrestrial/undersea cables
Satellite-based communications
Hardware, firmware, and software
Communications and network security
Mesh networks/infrastructure independent communication technologies

Directed Energy

Lasers
High-power microwaves
Particle beams

Financial Technologies

Distributed ledger technologies
Digital assets
Digital payment technologies
Digital identity infrastructure

Human-Machine Interfaces

Augmented reality
Virtual reality
Brain-computer interfaces
Human-machine teaming

Hypersonics

Propulsion
Aerodynamics and control
Materials
Detection, tracking, and characterization
Defense

Networked Sensors and Sensing
Quantum Information Technologies

Quantum computing
Materials, isotopes, and fabrication techniques for quantum devices
Post-quantum cryptography
Quantum sensing
Quantum networking

Renewable Energy Generation and Storage

Renewable generation
Renewable and sustainable fuels
Energy storage
Electric and hybrid engines
Batteries
Grid integration technologies
Energy-efficiency technologies

Semiconductors and Microelectronics

Design and electronic design automation tools
Manufacturing process technologies and manufacturing equipment
Beyond complementary metal-oxide-semiconductor (CMOS) technology
Heterogeneous integration and advanced packaging
Specialized/tailored hardware components for artificial intelligence, natural and hostile
radiation environments, RF and optical components, high-power devices, and other critical
applications
Novel materials for advanced microelectronics
Wide-bandgap and ultra-wide-bandgap technologies for power management, distribution, and
transmission

Space Technologies and Systems

On-orbit servicing, assembly, and manufacturing
Commoditized satellite buses
Low-cost launch vehicles
Sensors for local and wide-field imaging
Space propulsion
Resilient positioning, navigation, and timing (PNT)
Cryogenic fluid management
Entry, descent, and landing
The full list of emerging technologies is given here.
More Questions?
Ask them in the comments and I will answer them to the best of my knowledge.
I will also add Q&A above as I get more questions from people.
Source: White House Executive Order