USA Green Card Medical i485 Vaccination – HSA, Cost (Will Indian Records Work?)
How to get Medical test report for USA green card. TB test may be required. 2-10 days processing time. Form i-693 in sealed envelope required.
AM22Tech Team
Updated 1 Aug, 22
A medical test report is required for everyone applying for a USA green card outside the USA using form DS-260 or filing an i-485 adjustment of status within the US.
How to Get Medical Report?
#1 Visit the USCIS official list of doctors.
Only a civil surgeon designated by USCIS is allowed to give you a report.
#2 Take Appointment
Take an appointment and visit the doctor. Most normal family physicians are part of the list. So, check carefully if your regular doctor is on the list to get a faster appointment.
#3 Blood Test & Vaccination Record
The doctor will run tests as mentioned above and determine if any vaccinations are required.
If you do not have an official record of vaccinations (in English), then you will be required to get them (even if you had them in your childhood or recently).
Fill i-693 form easily
Vaccinations missing at the time of the medical exam may no longer be required as of the date of i-485 or DS-260 processing.
Example – the applicant has aged out, or it is not the flu season, or a vaccine is no longer required by law.
If the missing vaccinations are no longer required, the vaccination requirements have been met and you do not need to take them again. The doctor will decide this.
#4 You and Doctor Sign Form i-693
You will need to print the form and fill page 1 with your own information. See highlighted red portion.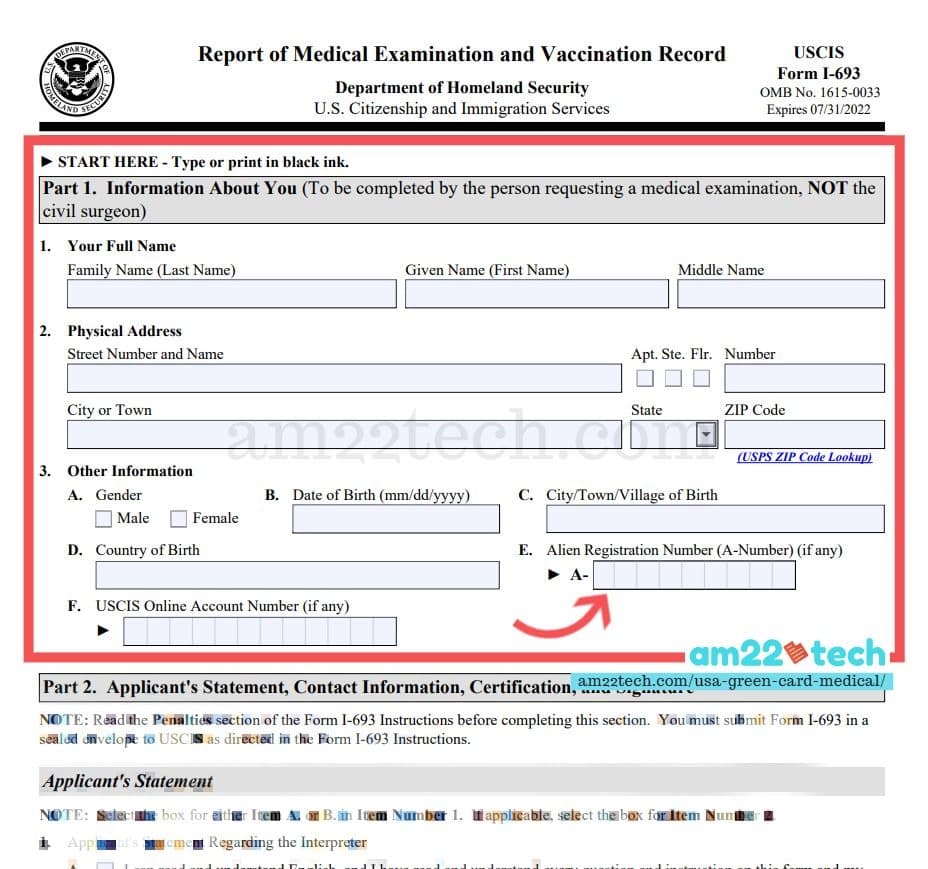 Your name and Alien number would be filled up on top of every page of this form too.
Fill i-693 form easily
There are about 14 pages in this form. You will fill part 1 on page 1 and then your name and A number on top of all pages.
Everything else will be filled up by the doctor.

Example:
Employment-based applicants like H1B or L workers will have their A-number listed on i-140 approval.
H4 and L2 dependents do not have A-number unless their H4 or L2 EAD approved. You can leave it blank for them.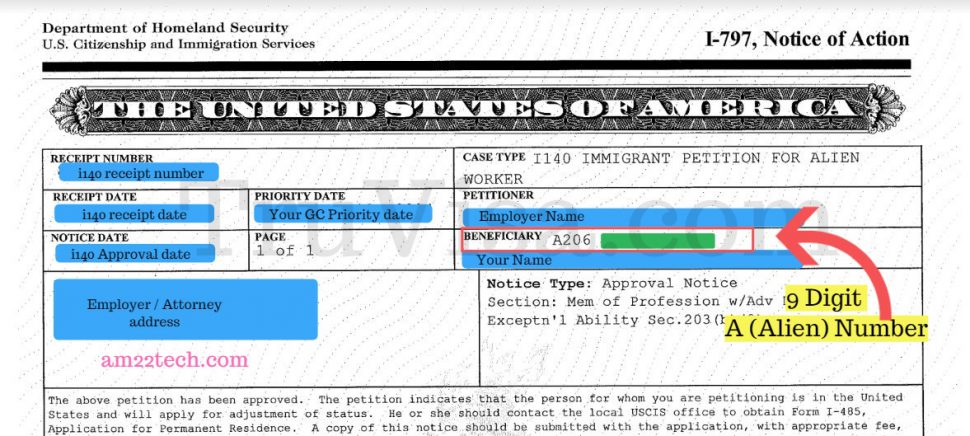 The doctor will sign form i-693, seal the envelope, and give it to you.
A complete checklist of i-485 documents is available here.
Processing Time
The Medical test process takes about an hour to take your blood for HIV examination, test eyesight, record weight, and take urine samples.
The medical reports take 2-30 days if TB and other vaccinations are required.
The doctor will sign the form i-693 and handover it to you in a sealed envelope. You should not open this sealed envelope.
Doctor will give you a copy of filled i-693 too for your own records.
Plan for the time it might take to get the medical appointment and TB test as it can take multiple days.
Doctor appointments may take 1 to 10 days based on availability. If your family doctor is on the USCIS list, then you may get it faster.
TB test will take at least 2 days.
Documents Required
Photo ID – Passport of driver's Licence can work. passport is recommended.
Form i-693 – Fill it as required by you. Do NOT sign the i-693 yourself before the tests. You have to sign the form in front of the doctor.
Vaccinations Records – If you do not have official doctor-signed vaccination records in English, then you would be required to take vaccinations now.
Example
You can get a vaccination record like this from your home country like India. Most of us would have gone through the vaccinations at the appropriate age back home but there are no official records.
If your family doctor can write it on their letterhead, sign it, and give it to you, you can use it as proof of vaccination in your i-485 process.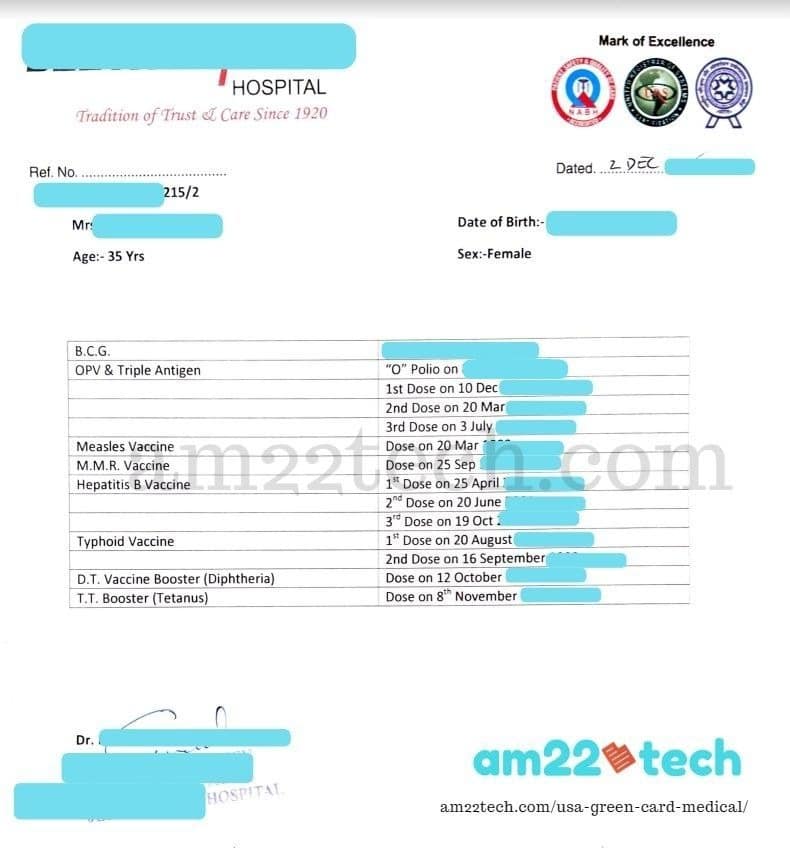 Cost
Medical test cost in the USA is about USD $350 per adult.
USCIS does not have any fixed or suggested fee. Each doctor charges based on their level.
Child medical examination for USA Immigration is USD $60 to $350. The cost in the USA varies by the medical center and may cost you more based on your location.
Example:
We have heard that you can find doctors in New Jersey who can do your green card physical for as low as $150 per person.
The Medical Physical examination in Dallas, Texas costs USD $350 per adult but the same test in Atlanta, GA costs USD $450 per person.
Insurance, HSA
Your USA Health Insurance does not cover the i-485 immigration medical report cost.
An HSA Card cannot be used to pay for immigration physical examination.
There are two parts to understand for immigration purpose:
A medical report is not covered by HSA or USA health Insurance plans. You have to pay for it by cash, debit, or Credit card directly to the clinic. This is usually the filing of form i-693.
Vaccinations that are required for the positive medical report are covered by most health insurance plans in the USA. The doctor will decide which ones are required for your case and then you can run them through your insurance.
Example: Cigna has officially listed immigration vaccinations as part of allowed expenses. Other providers like United Healthcare, BCBS, Aetna should also cover it.
Vaccinations Required based on Age
Medical Examination (Adult, Child) –
The doctor will perform a Urine test, height – weight, eyesight, ear by looking, throat check by looking.
MMR (Adult, Child) – Tested using blood work.
Flu (Influenza) Shot (Adult, Child) – You can share proof of Flu shot if you have already taken it in the current year. Else, the doctor can give it right at the clinic.
Tdap (Adult, Child) – Tdap is a combination vaccine for tetanus, diphtheria, and pertussis (whooping cough).
Chest X-ray Examination (Adult Only) – The doctor will decide if it is required for you. Normally, if you had a TB or TB test that comes positive, you may be asked to go for a chest x-ray.
HIV or AIDS test (Adult Only)
Simple Blood-based test to detect the HIV-positive virus.
Chicken Pox – If you had chickenpox you can just mention that and most doctors will take you for your word. The chickenpox vaccine is also available at travel clinics if the doctor asks you to get it.
COVID-19 tests may also be performed.
TB test – You will need at least two visits for testing TB if the doctor decides that you need it.

Adult – Doctor may require it.
Child – Required if age is 5-10 years in most cases.
Girls and ladies should not be on their menstrual period on the day of the medical test. A clear urine result is required to pass the medical exam.
The doctor will refer to the USCIS official list of required vaccinations for your age group and then decide if anyone is currently required or not.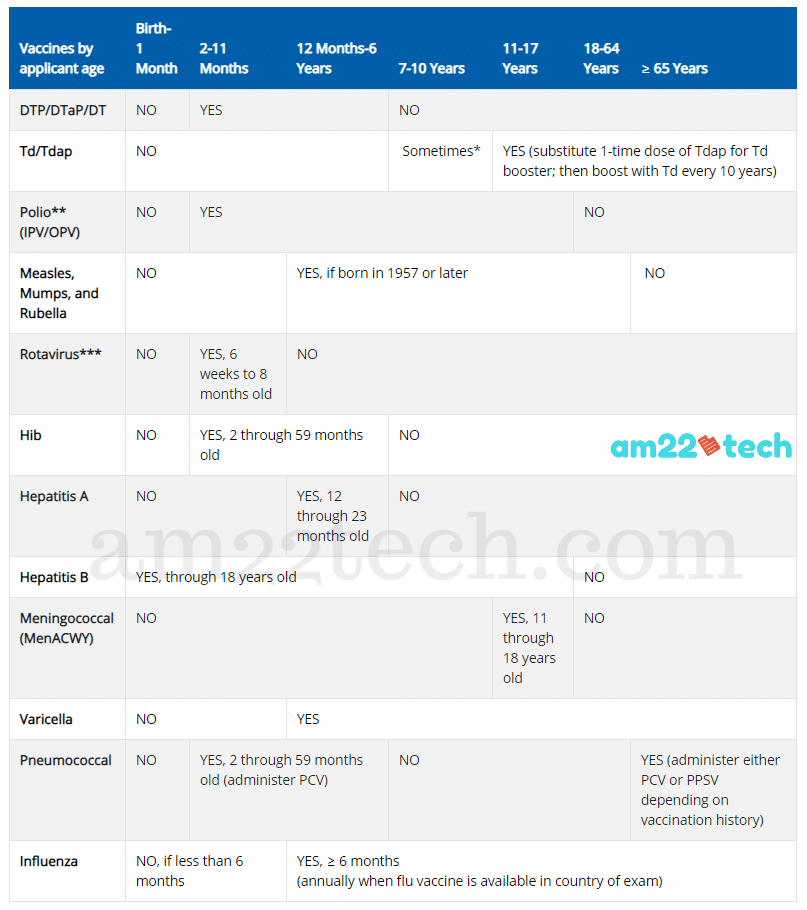 You can get this vaccinations by age chart on CDC website.
FAQ
Is medical report mandatory with i-485 filing?
It is not mandatory to file a medical report with i-485 form.

As per the USCIS website, you can file a Medical report form i-693 either with your i-485 application package or bring it with later at the time of the interview.





You can wait until your interview date or until when USCIS sends you an RFE.

Waiting for an RFE to submit your form i-693 is recommended by immigration attorney Emily Neumann.
Will My US green card be denied if I had TB?
Your Green card application will not be denied if you ever had or currently have TB but you may be asked to cure it or take a vaccine before i-485 or immigrant visa can be approved.
What is the validity of medical records for i-485 filing?
The medical test report is valid for 24 months from the date of issue.

You will need a new report if your PD date retrogresses by the time i-485 adjudication time arrives.

USCIS usually sends an RFE if they need a new report.

If your PD date is current in the 'Final action' chart, we recommend to act proactively and get your medical test report ready in case it has expired from the last time you submitted it.
Can my i-485 be denied if I have heart disease, cancer, or mental illnesses?
Your green card may not be denied for heart disease, cancer, or mental illnesses.

These are not part of the medical reasons for green card denial.

If you have any of these diseases, then it is important to prove that you have good financial support and can afford health insurance. You are basically required to prove that you will not become a public charge.
Can my green card be denied if I have used Drugs in the past?
Your green card can be denied if you are a drug abuser or an addict.

If you have come clean for a reasonable amount of time and are attested by a doctor, then your green card may be approved.
Tuberculosis (TB) Detected
If you ever had TB and are now free of TB, you will still need to go through a TB detection test.
A kid will need TB test too and will be given a TB detection injection.
A TB detection injection is given on hand.
The doctor will ask you to return after 2 days to see if the injection produces any effect.
If you ever had TB in life, the injected portion of your hand will be swollen.
Your i-485 application may not be approved until you have completely treated your TB and test reports show that you are free of this communicable disease.
Pregnancy – X Ray
Pregnant ladies will not be able to get the X-ray done at the time of medical examination.
Hepatitis Test
Hepatitis B and C tests may be required if you are pregnant or if you intend to work as a doctor, nurse, or dentist in the USA.
Hep B check is mandatory for people with tattoos or body piercings.
Example:
Ladies with ear piercing usually need Hepatitis B test.
AIDS / HIV Positive
Your application may not be approved if you are found to have AIDS or HIV virus.
Green card Rejection – Medical Reasons
Chances of your green card denial are very high if you are suffering from any of these diseases.
Intellectual or functional impairment – loss of functional capacity affecting a person's ability to work.
HIV infection
Drug Addiction
Medical Questions
The doctor will usually ask these questions to understand your medical history for US immigration. They may ask more or less but these are common questions:
Have you ever got Tuberculosis (TB), treatment for tuberculosis?
Any close household contact with Tuberculosis (TB)
Prolonged medical treatment and/or repeated hospital admissions for any reason, including a major operation or psychiatric illness.
Psychological/Psychiatric Disorder (including major depression, bipolar disorder, or schizophrenia).
An abnormal or reactive HIV blood test.
An abnormal or reactive Hepatitis B or Hepatitis C blood test?
Any Hepatitis B / Hepatitis C / Cancer or Malignancy in the last 5 years
Diabetes.
Heart conditions including coronary disease, hypertension, valve, or congenital disease.
Blood condition (including Thalassemia).
Kidney or Bladder Disease.
An ongoing physical or intellectual disability affecting your current or future ability to function independently or be able to work full-time (including autism or developmental delay).
An addiction to drugs or alcohol.
Are you taking any prescribed pills or medication (excluding oral contraceptives, over-the-counter medicines, and natural supplements)? Please list
Are you pregnant? (Only for females).