Top 10 Reasons of H1B RFE by USCIS
USCIS Reasons for H1B RFE: Speciality Occupation, Employer-Employee Relationship, Availability of Work (Off-site), Qualifications, Status violation, In house project.
AM22Tech Team
Updated 9 Nov, 20
Top reasons for H1B RFE are Specialty occupation and employer employee relationship. Many people have also been asked to provide client letter which shows full 3 year work availability at end client site.
In the new trend, USCIS is only approving H1B for the duration mentioned in client letter. This could be 3 or 6 months.
#1 H1B Specialty Occupation RFE
The H1B employer could not prove that the H1B job qualifies as a specialty occupation. Specialty Occupation RFE Response Documents checklist.
#2 Employer-Employee Relationship Proof
Your employer cannot prove a valid employer-employee relationship with you, by having the right to control the
your work, which may include the ability to hire, fire, or supervise the beneficiary, for the duration of the requested validity period.
You can prove employer – employee relationship using these documents.
#3 Availability of Work at Client Location
If H1B employer cannot prove that they have specific projects in a specialty occupation for H1B worker for the entire 3 year time requested in the petition.
If your employer did not submit the documents like project SOW (statement of work) or client contract letter, you are asking for an RFE.
Recently, many people have reported that USCIS is sending RFE for full time direct end client positions to prove the full 3 year project requirement too.
#4 H1B Qualifications
If your education and work experience documents do not reflect clearly that you are qualified to perform services in a specialty occupation, you are asking for an immediate RFE.
If your education is in Mechanical engineering and you are filing your H1B application for a software engineer job, the chances are very high that USCIS will ask your employer to prove your claims.
#5 Maintenance of Status RFE
If your employer is not paying you salary while on bench or have issues maintaining your status, you can expect the request for documents to prove how are you staying in US legally.
If you file multiple H1B extensions or amendments quickly for multiple end client projects, it is possible that you may violate the status rules if your i94 expires in the middle without an approval.
#6 IT Consulting In-house projects
This is most common RFE for IT consulting companies as they are not able to prove that they have specific in house projects in a specialty occupation for the H1B worker for the entire time requested in the H1B petition.
#7 LCA Corresponds to Petition RFE
Did you employer skip the Labor Condition Application (LCA) process or forgot to include it in your H1B application, then you can expect a RFE.
The LCA should match the job position and terms of the petition.
#8 AC21 and Six Year Limit RFE
The H1B employer could not prove that you are eligible for AC21 benefits or you are eligible for an H-1B 7th year extension using either approved i140 or a PERM pending for more than 365 days.
#9 H1B work Itinerary
If your H1B employer did not submit the itinerary for your job at end client location that requires you work to be performed in more than one location.
The itinerary must include the dates and locations of work to be provided.
#10 RFE for Living Far Away from Office
You can receive RFE if your home location is far away from your work location. Recently, an H1B worker was issued an RFE to justify his home address which is about 96 miles away from his office.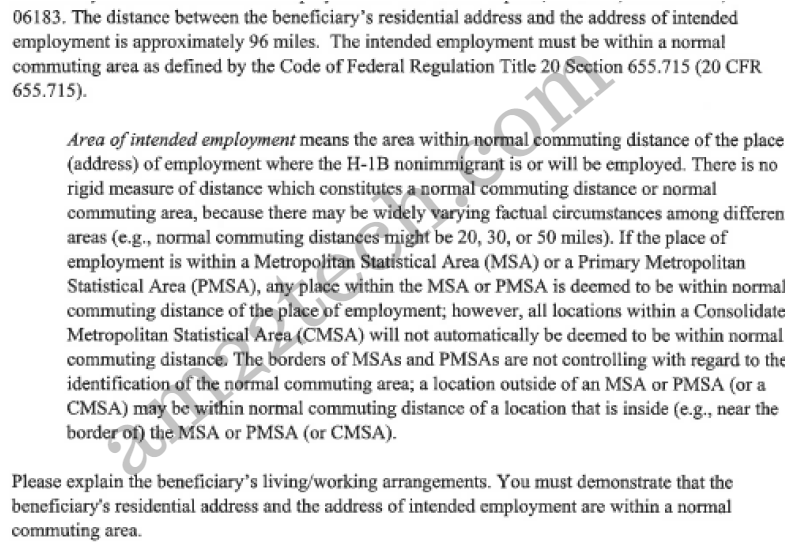 The USCIS argued that your work location should be close to your employer's office and should be in reasonable commutable distance. There is no official USCIS approved mile range criteria to measure the commutable distance, but you should be able to prove that you have a valid reason to take long commutes daily.
In the above case, the H1B worker moved closer to his wife's work office to help her with her medical condition of pregnancy. A medical justification is legitimate and should be approved by USCIS as we recommended him to send the pregnancy history records.
#11 F1 OPT, CPT Total Time Spent
USCIS is getting strict with Day 1 CPT and the number of times you use the OPT, CPT and STEM OPT to work in USA.
See this F1 OPT RFE received recently by a person working on H1B in a large financial banking company is USA as a full time employee.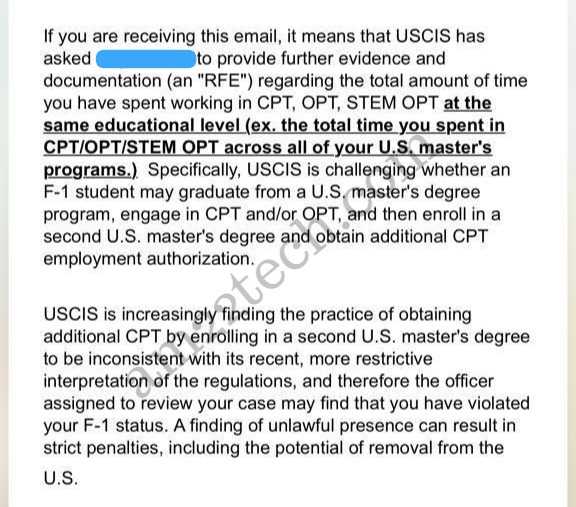 A new CPT/ OPT can only be taken up for each new level of education. Example, if you have already used OPT or CPT at bachelor degree level, then you can only use it again at Masters degree level again.
You cannot get additional CPT or OPT again by enrolling in second masters degree. If you do or have taken up Day 1 CPT courses, you have very high chance of RFE and then a denial.
#12 Correct Fees Not Paid
This would be the most foolish RFE and you will be responsible if you did not pay the applicable fees for your application.
Source: USCIS