Australia PR Points Calculator (with 189, 190 Chance of Invite)
Australia PR points calculator online with Chance of Invite & tips to improve Score. Skilled migration 189, 190, 491 visa need minimum 65 points to apply.
Anil Gupta
Updated 24 Nov, 22
Australia PR Chance of Invite varies by each ANZSCO code.
Based on the current trend for invites and the economic situations created by COVID-19, expect an invite with at least 90 points in most fields.
Quick 189 & 190 Invites are sent for:
Healthcare Workers – Like Nurses, Doctors.
Research profile in Medicine Field
The invites for Software Engineers, Software Testers, and Accounting are hard to come unless you are within 5 points distance to the last invited score.
My analysis:
| EOI Points | Current Australia PR Invitation time |
| --- | --- |
| 85-95 points | 1-3 months (Only for onshore & healthcare workers due to COVID) |
| 75-85 points | 8-9 months |
| 70 points | Invitation chance is low but varies by ANZSCO code |
| 65 points | No realistic chance of an Invitation |
Points Calculator (Tips to Increase Score)
This is the points calculator created by TruVisa.com. It helps you with suggestions to improve the total points at each step to increase points.
Try to bring your score within 5 points of the last invited score and your chances of invitation in the next draw will increase by 50%.
If you can match the highest score, you can get the pre-invite from the state easily too.
Australia PR values your skills and your work experience. The points are distributed evenly around your profile ranging from age, education, and your life partner's skills.
My Personal Experience on How to Increase Points
#1 Age
Australia is a growing economy and prefers younger migrants over older ones. The good thing is that as you age, you gain work experience points and hence can get extra mileage over young applicants.
Less than 18 years – Zero points – Eligible to apply as a dependent.
18-24 years – 25 points.
25-32 years – 30 points.
33-39 years – 25 points.
40-44 years – 15 points.
45+ years – Zero points and not eligible to apply for PR.
Note that you are considered 32 till you are 32 years 11 months and 30 days old.
The Age will change to 33 on your 33rd birthday automatically by the SkillSelect system and your points are decreased as per the slab.
You cannot change your age but if your spouse is younger than you, you should create a separate EOI and make your spouse a primary applicant.
#2 English Language
English language test result is mandatory and can contribute a maximum of 20 points to your PR journey.
I recommend taking the PTE test as I could score 79+ within a week of preparation using free online videos. I did not use any paid online PTE tests. The free ones are good enough to get the top score.
| English | Competent | Proficient | Superior |
| --- | --- | --- | --- |
| IELTS | 6 | 7 | 8 |
| PTE | 50 | 65 | 79 |
| OET | C | B | A |
| Toefl iBT | L-12, R-13, W-21, S-18 | L-24, R-24, W-27, S-23 | L-28, R-29, W-30, S-26 |
| CAE | 169 | 185 | 200 |
| Points | 0 | 10 | 20 |
As per my personal experience, PTE is easier to score than IELTS. I have tried IELTS thrice earlier but could not achieve above the 7 overall-score as I feel it has a human bias involved.
Most people who I have interacted with have been successfully able to get Superior scores as:
PTE – In the first or second attempt.
IELTS – It takes at least 3 attempts to get the highest marks.
Others – My suggestion is to keep away from other tests and not waste time.
It is absolutely important that you aim for a superior score if you want to have a realistic chance of being invited to the states as they look for good English skills to easily settle down in Australia.
#3 Employment
The total points for employment cannot be more than 20 after adding both the outside and in-Australia work experience.
Your total work experience should be in the same field as your ANZSCO code.
Example:
If you choose the 261313 code, your full work experience should be related to the Software Engineer field.
A Software Tester cannot apply as a Software Engineer or Developer Programmer unless your roles and responsibilities letter mention coding work.
A Software Project Manager work for a portion of your entire career will not qualify you to get full work experience as a Software Engineer.
| Employment Outside Australia | Points |
| --- | --- |
| Less than 3 years | 0 |
| 3-4 years | 5 |
| 5-7 years | 10 |
| 8-10+ years | 15 |
Note that employment days are counted backward starting today. This means that EOI will automatically update your work experience points to every new day if you keep the 'end date' for current employment empty.
I strongly suggest removing the end date of your current active employment from your Skill Select profile. Your date of effect will change if total points increase. Do not leave these extra points on the table!
| Employment in Australia | Points |
| --- | --- |
| Less than 1 year | 0 |
| 1-2 years | 5 |
| 3-4 years | 10 |
| 5-7 years | 15 |
| 8-10 years | 20 |
#4 Education
Your education has the potential of taking you ahead of other PR applicants in the same pool.
Outside Australia
Doctorate or Ph.D. Degree – 20 Points
Bachelor or Masters Degree – 15 points
An award or qualification like Certifications– 10 Points
A diploma or trade qualification completed in Australia – 10 Points
Additional points as a cherry on the cake over and above your highest education qualification:
Add +10 points if you got your Master's degree by research or a Doctorate degree from an Australian educational institution that included at least 2 academic years in the STEM (science, technology, engineering, mathematics) or specified information and communication technology (ICT) fields.
Add +5 points if you have studied at least 1 degree or diploma from all your education physically in Australia.
Add +5 points if you have completed Professional Year in Accounting, ICT/Computing, or Engineering in the last 12 months physically in Australia.
Add +5 points if you studied in regional Australia. Sydney, Melbourne, and Brisbane are not counted as regional.
Add +5 points if you passed a NAATI test in a local community language.
#5 Spouse Skills / Single
| Spouse / Single | Points |
| --- | --- |
| Single (Unmarried) | 10 |
| Spouse is an Australian Citizen or PR holder | 10 |
| Spouse has Positive Skill Assessment, Job code is in the same occupation list as primary, competent English, and is less than 45 yrs old | 10 |
| Spouse has no Skill Assessment but is competent in English | 5 |
| Other Cases | 0 |
Employer Sponsorship for PR
Employer sponsorship is optional in Australia and is only required by some states for 190 visas.
491 is not a PR and it does need employer sponsorship. You can directly file 189, and 190 permanent residency applications.
Some states do require you to have a valid job offer to show for 190 visa nominations but it is not a hard and fast rule there.
With employer or family sponsorship, you can get the 491 visas to work and live in regional areas but this is not a direct PR.
You will be eligible for PR later after you are able to fulfill your 491 conditions.
189 and 190 PR visas do not have any points for family or employer sponsorship.
If you have the required points, you will be selected and will get a PR even before you travel to Australia.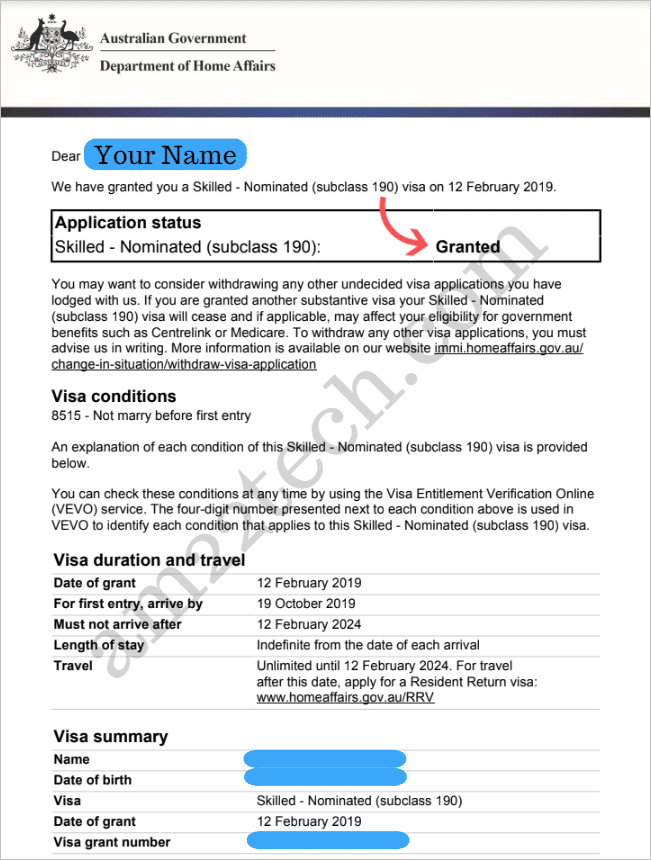 USA H1B to Australia PR
If you are currently working on an H1B in the US and fed up with the long waiting for a green card, Australia PR is a good option. They give you Permanent residency (Australian Green Card) even before you land there for the first time!
You do not get any extra points or preferences just because you have worked in the US.
Your total US work experience is counted at par with other countries.
Can you maintain Australia or Canada PR with H1B Visa?
Police Clearance Certificate
A police clearance certificate is required from all adults (18+) for Australia permanent residency, who are part of your PR application, from all countries where you have lived in the past 10 years.
If you are an Indian, apply
If you have lived or are living in the USA, you will need an FBI Clearance certificate along with a US state police clearance certificate. Remember you will need the US FD-258 fingerprint card for the FBI.
Example:
If you are currently living in Texas for the last 4 months and moved from California, then you would need both state's Criminal history records along with the FBI report.
One of our guests shared his experience of getting PCC from the Singapore police.
FAQ
Will I get Invite with 85 Points?
The chance of invite for Australia PR is gradually decreasing for EOI with points less than 85 with new spouse points changes introduced in Nov 2019.

The PR system now prefers a family where both husband and wife work or a single unmarried applicant.

The new system has turned the tide and it is getting difficult to get an invite even with 85 points.
How Many Points Can I Get for Spouse?
5 Points: You will gain 5 spouse points if your spouse has a competent English score (IELTS 6, 6, 6, 6, or PTE 50 in each).

10 Points: If your spouse has an ANZSCO code in the same occupation list as you and has a positive assessment along with a competent English score, you will get 10 points.

10 Points: If you are single and ready to mingle.

10 Points: If you marry an Australian Citizen or Permanent Resident.

0 Points: If your spouse does not fall in any of the above cases.