Australia PR Processing Time, 8 to 9 Month 189, 190 Visa
Australia 189 PR Visa processing time = 8 to 9 months. 190 PR Visa = 6.5 to 8 months. 190 PR is processed faster than 189 - less number of applications.
Anil Gupta
Updated 3 Jun, 21
189 PR processing time is 8 to 9 months.
Skilled – Independent Points-tested visa is taking 8 months to receive a direct PR grant after you have submitted your application.
You can expect a CO (case officer) contact query within 5.5 months if any more documents are required from you. Once you get a CO contact, your application will be on hold until you submit the requested documents. Once documents are uploaded, your application is re-submitted and can take another 45 – 60 days to receive the final 'GRANT' of 189 Visa.
If there is no CO contact, you can expect direct PR grant at the end of 4.5 months after you lodged your 189 invitation.
190 visa processing time is 6.5 to 8 months.
CO (case officer) contact to request more documentary proof can be expected within the first 3 months of paying fees for skill-based 190 nominations.
People are also getting direct 190 PR grant at the end of 6.5 months if all your documents are correct.
Once you get a CO contact, your application will not move forward and wait for your action. Once you upload the requested documents, your application is back in the queue and you can get 190 grants in 45-60 days.
Australia PR Invitation Time
The Australia PR invitation time is based on your ANZSCO job code and the number of points you score.
People with 65 points have a very chance of invitation. The realistic chance of invite is for people with 70+ points and it keeps changing every month with a new draw held on the 11th day.
The waiting time to get an invitation could vary from 1 to 12 months at this time for some occupations.
The PR processing time clock starts once your SkillSelect EOI has been invited by DIBP and you have paid PR fees.
Example,
Software Engineer (261313) with 75 points can expect to wait more than 8 months to receive 189 visa invite. Once invited, add another at least 8 months to get the PR grant.
The total PR processing time will be at least 16 months.
You cannot apply for Australia Permanent residency (PR) until you receive a formal invitation.
Sample Australia PR Grant Letter
You receive an email once your PR has been granted. The PR Grant letter will be attached in the email.
A separate email is sent for each member of your family from auto-letter-generator@homeaffairs.gov.au
The PR grant email will have the subject as IMMI Grant Notification – BCC2018/[CODES] – [CODES] – GUPTA, ABC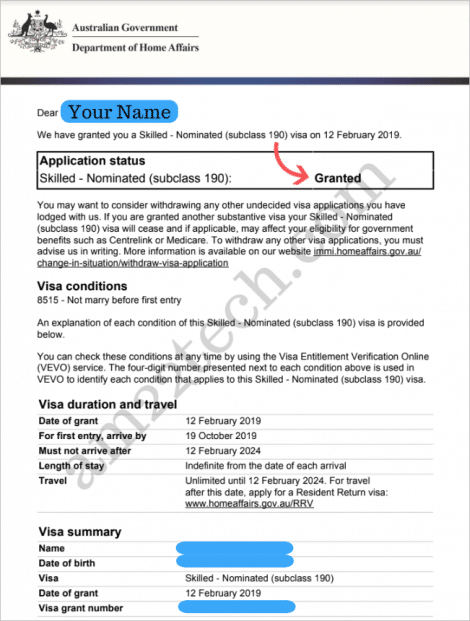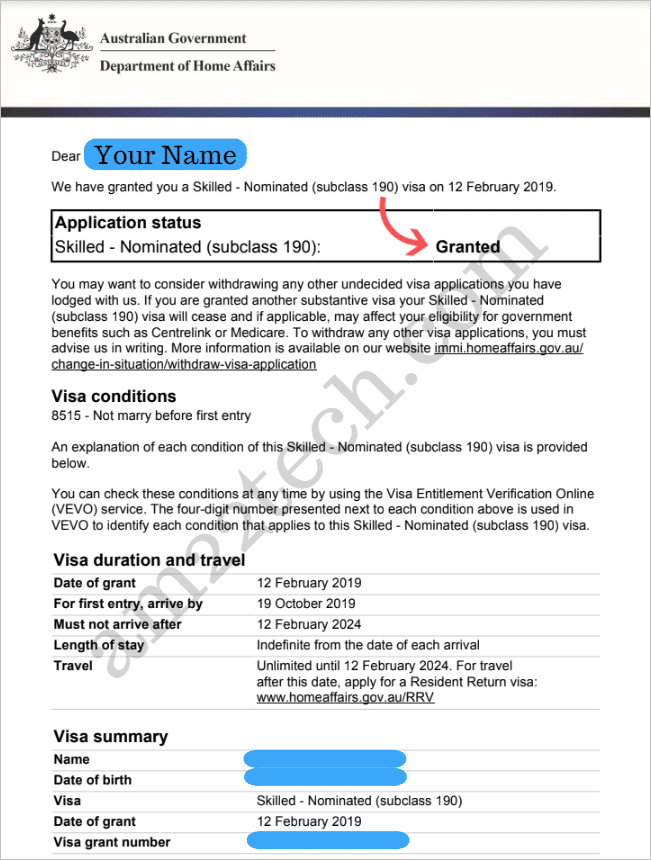 Grant letter contains information:
#1 PR conditions for 189 or 190
8515 – Not marry before first entry – This 190 PR grant has a condition that a person should NOT marry before he makes the first entry to Australia.
#2 Date of PR grant
The date Australia immigration or DIBP granted your PR.
#3 Date of first entry I.E.D
Date by which you should enter Australia at least once to activate your Permanent Residency. This date is normally called the initial entry date (IED) and can be extended if you have unavoidable circumstances to enter Australia by this date.
#4 Must not enter after date
This is the date that's 5 years from the first entry date (I.E.D). This means that you should not enter Australia after this date if you have not got a re-entry permit.
#5 Length of Stay
Once your Australia PR is granted and you enter before the IED date, you are allowed to stay indefinitely in Australia.
You can go out of and enter Australia any number of times before the Must not enter after the date. If you want to have the facility of entering and exiting Australia after this date, you should apply for a re-entry permit or should have applied and got Australia Citizenship.
Source: Australia Immigration