Bank Account Verification Letter (for Visa, Immigration)
Bank account verification letter for US visa stamping, Immigration. Bank of America - Call from app for physical copy, Chase, DCU - generate letter online.
AM22Tech Team
Updated 9 Aug, 23
A Bank Account verification letter is issued by your bank on their official letterhead.
The most common use of the bank account verification letter are:
Many consulates request this letter to show that you have enough money to fund your trip and decide on your visa application.
This article will discuss:
Verification Letters
The process of getting the account verification letter varies by country and bank. We are listing processes for some banks in the USA.
Bank of America
Call Bank of America directly from BoA mobile app or connect on online chat.
No self-service online option is available for generating the verification letter yourself.
You will need to speak to someone to request the letter.
You can specify the name of the entity for whom the letter is required.
Example:
US Embassy in Delhi or the US embassy in Vancouver Canada etc.
If you do not specify any specific entity, the letter would be addressed as "To whomsoever, it may concern".
You can choose a 3, 6, or 12-month average balance to be shown on the letter.
The letter is ONLY sent by postal mail to your registered address by Bank of America.
Processing time:
1-3 days to generate the letter. 1-3 days to receive a letter by mail.
You can also get the letter directly from any Bank of America branch after lodging the request on call or on chat.
The letter is usually sent to the branch within 1-3 days where the bank executive can print it for you to save on mailing time.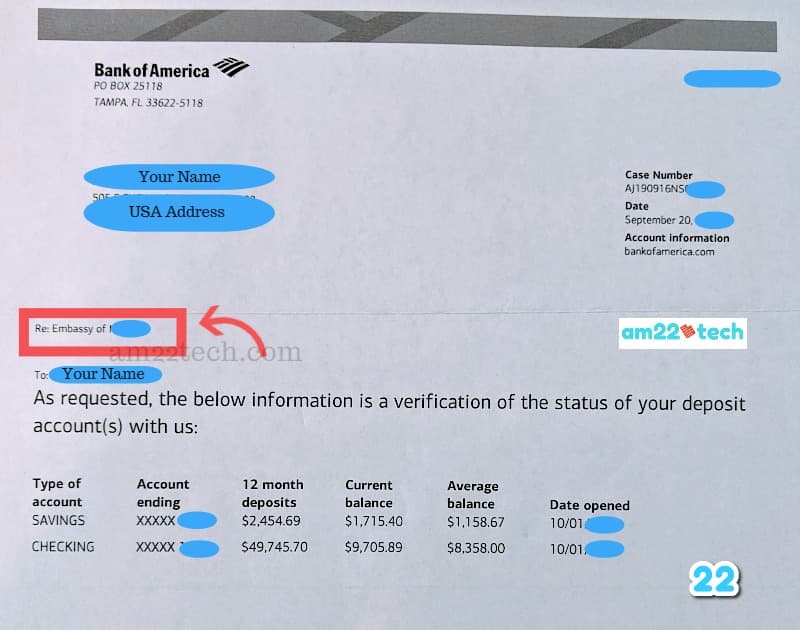 You need to pick up the letter in person from the bank.
If it is a joint account, then your joint account holder (like your spouse) can also pick up the letter from the bank branch.
DCU – Digital Credit Union Letter
The DCU credit union is a popular bank and allows you to generate the verification letter online within seconds.
Log in to your DCU bank account.
Click on 'Account Manager' from the top menu.
Click 'Manage Accounts' from the left-hand side menu and then choose the option 'verification of Deposit letter'.
You can choose a 3, 6, or 12-month average balance to be shown in the letter. I suggest a 12-month period.
Choose your option and then click 'generate'.
The letter will be available to download immediately.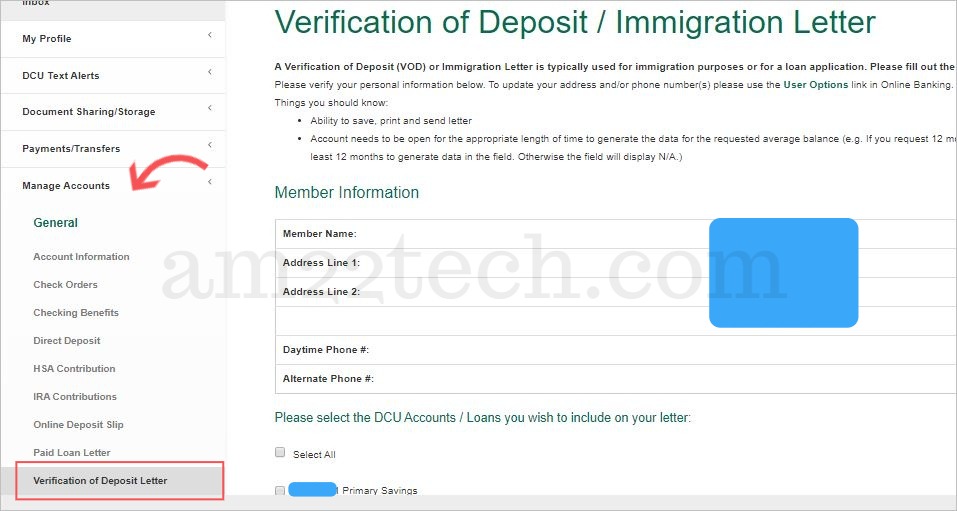 You can then download it and take a color print-out for use in any Embassy for bank account funds verification.
Chase Bank
I could not find the option to generate the bank account verification letter option online for Chase bank.
You should call their customer service to ask for one too.
FAQ
Does the Bank account verification letter Expire?
There is no expiry date mentioned on most Bank account verification letters but it may vary by each Bank's policies.

The embassy or consulates may only accept the letter that was issued in the last 3 months as the purpose of the letter is to verify your fund availability.
Can I use the One bank Account Verification Letter for multiple visa applications?
You can use one bank account verification letter for multiple visa applications as long as you have enough money as required by the visa type.
Can I use the Bank of verification letter for Mexico Visa?
You can use the US bank account verification letter for your Mexico Visa.
Is a bank account letter required for an H1B visa stamp?
It is not mandatory to carry a bank account letter for the H1B visa stamp.

There is no harm in carrying it along with other H1B documents to prove your salary credits.

Sometimes, it is a good idea to send your bank account letter for your dependent H4 spouse visa stamping.
Is an email copy of the Verification letter Accepted by the Consulates?
The email copy of the verification letter sent by the bank is acceptable by the consulate.

They may ask you to forward or send the PDF copy over the email itself.

If not, you can print the color copy of the PDF file that your bank has sent you by email and submit it.
My bank issued a black and white copy of the bank account letter. Is it acceptable?
A Black and white copy of the bank account letter is also acceptable as long as it is on official letterhead.