Send Delhi University Transcripts Direct to WES Canada (Mail Yourself?)
Send Transcripts to WES Canada from Delhi University campus post office. Collect in person, mail by speed post cost Rs 1400. Secondary verification email.
Anil Gupta
Updated 13 Jul, 20
Delhi University has no process at this time to send transcripts directly to WES Canada on their own.
But, you can send DU transcripts directly to WES Canada by mailing from the DU campus Post office within pin code 110007 (Delhi).
This article will discuss:
How to mail Transcripts to WES
Once you get the DU transcripts sealed envelope in your hand, mail it to WES:
Just write your WES reference number on top and
Post (mail) it directly to WES Canada's official address.
You can mail it by Indian Post Office near the SBI Bank on DU campus or by DHL, FedEx courier near PG Men's hostel.
Delhi University has also posted this same notice on their office wall as DU do NOT have the process to mail it themselves: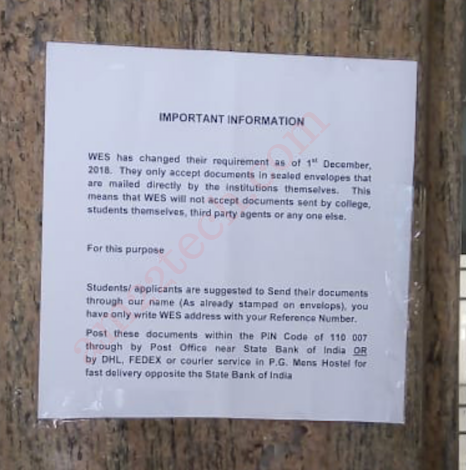 One of out guest Ritu Agarwal has shared this picture from DU office Wall earlier in 2019.
Related: How to get Delhi University transcripts, Fees and processing time
Transcript Fee
You can pay Transcript fees in INR 1000 (no need to pay in USD), collect transcripts from the DU office, and mail it directly by Speed Post.
| | | |
| --- | --- | --- |
| Graduated (How many years ago?) | Applying from India | Applying from outside India |
| Up to 6 years | INR 1000 | USD 100 |
| More than 6 years | INR 1500 | USD 150 |
| Per Additional copy | INR 100 each | USD 10 Each (Includes Postal charges) |
This is because you are collecting and mailing the sealed envelope.
Mail Cost
Indian Speed post courier from Delhi University to WES Canada office costs Rs. 1400.
The Indian speed post takes about 1 week to deliver your DU transcripts to WES Canada.
You will need to write a WES reference number on the transcript envelope that would get after paying fees on the WES website along with the WES Canada mailing address.
WES Reference number ………
World Education Services
Attention: Documentation Center
2 Carlton Street, Suite 1400,
Toronto, Ontario M5B 1J3,
Canada
WES Canada Secondary Verification
In many cases where the university is not sending the transcripts directly to WES and they have suspicion on the authenticity of degree, they send the email directly to the university for secondary verification.
You will receive an email from WES saying that your ECA evaluation has been put on hold until they receive the official reply from your university's official email address.
"Thank you for submitting your credentials for evaluation to World Education Services (WES).

We are committed to preparing evaluations based on documents that are accurate and valid. Due to the increased incidence of fraud, WES conducts a secondary verification of documents.

This is to advise you that WES has sent photocopies of your documents for verification both electronically and by standard postal mail to North South University. Your WES file is on hold until we receive a written response from this institution.

Response times vary and can take just a few days or can extend to weeks. If we do not receive a response from the institution within seven weeks, we will automatically send another request. There is nothing that you need to do at this time. This communication is strictly between WES and the institution.

Please note that you are responsible for the documents submitted under your name. If any document submitted under your name is found to be fraudulent, WES will not evaluate any other document you submitted.

It is also WES policy not to issue a second evaluation report once an account has been closed due to fraudulent documentation.

For more information regarding the verification process, please review this article: https://www.wes.org/advisor-blog/verification-status/ 11

We appreciate your patience in allowing your former institution sufficient time to respond to our request.

Sincerely,

Director of Evaluations"
If you graduated from any other college or university in India, you should contact your Dean's office and request them to expedite this verification.
Each university has a different process and they may or may not charge extra fees for verification.
Delhi University
If your transcript verification request has been sent to DU by WES Canada, then you need to pay extra verification fees to DU directly.
One of our guests had shared his experience of getting DU verification done for WES here.
Here is what you can do:
Visit Delhi University North Campus Gate No. 1, Counter No. 10 of VC Office.
Visit Room #207 and ask for a WES email for verification for your case. Once they confirm they have received the email, proceed to pay the verification fee.
Create two Demand Drafts in favor of The Registrar, University of Delhi worth Rs 7000 each (100 USD) from ICICI or SBI branch which is located on the University premises. One DD is for degree and the other is for Mark sheet verification.
Submit DD (Demand Draft) in Room No 103 for transcript verification.
Submit the second DD in Room No 207 for Degree Verification.
DU will take 20-25 days to respond to WES once you have paid the DD fees.
It is still not clear how to send these fees to DU if you are located outside India.
You probably have to send someone from your family or friend to the DU campus and pay these fees and attach it to your specific WES request.
Other University Transcripts
WES Canada requires the university to send the sealed transcript envelope directly to WES.
You or your friend or any third party service are not allowed to collect the transcript from university and then send it to WES.
But, if your university does NOT have the option of direct mail service, you can collect the transcript from university and mail from the POST office located within the campus. This way, the mail appears to have been sent by University.
You can send documents or transcripts to WES from India using India speed post, FedEx, or DHL courier for fast Canada PR processing.
Many universities like IP university, Delhi University, MDU Rohtak, VTU do not have the option of direct mailing to WES Canada.
FAQ
Can I add DU Degree to OLD Sealed Transcript Envelope?
If you already have an OLD sealed Transcripts envelope from Delhi University, you can take it to the DU office and they can open it and insert your degree copy and re-seal the envelope with the DU stamp.

Then, you can mail it to WES Canada.

Many people have reported that DU honors this request.

I recommend applying for fresh transcripts as WES may reject them if they are old dated.