How to Score 79+ PTE Academic In a Week [Tips & Tricks]
How to score 79+ in PTE in 1 week. Tried, tested method on how to speak, listen, read and write helped me get 85 points. PTE easier to score than IELTS.
Anil Gupta
Updated 25 Jun, 21
Getting a score of 79+ in PTE is easy. I got a PTE overall score of 85 in the first attempt itself after preparing for a week. Here is my score sheet for reference to prove my claim: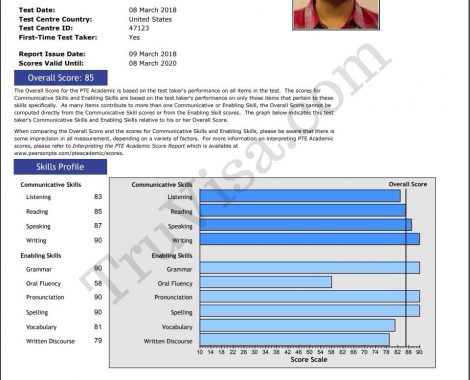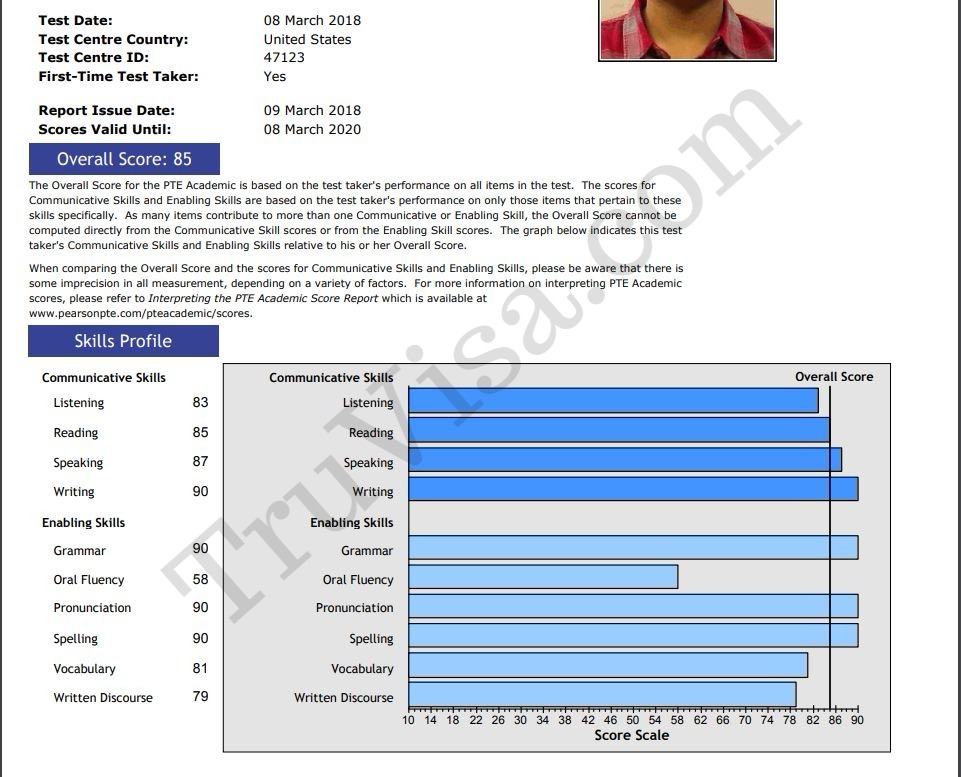 PTE 79+ Methods
You do not need to go anywhere else to score 79+ in PTE if you just watch the embedded videos and learn the tricks and cheat sheets given below.
You can get the top score in each PTE academic module like reading, listening, writing and speaking easily.
PTE Image Description Trick
6-7 image questions – Aim to speak for 35 seconds.
Total time is 40 sec
Content is less important than how to say it.
If you have no idea about what is shown in the image, just read the words from the image and keep speaking.
Try to avoid Y-axis completely unless it looks easy at first glance. Best training video for Image questions from e2learning.com
Open video in new Window
Image Description – Cheat Sheet
Introduction (use 10 sec) – This image represents TITLE + X Axis
Key features (use 20 sec) – Just KEEP it SIMPLE.
Describe the MAX/Min to maintain fluency and time limit.
Avoid hesitation. Stay calm.
Keep the sentence going on. Don't re-start the sentence.
Read words from the image.
Conclusion (5-6 sec) – SINGLE SENTENCE
Overall, say the conclusion.
DON'T worry even if you say the wrong conclusion. It does not matter.
Oral fluency is judged.
Don't STOP and don't restart the sentence.
PTE Repeat Sentence Tricks
10-12 sentence repetition
Open video in new Window
Repeat Sentence – Method to Follow
Listen to phrases. Divide it into 3-4 phrases.
Understand the content.
Repeat with intonation (raise voice at important words, a lower voice at end of sentence) and meaning.
PTE Retell Lecture Tips & Tricks
3-4 lectures
Take note of keywords. Get an idea about the whole topic.
Trick to Remember
Just use the sentences in BOLD as it is and then the words from what you heard.
The speaker was discussing TOPIC
FIRSTLY, he mentioned KEYWORD 1
He THEN talked about KEYWORD 2
IN ADDITION, He discussed KEYWORD 3
He described KEYWORD 4
FINALLY, He suggested KEYWORD 5
PTE Listening
#1 Write from Dictation or Summarize Spoken Text
Runs for 60-90 seconds
2-3 dictations/lectures
50-70 words
10 minute total time. You get about 8-9 minutes for writing after listening to lectures.
Open video in new Window
It is similar to the Re-tell lecture except that you have to write here than speaking.
Try to write between 65-70 words to get maximum marks on content.
Take notes and UNDERSTAND the dictation/ spoken lecture. Multiple sentences are allowed.
#2 PTE summarize spoken text (Same as Re-tell lecture)
The speaker was discussing TOPIC
FIRSTLY, he mentioned KEYWORD 1
He THEN talked about KEYWORD 2
IN ADDITION, He discussed KEYWORD 3
He described KEYWORD 4
FINALLY, He suggested KEYWORD 5
PTE Academic Write Essay Tricks
200-300 words
220-250 words are ideal
Open video in new Window
Essay Writing – Cheat Sheet
Divide the whole essay into 4 parts:
1. Introduction
-LEAVE 1 BLANK LINE
2. Paragraph 1 – Side 1
-LEAVE 1 BLANK LINE
3. Paragraph 2 – Side 2
-LEAVE 1 BLANK LINE
4. Conclusion
The next step is to further sub-divide the essay sections into each sentence as shown in the image.
Watch the video above for an excellent explanation.
IELTS vs PTE – Which Test is Easier?
My personal opinion says PTE as an exam is tougher than IELTS. But, at the same time, scoring in PTE is much easier than IELTS.
You can use the free EDX IELTS test preparation courses online to improve your score.
Since PTE is a computer-based test, the chances of human bias while scoring is almost negligible.
I have attempted the IELTS General exam thrice in past and in both attempts, I was given 6.5 in one out of four subjects. The other 3 always were 7.5+.
On the other hand, I topped PTE Academic in my first attempt!
My PTE Experience Score 79+ PTE
#1 PTE Pen and Notebook
PTE test center gives an erasable marker pen and an erasable notebook exactly like this picture.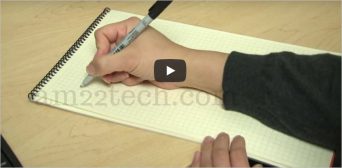 #2 PTE Timed sections are tough to manage
I found these two sections where you have multiple questions to be mentally tiring and stressful.
18 questions to answer within 40 minutes (reading section) and
19 questions to answer in 40 minutes (listening section) – Time is reduced if you take extra time in a 10-minute break.
#3 Listening and Taking notes
Listening, Taking notes, and then selecting the most appropriate 1 option was tough as the total time plays on your mind.
PTE should probably consider the exam's stress too while timing the sections.
You can't really focus on what the speaker is saying and then gauge the notes to select the best option with 12 more questions left and only 20 minutes left on the clock.
The options are too similar to each other. No one clearly stands out.
The lecture that you hear is full of words from all options with just slightly different meanings from each other. They are kind of synonyms.
Unless you get enough time to hear and understand the spoken speech, you will struggle to find the correct answer.
When you are reading the options, the TIMER constantly plays on your mind because you see that there are still 12 questions left to attempt and you are only left with 20 minutes.
Listening and filling the blanks is a mix of easy, medium level, and one fast speaking lecture. One of them is definitely a lecture with a FAST speaker.
#4 Select the Correct word
One of the 'select the correct word' in reading is tough with complex words. All others are easy and medium complexity.
The tough one had words that I had never heard or ever used in my life. Hence, I had no idea about their meaning either. I just selected based on my instincts.
#5 No time to read question instructions in listening + speaking task
PTE ASSUMES that you should KNOW the question format before you even appear for the test.
The instructions written on top of each question can't really be read in a limited time.
Speaker starts throwing questions at you immediately back to back. There is hardly any time to breathe.
If you have gone wrong on one question repetition, it will affect your next question's 'listen and speak' too.
You just don't get time to think and relax. It all happens too FAST for a normal person.
#6 PTE test may go wrong but you still will score
You might feel that you missed a lot of questions or spoke wrong things, but do not worry, the overall score still gets you past 79+ easily.
As per my experience:
If you made mistakes in speaking the sentences (after listening), but wrote them correctly (after listening), you probably will still get a good score.
I can say this as the same thing has happened to me.
I missed a lot of sentences completely.
Spoke them half correct and half-forgotten.
But, I still got a good score as I wrote all the sentences correctly while listening and writing.
#7 PTE Exam 10 minute break
The 10-minute break timer starts immediately after part 2 of the English PTE exam ends.
In my case,
the examiner took 3 minutes to reach my desk and another 3 min. were spent scanning my fingerprints and giving me a neck tag.
I used the restroom – 2 min, drink water – 1 min.
Hand scan and pockets check again takes 3 minutes before re-entry.
Officially, PTE says that you should come back from break with 5 minutes to spare for all these extra security checks!
So, basically, you only have about 2 minutes of real break time. Be careful.
When I logged back into my test, it showed "YOUR BREAK TIME HAS EXPIRED".
The extra time that I took was deducted from my next examination part 3.
E2 Learning – Jay
All thanks to e2language.com for providing valuable tips for PTE exam online for FREE.
I did not enroll in any of their paid programs. Just their video tutorials and mock-up tests online on YouTube channel worked.
Jay from E2 Learning is awesome. His methods for cracking each type of PTE question are just unbeatable.