Visa Approved Status Admin Processing (Form 221g Solution)
H1B visa approved but CEAC status is Administrative processing. VO said visa Approved. Identity verification - Form 221(g) issued but no documents asked.
AM22Tech Team
Updated 29 Jul, 22
After the H1B Visa interview at the US embassy in Delhi, India, the Visa officer took my passport and told me Congratulations, your visa is approved and I will get the passport in 2-3 days.
My CEAC status online shows Refused even when no form 221g was issued by the visa officer.
CEAC may show this status:
Administrative Processing or
Refused.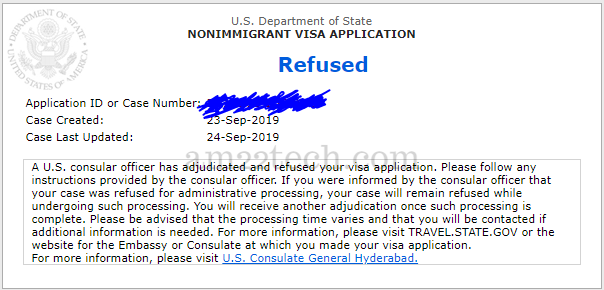 Why Is Visa Approved Administrative Processing?
This is a pretty common question in this situation. Don't worry.
Admin processing is the normal status and could mean multiple things with or without form 221(g) including:
End Client Verification Is required
Identity, Security Check Required
Past Visa Maintenance Needs to be Verified
H1B Amendment Status is Pending
Day 1 CPT was Used in the past
DS-5535 National Security Check Required – As name matches high profile target
You work in Biotechnology, the Chemical field, or restricted Technologies.
Form 221g Processing Time
CEAC – Visa Approved but Status is Administrative Processing status is common these days after visa interview in the US embassy.
If your visa was approved and no form 221(g) was issued, then you can expect your stamped passport within 5-10 working days.
No need to worry.
It is possible that the US embassy has not issued form 221(g) but the status will still show as admin processing on the CEAC website. But, they can still send your application back to USCIS in the USA for US work location verification.
In this case, your application status will show as Administrative Processing even though the visa officer told you VISA APPROVED.
White Form 221g – Real Life Case
This real-life case happened at the US embassy in New Delhi for an H1-B visa interview. This person worked for a direct US employer full time.
This H1B visa stamping was done just after H1B transfer approval using premium processing.
Visa Officer (VO): How are you doing today?
A: I am doing fine. What about you?
VO: What class of visa have you applied for?
A: H1B
VO: Which company are you going to work for?
A: ABC Company.
VO: What is the education of your wife?
A: B.A.
VO: Is B.A. equal to Bachelor of Arts
A: Yes
VO: Where have you lived in the US and where are you going to live now?
A: Tampa, FL, and Westford.
-I was interrupted by my kid here. So, I could not answer completely. A new question immediately followed.
VO: Westford? Where? In Massachusetts?
A: Yes, Massachusetts.
VO: Is there any client or you are going to work directly for this company?
A: There is no client. The work is directly for ABC company.
VO: Please move to the next window and my colleague will help you.
A: Okay.
——————————————————————–
They move to the next window and then were informed that they are putting the case for administrative processing. They now ask the following questions:
Q: When did you change your address in the last 15 years? Is it in 2006?
A: I thought they are asking specifically about India as I was in India in 2006. I answered Yes, and gave my Indian address before and after 2006.
Q: Do you have any brothers/sisters?
A: Yes, I have.
Q: What is the name of your sister?
A: XYZ Sharma.
Q: What is the name of your brother?
A: I don't have any brothers.
Q: When do you intend to travel?
A: 11th Oct.
They hand over the white form 221g but keep passports with them.
Problem (as analyzed by the person himself and attorney)
In this case, this person forgot to tell one of his addresses that he lived in the USA to a VO officer. VO did not tell this to the person but instead, just issued a form 221(g) with no documents to submit.
No Documents Requested
Form 221g may be issued even if there are no extra documents required from you. Usually, the document list is printed by default and the visa officer will cross it down.
How Attorney Handled
The attorney and person went through the full transcript of the interview (as written above) and concluded that:
VO probably had doubts about the person's identity.
Since the visa applicant forgot to mention all his US addresses clearly, VO sent the documents back to the US for verification.
The Attorney in the USA then sent an email to the USCIS premium service email directly with clarification on the address that the person forgot to tell the Visa Officer.
This is the real email that was sent. I must say that attorney was really smart in this case and took a fast decision and really helped the candidate.
The US Embassy was satisfied and they cleared the 'Administrative processing' within a week. The person had his H1B visa approved in 7 straight days including weekends.
A smart attorney can really take you far!
H1B Form 221g in Canada or Mexico
If the visa officer is not satisfied with your answers or you are working in an EVC (Employer Vendor Client model) with an H1B visa, the chances are high for a request for more documents.
You will have to stay back in Mexico or Canada if your case gets into Admin processing. It may take 7-14 days to get your passport with stamped US visa.
You should not book your travel tickets with fixed dates if you do get a form-221g as there are no fixed timelines.
Passport Returned by Visa Officer in Canada/Mexico
If your passport has been returned by a US visa officer after the interview and a form 221g was issued, then the chances are very high that your case processing will take at least 6 or more weeks.
You will get an email to submit the passport again as and when the US embassy is ready to stamp your US visa.
Once you submit the passport again, you can expect to get a stamped passport back in 7-14 days.
It is important to keep a buffer of at least 3 weeks after US visa interviews these days if you are going for visa interviews, especially on H1B and L1 visas.
H4 Visa Approved, H1B still Admin Processing
It is also possible that no Form 221 (g) was issued and the Visa officer told you 'Visa Approved' but your dependent's H4 gets approved and your own H1B visa status shows as 'Administrative Processing' online.
This generally happens:
If the US embassy is just verifying primary H1B's credentials a little bit more or
has sent H1B's application to USCIS to confirm some more information like work location.
No need to worry, you will get your H1B approved.
Remember, H4 cannot exist without H1B. If H4 has already been approved, your H1B approval is also on the way. Just a couple of more days to wait.
Reasons for Form 221g
There can any number of reasons for issuing form 221g by the US embassy and some can be really unheard of.
Recently, a person was issued form 221g and asked to submit the details of the CBP encounter at the US port of entry. This person had paid the fine for not declaring the food items that he was carrying from India.
Identity, Security Check
Identity checks are done by the US embassy to get US government security clearance on the person before the visa is issued.
You cannot expedite the security check process as the State Department (through the Embassies) takes its security obligations quite seriously.
The security clearances can take 1 to 8 weeks, and unfortunately, the government shutdown does delay these clearances.
The State Department does not have any specific time limitations to give security clearances.
Sometimes, these clearances are requested just because someone with a name similar to ABC's name is on a watch list of individuals who committed a crime – and then the Embassy must be sure it can clearly determine that ABC is NOT that person.
FAQ
Is there a risk of Form 221g issue in Canada/Mexico?
You can get admin processing form 221g issued in Canada or Mexico too. The risk of form 221g delay is always high if your paperwork is not complete.
What is Form 221g processing time in India?
Form 221g processing time varies between 7 days to 6 months.

If form 221(g) is issued with a request to submit more documents, you can expect to wait for the form for more than 8 weeks.

If there are no documents requested, then you can expect your US visa approval in 7-30 working days.
Can I get a Passport for Travel while Form 221g Admin processing is pending?
You can request to get your passport while the US embassy is doing its internal admin processing.

Once the US embassy has cleared your case, they will send an email to submit a passport again.