How to Apply Canada Visitor Visa (with Sample Travel Itinerary)
Canada visitor visa application for 10 yrs or passport expiry date. Biometric required. Online application faster without interview. Sample Travel Itinerary.
AM22Tech Team
Updated 23 Sep, 21
Canada visitor visa can be obtained without even a visa interview. Canada has a very streamlined process to send your passport and get the stamped visitor visa by postal mail.
Canada visa officer will decide if an interview is required for your specific case and call you if one is needed.
If you have any US visa stamped in your current or old passport like a US B1/B2 or any work visa like H1B, L visa, the chances are very high that you will get Canadian visitor visa without an interview.
This article will discuss:
Documents Required
#1 Passport
All old expired and current valid passport color copies.
Scan the following pages preferably using your smartphone app or a scanner at home:
Frontpage showing your photo
Last page showing your address
All existing entry-exit stamps in the passport
All valid or expired visa stamps from any country
You can use various apps and cloud storage services to scan and keep all your visa documents easily accessible.
#2 Bank statement
Showing last 3-month bank balance.
Make sure you have enough money to pay for your Canada trip as per your itinerary.
I suggest using your salary account which shows pay credits.
#3 Employment Letter
If you are currently employed in your country, an employment verification letter is recommended.
#4 Current Country Valid Status
If you are applying for a Canadian visa in a country that is not the same as your passport, then you need to provide proof of valid status.
Example:
If you are working in the US on an H1B visa with an Indian passport, you need to provide your valid H1B i797 copy as proof.
#5 Scanned Photograph
You can get your passport size photo created online as you would need it for uploading with your application.
Your photo will be taken again at the VFS center.
#6 Application for Visitor Visa (Temporary resident Visa) – IMM 5257
#7 Application for Temporary Residence – IMM 5257 Schedule 1
#8 Family Information Form – IMM 5645
#9 Last 3 months Pay Slips
#10 Marriage Certificate (if married) and applying as family
#11 Travel Itinerary – Sample given below
#12 Visa Fees payment Receipt
You can pay online by credit/debit card.
There are no extra surcharges but it may vary based on the country you are applying from.
Online Process
#1 Create an account on the Canada CIC website.
If you already have a log-in, you can simply sign-in using your GCKey (basically Canadian CIC website password).
The solution to log-in loop error Canada CIC website.
#2 Upload all required documents and submit application.
#3 An email is received for the biometric letter.
Print the Biometric letter and take an appointment.
You get 30 days to give your fingerprints after the Biometric letter has been generated. The last date will be mentioned in the letter too.
What to expect at USCIS ASC center biometric experience in USA.
#4 Once biometric is done, you will wait for a decision on your application.
#5 You will get an email once a decision is made. You will be asked to submit your passport.
Passport Request Letter
Once your application has been processed by the visa officer, you will get an email and a letter would be available in your CIC dashboard.
The chances are 99% that your visa has been approved if you get a passport submission request.
You can submit your passport within 30 days of passport request.
#6 Submit your passport.
You can expect your passport back with a visa stamp within 1-3 working days.
Visa Processing Time
The Canada visitor visa processing time is 21-40 calendar days.
This timeline is shown from a real Canada visitor application where the application was submitted online on Sep 15.
Biometric was completed on Sep 23 at VFS Canada Application Center in Sydney, Australia.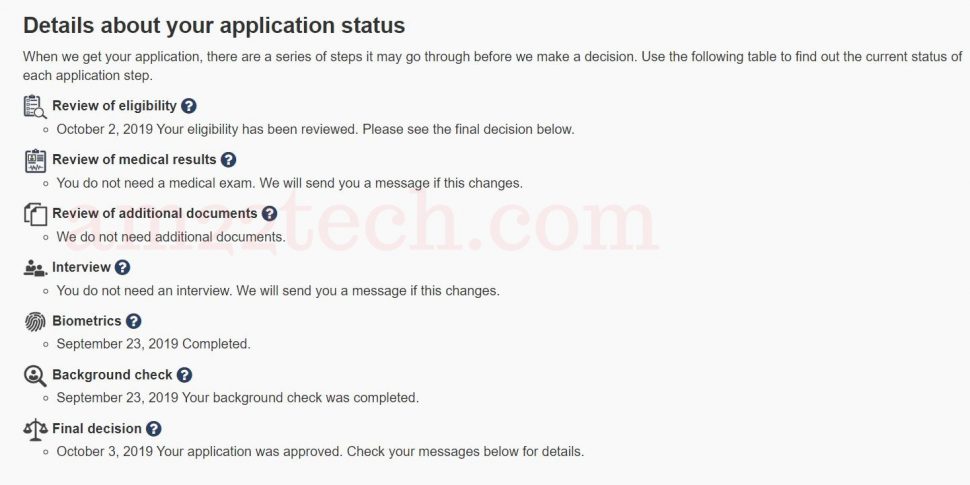 Sample Travel Itinerary
Travel Itinerary
PURPOSE: My purpose is to take a short tourism trip to see Niagara Falls from the Canadian side while going to the USA.
Here is what I plan to do:

Sep 16 – Take flight from Sydney, Australia to Toronto, Canada.
Sep 17 – Arrive in Canada. I plan to stay at Holiday Inn Niagara Falls.
am22tech.com
Sep 18 – Visit CN tower in the morning. Visit Niagara Falls on the Canada Side in afternoon.
Sep 19 – Take flight from Canada to Dallas, USA
Please note that in the event I do not obtain a Canadian visitor visa in time to be able to book the flight tickets for these dates, I will plan to visit Canada from the USA if I have a visitor visa at that time.
Trip Cost Planning
| | |
| --- | --- |
| Cost Type | Estimated cost |
| Flight ticket from Australia to Canada | USD $1050 |
| Hotel stay cost (2 nights) | USD $500 |
| am22tech.com | |
| Niagara Falls and the CN tower sightseeing | USD $200 |
| Food and Taxi travel | USD $200 |
| Total | USD $1950 |
FAQ
Is Biometric Required for Canadian Visa?
You will need biometric if you have never given your fingerprints for any Canadian Visa in the last 10 years.
How long is Biometric Valid for Canada?
Canadian biometric is valid for 10 years.
How much is Canada Biometric Fees?
Canadian Biometric fees is CAD $85 at this time.
Is Appointment Required for Biometric?
You need a biometric appointment. VFS manages the biometric process for a Canadian visa.

It takes about 15 minutes to take fingerprints but waiting time depends on each VFS center and their individual workload.
Is Online application faster than physical paper?
Online Canadian visitor visa application is faster than physical application by at least 10 working days.

Your application saves time on postal mail and you can get your visa faster.
Is Biometric Collection Letter Required?
A biometric collection letter is required for a biometric appointment.

You will get this letter online in your CIC account after you have submitted your application.

The biometric letter is generated in about 1-2 days after your submission.



Is Canada Visitor Visa Issued for 10 years?
Canada visitor visa is issued for 10 years or up-to passport validity date.

Example: If your passport validity is less than 10 years, then Canada visitor visa validity date will be the same as your passport expiry date.
How many days do we get to Submit Passport?
You can submit your passport within 30 days of passport request.