How to get FBI Clearance Certificate (Online, By Mail, Outside US?)
FBI clearance certificate for immigration. Processing time 3-5 days. Fees $18. Fingerprint FD-258 form at home on A4 white paper. Use for Australia, USA Green card, Canada PR etc.
AM22Tech Team
Updated 8 Dec, 22
FBI clearance certificate can be applied using 3 different options. FBI Police clearance certificate is the same as FBI clearance Certificate.
Apply online: FBI Website, pay fees online, mail fingerprints – Cheapest, very good options. Get a Certificate in 3-5 days.
Mail FBI application and fees by post – Slowest method takes up to 14 to 16 weeks.
FBI approved third party agent – 3-4 days Fast processing but most expensive.
FBI certificate is officially known as Identity History Summary Checks.
All 10 fingerprints are required for running a background check and receiving FBI Clearance Certificate.
You can apply for FBI clearance for Canada permanent residency, USA Green Card, or Australia PR using one of the 3 options:
Apply Online on FBI Website
The FBI Police clearance certificate processing time with an online application is 3 to 5 Days.
Step 1: Create FBI Clearance Request Online
FBI Police clearance certificate online request.
Open the link in Mozilla or Internet Explorer. Chrome and Safari do not work.
I am not sure why but, the FBI website link throws an invalid_request error in the Chrome browser and the website does NOT open.
Step 2: Enter email to start Application
Follow the steps under the section Obtaining Your Identity History Summary->How to submit a request.
To start your application, enter your email and click the submit button:
Step 3: Email from FBI
Once you submit, you will receive an email from the FBI with your login password and unique FBI page link.
Click this unique link and fill the FBI application form.
Enter your PIN (from email) and click Log in. 'Accept' the terms and conditions.
Step 4: Fill Online Application
You have the option to receive a response by First-Class Mail via the USPS too.
FBI Police clearance fees are $18.
Pay FBI fees online by credit card.
No extra fees for postal mail response.
At this time, the STATUS on the FBI website will show as 'INSUFFICIENT' for your case as the FBI is waiting for your fingerprints.
Step 5: Get Fingerprints
Print FD-258 form on a plain A4 size white paper and write with Blank ink.
You can buy FD258 card from Amazon:
The fingerprint card needs to be printed on a hard white paper. I recommend buying it from Amazon than printing it at home.
Take Fingerprints Yourself?
You can pretty much take the fingerprints yourself if you are outside the USA like in India or any other country.
I strongly recommend getting the fingerprints from your local Police station if you are currently in the USA.
Fingerprints at FedEx Mail Office?
FedEx and other local postal mail vendors in the USA also provide fingerprinting services for a price starting from $25+ per person.
I tried for me and my wife as it seemed pretty easy using this official FBI fingerprint guide. But the ink was just messing up the fine finger lines and merging them. If the fingerprints are not good, the FBI will simply reject your application.
Local Police Station in USA
The local police station in the USA charges anywhere between $5 to $10 for each person's fingerprints and they are experts.
They provide the form FD-258 too. So, you do not need to print it yourself.
Most of them will do it for free again, if the first prints are rejected by FBI.
This is a sample FD-258 form that was fingerprinted using Plano, TX Police station's fingerprinting service: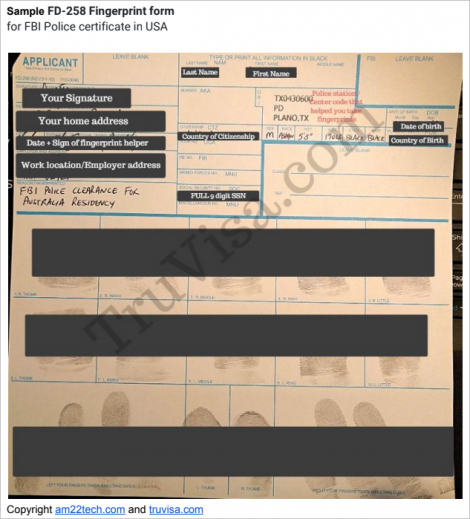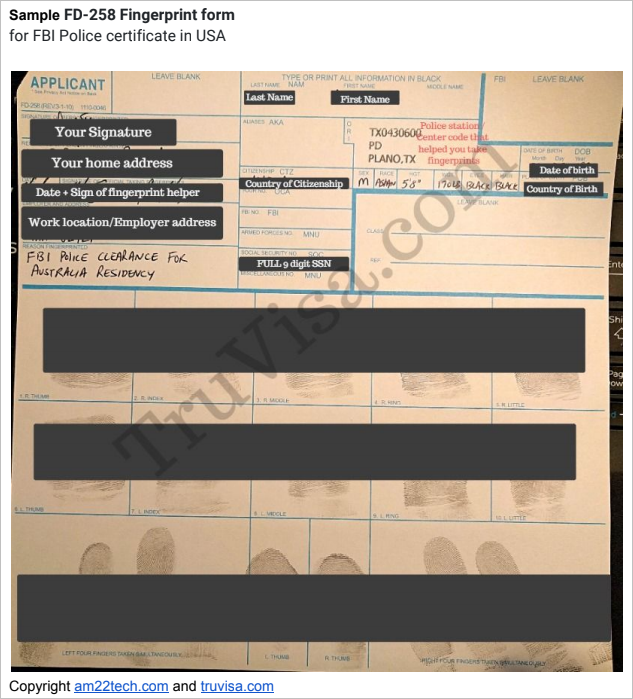 Step 6: Print and Mail

Print the order confirmation email that you would have received from the FBI.

Send the email confirmation and form FD-258 (with your fingerprints) to the FBI CJIS division by postal mail. You can mail them to the FBI from outside the USA too.

FBI CJIS Division – Summary Request
1000 Custer Hollow Road
Clarksburg, WV 26306

Step 7: Tracking & Processing

Once the mail is delivered to the FBI, they usually take about 48 hours to update the tracking status on their website and inform you by email.

FBI will then scan your fingerprints to complete your criminal record background check.

The whole process of an FBI background check is automated and you can expect to receive the clearance certificate within minutes of their acknowledgment email (for your fingerprints).
You can download the FBI clearance PDF file once available.
If you opted for postal mail FBI clearance certificate too, then it will arrive by USPS mail between 6-7 days.
The paper hard copy is exactly same as the PDF.
FBI Clearance by Postal mail
FBI police clearance request by postal mail processing time is 14 to 16 weeks.
Download the FBI police verification application form from here. Print and fill up the form.
Get a Cashier's check or Money Order for $18 per person as fees, payable to the "Treasury of the United States".
You can pay by credit card too. Print this payment form and fill in your credit card info to send with your application.
Get your fingerprints. Follow the same process as listed above for FINGERPRINTS.
Send application, payment, and fingerprints to the FBI office via traceable postal mail. The address is mentioned above.
This is the SLOWEST method of getting police verification from the FBI.
The ONLY difference between this method and the first option above is that you make the payment online in the first method. The first one is a lot faster than this one.
FBI Approved Third Party Agents
FBI Police clearance processing time with third party providers is 3-4 days. This is the fastest and most expensive option.
Choose one third-party vendor from the FBI-approved list.
They take your fingerprints electronically and transmit them to the FBI electronically too. This makes the process the fastest among the 3 options.
They are available outside the USA too in a country like India.
This is probably the fastest method to get an FBI clearance certificate for Canada immigration or Australia PR if you are located outside the USA.
The fees vary with each vendor and normally start from $200 per person. They collect the total fees from you, including the FBI's $18 fees per person.
FBI officially says that this third party service is ONLY available for USA citizens and Green cardholders.
But, I know from reliable sources who are neither US citizens nor green holders and have used it to get FBI clearance within 3-4 days.
Sample FBI Clearance Certificate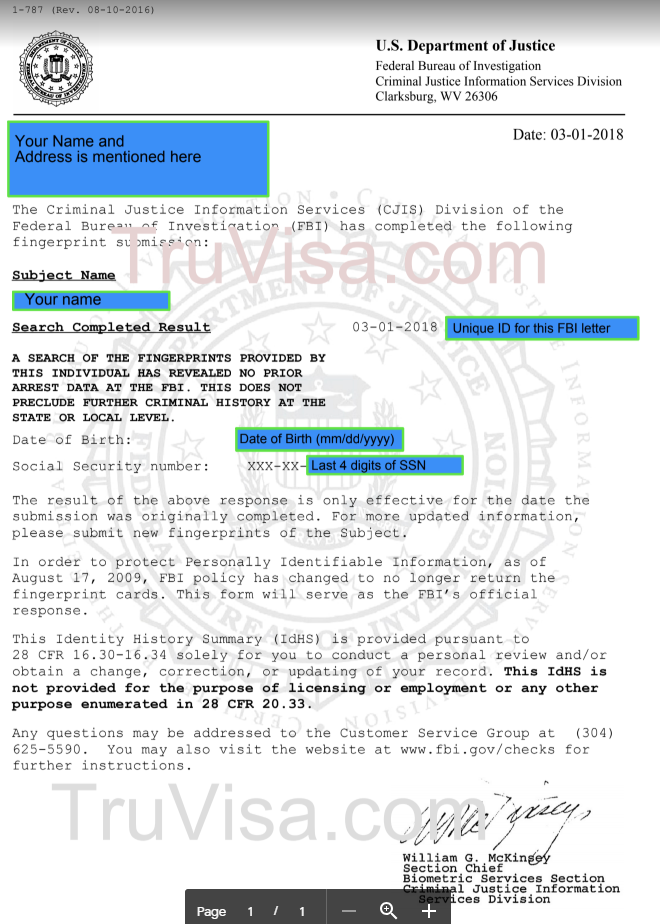 FAQ
What is the validity of the FBI Clearance Certificate?
There is no expiry date mentioned on the FBI certificate.
The FBI certificate is valid for 6 months for Canada Permanent residency application.
The FBI certificate is valid for 12 months for Australia Permanent residency application.
Is FBI Police Verification Done at Home Address?
There is no physical police verification done by the FBI at your home address.
FBI uses your fingerprints to find your criminal records. If you have ever been arrested or fingerprinted by the FBI, they will have your record.
You would have been ten printed (meaning 10 fingerprints given) while applying for a USA visa in your own country, at the US embassy's OFC center.
I am not sure if the FBI has access to the fingerprints that you gave at the US embassy for Visa or if they verify that database. They have not disclosed it on their website.
Can we send Multiple FBI clearance requests in the same mail package?
You can send multiple cashier checks, multiple fingerprint cards, and multiple confirmation email copies in a single postal mail.
This is useful if you are applying for FBI certificates for family.
Can we Reuse FD 258 Fingerprint Card?
The FBI requires a current fingerprint card to process your Identity History Summary. You cannot use any old or already used FD-258 cards.
FBI does not return your fingerprint cards.
Can we get the last 4 digits on FBI clearance Report?
You can choose to have your SSN's last 4 digits printed on the FBI clearance report.
You should write full nine digits or last four digits of your Social Security number on the fingerprint card to have the last 4 printed on FBI clearance.
Can we change the Mailing address after submitting the FBI clearance application?
You should sign the Address Change Request Form and fax it to (304) 625-9792, or scan the form and e-mail it to identity@fbi.gov to change your address.
If you submitted your request electronically (Option 1 above), you may change your address either by using the secure link and personal identification number received during the request process or by e-mail.
Do we need to send a return post envelope?
You are not required to send any 'return shipping' envelope. FBI takes care of return shipping and mailing.