Canada Open Work Permit for US H1B visa holders (Open NOW!)
Canada allows US H1B workers to get open work permit for 3 yrs. Spouse can work too. Get job in Canada or work remotely for US job.
Anil Gupta
Updated 20 Jul, 23
Update 17 July 2023 9 PM ET: Canada's work permit quota for #H1B is now full!
They received 10k applications in 2 days, which was meant for 1 year. Simply unbelievable.
The USA knows the desperation and how the highly skilled category is being treated by the 30-year immigration law but simply chooses to ignore it.
How many of you make it?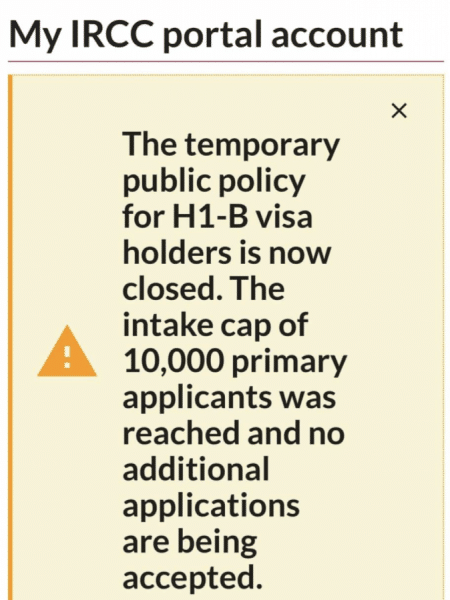 I would strongly vouch for Canada to consider giving PR based on US-approved i140 next.
If this happens, thousands languishing in the unfair and never-ending backlogs will move immediately.
There is a good chance that they will take their job with them to Canada too.
Employers will be forced to take action or will force the US Congress to take action if employees move to Canada citing the impossible lifelong US green card backlog, which has no real solution in sight.
As it stands and is estimated by CATO institute, most Indians will die before seeing the US green card.
Canada Work Permit
Canada immigration has decided to give open work permits to people currently holding USA H1B visas.
The application process opened on July 16, 2023, and will remain open until 10k applications are received or 1 year, whichever is earlier.
Canada is trying hard to cash in on the remote work culture created by COVID. They are aiming to bring the US remote jobs to Canada.
Basically, any H1B visa holder, the majority of which are Indians, will be able to work from Canada thereby paying income taxes in Canada instead of the US.
Many start-ups have spawned recently to cater to this specific remote job culture where a person is physically located in Canada but the job is in the US. This essentially means that at some point in time, the job will be moved to Canada by the employer.
Work Permit Details
A person should hold a valid USA #H1B visa to be eligible to apply.
The Canadian work permit will be given for 3 years validity.
No Canadian job offer is needed.
No LMIA is needed (LMIA is equivalent to USA LCA).
It's always good to have a flexible, progressive system that changes easily for economic needs than a 30-year-old patchy US-style system.
The spouse will get a work permit too in addition to the primary applicant.
Documents Required
H1B Approved i797

You need to upload a copy of the approved H1B i797.

Valid H1B visa stamp in Passport

You will be asked to upload it. I am not sure but they should accept the expired visa stamp from the passport in conjunction with the valid H1B i797.

Valid H1B i94 for Primary, H1B/H4 i94 for Spouse
Marriage Certificate (In English)
Passport

Valid passport
The work permit will only be given until the passport expires or 3 years.
H1 B-based Canada work permit cannot be extended at this time. So, if your passport expiry restricts your work permit term to less than 3 years, you may not be able to use the full 3 years.

Proof of funds

The last 4 months' Bank statements show enough funds to survive in Canada.
There is no fixed amount. But, I suggest $1000 CAD per person per month.

Example: for a family of 3 (2 adults and 1 kid), I suggest showing at least 3k per month for 6 months as a bank balance.
If you do not have the whole amount in one bank, merge the statements from all banks into one. You can also add the Robinhood, Fidelity, 401K, etc. stock statements to show that you have enough money.

USA Utility bill

It is suggested to upload the most recent utility bill like gas, electricity, etc. in the primary applicant's additional document section.
This is to prove that you are currently living in the US.
Child Additional Documents (If applying for Child)
Child passport-size Scanned photo

If you are also applying for a work permit for your child (you can apply for a work permit for children under 18 years kid also), you will need to upload their image.
You can click the picture on your phone and then upload the scanned copy. Paper copies are not required. Canada is more advanced than US immigration!

Birth Certificate in English
Fee
The Canada work permit filing fee is $155 CAD per person which is equivalent to about $117 USD at this time.
An additional $85 CAD is charged for the biometric fingerprints and photo per person. The good thing is that the biometric fee is capped at $170 CAD for a family of 2 or more persons.
If you have given your biometrics for any Canada visa in the past 10 years, you do not need to pay the biometric fee again. The biometrics are valid for 10 years once given.
You can check if your earlier Canadian biometrics are still valid or not here.
How to Apply for an H1B-based Canada Work Permit?
You have to apply online through the IRCC Portal.
Once you enter your email address, you will get a code to sign up.
After you log in,

Click Apply to visit, study, or work in Canada as a temporary resident.
On the next page, check the box at the bottom that says I'm ready to start my application.

If you're applying to bring eligible family with you

Answer Yes when asked Do you want to apply for more than 1 person at the same time?
Select "Family" as the type of group that applies to your situation.
On the Manage group page, click Add member for each member of your family.
You must complete an application for each family member, but you can submit them all at once when you're done.
When you're asked what you want to apply for, choose an open work permit for an H-1B visa holder.
Continue answering the remaining questions to complete your application.
Processing Time
There is no official time frame available but I believe that it will be within 4-8 weeks.
Benefits
The most significant benefit will be the chance to get Canadian work experience and then claim extra points for PR later.
Many Indian H1B visa holders who have waited patiently for the US green card queue to move have aged out of Canadian PR.
These are people above 40 years of age. They can now apply for this work permit and can get PR points for working in Canada.
It seems Canada is keeping a close watch on the USCIS visa bulletin!
USA EB1 Manager GC Queque Eligibility
Many people stuck in the US EB2/EB3 queues would welcome this step as it has the potential to make you eligible for the USA EB1C category.
To be eligible for the EB1 manager category, you must work outside the USA in an executive manager role for at least 365 days in the last 3 years.
We will add and update more details as they are made available by Canadian immigration CIC/IRCC.
FAQ
Can H4 spouse apply for the work permit later after H1B's Canada permit is approved?
Yes, H4's spouse and dependents can wait.

You will be able to apply for the work permit later when H1B's Canada work permit application has been approved.
Is the medical exam needed for the Canada work permit?
You will not need to go through the medical exam for applying for the work permit unless you have been diagnosed with TB, or are being treated for kidney failure and other such serious illnesses.
Can I physically work in Canada and still maintain my USA H1B visa?
Your H1B visa stays intact even if you work from outside the US.

We have answered this question in detail here as the concept of maintaining the status as per immigration law is different than how most people think.
I have my EB2/3 i485 pending, Can I go to Canada and return to get eligible for EB1?
Yes, you can go to Canada and work there for at least 365 days in an executive managerial position.

Then, after one year, if your employer transfers you to the US branch, they can file your green card in the EB1 category. There is premium processing available for EB1 i140 too.

Note that you will need to have approved advance parole to leave the US while your i485 is pending. Otherwise, USCIS may deny your pending i485 once you exit the US.
Getting Error on the Last 10 years address page on the IRCC website?
You might see an error on the country of residence page on the IRCC website even though you have provided the current US address.

To resolve this, click the 'Add' button. A pop-up will open.
Select the country, dates of living in the country, and other required fields.
Save and come out of the pop-up.

Now, you will see this entry in the list of residences.

You will now be able to 'Save and Continue' without any error.
IRCC form: What is the status in your country or territory of residence for H1B?
You can select 'worker'.
I have a valid H1B i797 with i94 but an expired H1B visa in my passport. What should I mention as the expiry date?
You can mention the expiry date of the H1B i797 petition.

We are expecting the Canadian immigration officials to understand that H1B i797 with valid i94 proves the H1B visa status even if the visa stamp in the passport has expired.

There is no clear guidance from IRCC on it yet. We will update you if we find one.
Will the people who have approved I-140 but don't currently hold valid H1B visas or valid I-94 (as they have already moved out of the US) be also eligible for this?
Since the application form on the IRCC website is asking to upload proof of current stay in the US, we are inferring that they are only looking to approve applications for people currently staying in the US on an H1B visa.
Can the spouse stay in the US on H4 EAD while the H1 Applicant works from Canada on open work permit for 6 months to a year?
The simple answer is no.

H4 status is dependent on H1B status. Once you leave the US physically, your H1B status is lost automatically. For short terms like 4-8 weeks, there might not be an issue but for more than 6 months, H4 should also leave the US.
Can I open a business or buy a rental property using open work permit?
Yes, you should be able to open a business or buy a rental property using the open work permit in Canada.
Will Canada's H1B work permit ReOpen Again for more applications?
There is a good chance that Canada will reopen the H1B open work permit program.
There is no official announcement from Canadian immigration on it at this time though.

As per various news published in Canada, this was a pilot program and the government is looking into how many people actually move to Canada once approved for the work permit.

In fact, many applicants who might rejected due to incomplete documents may open up the existing slots for new ones. We will update as soon as we hear anything about it.
More Questions?
Do you have more questions? Ask them in comments and we will try to answer to the best of our knowledge.