DS 5535 Form Security Check (15 Year Travel History, Processing Time)
DS 5535 security check processing time is 2 weeks to 8 months in Mexico, India. Cannot be expedited. Last 15 year travel, address, employment info required.
AM22Tech Team
Updated 18 Nov, 22
DS 5535 is a security check form issued by the US embassy at the time or after your visa interview.
It is meant for extra security checks primarily meant to scan the last 15-year history of your travel, employment, and residence.
It was first started in 2017 when Trump started the ban on middle east countries and was supposed to be only issued to people who are flagged as a threat to US national security.
Who Can get DS 5535 Form?
We have seen that this form is issued more often and that too for people who have been working in the US for more than 5 years with no previous history of any illegal activity.
Anybody can get DS5535 security check form 221g admin processing including F1, B1, B2, H1B, H4, L, and any other US visa.
DS 5535 Processing Time
DS5535 processing can take between 2 weeks to 8+ months.
It's a black hole due to the security checks that are sent to various US agencies to verify your profile. Until a positive response is received from each agency, the US embassy will not issue you the visa.
The processing time varies by each US consulate and there is no fixed time.
DS 5535 processing time in Mexico
Many people have reported that they got their DS 5535 cleared within 14 days from the US embassy in Mexico. The quickest cases are normally the ones where you have only traveled to the USA in your life.
Up to 60 days: If you have traveled to multiple countries like Canada, the USA, Japan, Europe, and other such places have waited for more than 60 days to get a 5535 clearance.
60+ days: If you have traveled to any middle east country like Saudi Arabia, Turkey, or North Korea which are part of the US visa ban, you have a very high probability of receiving this DS5535 in your US visa interview.
5535 Processing Time in India
Indian form 221g for DS5535 is taking more than an average of 60+ days at this time at the consulates of Delhi, Mumbai, Kolkata, and Chennai.
Tracker for DS 5535 Cases
There are some dedicated DS5535 WhatsApp tracker groups active at this time for various H1B, H4, B1/B2, and other visa-type cases. You can join them to connect with people who are in the same boat.
What Happens in Security Checks?
The purpose is to check your background for any criminal activities that may affect US national security. It is completely random and nobody knows why some people get DS5535 while others don't.
The US embassy sends your information to various other security agencies in the US who then try to validate the addresses and your employment information.
Usually, a red mark will be placed on your DS160 or your passport at the time of the ASC biometric process if your profile is flagged for security checks by US systems.
There is no official information about what all agencies are involved but people have reported that clearance is requested from the FBI, CIA, DHS, ICE, and others.
Your application is also sent to Washington DC for final clearance before issuing you the visa.
Can Attorney Expedite DS5535?
Your attorney or you can contact the US state department or US embassy after your case has been pending for 60 days to get a status. But, most people just get a standard response that it is pending.
Need help with DS 5535 fast response?
The success rate with the DS5535 case is 99% unless you have any criminal background which might be related to US national security. Traffic violations and/or civil arrests are not a major concern.
There is no negative effect on your future green card process in the US if you file this court litigation to expedite your DS-5535 processing.
We suggest waiting at least 60 days after you have submitted your DS5535 response to the US embassy. This helps in making your case stronger and improves your chances of success drastically.
Some of the other well-known attorneys who publicize their DS-5535 mandamus court cases are:
#1 Nimer Law
Nimer law suggests filing a 'Writ of Mandamus' lawsuit against the US embassy to get the result within 60 days.
#2 Mona Shaw Law Firm
You can contact your congressman too for help as suggested by Mona Shaw Associates Law firm in New York. We also recommend waiting for at least 60 days. Normally, no one's request is entertained by the US embassy if it is a security matter.
#3 Soberalski Immigration Law Firm
Another law firm Soberalski Immigration Law advises being mindful of what pictures, videos, and comments you share on social media as it can have a negative effect on your immigration journey to the US.
#4 Murthy law firm
Murthy law firm has also mentioned that the expected wait time is at least 60 days for DS5535 processing.
Visa Approval After DS 5535
Once the visa is approved after DS5535 clearance, it will be marked or annotated as 'Security Clearance Received".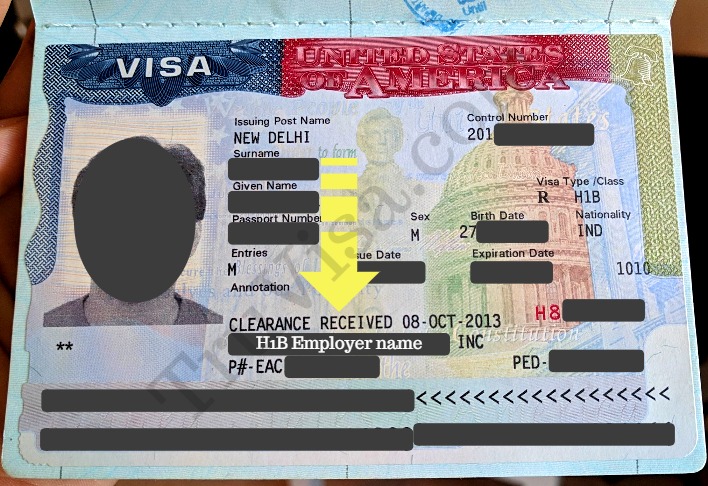 The only drawback of this 'clearance received' message is that you will not be eligible for the Dropbox option for your next stamping.
Information Required on DS5535 Form
DS 5535 form online is available on this US embassy website but we suggest using the one sent to your by your specific embassy.
DS 5535 form is also called Supplemental Questions for Visa Applicants.
Last 15 years of travel history with country names, stay addresses, source of funds for travel and places visited.
List of all passports held to date.
Siblings (brothers and sisters) – Provide the full name(s) and date of birth of any sibling (full, half, step, adopted), living or deceased.
Children – Provide the full name(s) and date of birth of any child (minor and adult), living or deceased.
Spouse – Provide the full name(s) of any current or previous spouse or civil/domestic partner, living or deceased.
Address – Provide all addresses where you have lived during the last 15 years, if not already provided in your DS160 application.
Phone Number – Provide all phone numbers you have used in the last five years, including primary, secondary, work, home, and mobile numbers.
E-mail – Provide all email addresses you have used in the last five years, including primary, secondary, work, personal, and educational addresses.
Social Media – Facebook, Twitter, etc – Provide your unique user name for any websites or applications you have used to create or share content (photos, videos, status updates, etc.) as part of a public profile within the last five years.
Last 15 years of employment history including employer name, country, address, job duties, job title, and employer phone number.
Sample DS 5535 Form, Instructions
The US embassy requires you to fill the DS 5535 form in the same editable PDF file that they send you over email. Do not save the file as a password-protected file or do not convert it into a word or any other format file.
You need to reply to the same embassy email address after filling out the form with the same editable PDF file.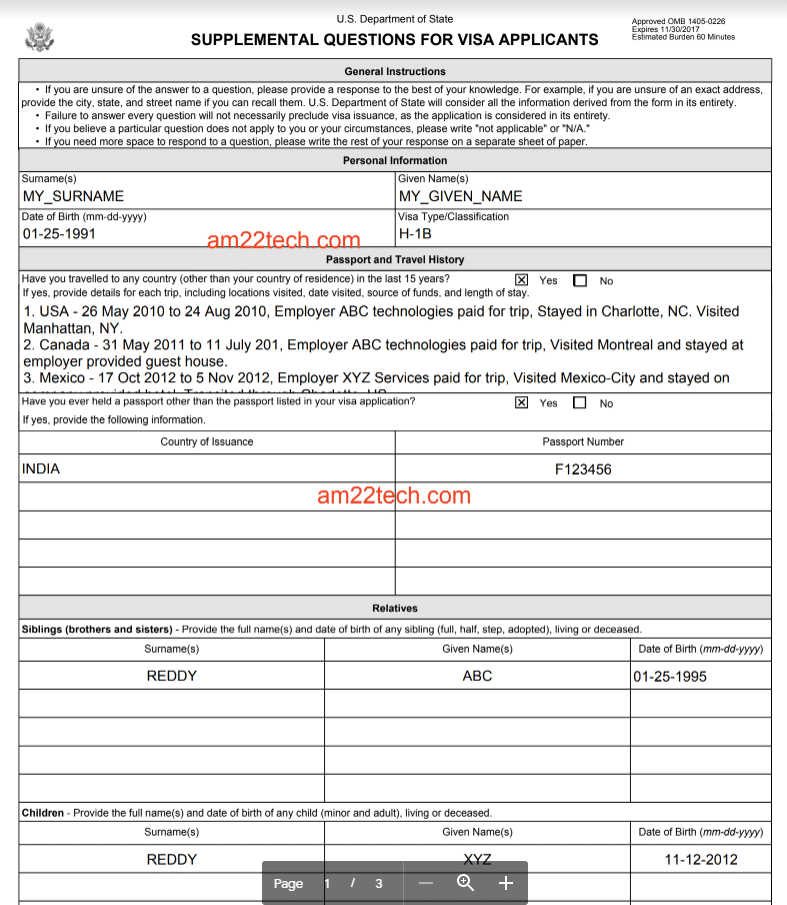 This is sample page 2 for the DS5535 form: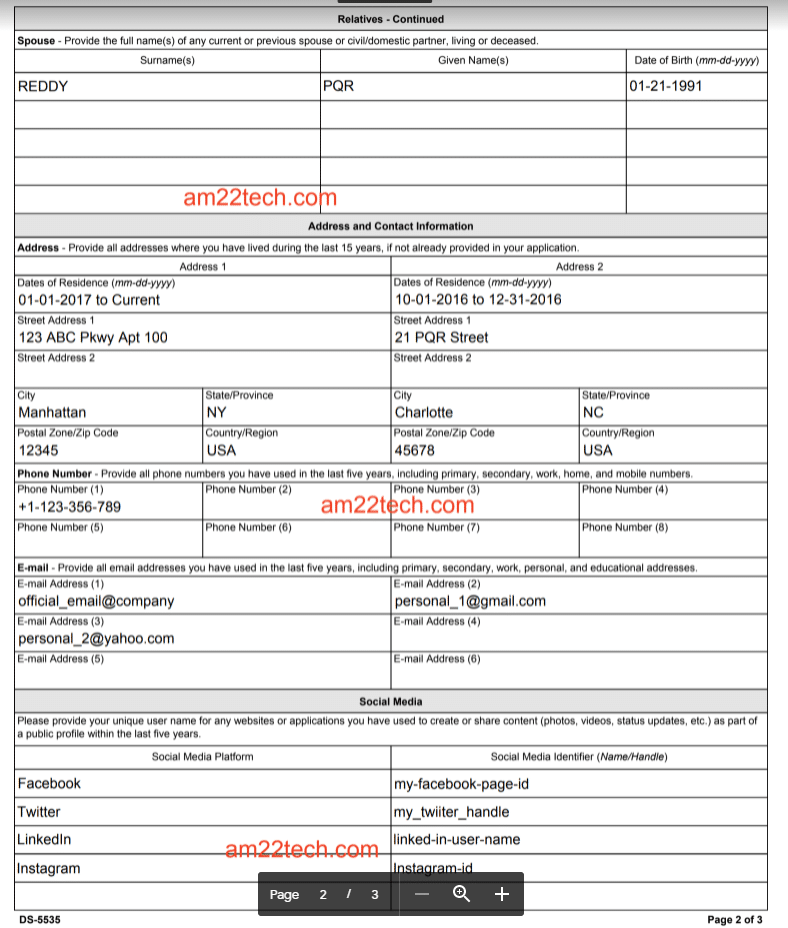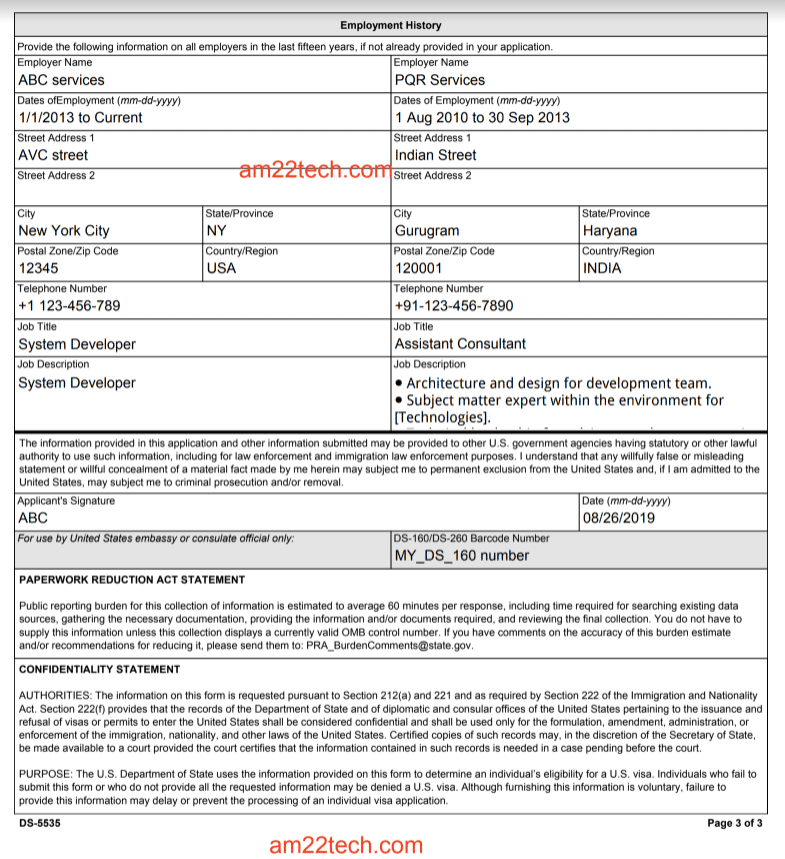 You can write additional addresses, employment information, and any other information in a Microsoft word file.
Attach both files in the reply to the consulate email. You should receive a confirmation of receipt of your form 5535 within 1-3 days from the embassy.
Please provide an answer to the best of your knowledge if you are unsure about any specific question.
For example:
If you do not know an exact address, provide the city, state, and street name if you can recall them.
If you think a particular question does not apply to you or your circumstances, please write "not applicable" or "N/A."
FAQ
Chances of Approval After DS5535?
In 99% of cases that I have observed, your US visa is approved after 5535 security clearance. It is only a matter of time and I do understand that waiting is frustrating.

Can we Expedite DS 5535 processing?
There is no way to expedite the DS 5535 security checks except to file a mandamus lawsuit in US federal court.
Visa Officer Said Visa was Approved and then got an email for DS5535.
It is possible that the visa officer said "Visa approved" and then you may get an email the next day to fill out DS5535. It is normal and many people have seen this behavior.

Some people get an email within 3 hours of the interview and some get it after a week. There is no clear pattern.
Can DS5535 be issued for kids?
US consulates have issued DS5535 for kids. Anybody can be flashed by the US security system for security clearance.
Apply for another US visa while one is pending the DS5535 result.
You can apply for another US visa but it will also be sent to DS5535 admin processing.

Note that DS5535 is issued against your name or profile and not your visa application. Hence, until the security clearance is received against your name from Washington DC, none of your US visa applications can be approved.

Example: People who got DS5535 after the H1B visa interview tried applying for H4 and they again got the DS 5535.

Ultimately, the visa was approved only after getting DS 5535 security clearance.
H1B Extension DS-5535 in RFE
Some people have also reported that USCIS has also started sending RFE for filling out form DS 5535. We could not independently confirm it though.
Have you received any such RFE? Please share in the comments below.