H1B + H4 Approval after Biometrics in Premium 15 Days, Not H4 EAD
H4 EAD approval after biometrics in 60-90 days by Vermont, California - 3+ month, Nebraska 4+ months. H4 approval in 1-2 days after EAD. Upgrade to premium after Biometric.
By Am22tech
Updated 6 Nov, 19
H4 Approval After Biometrics in Premium 15 days Reported
In the last 2 days of Aug 6 and Aug 7, some people have reported that California and Nebraska have approved H4 and H4 EAD within 15 days when their application was filed with H1B premium.
The timeline is pretty interesting to note though as it all depends on the fact that your biometric appointment should be completed before your H1B application is picked up by USCIS officer:
H1B + H4 approved on same day by Nebraska on Aug 6, 2019 after biometrics: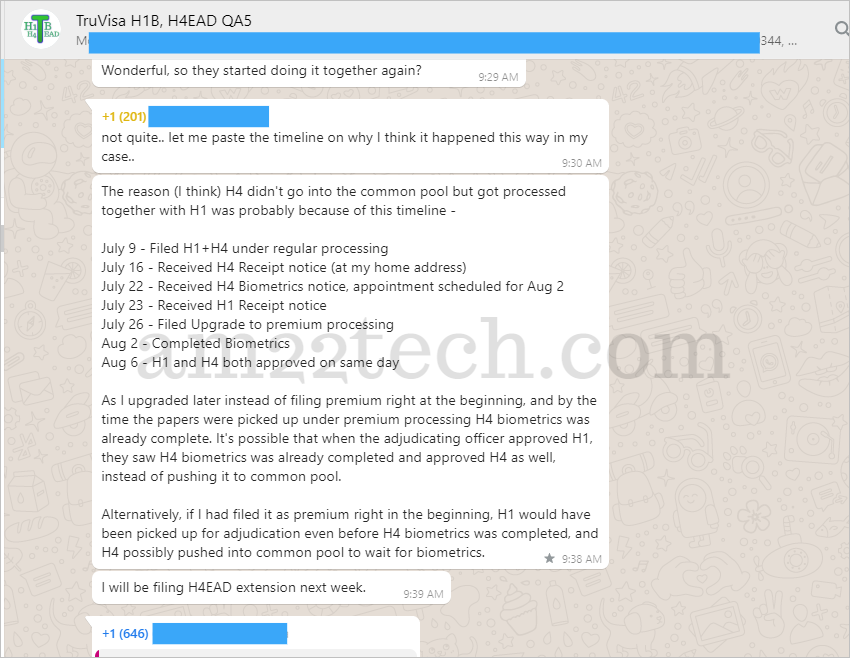 The trick that seems to work here is to to upgrade your H1B + H4 + H4 EAD to premium immediately before or after your Biometrics is completed.
On the same thread, some other people have reported that this trick did not work when they upgraded to Premium after completing the Biometrics for case with H1B, H4 and H4 EAD.
It is possible that only H1B + H4 combination is being approved in premium but not the H1B + H4 + H4 EAD.
USCIS has also started denying the EAD expedite requests without even giving you a chance to prove your emergency!
Current Processing Times at USCIS Service Centers
Vermont Service Center has H4 EAD and H4 extension approval time of 60 to 90 days after Biometrics. Earlier, they were approving within 60 days but in August 2019, the speed has slowed down to 90 days.
California has processing speed of 90+ days to approve your H4 EAD after biometrics are completed.
Nebraska Service center is slowest and is currently processing H4, H4 EAD applications in 120+ days after Biometrics.
I have collected this data based on our multiple H1B whatsApp groups and forums that our guests have reported.

First Vermont H4 EAD approval after Biometric Case history:
H1, H4 and H4 EAD sent on 26th with premium processing.
Received at vermont on 27th. All 3 receipt notice dates 28th.
H1 approved on 3rd April.
Biometric appointment done on 11th (walk in after receiving letter).
H4 EAD approved on 11th June.
H4 approval on June 12.
Awaiting actual card in hand and approval notice.

Has Court Case USCIS helped Speed Up H4EAD Approval?
We do not know if this fast H4 EAD approval after Biometrics is the result of court case filed by RN law group or not.
But, it does seem that widespread media coverage has pushed USCIS to take action quickly. If it is indeed true, then its a very good news for the H1B families who were staring at huge financial losses if H4 EAD was not approved within reasonable time.
H4 EAD Approved, H4 still Case Received
The interesting part is that H4 extention is still pending for this case.
We have seen recently that USCIS approves H4 EAD before H4. There is no need to worry as this simply means that H4 approval is on the way too. You should be able to see H4 extension approval after H4 EAD within 1 to 3 days.
Note that if you filed H4 COS and H4 EAD and your H4 COS is still pending, then you cannot start work on H4 EAD until your H4 change of status is approved. You need to get a new i94 with H4 status to actually get on to H4.
H4 EAD card is Required to Continue Working
Many people get confused with the generic message printed on form i-765 for H4 EAD about automatic 180 day extension.
Beware that C(26) category is not eligible for automatic extension or interim EAD. The same rule applies for L2 EAD too.
USA
USA News