EB2 to EB3 Downgrade Process, Risks (Fast Green Card)
Indian EB2 vs EB3 green card priority date movement. Date of filing chart may be available for use in 2021. File i485, EB2 to EB3 downgrade with approved i140.

By Am22tech
Updated 24 Sep, 20
EB2 to EB3 downgrade process is simple.
My suggestions:
File downgrade if your EB2 PD date is current in the EB3 'Final action' chart.
Better to wait if the EB2 date is current in the EB3 'Date of Filing' chart.
You can get green cards faster in the EB3 category if your EB2 PD date is current in EB3. Check the current visa bulletin here.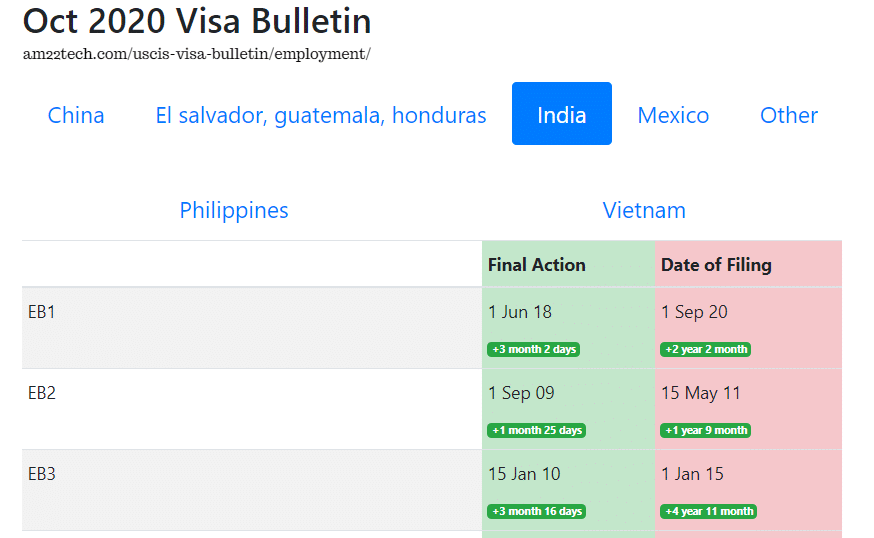 This has happened with China in the past and now with India.
Are there any chances that dates will continue to move forward in upcoming bulletins?
The chances are good that the dates for India EB2 and EB3 will keep moving forward during Oct 2020 to Sep 2021 due to the spillover from family based green cards.
Since, the adjustment of GC numbers horizontally i.e. EB1, EB2, and EB3 happens every month, you can expect:
EB2 'final action' and 'date of filing' to move forward and EB3 dates to retrogress every month from Nov 2020 onwards.
Many employers may not file the EB2 to EB3 downgrade immediately as it comes with a high cost of around $8k (including attorney fee) as the dates might move back next month.
Here is the i485 filing checklist for employment based green card.
EB2 to EB3 Downgrade Process
Your current employer with approved I-140 (from EB-2) with a priority date that is current in EB-3, can downgrade your case using the same EB2 PERM and file a new I140 with the EB3 category.
There is no need to file a new PERM for downgrading from EB2 to EB3. EB2 PERM can be used for EB3 downgrade.
Check if your PERM expired without filing i140 here or not.
You can also file your I-485 application to adjust status concurrently with this new EB3 I-140.
EB2 to EB3 Downgrade – If EB2 date is current in EB3 Chart
Chart
FINAL ACTION
DATE of FILING

Same Employer
(No change in the job position)
1. Use EB2 PERM. No new PERM required.
2. File new EB3 i-140 in premium.
3. File i-485 concurrently with i-140.

Same
am22tech.com
Different Employer
(Including Amended i-140 after merger/acquisition)

OR

Same Employer
(Amended i-140 after merger/acquisition, Promotion or job detail change)


1. New EB2 or EB3 PERM required with the current employer.
2. File new EB3 i140. Porting GC date from old i140 allowed.
3. File i485 concurrently with i140.
4. Supplement J required.

Same
You can get

1. i485 EAD, AP (Advance Parole).
2. Green Card.
1. i485 EAD, AP (Advance Parole).

NOTE:
New PERM is not required unless you got promoted or moved out of state and want to file i485 using this new location and job position.
You can go back to work with the old job position at the old job location mentioned in PERM to file i485. This is a much better option as it saves you from the hassle of filing new PERM. Go back to the old location, work there for 6 months after getting a Green card, and then you should be good to move on.
#1 Same Employer
Assume that you have an approved EB2 i140 India with GC priority date as 1 Jan 2013.
Assume that EB3 'Date of filing' shows as 1 Jan 15.
You are eligible to file i485 in EB3 as your EB2 date is current by downgrading to EB3.
This simply means that if the date of the filing chart is allowed to be used in the current visa bulletin, your current employer can port your EB2 i140 to EB3 and file your i485 to get a Green card faster.
It is certainly better than waiting for EB2 to get current which may take another 4-5 years.
#2 Different Employer
Your NEW employer B, with approved EB2 I-140 from Employer A, with a priority date that is current in EB-3, can downgrade your case with a new EB3 PERM and file a new I140 with the EB3 category.
You can also file your I-485 application to adjust status concurrently with this new EB3 I-140.
You cannot file EB2 to EB3 downgrade I-140 in premium processing because the original PERM labor certificate won't be filed with new EB3 i140.
USCIS already has the original EB2 PERM in your EB-2 I-140 file.
USCIS does not allow premium processing when there is no original PERM approval attached to the i140 application.
EB3 Downgrade premium exception:
If your i140 EB3 downgrade is filed at the SAME service center that earlier approved your i140, then your application is eligible for PREMIUM processing.
The premium processing time for EB3 i140 also does not start immediately. The USCIS will first find PERM and then confirm the premium processing time start date.
Your employer can attach a copy of the original EB2 PERM with a request that the original be fetched from the previous PERM file.
i140 Processing Time
How Long Does it take to downgrade EB2 to EB3? The EB3 downgrade i140 approval processing is taking 6 months.
Open App in new Window
Check current current i140 processing time.
FAQ
I Upgraded EB3 to EB2, Can I Downgrade to EB3 again?
If you had approved EB3 i140 earlier with employer A and then upgraded to EB2 with a new employer B.

Now, if the employer A still has the EB-3 position and has not withdrawn the approved I-140, you can file your I485 with supplement J signed by the EB-3 employer A without filing a new I-140 and convert to EB3.
Can I Downgrade EB2 to EB3 and then Upgrade to EB2 later?
Your EB2-India priority date is 17 June 2010. Assuming, EB3 moves at a faster rate than EB2 India, you downgrade from EB2 to EB3 and file i485 along with 140.

Now, in future EB2 India moves faster than EB3 India and you have approved 140 and EAD from EB3.

Yes, you can go back and use previously approved 140 (EB2) to file i485 to get GC faster if both EB2 i140 and EB3 i140 are valid.

Murthy.com has explained this concept of Interfiling or changing the underlying I140 for pending I485 application.
File EB2 to EB3 Downgrade for Future Priority dates?
It is possible that some of you want to downgrade your EB2 to EB3 even though your priority date is still not current in the EB3 filing date chart.

Downgrading in advance to be ready to file i485 as you expect EB3 to be current for you in the next couple of months is a daring step.

It is not really required as you can file both EB3 i140 downgrade and i485 adjustment of status concurrently.

You are not out of the game if EB3 becomes current for you.

So, don't worry.
Can I file EB3 to EB3 downgrade from India?
You can file EB2 to EB3 downgrade while you are in India.

Many people are currently stuck outside the USA due to the travel ban and if their priority date has become current in the USA, they can file immigrant visa applications at the US embassy.
My company was acquired and amended i140 has been approved. Can it be used to file EB2 to EB3 downgrade?
You can file EB2 to EB3 downgrade using and amended i140 approval.
Indian EB2 vs EB3 – i485 Pending Applications
The GC availability in Indian EB3 seems to have a better chance at this time when compared with Indian EB2 based on the July 2018 USCIS pending i485 data.
| India | EB2 | EB3 |
| --- | --- | --- |
| 2008 | 227 | 41 |
| 2009 | 10,831 | 51 |
| 2010 (Jan – Apr) | 4,677 (Jan-Apr) | 0 |
| 2011 – 2018 | 0 | 0 |
Compare almost 11k EB2 India already waiting for getting GC with EB3's less than 100 numbers.
This clearly indicates that EB3 is going to take a far long jump in the new 2018-19 USCIS GC priority date season as has been indicated by the current trend.