EB2 to EB3 Downgrade Process, Risks (Fast Green Card)
Indian EB2 vs EB3 green card priority date movement. Date of filing chart may be available for use in 2021. File i485, EB2 to EB3 downgrade with approved i140.

By Am22tech
Updated 9 Nov, 20
Update Nov 1, 2020: USCIS has started sending receipts notices for i-485 applications filed on Oct 2, 2020, as shared by one of the member of our group: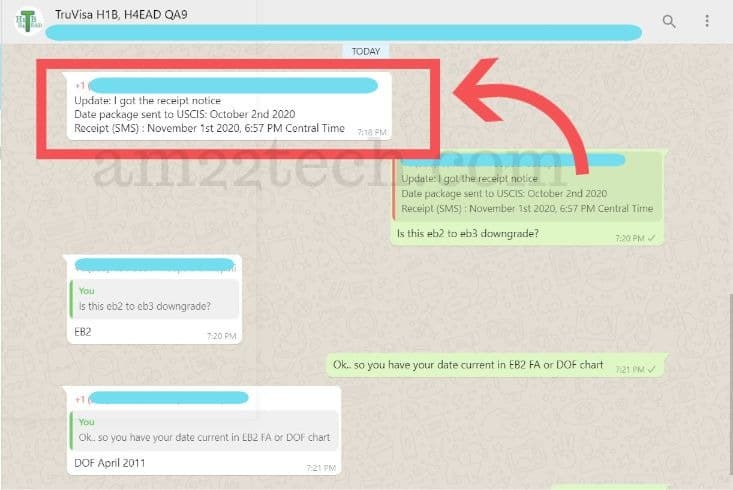 Is USCIS rejecting EB2 to EB3 Downgrades?
We have heard from credible sources and AILA (American immigration lawyers association) has also confirmed that USCIS has sent the EB2 to EB3 applications back in some cases where the original EB2 PERM was not attached to the EB3 downgrade application.
This is one such rejection notice shared by one of our guest users. The attorney has marked it as 'erroneous rejection' and has requested USCIS junior officer to show it to their supervisor and get their review.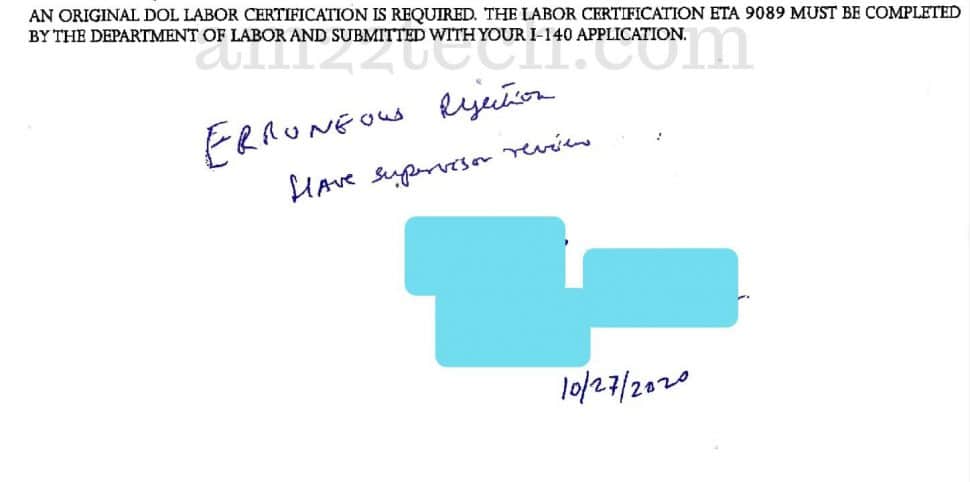 Several attorneys have emailed their clients and employers to be aware of the risk that this possesses even though it can be challenged in court if USCIS refuses the application simply because it was not filed as EB2 i140 amendment.
This is the standard approach that has been used by lawyers since 2007 for Chinese EB2 to EB3 downgrades and it's not a new process at all.
Risks & Disadvantages:
If USCIS changes its long-standing interpretation of immigration policy, USCIS could reject the I-140 and AOS filings. USCIS could also accept the filing and deny the I-140 and AOS, which would result in the loss of all the filing fees.
What Should I do?
File EB2 i140 amendment or EB3 i140 downgrade? Our suggestions:
File EB2 to EB3 Downgrade (Recommended): Many people are still filing the new EB3 i140 using EB2 PERM.
EB2 Amendment to get EB3 i140: Note that if you file an EB2 i-140 amendment, then you will need to redo the whole EB2 i140 process in the future if you want to go back. It's basically useless as the EB2 and EB3 dates are bound to keep chasing each other.
Chance of EB3 Dates Moving Forward
The chances are good that the dates for India EB2 (FA) will keep moving forward from Oct 2020 to Sep 2021 due to the spillover from family-based green cards.
Since the adjustment of GC numbers happens horizontally within EB1, EB2, and EB3 every month, you can expect:
EB2 'final action' and 'date of filing' to move forward and EB3 dates to retrogress every month from Nov 2020 onwards.
Many employers may not file the EB2 to EB3 downgrade immediately as it comes with a high cost of around $5-8k per family of 3 (including attorney fee) as the dates might move back next month.
Should I downgrade (Check using App)?

Here is our app to help you decide if you should do the EB2 to EB3 downgrade or not. It is still new and will improve over time as we make changes continuously.



Open App in new Window > &nbsp&nbsp&nbsp&nbsp&nbsp



Here is the i485 filing checklist for employment based green card.
EB2 to EB3 Downgrade Process
Your current employer with approved I-140 (from EB-2) with a priority date that is current in EB-3, can downgrade your case using the same EB2 PERM and file a new I140 with the EB3 category.
There is no need to file a new PERM for downgrading from EB2 to EB3. EB2 PERM can be used for EB3 downgrade.
Check if your PERM expired without filing i140 here or not.
You can also file your I-485 application to adjust status concurrently with this new EB3 I-140.
Same vs New Employer – EB2 to EB3 Downgrade
EB2 to EB3 Downgrade – If EB2 date is current in EB3
#1 Same Employer
No change in the job position
1. Use EB2 PERM. No new PERM required.
2. File new EB3 i-140 in premium.
3. File i-485 concurrently with i-140.
#2 Different or Same Employer
Including Amended i-140 after merger/acquisition, amended i-140 after merger/acquisition, Promotion, or job detail change
1. New EB2 or EB3 PERM required with the current employer.
2. File new EB3 i140. Porting GC date from old i140 allowed.
3. File i485 concurrently with i140.
4. Supplement J required.
Immigration Attorney Advice for EB2 to EB3
You can hear immigration Rahul Reddy and Ryan Wilck discuss the EB2 to EB3 downgrade options, risks, and benefits.
Is New PERM Required?
New PERM is not required unless you got promoted or moved out of state and want to file i485 using this new location and job position.
You can go back to work with the old job position at the old job location mentioned in PERM to file i485.
This is a much better option as it saves you from the hassle of filing new PERM. Go back to the old location, work there for 6 months after getting a Green card, and then you should be good to move on.
You cannot file EB2 to EB3 downgrade I-140 in premium processing because the original PERM labor certificate won't be filed with new EB3 i140.
USCIS already has the original EB2 PERM in your EB-2 I-140 file.
USCIS does not allow premium processing when there is no original PERM approval attached to the i140 application.
What houston based attorney Rahul Reddy suggests:
File EB3 i-140, i-485 along with EB-2 PERM in regular processing.
Wait for the receipt number for EB3 i-140.
Once you get the receipt number, upgrade to i-140 premium processing.
This helps avoid the situation in which USCIS might return all applications if they are not ready to allow i-140 premium processing.
EB3 Downgrade premium exception:
If your i140 EB3 downgrade is filed at the SAME service center that earlier approved your i140, then your application is eligible for PREMIUM processing.
The premium processing time for EB3 i140 also does not start immediately. The USCIS will first find PERM and then confirm the premium processing time start date.
Your employer can attach a copy of the original EB2 PERM with a request that the original be fetched from the previous PERM file.
i140 Processing Time
How Long Does it take to downgrade EB2 to EB3? The EB3 downgrade i140 approval processing is taking 6+ months.
Check current current i140 processing time.
Benefits of EB2 to EB3 Downgrade
As per my opinion and the Indians I spoke to, consider this EB3 date of filing chart as an insurance policy.
Just think of applying this downgrade as paying a premium for what I call 'visa insurance'!
Most employers will ask you to pay for it and that is perfectly fine. My personal suggestion is to just pay it.
If you are currently in the EB2 queue and decide to file the EB3 downgrade and then i-485, you may get these additional benefits as a back up to your H-1B visa:
Risks of EB2 to EB3 Downgrade
The only primary benefit of doing an EB2 to EB3 downgrade is to get the status of pending i-485.
This pending i-485 status gives you access to i-485 EAD and an advance parole.
As I said above, consider this only as an insurance policy as you may never use the EAD and AP as long as you want to keep your options open for going back to EB2 queue.
What most attorneys suggest is that you downgrade and then keep both EB2 and EB3 i140 in hand.
Our suggestion is to not use EB3 EAD or AP unless it is absolutely required.
#1 Using EAD Means Abandoning H1B/L Status
Once you start using EB3 EAD after downgrade, you lose your H1B/L status as your I-9 form now shows the work authorization as EAD.
#2 Going Back to H1B/L status After Using EAD
Once you use EAD/AP, then going back to the H1B/L status is not easy.
You cannot file a simple change of status from i485 EAD to H1B while staying in the US.
You would need to go out of the US and apply for H1B/L visa at embassy. There will be many questions raised with respect to your 'intent' and there are high chances of denial.
#3 Interfile EB2 i140 if EB2 gets current earlier than EB3
To file the i-485 in EB2 if the date gets current earlier than EB3, you will not be able to prove any underlying status which actually means any H1B or L visa status if you have already started using EAD.
If you are still on H1B and the EB2 date gets current, you can use the concept of 'interfiling' to replace the EB3 i140 with EB2 i140 and get i-485 approval.
#4 H4 child Age out protection
The CSPA law provides H4 child age-out protection if i-485 has been filed before the age of 21.
This is currently allowed only if your i-485 has been filed using the 'Final Action' dates as explained by attorney Cyrus Mehta.
If you are filing i-485 using the DOF chart now, you may not be eligible for CSPA. It is possible that USCIS changes the rules to include the DOF chart in the future but there is no guarantee.
Check your child's age protection if you file EB2 to EB3 downgrade using an app here.
FAQ
I Upgraded EB3 to EB2, Can I Downgrade to EB3 again?
If you had approved EB3 i140 earlier with employer A and then upgraded to EB2 with a new employer B.

Now, if the employer A still has the EB-3 position and has not withdrawn the approved I-140, you can file your I485 with supplement J signed by the EB-3 employer A without filing a new I-140 and convert to EB3.
Can I file EB2 to EB3 downgrade myself if the employer is not ready to file?
You cannot file EB2 to EB3 downgrade yourself. The US employer needs to provide you with an EB3 i140 application.

i-140 is an employer-sponsored application and cannot be filed by an individual.
Can I Downgrade EB2 to EB3 and then Upgrade to EB2 later?
Your EB2-India priority date is 17 June 2010. Assuming, EB3 moves at a faster rate than EB2 India, you downgrade from EB2 to EB3 and file i485 along with 140.

Now, in the future EB2 India moves faster than EB3 India and you have approved 140 and EAD from EB3.

Yes, you can go back and use previously approved 140 (EB2) to file i485 to get GC faster if both EB2 i140 and EB3 i140 are valid.

Murthy.com has explained this concept of Interfiling or changing the underlying I140 for pending I485 application.
File EB2 to EB3 Downgrade for Future Priority dates?
It is possible that some of you want to downgrade your EB2 to EB3 even though your priority date is still not current in the EB3 filing date chart.

Downgrading in advance to be ready to file i485 as you expect EB3 to be current for you in the next couple of months is a daring step.

It is not really required as you can file both EB3 i140 downgrade and i485 adjustment of status concurrently.

You are not out of the game if EB3 becomes current for you.

So, don't worry.
Can I file EB3 to EB3 downgrade from India?
You can file EB2 to EB3 i140 downgrade while you are in India.

You cannot file the immigrant visa or i-485 from outside the USA though.

Many people are currently stuck outside the USA due to the travel ban.

You can file an immigrant visa application using form DS-260 with the US embassy only if your priority date has become current in the 'Final action' chart.
My company was acquired and amended i140 has been approved. Can it be used to file EB2 to EB3 downgrade?
You can file EB2 to EB3 downgrade using and amended i140 approval.
Will My EB2 i140 be lost if I downgrade to EB3 i-140?
Your EB2 i-140 is not lost even if you get EB3 i-140 approval.

You get the benefit of keeping both handy and use whichever date gets current first in the 'Final action' chart.
What if EB3 downgrade is denied?
You will still keep your EB2 approved i140 even if your Eb3 i140 is denied. There is no need to worry.

USCIS does not cancel or revoke your EB2 i-140 just because EB3 i-140 was denied.
Can I pay for filing EB2 to EB3 downgrade and i485 filing?
You can legally pay the cost of filing EB2 to EB3 downgrade from your pocket as confirmed by Ellisporter immigration attorneys.

This includes both the USCIS application and attorney fees.

Your employer can ask you to pay for this cost and it is legal.
When will I get My green card After EB2 to EB3 Downgrade?
The EB2 to EB3 downgrade does not guarantee a green card immediately.

Your green card application can only be approved if the date gets current in 'Final Action' chart.
Indian EB2 vs EB3 – i485 Pending Applications
The GC availability in Indian EB3 seems to have a better chance at this time when compared with Indian EB2 based on the July 2018 USCIS pending i485 data.
| India | EB2 | EB3 |
| --- | --- | --- |
| 2008 | 227 | 41 |
| 2009 | 10,831 | 51 |
| 2010 (Jan – Apr) | 4,677 (Jan-Apr) | 0 |
| 2011 – 2018 | 0 | 0 |
Compare almost 11k EB2 India already waiting for getting GC with EB3's less than 100 numbers.
This clearly indicates that EB3 is going to take a far long jump in the new 2018-19 USCIS GC priority date season as has been indicated by the current trend.