Is Indian OCI Renewal Required? How to Update New Passport?
Indian OCI rules for new passport upload. No OCI renewal required after 20 yrs of age. Update processing time 2-4 weeks. 2x2 image size 500kb.
AM22Tech Team
Updated 19 Nov, 21
The government of India recently simplified the process and does not require OCI to be reissued for every Passport renewal or change in address.
Arun from the AM22Tech team has personally gone through this process and has graciously written this OCI guide for you.
OCI means the Overseas Citizen of India and allows visa-free travel for Indians who have got citizenship in other countries like the US, Canada, UK, Australia, and others.
OCI gets you a multiple entry, multi-purpose life long visa to visit India
It allows exemption from reporting to local Indian Police authorities for any length of stay in India; and
Equality with NRIs in financial, economic and educational fields except in the acquisition of agricultural or plantation properties.
OCI is also issued to kids of Indian citizens who do not hold Indian passports.
This article will discuss:
OCI Reissue is not Required
Minor child up to 20 years – OCI renewal is not required for minor children on change of
passport. Only upload the latest passport copy and photos on OCI website.
Adult OCI Issued after 20 years of age – OCI renewal is not required for any OCI issued after 20
years of the applicant age.
Adult Older than 50 years – OCI renewal is not required after 50 years. However you should
upload latest passport and photos ONCE after completing 20 years using below process.
Change of address/contact details – Renewal of OCI is not required for change of address.
Upload latest details using below process.
| | OCI Renewal Required? | Upload New Passport? |
| --- | --- | --- |
| Minor child upto 20 years | No | Yes |
| Adult OCI Issued after 20 years of age | No | Yes |
| Adult Older than 50 years | No | Yes |
| Change of address/contact details – Any Age | No | Yes |
| Change of name, father's name – Any Age | Yes | Yes |
| Change of nationality – Any Age | Yes | Yes |
OCI Reissue is Required
ONCE after the passport renewal and 20 years age
Change of name, father's name
Change of nationality
If you are an existing OCI cardholder and require uploading the latest Passport copy and photo, then please follow the following steps.
This process needs to be done within 3 months of Passport renewal. Ministry of Home Affairs has granted extensions to use existing OCI without re-issue till Dec 31st, 2021, and anyone planning to travel to India after Dec 31st, 2021 should upload a Passport copy and photo as soon as possible.
Since it takes 2 weeks to 4 weeks to update in the system it is better to complete ASAP.
Documents Required
Photo: Non-white background, Square (equal width and Height), Picture size should be less than
500kb in size. You can use Google Photoscan app.
Scanned signature – Sign on plain white paper. Then, use an app like Adobe Scan to scan or simply click a picture.
Pdf copy of Passport picture page in color – Use Adobe Scan.
New Passport Upload Process
#Step 1
Access the Indian government's OCI website. Select OCI Miscellaneous Services.

#Step 2
Click Proceed button.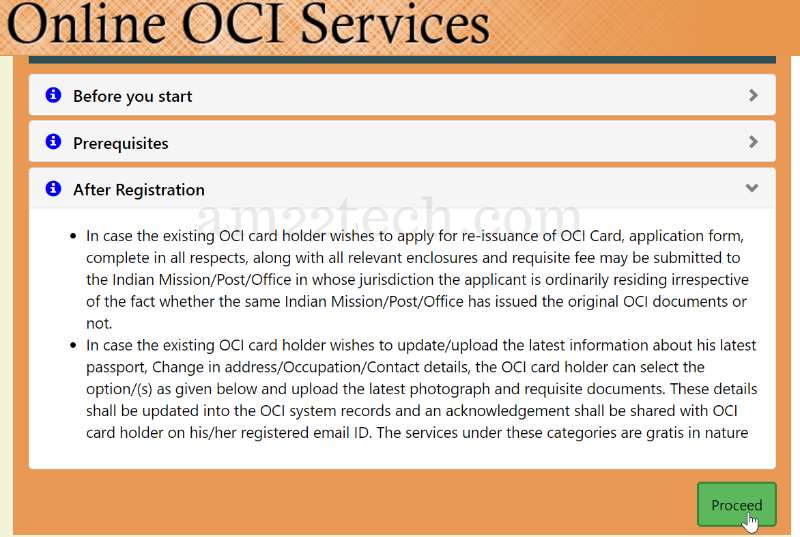 #Step 3
Read the instructions and select 'I have read the instructions at the bottom of the page'. Then, click the 'Accept' button.
#Step 4
Select "Fill New Miscellaneous application". In case if you exit in the middle, you can come back and complete the application by selecting "complete partially filled Miscellaneous Application".

#Step 5
A new pop- window opens with the application. Please save the Temporary application number so you can use it to come back in case you lost a web connection or to complete a partially filled miscellaneous application.
Enter Passport number from the last page of OCI.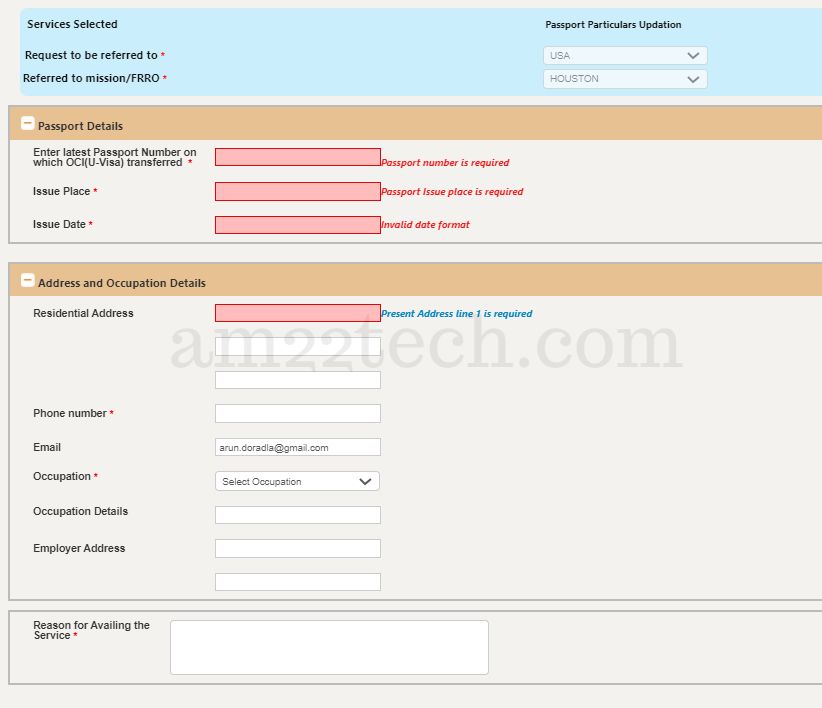 We recommend entering File No# from the last page of the OCI card. We tried using U-Visa No# and OCI number# but page errors prevented us from going forward.
#Step 6
Select the "Submit" button after filling in all the required information. This will complete Part-A of the application. If you are ready with the picture, signature scan, and passport scan you can select the "Yes I am ready with the image" button.
If scans are not yet ready, you can select the "Exit Now" button and come back by selecting the "complete partially filled Miscellaneous Application".

Resizing the image to 500Kb size. If you used the Google Photoscan app, you may already have got a smaller size image. If not, then you can use any photo edit app or the windows photo edit to resize the image to 2×2 inches.
#Step 7
When you select "Yes I am ready from step-11", the screen will update with an option to upload the image and signature.
Select "Choose File" and upload the picture. Once the picture is uploaded you will see the crop button and you can adjust the picture by clicking the crop button.
Picture file size should be less than 500kb and
Signature scan file size should be more than 10kb – A signature needs to be 3:1 ratio (width: height) so once the signature is uploaded you can select the crop button and resize it to a 3:1 ratio.
After selecting the upload button and you want to upload again you can select "I want to upload again". If not select "I have uploaded successfully".
#Step 8
You will now have the option to proceed to Part-B and upload the Passport picture page scan.
#Step 9
Answer the following questions.
The first question is tricky. Select "no" for the following question if the family has only one person with an OCI card.
Have you/any member of your family applied for Overseas Citizen of India registration earlier? *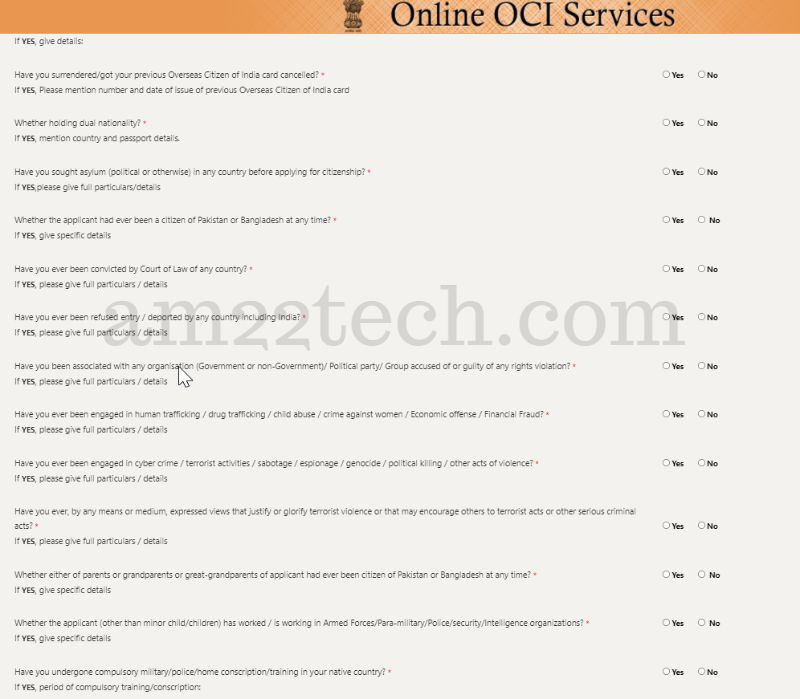 #Step 10
The next step is to upload the Passport scan (Only pdf is allowed) and you can upload it by selecting the "Upload Documents" button.

OCI Upload/Reupload
In case you exited before uploading the documents you can also upload by selecting the OCI document upload/Re-upload button on the main page here: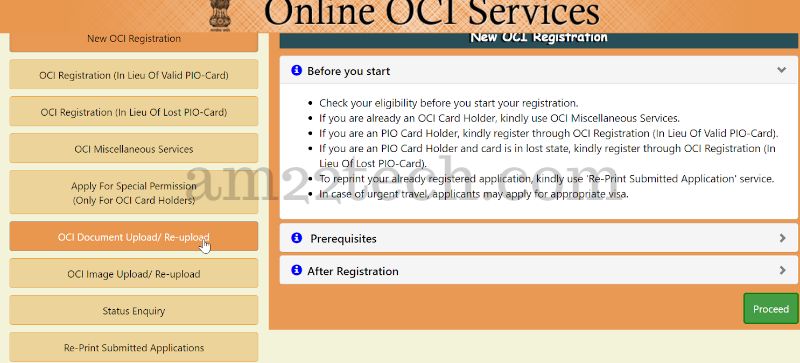 OCI Status Enquiry
You can check the status by selecting the "Status Enquiry" button and selecting proceed button.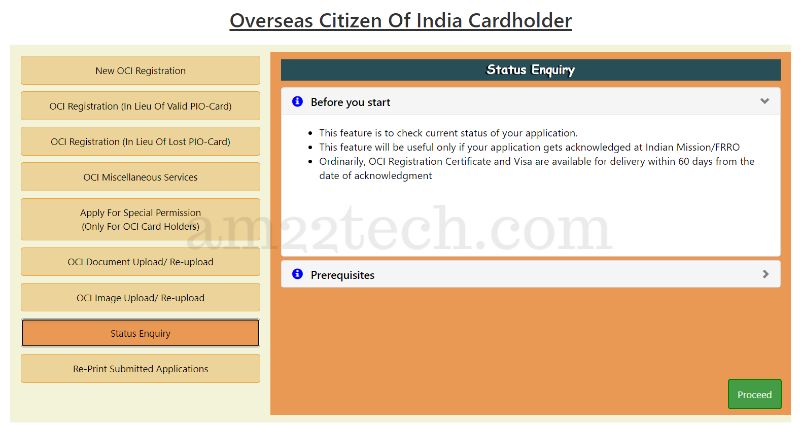 Enter passport number and File reference number to check the status. It will take 2 to 4 weeks to get updated in the system.