ICE Deporting F1 Visa for OPT Fraud [Integra, AZTech]
US embassy cancelled F1 visa for people working in Integra & AZTech technologies on OPT EAD. CBP found students paying for employment letter. Deportation possible.
AM22Tech Team
Updated 23 Jun, 21
Attorney Rahul reddy reported that ICE has started the deportation procedure for people who are involved in OPT fraud.
They are visiting the home addresses and in some cases calling them to visit the ICE office for an interview.
Follow these rules:
You can refuse ICE entry into your home if they do not have an explicit police warrant to enter. ICE might have a warrant for removal (form I-205) but it does not allow them to enter your home. If you want examples of how ICE knocks on your door, watch the Netflix show immigration nation.
ICE needs your consent to enter your home. They might ask in a manner that seems like offering you 'help' and if you say 'yes', they can enter your home. You can refuse entry by saying 'No'.
You can remain silent.
You have the right to hire an attorney to represent your case. It is better to hire an attorney if you have used Integra, AZTech, or AndWill LLC CPT/OPT letters in past.
Do not run away or lie about your status. What you say can be used against you in immigration court.
Earlier, the RN Law group had reported that people employed with Integra Technologies and AZTech have received emails from the US embassy in Mumbai about the cancellation of their F1 visas.
Both Integra Technologies and AZTech were hiring students by accepting money in lieu of giving an employment offer letter to apply for OPT EAD.
They have fraudulently signed form I-983 training plan to allow students to get I-20 from university DSO.
According to ICE's SEVP data and RN Law's report, these two companies compete with the likes of Amazon, Intel, Google, and Microsoft.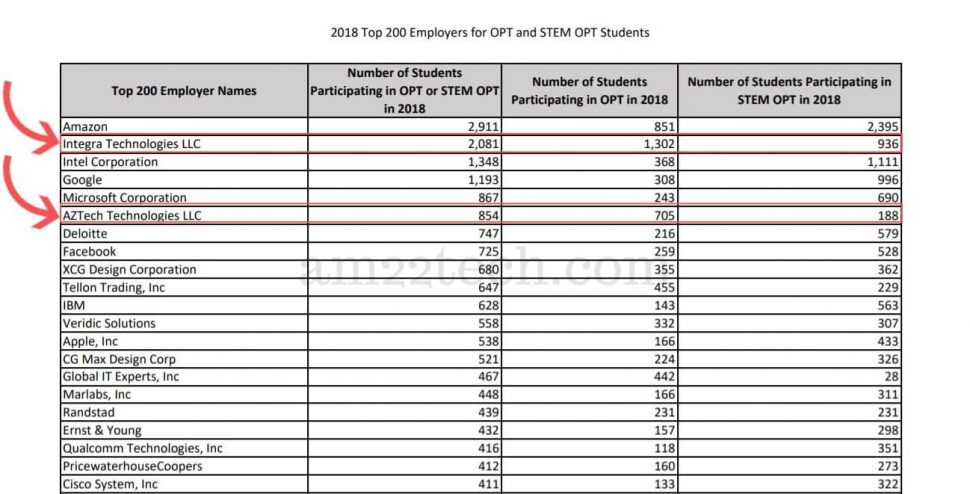 Integra Technologies, LLC, based in Wilmington Delaware, hired 3,517 students
AZTech had 1165 students on roll for pre-and post-completion OPT.
The interesting fact is that they have a small office in a shopping complex located at 19C Trolley Square, Wilmington, Delaware -19806.
CBP sensed the pattern and has investigated their visa fraud.
US Embassy Visa Cancellation Email
Dear Visa Holder:

This email is to inform you that your U.S. visa has been revoked pursuant to section 221(i) of the Immigration and Nationality Act (INA) and is no longer a valid travel document. This revocation is effective immediately as of 2020.

If you are physically present in the United States at this time. the revocation will become effective immediately upon your departure from the U.S.

Additional information became available subsequent to the issuance of your visa that may affect your eligibility to a U.S visa henceforth. This decision cannot be appealed. If you wish, you may reapply for a U.S. visa at any time.

If you choose to reapply. you are required to submit a new application form and photo and pay the visa fee again. You must also reappear before a U.S. Consular officer to establish your eligibility for a visa before being permitted to apply for entry to the United States.

Sincerely.
Nonimmigrant Visa Unit U.S. Consulate Mumbai
The email does mention that this notification cancels your visa stamp and not an i797 approval from USCIS.
Usually, when something like this happens, the US embassy also requests USCIS to revoke any i797 approvals that they may have issued too. This process is commonly known as NOIR (Notice of intent to revoke).
Example: NOIR for H1B approval
If you do receive a NOIR while you are in the USA, you might be given a chance to send new documents to prove your case. The email from the US embassy has not given any chance of appeal though.
We always suggest staying away from paying for a visa or joining a Day 1 CPT program as it can harm your future more than it can help your present.
Chances of Getting New Visa Approval?
US embassy's visa cancellation email does say that you can file a new visa application but chances are low for approval.
Rahul says that if a false employment offer letter was used, and a visa has been revoked at a later date due to the false employment offer letter, it is possible that you are banned from a permanent entry to the USA.
You will be required to ask for a waiver of inadmissibility but chances are extremely low for approval there too.
Used Integra, AZTech Letter to get OPT in Past?
If you have used Integra technologies or AZTech employment letter to apply OPT, you might be in trouble too.
Usually, in such types of cases where the fraud is investigated, all previous cases are researched and their cases are revoked due to 'misrepresentation'.
If you have used Integra Technology or AZTech's employment letter anytime in the past, you may be in trouble:
Your current H1B, L, or any other visa may be revoked.
You may be arrested and may be deported.
You should contact an attorney to plan the next action.
RN law attorneys confirmed the same in their video conference.
Open video in new Window
Can I be Deported?
As mentioned in the attorney's report, many people have also been deported from the USA when they had an employment offer letter from Integra Technologies or AZTech Technologies.
Rahul Reddy Confirmed in his video chat that he has seen deportation in March and May 2020.
The chances are high that if you have received this email, CBP and the department of state may have issued a deportation order against you.
You might be able to challenge deportation orders if any, but chances are low to get a stay in immigration court.