Will USCIS Give 5-Year EAD to Employment-Based Pending AOS (i485)?
Will USCIS issue 5 yr EAD for Employment based pending i485? DHS announcement does include pending AOS for certain noncitizens.
Anil Gupta
Updated 21 Sep, 23
DHS has announced it will start issuing EAD for 5 years instead of the current 2-year term.
We are still waiting for confirmation from USCIS as that agency issues the EAD cards. Earlier, during COVID, USCIS had increased the EAD card validity from 1 year to 2 years to tackle the extremely long processing times.
Are EB Backlog pending I485 Eligible?
Hopefully yes. Fingers crossed.
The extended EAD card announcement is indeed a welcome step but legal immigrants waiting in the backlog are skeptical of whether they will be considered eligible for these 5-year terms or not.
The news announcement does not explicitly exclude the employment-based applicants with pending AOS at this time.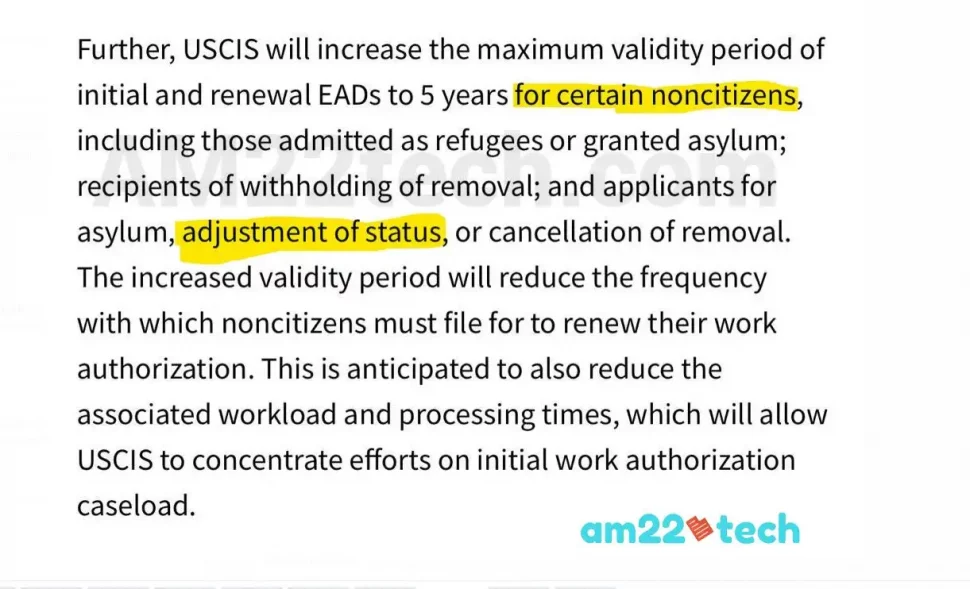 But, only time will tell how the USCIS will interpret it. They have a track record of making narrow interpretations when it comes to providing benefits to legal applicants.
Most of the time, legal are excluded from the benefits that are announced for the un-documented, asylum, and refugee categories. This specific EAD card rule has also been primarily targeted at the same community.
Consider this, The Biden administration is giving these 5-year EADs to undocumented applicants but simply asked the tax-paying legal immigrants stuck in decades-long backlog to contact Congress for help!
What Attorneys Say
Attorney Rahul Reddy has written about it and is hopeful that this benefit will be extended to EB-based i485 legal candidates as well. He says that this has the potential of removing unnecessary bottlenecks in the general USCIS processing times.
Rahul also raised a valid point that AP (advance parole) validity will become a problem going forward as it has not been extended.
Similarly, attorney Emily Neumann has also shared that AOS applicants might start getting 5-year EADs:
My Opinion
My personal opinion is that since the rules are targeted toward undocumented people, they did not even give a thought to AP.
Most of the documented applicants worry about AP and these rules probably have the hidden intention of excluding them altogether.
At this time, the language of the announcement does indicate that new and extensions of EAD (with pending i485 – category C09) should be eligible for 5-year validity along with the EAD for Asylum and refugees.
What do you think? Do share in the comments.
Source: DHS News