US Visa Stamping In Mexico by Venkat & Ernesto – Review
usVisaStampingInMexico.com review - fee payment, accommodation & travel in Mexico for US visa stamping. Fast service, reliable agency, knows H1B issues, Mexican for help.
AM22Tech Team
Updated 5 Sep, 21
US visa stamping is allowed in Mexico and you would need someone's help to pay the stamping fees as Mexican US embassy only accepts cash payments at thar too at Mexico bank locations.
Since you won't really go to Mexico for fee payment and then schedule appointment, you will need someone to do for you. Here comes the role of third party non-government agency who have tied up with an agent on Mexico side to make business out of US embassy's payment restriction.
This review is for visa services provided by independent agent company called H1B Stamping LLC. Many of our readers have given positive reviews about the company and here is our non-sponsored and genuine review.
usVisaStampingInMexico.com specifically helps you with:
Paying the Visa Stamping Fees in Mexico.
Accommodation and travel in Mexico at some locations like Matamoros, Nuevo Laredo, Nogales and Hermosillo.
A dedicated agent in Mexico who speaks Spanish as well as English. Ernesto is the name of the guy and he is very helpful. He has gone out of the way to help people even at non-work hours.
Connect you with other people on their whatsApp groups who are to same US embassy in Mexico. This helps to have a travel companion.
Service Fees for USA Visa Stamping in Mexico
The services are provided for reasonable fee of USD $50 for 1, 90$ for 2 and $120 for family of 3.
Add extra USD $5 as bank transaction charges to transfer money from US to Mexico.
You can pay by direct bank transfer using the Zelle or Venmo with no extra charges. Credit card or Paypal will set you back by another 3% as transaction charges.
My suggestion is to do the direct bank transfer as it is fast and you save the extra transaction charges.
Total Fees = US Stamping Fees (in USD) + Agent Service Fees + Bank Transfer Fee + Credit Card Transaction Fees
How To Use Visa Stamping In Mexico Services?
#1 Join WhatsApp Group
The first step is to join their WhatsApp group and then ask for the next steps. The other slower way is to an email at matamoros.guest@gmail.com asking for help.
The contact process is a bit weird but it works. You will be sent tons of links to their website to understand the process. You can read them if you want or follow the steps as I explain.
The best thing about this company is that they respond quickly and most of their team members are Indians. They can understand your language and visa issues if you are working on H1B visa in US specifically.
#2 Fill DS-160 & Pay
The second step is to fill DS-160. Then, register and create a profile on US embassy's mexico website here. Once done, you will get an MRV form on your personal email. This contains unique application number for your case.
You need to send this MRV form to matamoros.guest@gmail.com to kick start the process of payment in Mexico.
Venkat's team will quickly reply to your MRV email with the amount that you need to pay in USD based on that day's currency exchange rate.
You can use the same email for sending payments by Zelle.
Once you have sent MRV and fees, Venkat's team will get into action.
#3 Wait for Payment in Mexico
Visa fees can be paid at any branch of Banamex or Scotia bank in Mexico irrespective of your preferred visa interview location.
Ernesto deposits cash in Matamoros bank branch every day for all at 10 AM.
You will be sent the bank payment receipt on your email or whatsApp group as: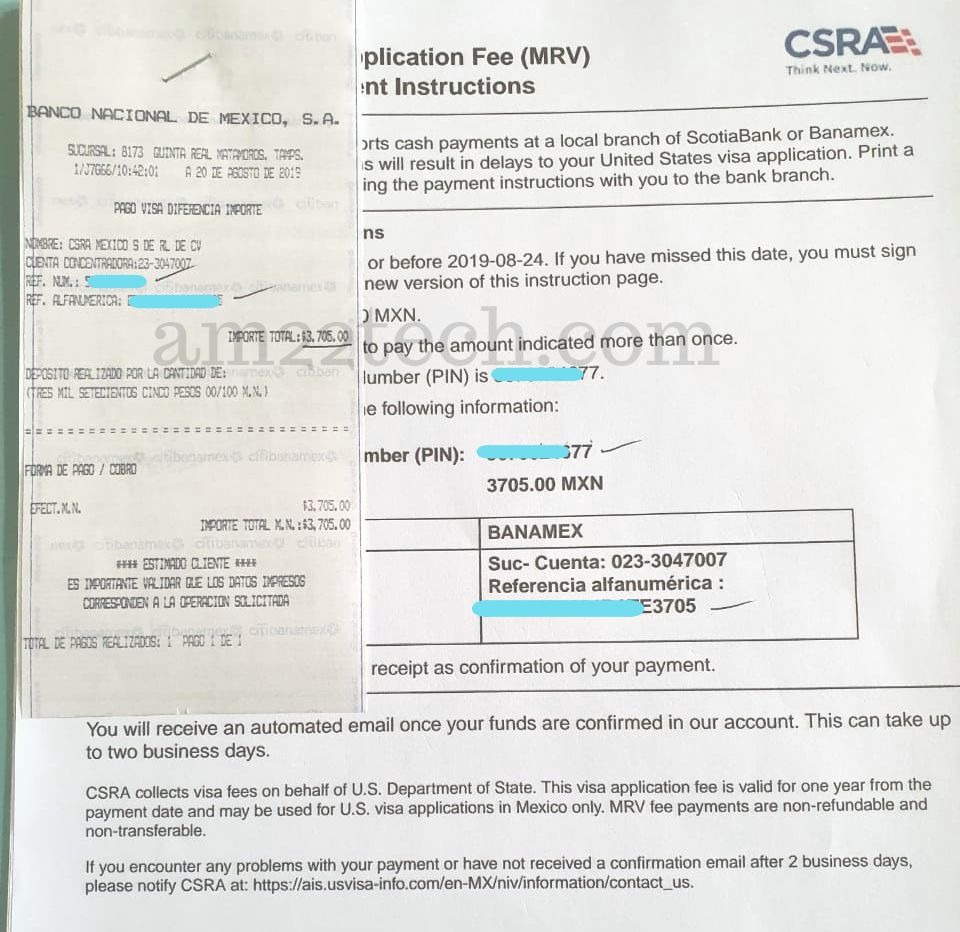 It takes around 3-4 hours for the payment to get activated which would then allow you to book the fingerprint and interview appointment. Till the time receipt is activated, the button will keep showing 'Please wait'.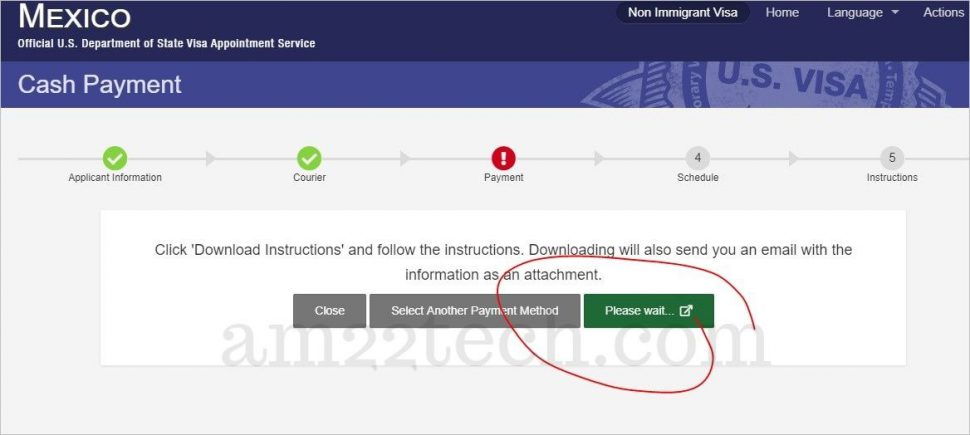 #4 Book Appointment
You can book your appointment in any US embassy in Mexico irrespective of what embassy you chose in your DS-160 earlier.
As soon as you book appointment, they will add you to their whatsApp group dedicated to people who are scheduled for that location. This helps connect with others even before you start your trip.
#5 Pay for Accommodation & Transport
You can pay for hotel stay and taxi services after booking your appointment anytime before your actual travel date. They are pretty responsive.
They have tied up with hotels like Hampton Inn by Hilton and Holiday Inn to make sure the stay in safe, comfortable and economical.
You may be able to get a better deal if you book by yourself but I found their prices pretty competitive given the fact that it includes breakfast and taxi.
Uber drives are actually very cheap (costs around USD $3 for 10 min ride) compared to US prices if you want to be on your own.
Their taxi service includes ride from airport or border to hotel, hotel to embassy and vice versa. The driver also takes care of your personal stuff when you are inside embassy for visa interview.
One of our reliable source used their services for visa stamping in Ciudad Juarez, Mexico and he gave good reviews.
Help & Support
You can call the Mexican counterpart of this agency with name Ernesto in case you need help. He is well versed with situations that people visiting Mexico from US face.
He speaks good English and can be found in the whatsApp group that agency would have created for your case.
Dropbox In Mexico
You are not eligible for dropbox in Mexico if you are Indian or Chinese national.
Have you Used Venkat & Ernesto Services?
If you have used their services for your visa stamping for H1B, H4 or F visa, do share your review in the comments below. It will certainly help future visitors and community.