H1B Consular Processing vs Change of Status (Difference?)
H1B consular processing is better if you want to control H1B start date when moving from F1, OPT, H4EAD. Change of status gives new i94 attached to i797.
AM22Tech Team
Updated 26 Jun, 20
Update June 26, 2020: Anybody who is currently inside the USA is not affected by the Trump executive order to ban H1B.
If you have filed H1B as consular processing in April 2020 lottery, then you will not be able to travel and get a visa stamp.
Even if you get H1B approval as consular processing, you have the option of filing an h1B amendment after Oct 1 with 'change of status' to avoid going out of the USA.
The F1 to H1B or L1 to H1B amendment or other such changes will need to be approved before you can start work.
If you have filed it as an H1B change of status, then you are good.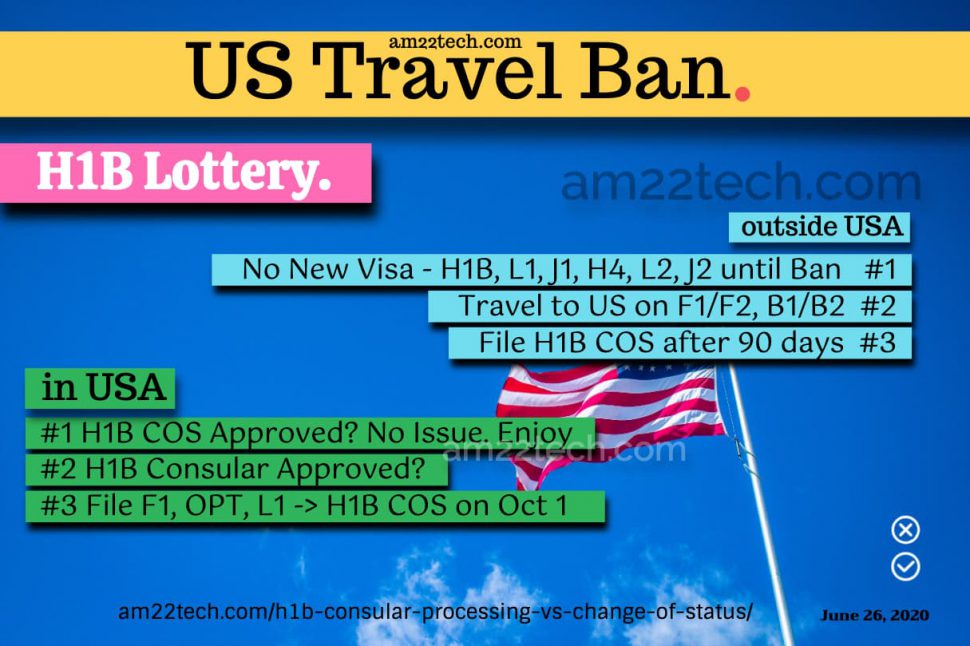 What to do if H1B is approved with Consular Processing?
If you are outside the USA and you have your H1B consular processing approval, then you can try these options to travel to the USA:
NOTE: Entering on F1/B1/B2 in the USA and then filing H1B is legal but not recommended normally.
What is Consular Processing?
H1B consular processing means getting an H1B visa stamp at a US embassy outside of the US. Many H1B workers from India and China opt for going to Mexico or Canada for visa stamp to avoid traveling back to the home country.
If you are currently in the USA on a visa like F1 or H4, then you can apply your H1B in lottery using either option:
H1B as Change of Status – No need to travel outside the US to activate H1B
H1B as consular processing – Need to go out of the US an get H1B visa stamp to start using H1B.
Is Consular Processing Mandatory?
Consular processing is not mandatory.
If you are currently outside the USA, you have no option but to file H1B as consular processing and get a visa stamp to enter the US.
If you are physically present in the US, you can either file a new application as COS or Consular processing.
In other cases where you are currently in the US, your H1B may need consular processing if:
#1 Filing H1B Lottery as consular processing
You filed your H1B lottery application as 'Consular Processing' application.
#2 H1B Transfer after i94 expiry
You joined a new H1B employer B on receipt and your pending H1B extension from employer A receives RFE after i94 expiry.
In this case, your H1B transfer may receive an RFE to wait for employer A's bridge extension decision before your H1B transfer can be approved with a new i94.
Many employers in this case decide to opt for H1B consular processing rather than waiting on the pending employer A's extension as A may take their own time to respond to extension RFEs.
#3 Travel Outside US while H1B Change/Extension of Status is pending
USCIS will automatically abandon your pending H1B change or extension of status application if you travel while your application is pending.
The change of status or extension is specifically meant to get you a new i94 when you do not want to travel at all.
Now, if you travel after filing the application, you are doing exactly the opposite. Hence, USCIS will approve your H1B but with consular processing, asking you to get an H1B stamp and then enter the US.
Benefits of Consular Processing
The biggest benefit of consular processing is: You can control the date of your H1B activation.
In case of first-time lottery H1B change of status from F1 (OPT/CPT) to H1B or H4 to H1B, you are in a better position if you have filed it with consular processing option.
Many people currently working on OPT or H4 EAD will need to immediately switch to the H1B job with 'COS' approval. There is no way to find out the exact day USCIS will approve your application.
Note that USCIS approval without consular processing will immediately change your status. They will issue a new i94 immediately.
If you plan to keep working with OPT, CPT, H4 EAD, L2 EAD till the day you want, I strongly suggest filing your H1B application as 'Consular processing'.
This way, you can choose to go out of the US and then enter using an H1B visa at a date that you want to start working.
Disadvantages
The biggest problem with H1b consular processing is that you have to go through one more step of scrutiny with the visa officer even though your H1B has been approved by USCIS.
There is a possibility that your H1B visa stamp is denied by the US embassy in which case, you will not be able to return to the US.
You can file another H1B transfer or extension or amendment and can apply for another visa stamp though.
Change of Status
Change of status means changing your visa type or your purpose of staying in the USA.
You file COS application using form i-539 when moving to F1, H4, B1/B2, L1 or H1B from your current visa.
Where to find current status?
Your current status is always printed on your most recent i94 as:
Class or
Class of Admission
The status is what defines your purpose and visa type while you are in the US.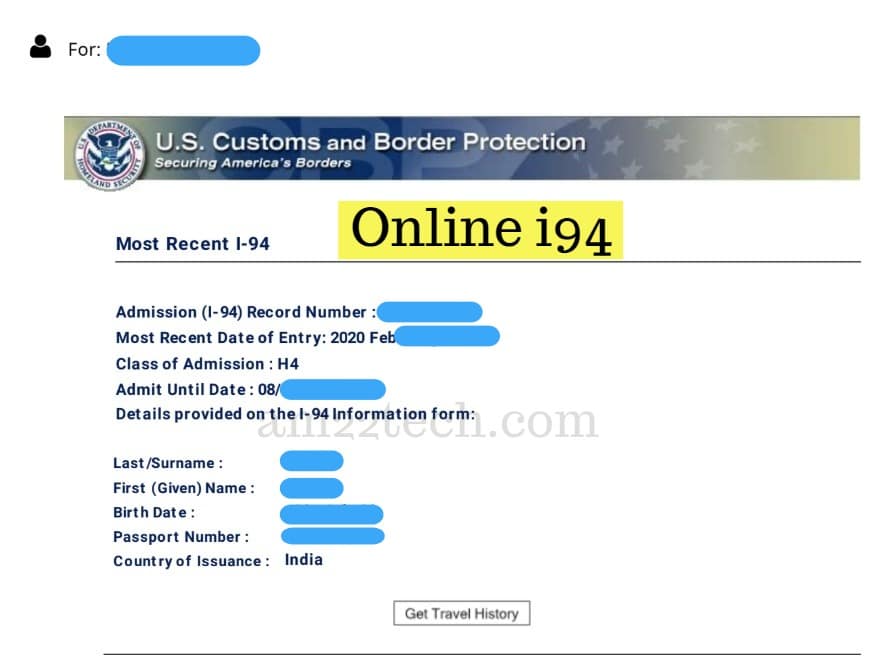 USCIS issues you a new paper i-94 after approving your change-of-status or extension-extension-status application.
A sample i94 attached to approved H1B i797 shows 'Class' as 'H1B'.
The H1B extension is also the same concept except that you file it when you are currently on H1B status itself.
Adjustment of Status
The phrase 'adjustment of status' is normally spoken in the context of i485 green card application.
When someone files the i485 application while they are in the US, it is called AOD from current status to Green card status.
In the context of H1B, 'adjustment of status' and 'change of status' mean the same thing and signifies that you are moving from some other visa type to H1B.