Sample i539 Form Extension, Documents (B1/B2, H4 COS)
Sample i539 Form for H4 extension within USA with biometric appointment. Form i539A required for child. H4 EAD employment information required. i539 online.
AM22Tech Team
Updated 10 Aug, 22
You can file form i539 online for faster processing for your H4 extension if you are filing alone and without the help of an attorney at this time.
Example:
If you have an H4 kid who can normally be added to your H4 extension i539 form, then you cannot file the H4 extension online.
You can file a B2 extension online if you are filing alone.
This article will discuss:
Documents for H4 Extension
H4 Visa Stamps in Passport (If Any) – Color Copy
H1B Primary i797A approval Copy – required only if filing H4 extension separately from H1B extension.
Most Recent I94

Check the last approved H4 i797A for the attached paper i94.
Or if you last entered the USA by any port of entry, download i94 from the CBP website.
Or if you got your i94 extended after passport renewal at any Land Border like Laredo, TX, or San Diego, use your paper i94 copy.

Most Recent Entry to US Immigration Stamp – Check the US immigration stamp in your Passport.
Current and OLD Passport Biometric Page

Passport page with Photo and address. The passport should be valid for at least the next 3 months.
All OLD Passports Biometric pages are required.
If you are filing an H4 visa stamp outside the USA, then you need to fill forms DS-160 and NOT i539.
The documents required for H4 Visa stamping in the US embassy are given here.
Common Questions
Can Form i539 be filled online?
Currently, you can file I-539 online only if you are filing for yourself and want to extend or change the status to B-1, B-2, F-1, F-2, H-4, M-1, or M-2 status. 

If you need to change your status like changing from H1B to H4, you can file online too if you are filing H4 alone.

If you have any other status or are filing with additional applicants like your kid or spouse, you must file a paper Form I-539. 

How much are the I539 fees?
i539 fees for each application are $370.

You also need to pay $85 per person for yourself and each additional person included on form i539A.
Can we pay i539 fees online?
You can pay your i539 filing fee online if you are eligible to file an i539 form online. If you are filing paper i539, then you can pay by check, money order, or credit card.
Are i539 fees refundable?
USCIS does not refund fees, regardless of the final result of approval or denial.
Will I receive Paper Receipt Notice for i539 filed online?
Yes, USCIS will send the paper receipt notice for your i539 filed online by USPS mail.

You will also receive the paper approval notice (i797) with a new i94 by USPS mail.
Is i539 online processing time faster than paper i539?
Yes, you do save time by filing i539 online.

The total processing time will reduce by a couple of days that are consumed by mailing and then entering your data into USCIS systems.
Will Biometric notice me sent online for i539 filed online?
Yes, you will receive your Biometrics appointment notice online.

You will need to update your contact information online too if it changes.
Will RFE details be sent online for i539 filled online?
You will get Requests for Evidence (RFE) details online in your USCIS account. You can respond to RFE online too.
Sample i-539 form
We are taking up an example of an H4 visa extension for filling this sample i539 form.
The values are more or less the same for other types like B1/B2, F1, or other types of extensions.
This same form can be used to fill your H4 extension online on the USCIS website.
Form i539 Part 1:
Please fill in the H4 US residence address Questions 4 and 5 to make sure the H4 Biometric Appointment letter is sent to H4's address.
We have seen that many attorneys fill their own office address here and then USCIS schedules an appointment closer to the Attorney's Office instead of H4's physical address. Many people have reported that they got the biometric metric appointment in New Jersey when the H1B is working in Dallas, TX simply because the Attorney who filed the form i539 used his NJ address.
A number in Q 2: Alien number is written on the H4 EAD card if you have ever got one. If not, then you can leave this field blank.
SSN number in Q 9: If you have never applied for H4 EAD or SSN before, then chances are high that you do not have SSN. You can leave it blank.
Passport number in Q 12: The passport number attached to your current active i94. If you entered the US using your old passport and now have a renewed passport, you should write an OLD passport number here.
Passport number in Q 14a and b: Your current active and valid passport. If you entered the US using your old passport and now have a renewed passport, you should write the current passport number here.
Form i539 Part 2:
i539 form Q5a = Select this box if you are filing an H4 application for yourself and more dependents like your kids.
i539 form Q5b = Enter the total number of H4 dependents.
Example:
If you are a wife of H1B, and you have 2 kids, then you should select Q5a and write '2' in 5b.
If you do not have any kids, then do not select 5a and leave 5b empty. You should select Q4 in this case.
Form i539, Page 3, Part 4:
On page 3 of form i539, Q 14 answer
Select Yes, if you already have H4EAD and have been working actively using your work authorization.
If you have H4 EAD and not working, select 'No'.
If you do not have H4-EAD at all, then select 'No'.
Form i539 page 5 can be left blank if you are filing it yourself. If your attorney is filing it, then fill in the Attorney information on page 5.
Page 6 is also for the attorney only. You can leave it blank if you are not using one.
Form i539 Page 7, Part 8, Question 1 to 3
You have to fill in H4's employment information if H4 has been working and have selected 'Yes' on page 3, Q 14.
H4 Employment information:
Employer Name
Job title/Designation
Employer full address
Weekly Income (Before Tax) in USD
Dates of Employment – Write start date to finish date.
i-539A Sample
Form i539A – Page 4 can be left blank if there is no additional information to share.
Fee Calculator
Use this calculator to find the total fee for filing the i539 form with biometric.
Calculate USCIS biometric Fee
The app gives an estimate of USCIS as well as the fee charged by attorneys. The attorney fee is not mandatory and varies greatly with the immigration law firm.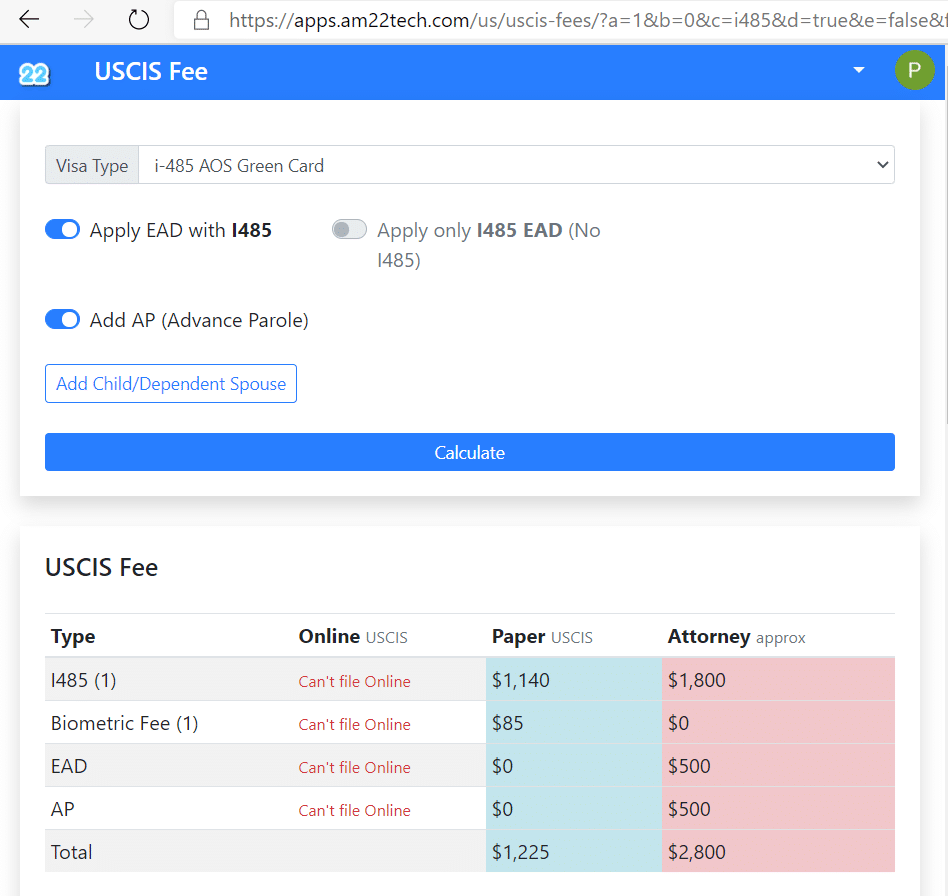 USCIS Mailing Address
Use these USCIS addresses to send both H-4 and H4 EAD applications if filing separately from the H1B.
Send your H4 and H4EAD application to USCIS Dallas Lockbox Facility if the receipt number of your H-1B principal spouse's most recent Form I-797 Notice of Approval for Form I-129 begins with EAC, LIN, or SRC.
USCIS Dallas Lockbox Facility
If sending by U.S. Postal Service (USPS):
USCIS
PO Box 660921
Dallas, TX 75266
For FedEx, UPS, and DHL deliveries:
USCIS
Attn: H4
2501 S. State Hwy. 121 Business
Suite 400
Lewisville, TX 75067
File with the USCIS Phoenix Lockbox Facility if the receipt number of your H-1B principal spouse's most recent Form I-797 Notice of Approval for Form I-129 begins with WAC.
USCIS Phoenix Lockbox Facility
If sending by U.S. Postal Service (USPS):
USCIS
P.O. Box 20400
Phoenix, AZ 85036
If sending by FedEx, UPS, or DHL :
USCIS 
Attn: H4 
1820 E. Skyharbor Circle S 
Suite 100 
Phoenix, AZ 85034
Source: USCIS