H1B Lottery Status Submitted – Am I in Wait-list after Mar 31?
H1B Status to show submitted until Sep 30, 2020 for unselected lottery applications. "Not Selected" will start showing from Oct 1, 2020. Wait-list may get a second chance.
By Anil Gupta
Updated 1 Apr, 20
Update Apr 1, 2020: H1B Lottery Registration Results: USCIS has completed the April 2020 H1B lottery's first round. Many people have already been notified as their registered application shows status as "Selected" online.
Do not lose heart even if you have not been selected in this first round of the H1B lottery. USCIS will keep your application in wait-list until Sep 30, 2020. You may get lucky if someone else's H1B is denied after selection in the lottery.
Employers can see the selection result using the same account that they used to register H1B applications.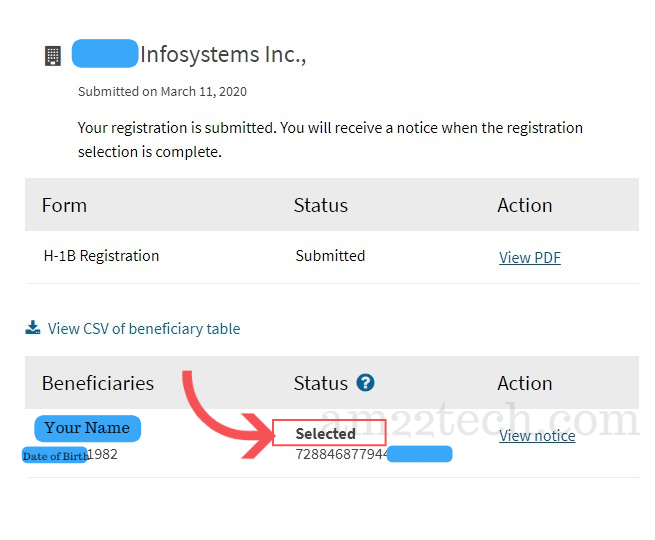 This article will discuss:
H1B Wait-list
USCIS seems to have kept all the H1B registrations in "Submitted" status until the end of the current fiscal year.
H1B Tracker
Share your H1B application status and help the community. You will be able to see the results once you have filled the survey:
FAQ
Can I check the status of my H1B lottery status myself online on USCIS site?
You cannot check the status of H1B lottery status yourself. Only the employer or attorney who registered it can check the status.

Ask your employer to inform you once your status changes to "selected".
Will My H1B Lottery Status Show Submitted After Mar 31?
USCIS will keep your H1B application in wait-list until Sep 30, 2020. You may get a selection notice even after Mar 31.
Many people are seeing status Selected, My application still shows "Submitted"
USCIS is changing status in batches for selected H1B applications. There is no need to worry as your application may have been selected and may show status as "Selected" by Mar 31, 2020, too.


When will the status change to "Not selected" Finally?
USCIS has shared that your H1B registration status will show as "Not selected" starting Oct 1, 2020, which is the start of the next fiscal year.
Why is USCIS maintaining a wait-list?
USCIS maintains a wait-list as they usually deny about 20% of applications due to various reasons including Specialty occupation and the employer-employee relationship.

The spots opened up by denied applications may be given to H1B registrations in the wait-list.
Is H1B 2020-21 Lottery Over?
The first round og H1B April 2020 lottery has been run. USCIS may run more rounds based on requirement.
USCIS has not shared how many applications they received as part of registration.
Sample H1B Lottery Selected i797C Notice
Your employer can get this notice if they click 'view notice' on the H1B registration screen.