H1B Wait List – Does Second Lottery Happen after April?
USCIS maintains wait-list until Sep 30 with status "Submitted". Runs second lottery if spots open up after first lottery denials or "no shows". "Not Selected" status after Oct 1.
AM22Tech Team
Updated 5 Sep, 21
Yes, the second lottery can happen and USCIS did run a second chance H-1B lottery in Aug 2020.
There are good chances that if you are not selected in April, you might get a chance again later in the year especially due to Coronavirus.
This article will discuss:
H1B Second Lottery
USCIS gave second chance to registrations in Aug 2020 when they invited people on the 'wait-list' to submit their H-1B application package.
A lot of our members were delighted when they received the lottery selection notice. Their myUSCIS accounts were updated with the new selections. The new filing window to submit the full application was set as August 17th through November 16th.
So, the answer to the question that "Can I get second chance in H-1B lottery" is yes, you can.

The second or third lottery is usually required if USCIS does not receive the full H1B applications from all the candidates who were selected in the first round.
This is possible as many H1B employers who got selected in the first round may not actually file the real application due to the recession caused by Coronavirus closures.
Second chance lottery usually benefits people (lottery does not favor them) as they can file their documents quickly in comparison to people who are outside the USA:
who are on an F1 visa and have filed H1B as the change of status.
who is on H4 dependent visa (or H4 EAD) and looking to get first time H1B independently through a consulting company or direct full-time employer.
This was evident in 2020 as many H1B employers backed out due to the H1B travel ban introduced by the Trump government. All these spots opened up and USCIS had to run a second lottery which is a rare incident given the past oversubscription of the H1B quota.
When USCIS conducts the lottery, they do usually select an extra 20-25% applications as contingency.
Lottery Results, Wait List
USCIS had completed the April 2020 H1B lottery's first round on time by Mar 31.
The registered application status was changed to "Selected" online on USCIS website if your registration was selection through random computer draw.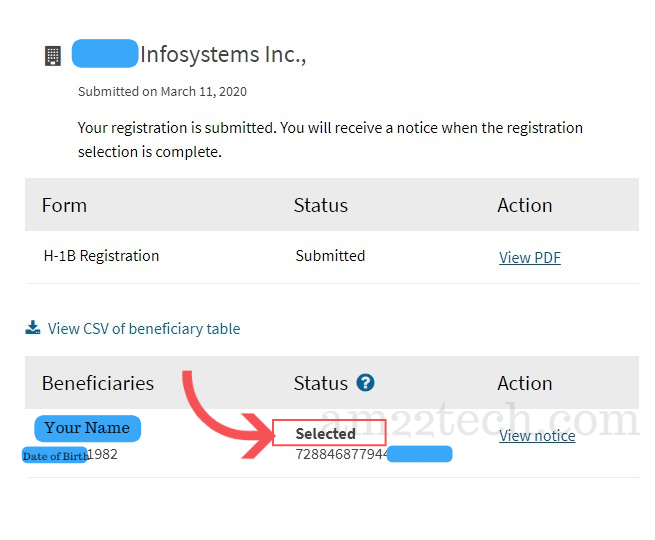 Do not lose heart even if you do not get selected in this first round. USCIS keeps your application on the wait-list until Sep 30. You may get lucky if someone else's H1B is denied.
Employers can see the selection result using the same account that they used to register H1B applications.
FAQ
Can I check the status of my H1B lottery status myself online on USCIS site?
You cannot check the status of the H1B lottery status yourself. Only the employer or attorney who registered it can check the status.

Ask your employer to inform you once your status changes to "selected".
Will My H1B Lottery Status Show Submitted After Mar 31?
USCIS will keep your H1B application on the wait-list until Sep 30. You may get a selection notice even after Mar 31.
Many people are seeing status Selected, My application still shows "Submitted"
USCIS changes status in batches for selected H1B applications.

There is no need to worry as your application may have been selected and may show status as "Selected" by Mar 31.


When will the status change to "Not selected" Finally?
USCIS H1B registration status will show as "Not selected" starting Oct 1, which is the start of the next fiscal year.
Why is USCIS maintaining a wait-list?
USCIS maintains a wait-list as they usually deny about 20% of applications due to various reasons including Specialty occupation and the employer-employee relationship.

The spots opened up by denied applications may be given to H1B registrations on the wait-list.
Sample i797C Notice
Your employer can get this notice if they click 'view notice' on the H1B registration screen.