Self Sworn Affidavit for Indian Passport (Online, PDF?)
Create Self Sworn Affidavit online for Indian Embassy. Foreign address required. Fill, download, print, sign and submit to VFS Global.
AM22Tech Team
Updated 9 Apr, 21
You can easily create a Self-Sworn Affidavit using am22tech's app. If you are okay with writing yourself, we have also provided the template for the affidavit.
Normally, the self-sworn affidavit is required by Indian Embassy to get your passport renewed.
The affidavit content is the same for all countries where you need to declare the time period of your stay outside India.
How to Create Self Sworn Affidavit Online
The app takes care of creating the PDF for you and sends you the properly filled Self Sworn affidavit to your email address securely.
It will only take 2 minutes to generate Affidavit.
Create Self Sworn Affidavit for Indian Address Online >
A user log-in is required and the app will save your information to generate the affidavit again anytime later from any device including your iPhone, Android, or Samsung mobile.
#1 Enter Your Details
Enter your full name, select your Gender, and fill in your father's name as per your current unexpired Indian passport.
The gender is used by the app to change the affidavit language to refer to 'his/her' and make it unique for your case.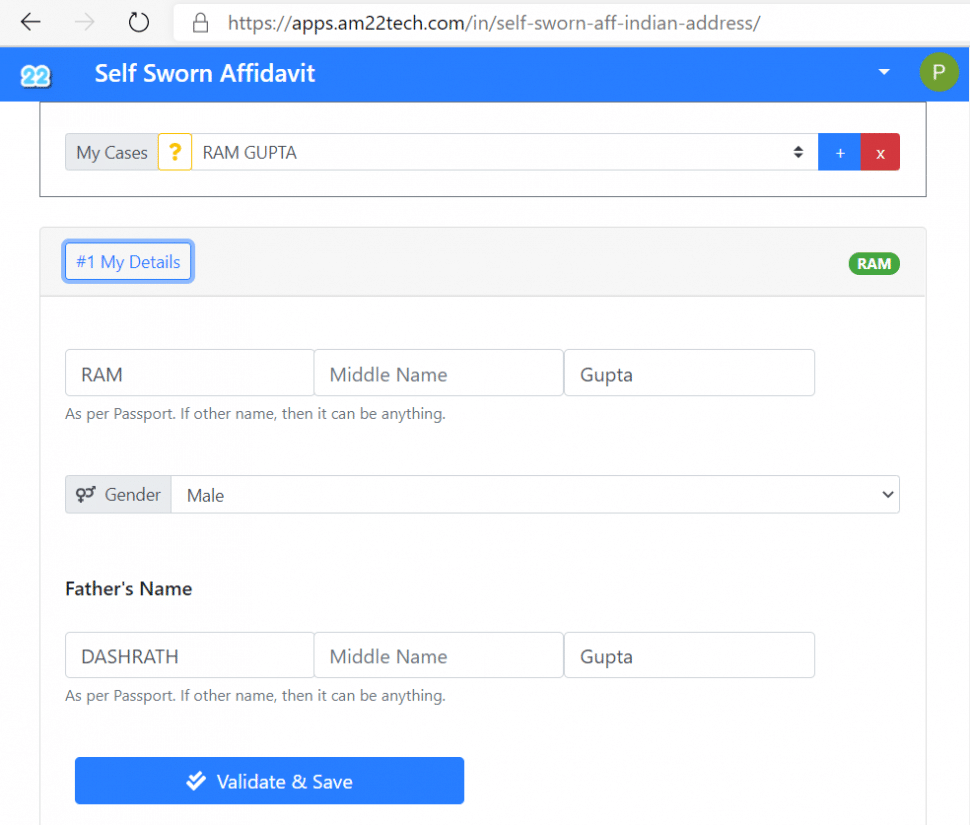 You can click the 'validate & save' button to validate your data.
The app will flash an error if there are any missing fields to make sure you do not miss anything on the affidavit.
#2 Address
We strongly recommend providing your current foreign country address. It should be your current valid residential address outside India.
For example, people living in the USA, Canada, UK, Australia, etc. should enter their current address that matches the address proof.
We have entered a sample New York address here: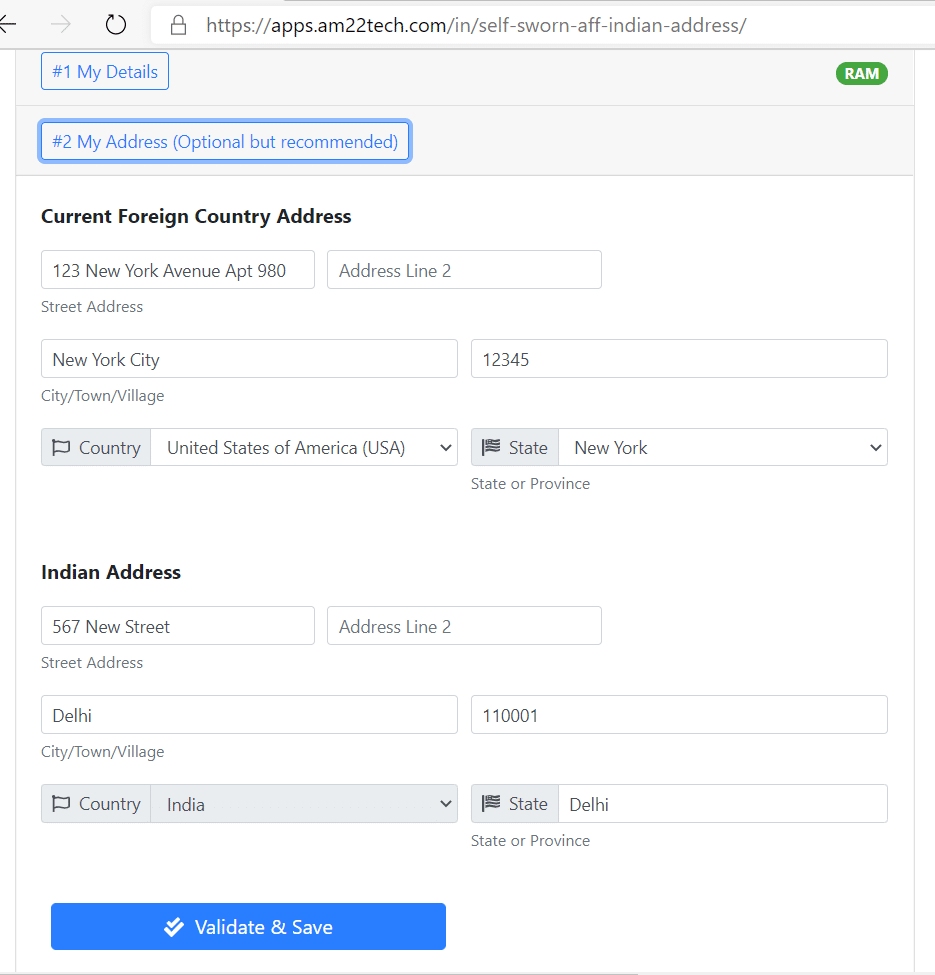 #3 Date of Leaving India
The app considers the date of your leaving India as 5 years from today as the default date. This means that if you do not enter or select the actual date that left India, the app will assume it has been more than 5 years.
This affects the language on the affidavit. There is no need to worry even if you do not select the date as the Indian government just wants to make sure that you are living outside India for more than 5 years.
If you do select the actual date, the app will automatically calculate the years and days and will print on the affidavit PDF to make it easier for you.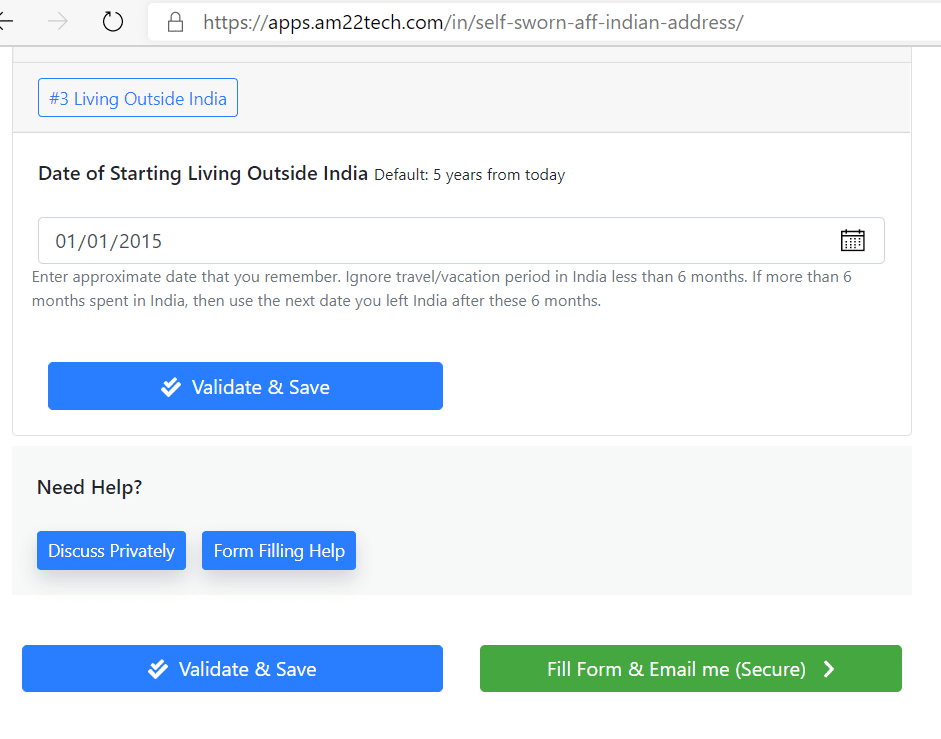 #4 Fill Form & Email
The last step is to click the green button marked as "Fill form & Email me (Secure)". This will validate all data again, create the Self Sworn Affidavit PDF file and send it your registered email ID.
Note that file is not allowed for download for security reasons.
The email also contains the instructions on next steps.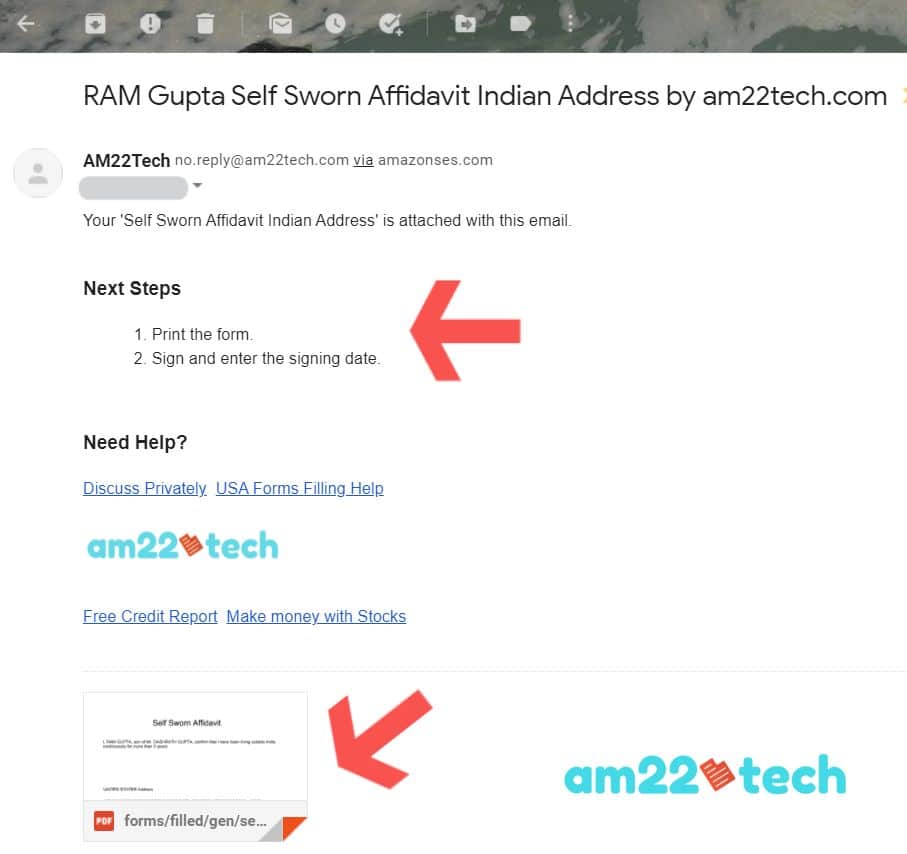 You should receive the email from am22tech.com within a minute although some emails do get delayed if a lot of people are using the app at the same time.
Create Self Sworn Affidavit for Indian Address Online >
FAQ
What If I do not receive an Email with PDF?
You should wait for at least 1 hour to see if the email arrives in your mailbox. Do not forget to check your SPAM folder.

If you still have not received the PDF file, send an email to contact AT am22tech DOT com with the same email address that you used to log in, full name, and address as written on Self Sworn Affidavit.

They will verify and resend your affidavit files over email.
What to do with the Self Sworn Affidavit PDF file?
You can download the affidavit on your computer or mobile phone and then print it.

Do not forget to sign the affidavit before submitting it to the Indian Embassy or a service provider like VFS global.
Can I print Self Sworn Affidavit on Plain Paper?
You can print the Self-sworn affidavit on plain white paper. There is no need for Indian stamp paper.
Is notary required for Affidavit?
The notary requirement varies by the country you are residing in and the passport services provider there.

For example, in the USA, VFS global requires the notarization of a Self-Sworn affidavit.