How to Apply F1 OPT EAD (Sample STEM OPT form)
F1 OPT EAD can be applied for 12 months. i-765 form and I-20 required. STEM OPT eligible for 24 month extension. Fill EAD form easily with app.
AM22Tech Team
Updated 27 Jan, 23
F1 OPT and STEM OPT are types of EAD work permits that allow you to work in the US while on a study visa.
The EAD is given on the basis of your area of study to help you get practical work experience before you can enter the job market.
This article will discuss:
How to Apply OPT EAD?
#1 I-20 Endorsement by DSO
You will need to request your designated school official at your school, college, or institution to endorse your I-20. The I-20 should have been endorsed in the last 60 days of the EAD application date.
DSO will also update your SEVIS record.
#2 Fill USCIS EAD form i-765
You can use am22tech's EAD application app to fill your USCIS i-765 form easily as it validates all the fields automatically to make sure you do not make any mistakes.
You can use this app to fill the form, validate all and make sure the form is not rejected or an RFE is sent by USCIS:
Open App in new Window
You can save on attorney fees if you use the app.
The Pre-completion OPT EAD category code is (C)(3)(A).
The Post-completion OPT EAD category code is (C)(3)(B).
Types of OPT EAD
Optional practical training should always be directly related to your course's major area.
12 Months OPT EAD
USCIS allows you to apply for 12 months of OPT before your study course is completed. This is normally called pre-completion OPT. The same 12 months can be used as a post-completion work permit too.
Note that you only get 12 months of OPT EAD term irrespective of when you use it i.e. either as pre or post-completion OPT or a combination of both.
Example:
If you used pre-completion OPT for 8 months, you will be eligible for only up to 4 months of post-completion OPT.
If you are studying computer science to become a software engineer, your OPT should also be related to computer programming.
Similarly, if you are studying for an MBA (master's in business administration), then your OPT training should be related to marketing, people management, accounting, and economics based on the major area of study.
#1 Pre-Completion OPT
Pre-completion OPT can be applied if you have been enrolled in one full academic year (usually 12 months) course of study on a full-time basis.
You do not need to have had F-1 status for one full academic year. You can fulfill the "one full academic year" requirement even if you had another visa status during that time.
You can work 20 hours or less if school is open and full-time (40 hours) if school is not holding classes.
Example:
Your study time on a dependent visa like H4 can be counted towards "one full academic year".
H1B or L workers can also study in the US but the "one-year" requirement demands full-time study which is legally possible but may not be feasible with H1B work.
#2 Post-Completion OPT
You are eligible to apply for a post-completion OPT work permit after your course has been completed.
It is your choice now to work either part-time or full-time.
The i765 EAD OPT app has the option of filling all 3 types of OPT EAD.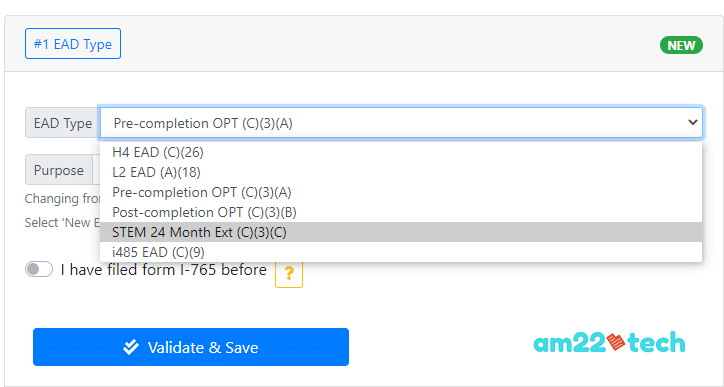 If you applied for pre-completion OPT EAD, then your post-completion OPT EAD time will be reduced by pre-completion OPT time.
#3 STEM OPT Extension
USCIS makes an exception for STEM study and allows a 24-month extension of post-completion OPT.
STEM means science, technology, engineering, and math.
You will need to satisfy these conditions to get 24 months of STEM EAD:
Be an F-1 student who has a STEM degree included on the ICE's STEM Degree Program List
You are employed by an employer who is enrolled in and is using E-Verify for I-9 validations
You received an initial grant of post-completion OPT EAD based on your STEM degree.
You have the option of filling the i-765 form for STEM OPT extension with EAD category code C3C which makes writing Education Degree name, Employer's name, and e-verify mandatory.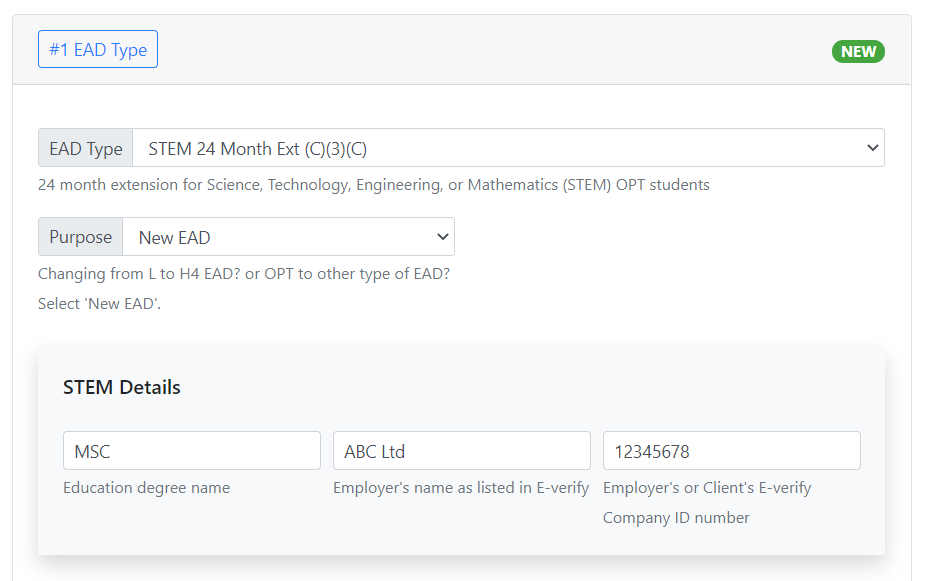 You can use this app to fill out the EAD form, validate all, and make sure the form is not rejected or an RFE is sent by USCIS.
FAQ
When Can I start my OPT?
You should start your OPT only after your EAD card has been approved by USCIS.
Is STEM OPT eligible for an automatic 180-day EAD extension?
STEM OPT is eligible for an automatic 180 extension if you filed an extension before the current OPT EAD card's expiry and your OPT expires while the extension is pending.
Will USCIS terminate OPT EAD if I Enroll in a Master's program after completing my Bachelors's degree?
USCIS will automatically terminate your OPT EAD if you change school or start studying master's degree after completing your bachelor's for which you were OPT EAD.
Can OPT EAD card be used for entering the USA?
OPT EAD card cannot be used for reentry to the USA and is not a replacement for the Advance parole card.