Leaving TCS Onsite – Skill Letter for Green Card
Leaving TCS onsite governed by US laws. No bond money. Join direct client payroll. Complete Full & final settlement to get skill letter for green card.
AM22Tech Team
Updated 5 Sep, 21
TCS has now stopped asking for 5 lakh bond money that they used to charge on resigning at onsite especially in the USA.
How many days of notice period required in USA?
The notice period of 15 days is considered good enough to leave while you are in the USA.

15 days are good enough to make sure that TCS does not immediately suffer any kind of loss on the project due to your exit.

A person can be brought to the USA as your replacement and you can complete the knowledge transfer (KT) to the client's satisfaction.
Can TCS hold my provident fund if I don't complete full & final settlement?
TCS cannot hold your PF withdrawal even if you do not complete the Full and Final settlement.
How can I apply for PF withdrawal?
The TCS settlement team will send the PF withdrawal application forms along with the settlement letter.
Can I send scanned copy PF form by email?
You can send a scanned color copy of the PF withdrawal form by email.

You can fill up the PF withdrawal and pension withdrawal forms, sign along with the real version of an Indian revenue stamp.

Now, scan all the documentary proof along with the main application form (with revenue stamp) and EMAIL it to the Retirement benefits team at TCS. This is a separate team than the one who handles your F&F settlement.
Can TCS transfer PF amount direct to Indian bank account?
TCS can process provident fund withdrawal based on a scanned copy of the application form and canceled cheque and deposit the money directly deposited into your salary bank account in India.
TCS Release letters
TCS will issue following documents after settlement:
Release Letter – mentions that TCS acceptance of your resignation.
Service letter – mentions the tenure of your service, last designation, and last drawn salary.
Skill Experience Letter – This is required for US green card or Australia and Canada PR application. You need to explicitly request it. TCS will not give it to you by default.
How to Get Skill Letter?
#1 Settlement Completed
Letter from TCS after settlement – Once the settlement is completed, HR will send you a skill certificate template.
Template for skill certificate as shared by TCS – This letter is printed on TCS letterhead.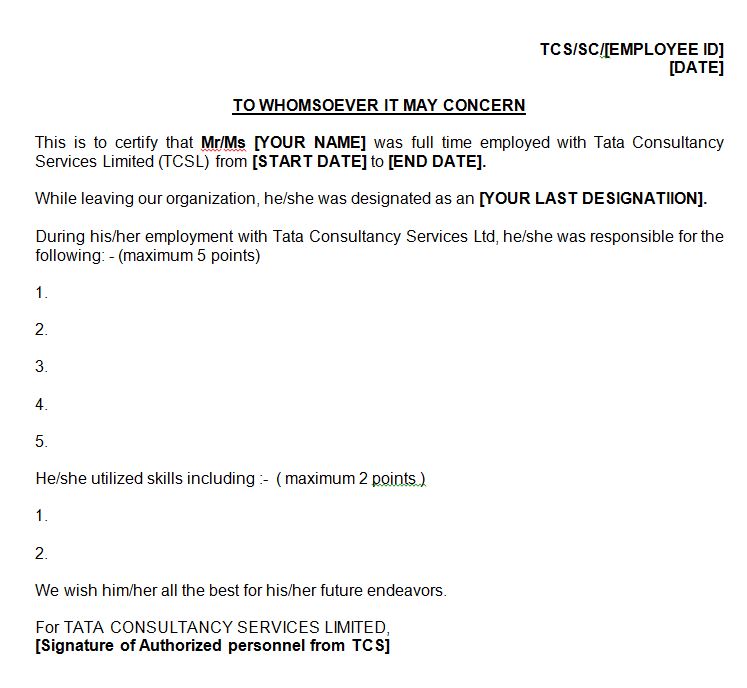 Fill the template and get your managers (or anyone who was a step above in the organizational hierarchy belonging to the same business unit as you) approval. Once approved, they would issue the letter in 3 working days.
For this person, it took 8 days after approval to receive the signed letter PDF copy by email.
#2 Settlement NOT completed
Letter from a co-worker on plain paper – Get the skills endorsement from a co-worker or your last manager (basically someone who worked with you and can endorse your skills).
This letter needs to be notarized.
This option might not prove fruitful in the sense that the DOL (US department of labor) might ask you to prove it while inspecting your application. Normally, the current trend in DOL is to sample 30% of the total applications and verify the claims.
So, if you fall in this 30% category by your sheer luck, they may or may not ask you for the same letter on the company's letterhead.
TCS Full & Final Settlement Amount
You are required to serve 90 days as notice period at offshore (in India). OR
(Maybe applicable) Payout the $10,000 dollars as compensation on the name of project loss + Basic Indian salary equivalent to a shortfall in notice period days.
Full and final settlement calculation – Net Amount Recoverable – Breakup.
TCS code
Meaning
Amount
/561

A

– Claim (Total Earnings – Total Recoveries)
5,885
9NPR

B

– Notice Pay Recovery
42,240
9OAB

C

– Overseas agreement Breach
5,00,000
Total

A+B+C

NET RECOVERABLE
5,48,125
#A Claim (Total Earnings – Total Recoveries)
Net amount after en-cashing your Indian leave balance on the basis of basic salary and deducting the Indian income tax (if any).
As per India Residency Law:
An associate is in India for 182 days or more during the current financial year, then, the associate will be termed as RI (resident Indian) and is liable to pay tax to the Indian Government.
An associate is in India for more than 60 days but less than 182 days during the current financial year, in this case, if associate stay in India is more than 365 days in preceding four financial years then, an associate will be termed as RI and is liable to pay tax to Indian Govt.
As per the Indian financial year, if the total stay of an associate in India determines him as India resident, then his India salary for all 12 months is taxed. In this case, the last day with TCS was 30 September and hence Indian tax is applicable @Rs 43,412 for the six months of work.
Hence, the net figure of 5,885.
| | |
| --- | --- |
| Leave En-cash 43 days | 37,527 |
| -Income tax due | -43,412 |
| Net payable by you | 5,885 |
#B Notice pay recovery
Notice pay recovery is calculated on the 90 – 24 = 66 days shortfall. It was INR 42,240 on the basis of basic Indian salary.
#C Overseas Agreement breach
Even though the policy says it is $10,000 and the dollar's exchange rate was $1 = INR 60, TCS used a generic rate of $1 = INR 50.
This is not charged these days by TCS. So, you can ignore it.
Negotiating Full & Final Amount
You need to negotiate for row B and C and it is possible to bring this amount to a manageable figure.
B – Negotiating notice pay recovery
The notice period pay waiver depends highly on your conduct and relationship with your manager while you were on the project with TCS. The manager has the final say in releasing you at onsite.
If you and your manager agreed upon a KT (knowledge transfer) timeline and it was completed to each party's satisfaction, manager can give a good feedback and you will benefit in this area.
C – Negotiating Overseas agreement Breach
Although it is widely known to be negotiable up-to INR 60,000 to 1 lakh, it depends on your own negotiation skills.
NOTE: These days, TCS has stopped asking for the Overseas agreement Breach amount.
In this case, the breach amount was completely waived off due to the following reasons
The person did not claim any 'Home lease breakage' amount during employment with TCS at onsite.
The Knowledge transfer was completed to the satisfaction of the client and the TCS manager.
The person completed the 2 weeks notice.
This person only paid the balance INR 5885 for the settlement.
TCS Alumni Portal
Register at the TCS Alumni portal. This will help you download the Form 16 and other such documents later if you want.