EB2 India Green Card Prediction (Dec 2020 Bulletin)
EB2 India Predictions for Green card- fast movement in each via bulletin after Oct 2020 and 3 months movement possible every month. Less EB2 to EB3 downgrades means a better chance for people who actually downgrade.

By Anil Gupta
Updated 8 Nov, 20
Are there any chances that dates will continue to move forward in upcoming bulletins?
My opinion is that the dates for India EB2 and EB3 Final Action will keep moving forward from Dec 2020 visa bulletin to Sep 2021 due to the spillover from family-based green cards by about 1-3 months at a time.
Dec 2020 Visa Bulletin Predictions
| | | |
| --- | --- | --- |
| India | Final Action | Date of Filing |
| EB1 | 5 Mar 2019 | 1 Sep 2020 |
| EB2 | 1 Nov 2009 | 15 May 2011 |
| EB3 | 15 Mar 2010 | 1 Jan 2015 |
EB2 and EB3 'final action' to move forward in the Dec visa bulletin.
EB2 and EB3 'Date of filing' dates should stay the same and USCIS should keep the 'DOF filing' chart open for December 2020.
More EB2 to EB3 i485 downgrades will mean dates will be pulled back quickly in visa bulletins starting Dec 2020.
I expect at least 60k+ i485 applications to be filed in Oct 2020 from the EB3 quota itself.
Many employers may not file the EB2 to EB3 downgrade immediately as it comes with a high cost of around $8k (including attorney fee). The dates might move back quickly and as soon as next month.
These are unverified i140 numbers for India EB2 and EB3.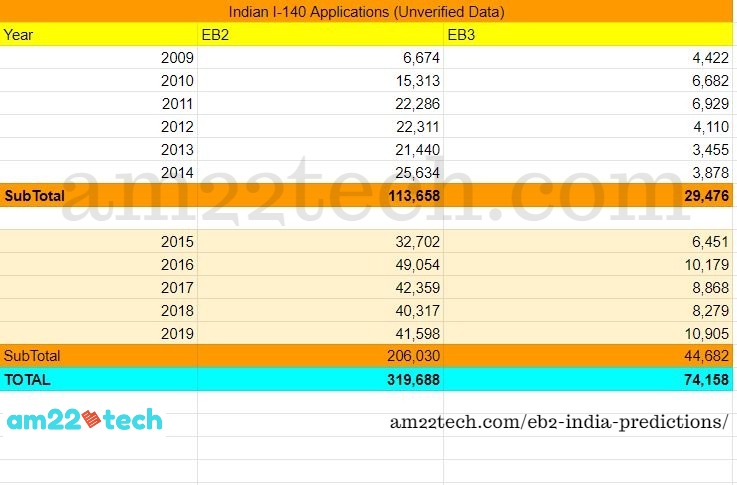 My estimations are based on the above numbers and the fact that about 120k extra green cards have been added to employment based total in Oct 2020.
Normally, if there are Green Cards left in the EB1 category, the spillover to EB2.
If we look at the last couple of year's data, the EB1 India itself is backlogged thereby leaving EB2 India with just the basic quota of 2,879 green cards per year.
If you take an average family size of 3, the total employment-based GC's would come down to a mere 959.
With only 959 Green cards issued every year to EB2 India on average from 2017 to 2020, the GC wait times skyrocketed to 151 years as explained below.
Now, those extra 120k green cards are available between Oct 2020 and Sep 2021, EB1 stands to clear its queue and the chances are very good that EB2 + EB3 India will get about 17k extra Green cards each after sharing it with other backlogged countries.
You should be ready to file i-485 documents if the dates move forward quickly as the window might not stay open for long.

Here is our app to help you decide if you should do the EB2 to EB3 downgrade or not. It is still new and will improve over time as we make changes continuously.



Open App in new Window > &nbsp&nbsp&nbsp&nbsp&nbsp



Here is the app that can help you generate your i485 document checklist easily.
EB2 India Green Card Wait Time
The average waiting time for anyone already in the EB2 Indian queue at least 20 years if their GC date is before Dec 2012 if you ignore the spillover that happened in Oct 2020.
The maximum is expected to be 151 years in EB2 if you file your PERM today and the average is about 40 years for an India born skilled worker filing their US Green Card PERM.
NOTE: Dependents = Spouse, and Children (less than 21 years of age).
As per USCIS estimates,
EB1 dependents = 1.4 of primary.
EB2 dependents = primary numbers.
EB3 dependents = 1.1 of primary.
EB-1: Extraordinary ability, EB-2: Advanced degrees, EB-3: Bachelor's degrees
Indian green card queue waiting numbers issued by USCIS.
If the same amount of 2879 Green cards are issued to EB2 India every year from now, which seems like a case without any carryover from other categories, the Indian EB2 skilled worker has a wait of about 151 years.
How to Get Green Card Fast?
Unless the US Immigration law is changed, to remove country based GC limits with a law like S386, there is no real possibility of any Indian joining the EB2 Green card queue, to get a Green card in his/her lifetime.
#1 US Citizen Child Sponsor
To circumvent this 150-year wait, your Adult US citizen child can sponsor you once he/she turns 21.
This will give you a Green card immediately as there is neither any yearly limit nor any priority date waiting for immediate relatives of US citizens.
#2 EB2 to EB3 Downgrade
India EB2 to EB3 downgrades are possible.
India Green Card backlog Survey

EB2 is the most preferred category for Indian H1B workers to file Green Card.

Help us gauge the mood of the Indian community by filling up this short survey. You need a google account to fill it. No email collected. No spam. You can see survey results once you have filled it yourself.



Open file in New Window > &nbsp&nbsp&nbsp&nbsp&nbsp