EB2 India Green Card Movement Prediction (Covid-19)
EB2 India Predictions for Green card is average 20 yrs, worst case 150 yrs wait time. 3k GCs are issued to EB2 India every year counting each family member separately person.

By Anil Gupta
Updated 25 Jun, 20
Update June 25, 2020: The Employment-based visa bulletin should move the dates for EB-1, EB-2, and Eb-3 faster and possibly by months at a time as the family green cards will not be issued till Dec 2020 end.
The recent Trump's travel ban on employment and family-based green cards along with the closure of US embassies has created a big pool of GC numbers which may spill over to employment-based categories.
This has the potential of adding 14k employment green card numbers to each country's queue by way of spillover (as per my opinion):
It may move the Indian EB-1 to current in the 'final action' chart.
Advancing Indian EB-2 to Dec 2010 in 'Date of filing chart' and Mar 2010 in 'Final Action' chart' by conservative estimates.
EB-3 to Nov 2010 in 'Date of filing chart'
Emily Neumann from Reddy n Neumann Law group shares her opinion about employment-based green card movement after the recent Coronavirus closures and the possible effects of family-based green card spillover to employment-based GC queues:
Open file in New Window
EB2 India Green Card Wait Time
If your employment based green card priority date is July 2009, you have already waited for close to 10 years at this time. The date is NOT expected to be current anytime in near 2-3 years.
This makes the waiting time for anyone already in the EB2 Indian queue at-least 20 years.
The maximum is expected to be 151 years and
the average is about 40 years for an India born skilled worker filing their US Green Card PERM today.
Indians waiting for GC Priority Date
| India (2019) | EB-1 | EB-2 | EB-3 |
| --- | --- | --- | --- |
| Primary | 34,824 | 216,684 | 54,892 |
| Dependents | 48,754 | 216,684 | 60,381 |
| Total | 83,578 | 433,368 | 115,273 |
| GC Issued 2017 | 13,082 | 2,879 | 6,641 |
| Projected Wait | 6 Yrs | 151 Yrs | 17 Yrs |
NOTE: Dependents = Spouse and Children (less than 21 years age). As per USCIS estimates, EB1 dependents = 1.4 of primary. EB2 dependents = primary numbers, EB3 dependents = 1.1 of primary.
EB-1: Extraordinary ability, EB-2: Advanced degrees, EB-3: Bachelor's degrees
Source USCIS in May 2018 and travel.state.gov.
Indian green card queue waiting numbers issued by USCIS.
If the same amount of 2879 Green cards are issued to EB2 India every year from now, which seems like a case without any carryover from other categories, the Indian EB2 skilled worker has a wait of about 151 years.
433,368/2,879 = 151 years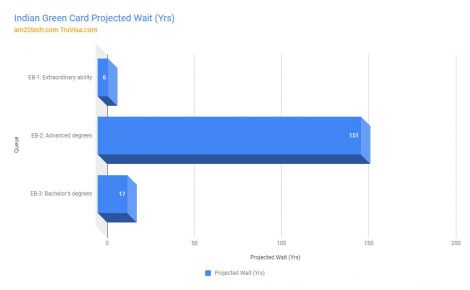 Indian EB2 green card wait 151 years

How to Get Green Card Fast?
Unless the US Immigration law is changed, to remove country based GC limits with a law like S386, there is no real possibility of any Indian joining the EB2 Green card queue, to get Green card in his/her lifetime.
#1 US Citizen Child Sponsor
To circumvent this 150-year wait, your Adult US citizen child can sponsor you once he/she turns 21. This will give you a Green card immediately as there is neither any yearly limit nor any priority date waiting for immediate relatives of US citizens.
#2 EB2 to EB3 Downgrade
India EB2 to EB3 downgrades are possible.
I suggest to file a downgrade if:
Your EB2 PD date is current in EB3 'Final Action' Chart.
Wait if your EB2 PD date is current in EB3 'Date of filing' chart.
PERM Filings Increasing
The PERM filings are stuffing the already backlogged Indian EB2 Green Card queue.
Normally, if there are Green Cards left in the EB1 category, they spill over to EB2. But, with the current trend where EB1 itself is backlogged, EB2 India is just left with 2,879.
To add salt to the misery, each employment-based green card is counted separately for each H1B or any other immigrant family member.
This means that if you filed Employment based GC, your dependent wife, your dependent kid will be counted too in the EB2 number 2879.
If you take an average family size of 3, the total employment-based GC's would come down to a mere 959.
With only 959 Green cards issued every year to EB2 India in 2018 and onwards, do you think that you will ever get to see that prized card in your lifetime?
Open file in New Window
This happens due to the EB3 to EB2 upgrades every year. EB3 becomes eligible for upgrade after 5 years of work experience.
India Green Card backlog Survey
EB2 is the most preferred category for Indian H1B workers to file Green Card.
Help us gauge the mood of the Indian community by filling up this short survey. You need a google account to fill it. No email collected. No spam. You can see survey results once you have filled it yourself.
Open file in New Window