EB2 India Green Card Prediction – July 2023 Bulletin and Beyond
EB2 will not reach Dec 2014 again in 2023. USCIS has decided to hold EB2 India as ROW demand is high. EB3 may only reach the end of 2012.
AM22Tech Team
Updated 1 Jun, 23
USCIS seems to have been waiting cautiously for the results of AOS lawsuits that are currently in progress for "wrong interpretation of the law" and allegedly unlawful retrogression.
In simple words, Brad Banias has filed various lawsuits for individuals who claim that USCIS can still approve their pending i485 even if the visa bulletin has been retrogressed.
As per the law and Brad's arguments, congress specifically allowed USCIS to do so but they have intentionally not followed this policy just because it is too complex and difficult for them to follow it.
You can listen to the above verbal argument in the US circuit court where the judges were also trying to question USCIS with respect to why the law has not been implemented correctly.
Will EB2 India reach Dec 2014 by Sep 2023 bulletin?
The chances of EB2 India reaching 2014 are very low given that USCIS has taken the stance of equally distributing the spillover among all countries.
Unless any lawsuit changes this stance, Indians are in for a big shock.
We estimate that EB3 India will move forward while EB2 India will stay around 2011-2013 by the end of Sep 2023 now.
USCIS had told the court in 2022 that the dates for EB2 should not be retrogressed and will stay current if they were current in July 2022. But, they changed their stance suddenly in Sep 2022 court filing: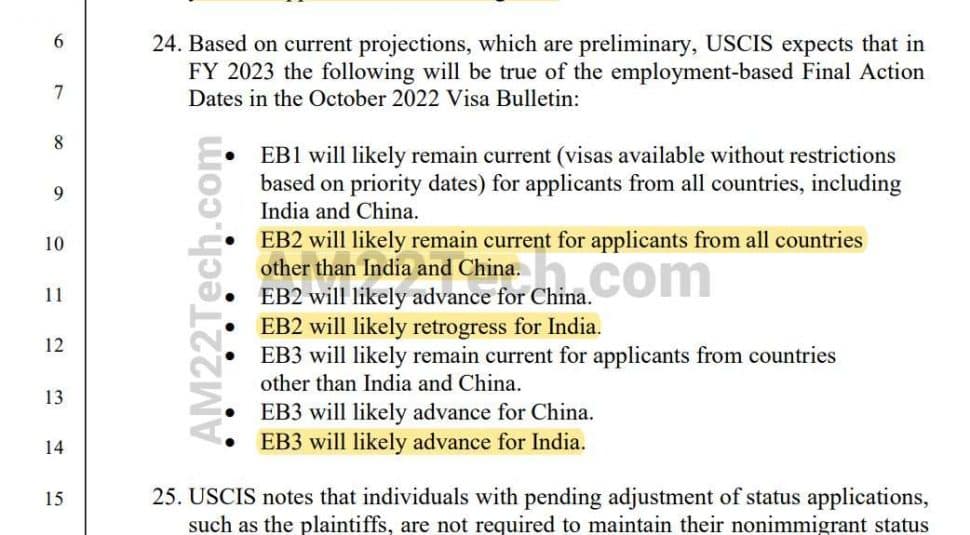 Will 60k new Family to Employment Spillover Help EB2 India?
Unfortunately, not in 2023 as USCIS is equally dividing the spillover GCs among all countries and applying the 7% cap.
USCIS has estimated that EB2 Indians will only get a total of about 4k GC in 2023. They are also estimating that EB1 India will also get a restricted date starting Jan 2023 bulletin.
This essentially means that the bull run for Indians has ended. The pre-covid speed of the visa bulletin is back sooner than estimated.
This spillover:
The EB3 India should still move forward and may reach 2014 as per our estimation.
EB2 India may still not see much movement as it has a high number of people already waiting in line.
People with i485 pending in both EB3 and EB2 will benefit.
Predictions for 2023
Stay positive and hope for the best.
Open App in new Window >
You can also estimate dates based on your own priority date.
If you have already filed your i485 but have not submitted the medicals, we strongly recommend interfiling the i693 form and improving your chances of getting a Green card earlier than others in the queue.
This app uses publicly available i140 data from USCIS and then mimics the per-month visa allocation based on various factors.
The employment spillovers happen in this order:
EB4 and EB5 extra green cards are given to EB1.
EB1's unused GC numbers are given to EB2 ROW (The rest of the world).
EB2's ROW is shared horizontally with backlogged countries like India and China. The most backlogged country gets the most GCs as per the best understanding.
EB3 ROW is supposed to get unused GC from EB2 which is almost impossible since EB2 India and China have huge backlogs.
EB3 does not spill over to anyone as per our understanding.
In a nutshell, this is the funnel for spillovers within employment-based categories:
Unused EB4+EB5 ->
EB1 ROW ->
Unused EB1 ->
EB2 ROW ->
EB2 Backlogged (most backlogged first) ->
EB3 ROW ->
EB3 Backlogged (most backlogged first)
If you want to understand how this whole setup works, head over to the HappySchools blog which has explained spillover sharing details within EB categories in a really simple way.
Estimate My Green Card Date
You can estimate your own green card date based on the same AI algorithm which we use for predicting visa bulletins.
Open App in new Window >
Visit the My Green Card Estimate App here.
Enter your country of birth and employment-based GC category. You can leave the options as default.
Click the 'Estimate My GC Date' button and see the visa bulletin that may get you the Green card.
This is what the estimated values look like.
This will help you make a decision with respect to filing EB2 to EB3 downgrade and collecting documents for filing i485 if you have a good chance of getting current in the near future.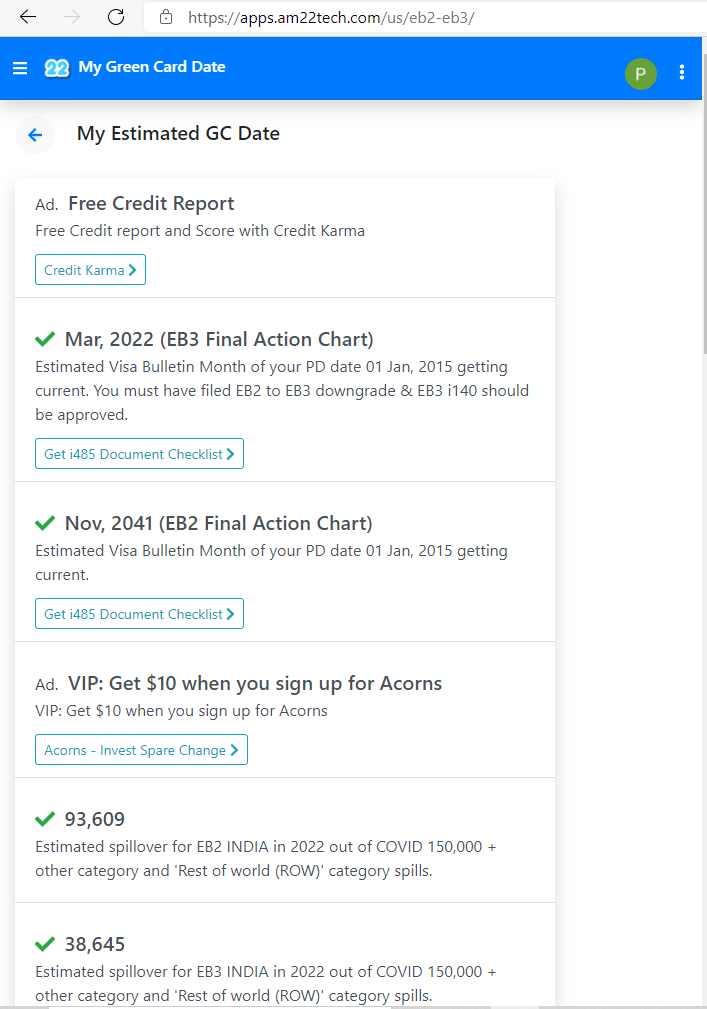 You should be ready to file i-485 documents if the dates move forward quickly as the window might not stay open for long.
How to Get a Green Card Fast?
Unless the US Immigration law is changed, to remove country-based GC limits with a law like S386, there is no real possibility of any Indian joining the EB2 Green card queue, to get a Green card in his/her lifetime.
#1 US Citizen Child Sponsor
To circumvent this 150-year wait, your Adult US citizen child can sponsor you once he/she turns 21.
This will give you a Green card immediately as there is neither any yearly limit nor any priority date waiting for immediate relatives of US citizens.
#2 EB2 to EB3 Downgrade
India EB2 to EB3 downgrades are possible.