Renew Indian Passport in USA (VFS Process, Documents)
Indian passport renewal USA, Documents list, NRI online application form. Processing time 1-4 weeks, 2 photo. Police verification required. US legal status required.
AM22Tech Team
Updated 25 Nov, 22
You can easily renew Indian Passport in USA after 10 years with VFS Global.
Step by step process for re-issue of the passport with the Indian embassy in New York, Houston (Texas), Washington DC, Atlanta (Georgia), Chicago (Illinois), and SFO (San Francisco, California) Indian consulate.
Passport Renewal Process Snapshot
Create a Passport application on the Indian government Website.
Create an account on VFS global, pay the shipping fee.
Collect documents and mail to VFS global.
VFS verifies documents, sends them to the Indian embassy.
Indian embassy triggers Police verification in India.
Indian embassy issues passport.
VFS sends the new and old passport to you.
Processing Time
Your Indian passport renewal will take 3-6 weeks if the last passport was issued in India.
You can get a new passport in 10 days if your last passport was issued by the Indian Embassy in the USA.
You can apply for renewal 1 year or 365 days before expiry. We recommend applying 6 weeks before the final expiry to avoid issues with delays in processing at the Indian embassy.
Documents Required
#1 Expiring Passport
Original and most recent one passport is required to be sent. All other OLD passports, if any, are not required.
#2 Photographs
Total of 2 photos with size 2×2 Inch are required for passport renewal.
The photo should have white background and not off-white.
You can get passport size photo online or at Sams Club, Costco, CVS, or Walgreens.
#3 NRI Government passport renewal application form
The passport application form will be provided by the Indian government site for printing. Detailed steps are given below.
#4 Highest qualification degree
Indian embassy requires your education details to decide if ECR Stamp is required on your passport or not.
We recommended sending a copy of the Highest Educational Qualification Degree like an MCA or MBA. It is not required but there is no harm in sending.
Check if you need ECNR or ECR?
#5 USA Address proof
You can safely opt to get the USA address printed on an Indian passport. There is no harm.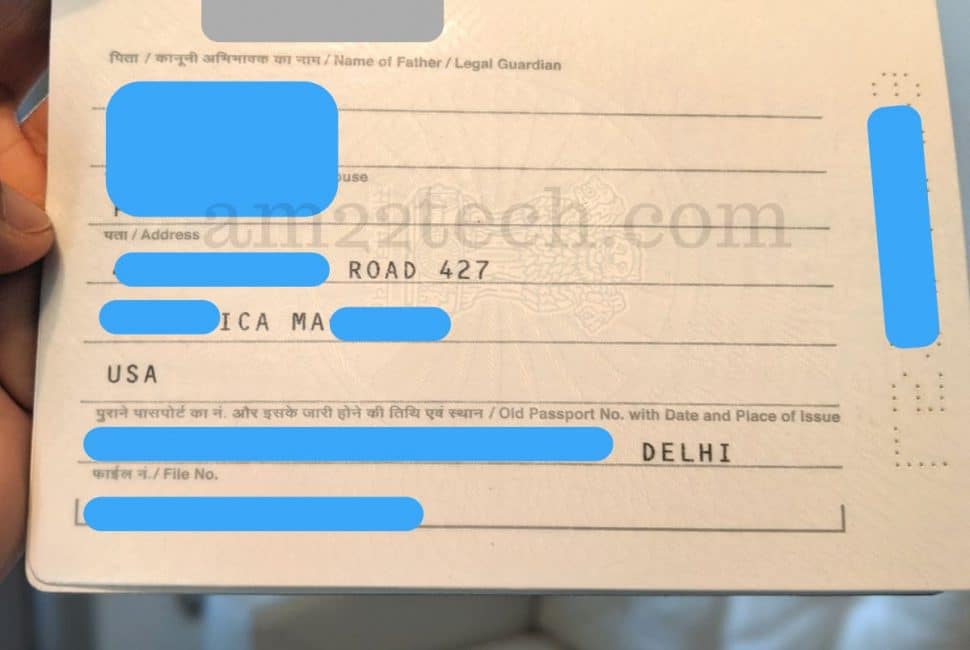 #6 Indian Address Proof
Indian address proof is required if you want to add or change the current Indian Address printed on your current passport.
Does the current passport have an Indian hostel as a permanent address?
Any Indian utility bill (Electricity/ gas/ water/ landline telephone bill) – Must NOT be older than 3 months
Aadhar Card
Indian Drivers license
Recent Bank Statement from Indian Government bank. The front page is required. Should have an affixed photograph. Check a sample of SBI's passbook with affixed and stamped photographs here.
#7 Change of Appearance / Signature Form
You should sign and print this change of appearance form if you are applying after 10 years.
Everybody's presence changes a little as you age.
#8 VFS Document checklist
Download the VFS document checklist here. Print and fill it as you collect documents.
#9 Annexure 'E'
Specimen Declaration of the applicant on a plain paper.
Create Annexure E Affidavit Online >
#10 Copy of Passport
Photocopy of First 5 pages of YOUR passport + last 2 pages. You can use an app-based scanner.
First page with Photo, then page numbers 1, 2, 3, 4, 5.
Page number 34, 35, 36, and last page with the address.
Total of 10 pages.
#11 Marriage Certificate (Optional)
Are you are Married and want to add your Spouse name to the new passport?
Include Spouse's Passport's front (page with picture) and back page (with address) OR
Spouse Green Card
#12 US Legal Status
Current Valid US Visa (including dependent Visa) OR
I-797 OR
Green card OR
Employment Authorization Card (EAD) or
I- 797 approval notice or
Valid I-20
You can even use the USCIS receipt number copy.
H1B / H4 Extension pending with USCIS? Apply with i797C.
US Visa – B1/B2 is NOT a valid visa for passport reissue.
i94 is not a valid Proof either.
#13 Birth Certificate / School Leaving Certificate
#14 Self Sworn Affidavit
#15 Police Report (Only if Passport lost or stolen)
#16 Additional Documents for Child Passport
Create Annexure D with Our App >
Annexure D signed by both mother and father.
Mother – Current Valid US Visa OR I-797 OR Green card OR Employment Authorization Card or I- 797 approval notice.
Mother – Passport first (Photo) page and last page (address page).
Father – Current Valid US Visa OR I-797 OR Green card OR Employment Authorization Card or I- 797 approval notice.
Father – Passport first (Photo) page and last page (address) page.
Self Sworn Affidavit
Here is the self sworn affidavit template to be printed on plain A4 size white paper.
Create Self Sworn Affidavit for Indian Address Online >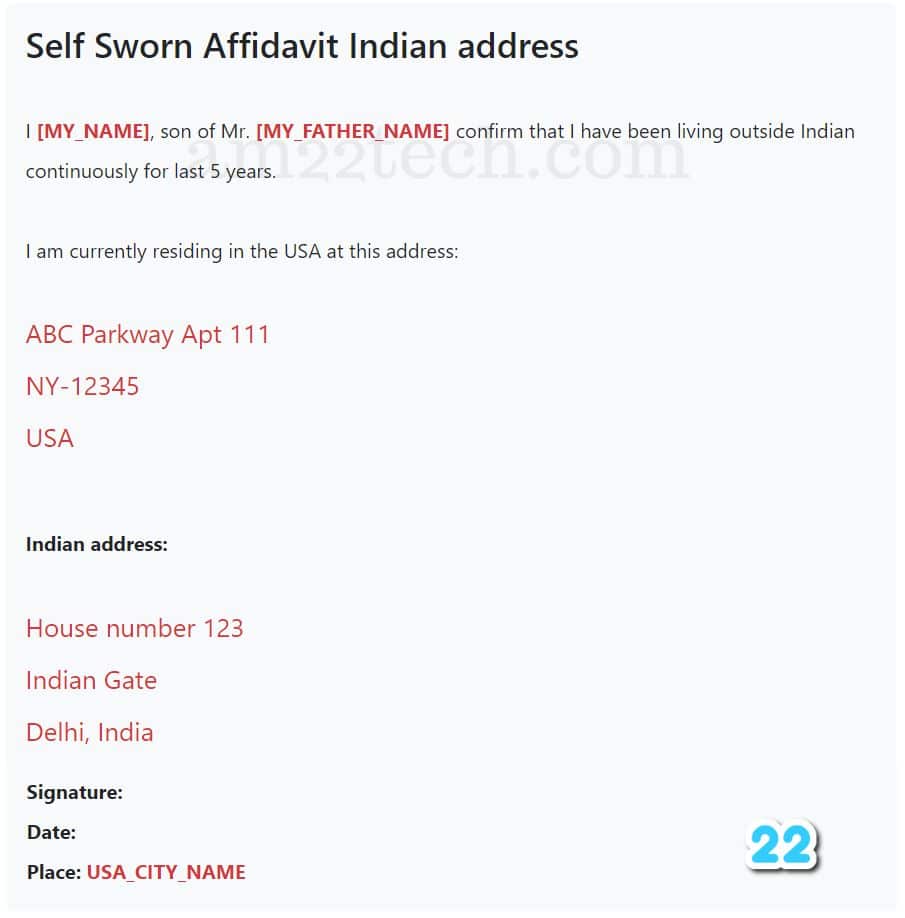 Indian address is always required as you hold Indian passport.
You can give your parent's or relatives Indian address by mentioning it on a plain piece of paper and then sign it. It will work as a self-sworn affidavit.
Registration Steps – Indian Govt Website
Start passport application here on Indian government website.
You will need to register for each person separately on this website. We suggest using this website on your laptop or PC as the site is messed up on mobile.
#Step 1 Click the 'Register' button and fill in the details.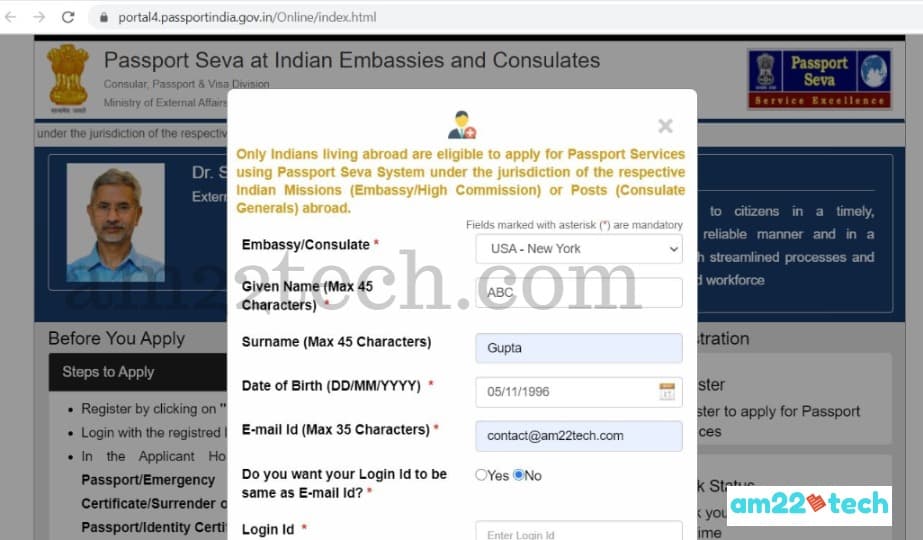 #Step 2 An email is sent to you for verifying your email. Click the link in the email to activate your online account.
#Step 3 You will be asked to log in again after you have activated your account. Log in again and then this screen will be visible: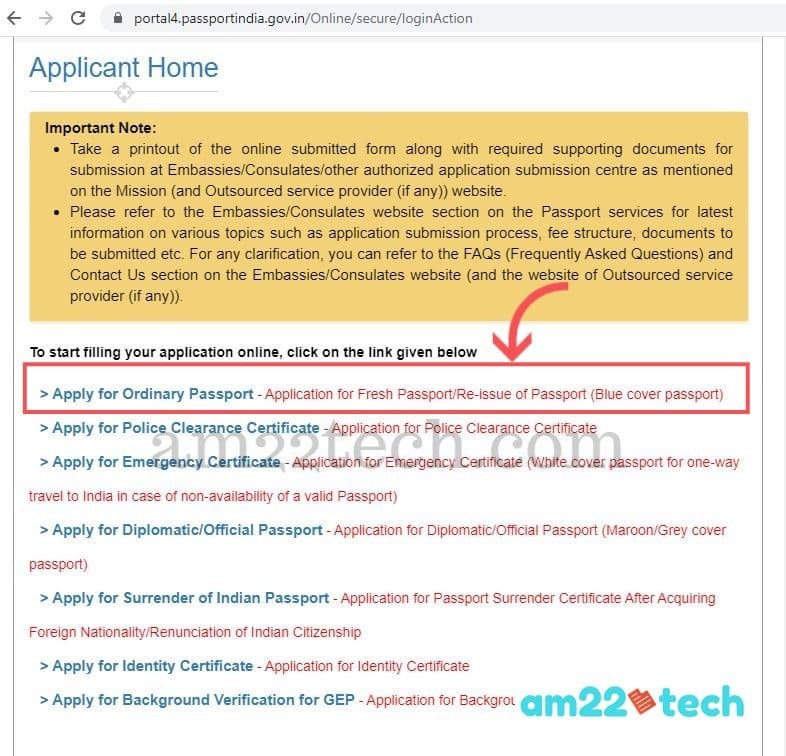 Select the option "Apply for Ordinary passport – Application for fresh passport/Re-issue of Passport (Blue cover passport)"
Passport Application Steps – Indian Govt Site
#Step 1 Start Passport application by filling 'passport type' section.
These are the sample values that will apply to most people.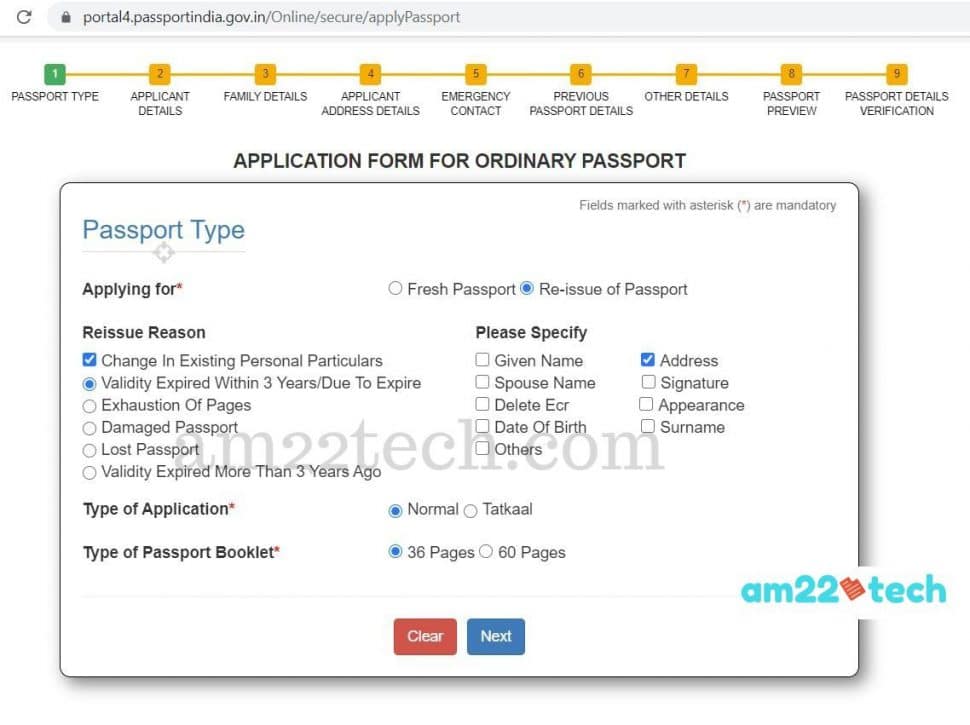 Choose 'Re-issue of passport'.
Choose 'Change in personal particular' and then select 'address' if you are changing your address from Indian to US or a different address within the USA. You can select more options if you want to change more things on your passport.
Choose 'Validity expired within 3 years/Due to expire'.
Select Type of application as 'Normal'. For tatkal, you should have a pre-authorization from the Indian embassy over email.
Select 'Type of Passport Booklet' as '36 pages'. Most people only need 36 pages unless you travel a lot and your passport pages get full within a couple of years.
#Step 2 Click next and fill 'Applicant details'. Click next once done.
Once you click 'Save', your application is saved and an 'Application reference number' (ARN) is generated and shown on top of the current page: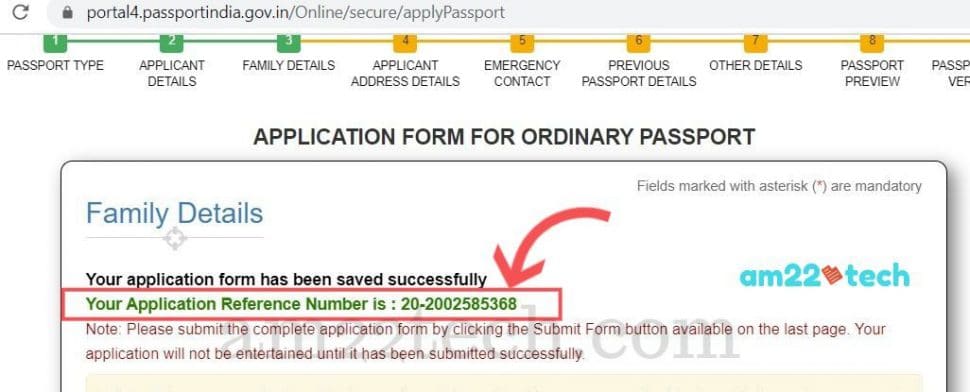 #Step 3 Family Details
Enter family details like Father, mother and spouse name.
Spouse name is mandatory if you have select the marital status as 'married'.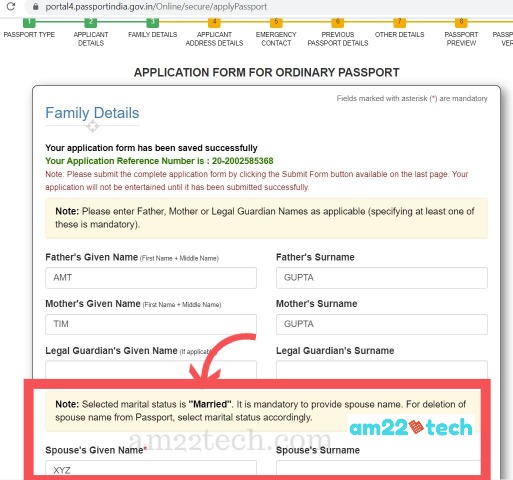 #Step 4: Applicant Address Details
Your presence at an Indian address is not mandatory. Indian embassy understands that you are physically present outside India.
It is mandatory to provide at least one Indian address in the form. It will be used for police verification. You can give your parent or relative's Indian address.
You can choose these combinations:
| | |
| --- | --- |
| Passport Print Address | Other Address |
| USA | Indian |
| Indian | USA |
In this example image, we are opting to print US address on the passport and then providing an Indian address as 'other address':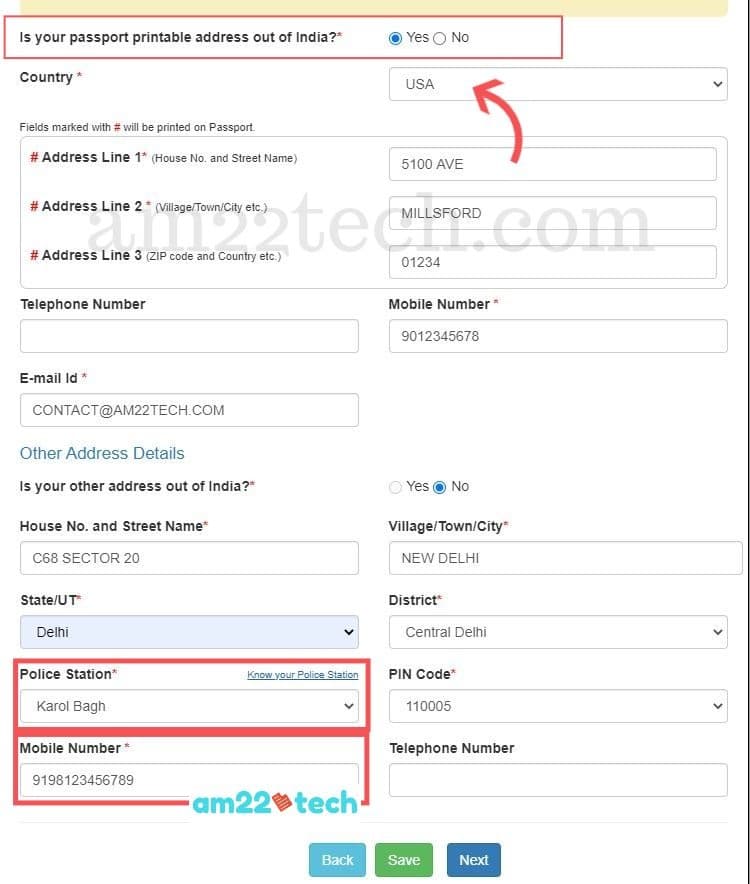 Note:
Indian mobile number should be valid as someone will call on it for police verification.
Choose the correct Indian police station as per your Indian address to avoid delays in your application.
Your relative should be able to vouch for you when they call.
As it is expected in most places, they may have to give a nominal amount as 'chai paani' to the police officer. The normal amount that most people have reported to have paid is about INR 1000 to 2000. They expect it as you are earning in Dollars 🙂
#Step 5 Enter emergency contact details
We suggest providing details of the person who you know in the USA. You can provide anyone from India too. It's your choice.
#Step 6 Previous Passport Details
Enter details and click next.
#Step 7: Other Details
Enter details and click next.
#Step 8 Passport Review
Enter details and click next.
#Step 9 Passport preview
Step 9 shows a nice preview of the new passport's biometric page. Verify your information and click next.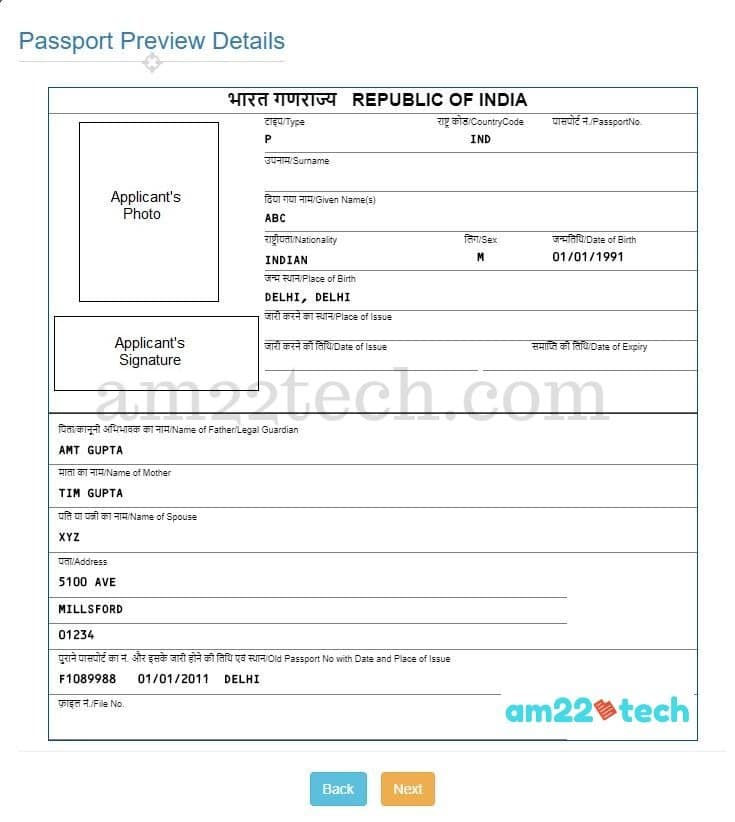 #Step 10 Verify and Submit
The last step is to verify all the details and then submit your application. You can make changes before clicking 'Submit' button.
Your application is locked once you click 'Submit' and changes cannot be made.
Print Passport Application
Once you have submitted, you can print the application from the Applicant Home page.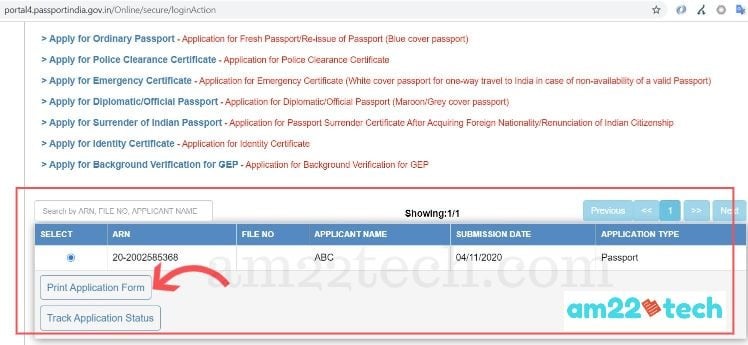 You should print the passport application on one side of the white paper only. Leave the back side blank. Do not double print.
You should sign the printed application with black or blue pen only.
VFS Global Website – Fee Payment & Shipping
VFS's website and the instructions are half baked and it seems they have been given the contract at the last moment.
The link given on the VFS website will waste your time filling the form even before registration.
But, the problem is that there is no other way to register either (at least we could not find any).
VFS services are used for postal Envelope, Payment & shipping your documents.
#Step 1 Visit the VFS global website and create an application there.
This is also not a mobile friendly website. So, we suggest to use a desktop.
Select 'Passport' box (Blue color) and then you will see a new form open up: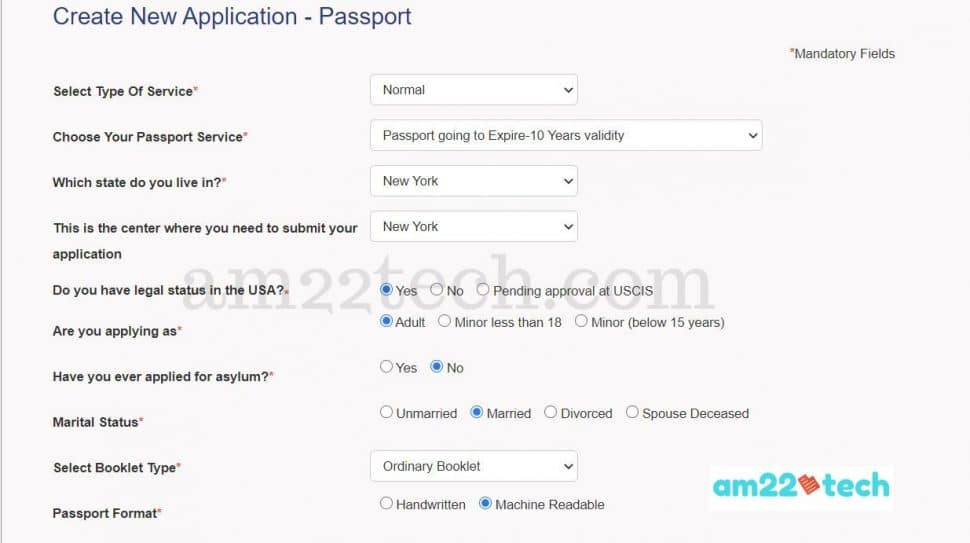 Click the button 'Proceed'.
#Step 2 Fee Details
The total fee for Indian passport renewal is $92.90 including the VFS service fee of $15.90.
Now, once you click the 'proceed' button, you will be asked to register and activate the registration by email. Once you are done, you will have to REDO the whole VFS application. Amazing!
#Step 3 Click 'Create new application'.
Enter the details again on this page after logging in to VFS portal system.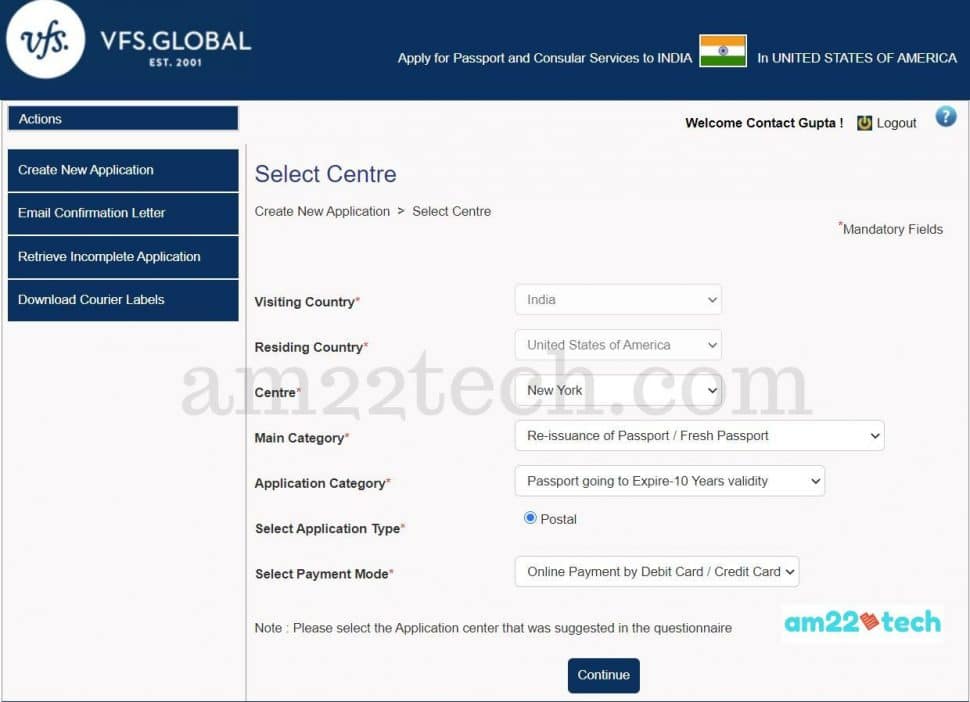 #Step 4 Click 'proceed' button and you will be asked to add a customer.
#Step 5 Click 'Add customer' and you will see this screen where you will be asked to once again enter all your information.
Make sure you enter the Indian government website's ARN number in the 'Govt reference number' field: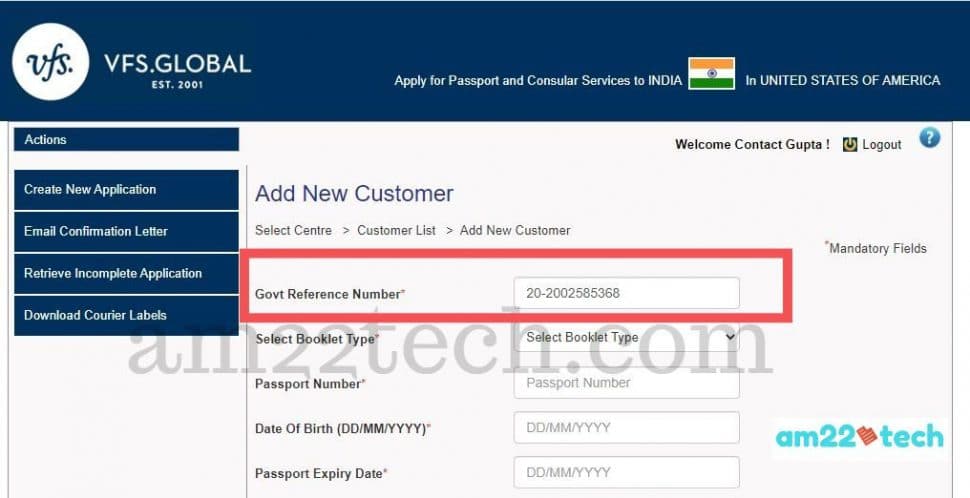 Click 'Submit' button.
#Step 5a Many people have complained that they are not able to see the 'select courier service' after adding a customer.
Try this as it worked for us:
Log out and Log in again to VFS Global portal.
Click the 'retrieve incomplete application' button (blue color) given on the left-hand side menu.
Use your registered email (used to register on the VFS site) and click search.
You should now be able to see the 'Select courier' option on the customer list screen as shown in our next step below.
If you are still not able to see the 'select courier service' option, then click the 'Edit' link given in the 'Actions' column next to your name list. This should show the courier service option.
#Step 6 Select Courier Service
You reach the customer list screen.
Note down the VFS reference number. This will be required to search your application if you are automatically logged out.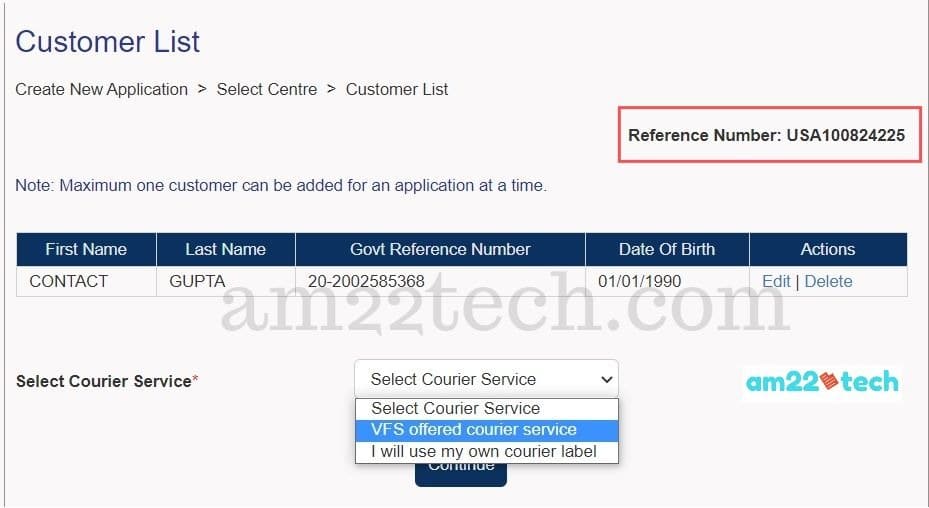 We recommend VFS's shipping option. They use FedEx and the cost is $30 for two way shipping.
If you decide to use your own courier service, do not forget to send a pre-paid envelope for return shipping.
USPS prepaid labels have an expiry date and hence are not accepted by VFS.
You can use UPS but the prepaid label with UPS Store address is not acceptable.
Click submit.
The total cost would be $127.20 including the Fedex shipping both ways.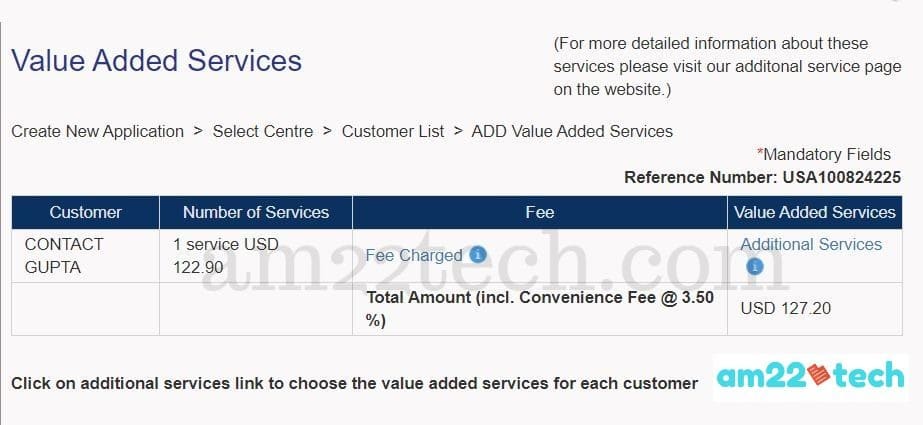 #Step 7 Courier Service Address
Enter your own mailing address here and not the VFS global's address.
The USA address on your prepaid shipping label should match the proof of address document submitted.
#Step 8 Confirm Application
Click the 'confirm application' button and then you will be automatically taken to a payment site named 'Adyen.com'.
#Step 9 Download Courier Labels
Once the online payment is completed, you can download the shipping labels and send your application package.
Self Attest & Notary
#1 Adult Passport
Self attest means that you should sign yourself on the photocopy. No notary is required.
Self Attest these documents:
Your passport copy of the First Five and the Last two pages.
Indian Address proof (If Applicable for your case).
Copy of Marriage Certificate (ONLY If you are married).
Spouse Passport copy (ONLY If you are married).
Birth Certificate / School Leaving Certificate.
Police Report (Only if Passport lost or stolen).
#2 Child Passport
A parent need to sign along with your child.
If Child age is greater than 5 years, he should write his/her name them-self.
If your child is less than 5 years, he/she should use his/her thumb print.
Both parent and child need to self-attest. Each parent should self-attest their own document. Get your child to sign all documents too.
The mother should sign her own and Father his own documents. Mother cannot sign the father's document and vice versa.
For general document (like forms), any one parent can sign.
CHILD's – Passport copies of the first five and last two pages
CHILD's – Birth Certificate
US Address proof – Utility bill or driving license or rental lease agreement on any one of parent's name.
Indian Address proof – Utility bill or driving license or rental lease agreement on any one of the parent's names.
Mother's – Color copy of passport pages that you have photocopied.
Father's – Color copy of passport pages that you have photocopied.
Mother's – Color copy of Visa or Green Card or I797 approval notice.
Father's – Color copy of Visa or Green Card or I797 approval notice.
ANNEXURE 'D' – Affidavit for Applying for Minor passport by parents
Annexure 'E' – Specimen Declaration of the applicant on a plain paper
CHILD's – Color copy of Visa or Green Card or I797 approval notice.
Notarize these documents
USA Address proof – color copy
Self Sworn Affidavit (Optional notary but we strongly recommend)
Change of Appearance Form. Is AFFIDAVIT FOR CHANGE IN APPEARANCE mandatory if mine has not changed?
Annexure E
Annexure D (for Child Passport)
Copy of Visa or Green Card or I797 approval/pending notice.
Package, Mailing & Tracking
Arrange documents in the order of the VFS document checklist with a checklist on top.
Paste photo

Stick one photo on the Indian government passport application form.
Stick the second photo on 'Change of appearance form'.

(Optional) Use a small letter-style envelope to keep the passport just to have an extra layer of protection.
Original Expiring Passport.
Use a paper clip, paper pins, or a binder paper clip instead to tie all the documents together. Do NOT use a stapler.
Visit the FedEx office, pick up the FREE envelope (included in the shipping fees you paid to VFS), and send it with VFS's FedEx shipping label within 15 days of generating the label.
NOTE: No need to send a return envelope. It will be taken care of by VFS if you opted for VFS shipping.
You can track your application status on the Indian government website or at the VFS site using your VFS reference number.
Refund
We have documented the process and VFS application refund policy separately here.
FAQ
Is ECR or ECNR Proof Required for Indian Passport Renewal in the USA?
The ECR, ECNR proof is not required for Indian passport renewal in the USA.
The ECR/ECNR status is available on page 2 of the Indian passport.
If it is not there or nothing is mentioned in your passport, you can select option ECNR (Emigration check not required) on point 13.
Can I send ECR, ECNR Proof even if it is not required?
You can send a photocopy of your highest educational qualification degree like MCA (Masters in Computer Applications) for ECNR proof.
If you do not attach any proof and your old passport did not have the ECR stamp, you will automatically be considered eligible for ECNR.
No notarization needed. Just Self-attest with your signature and clearly mark the photocopy with "For ECNR – Documentary proof".
Where to Get Indian Passport Photo in the USA?
You can get Indian Passport photos at Walmart, Costco, Sams Club, CVS, or Walgreens. ePassportPhoto offers free delivery and just $1.5 per picture.
Costco or Sam's club charge approximately $4.96 for 2 passport photo.
Where Can I get Free Notary for Indian Passport Renewal?
Your local city library, Bank (like Bank of America, Chase), your own office are the FREE notary options for Indian passport renewal.
USPS, FedEx, and other local mail shops would charge around $5+ per page of the notary.
Is Aadhar number mandatory for Indian passport renewal in the USA?
Aadhar number is not mandatory for Indian passport renewal in the USA.
Is Spouse's name mandatory for married people?
The Indian passport application website does make it mandatory to provide a spouse's name if you select your marital status as 'Married'.