Renew Indian Passport in USA (CKGS Process, Documents)
Indian passport renewal USA, Documents list, NRI online application form. CKGS Processing time 1-4 weeks, 3 photo. No police verification. US legal status.

By Anil Gupta
Updated 23 Aug, 20
You can easily renew Indian Passport in USA after 10 years with CKGS.
Step by step process for re-issue of the passport with Cox and Kings (CKGS) with the Indian embassy in New York, Houston (Texas), Washington DC, Atlanta (Georgia), Chicago (Illinois), and SFO (San Francisco, California) Indian consulate.
CKGS is the official third party passport application handler for Indian Embassy in the USA.
Processing Time
Your Indian passport renewal will take 3-6 weeks if the last passport was issued in India.
You can get a new passport in 10 days if your last passport was issued by the Indian Embassy in the USA.
You can apply for renewal 1 year or 365 days before expiry. We recommend applying 6 weeks before the final expiry to avoid issues with delays in processing at the Indian embassy.
Documents Required
#1 Expiring Passport
Original and most recent one passport is required to be sent. All other OLD passports, if any, are not required.
#2 Photographs
Total of 3 photos with size 2×2 Inch are required for passport renewal.
The photo should have white background and not off-white.
You can get passport size photo online or at Sams Club, Costco, CVS or Walgreens.
#3 NRI Government passport renewal application form
CKGS online web application will fill all the information for you and you will just be required to print this form.
#4 Highest qualification degree
Indian embassy requires your education details to decide if ECR Stamp is required on your passport or not.
We recommended sending a copy of the Highest Educational Qualification Degree like an MCA or MBA. It is not required but there is no harm in sending.
Check if you need ECNR or ECR?
#5 USA Address proof
You can safely opt to get the USA address printed on an Indian passport. There is no harm.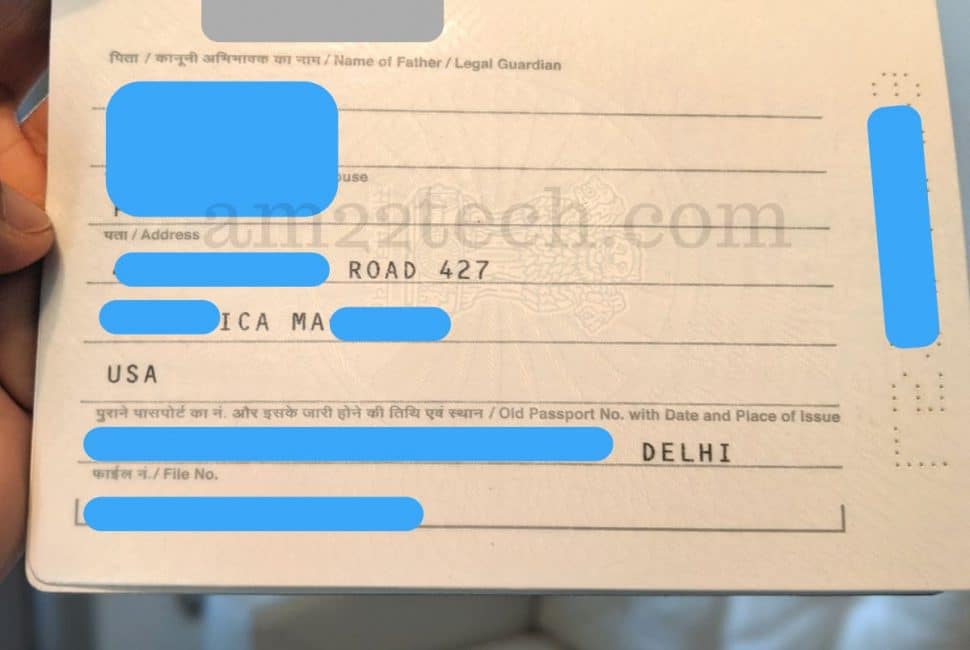 #6 Indian Address Proof
Indian address proof is required if you want to add or change the current Indian Address printed on your current passport.
Does the current passport have an Indian hostel as a permanent address?
Any Indian utility bill (Electricity/ gas/ water/ landline telephone bill) – Must NOT be older than 3 months
Aadhar Card
Indian Drivers license
Recent Bank Statement from Indian Government bank. The front page is required. Should have an affixed photograph. Check a sample of SBI's passbook with affixed and stamped photographs here.
#7 Change of Appearance / Signature Form
You should sign and print this change of appearance form if you are applying after 10 years.
Everybody's presence changes a little as you age.
#8 CKGS (Cox & Kings) Document checklist
#9 CKGS (Cox & Kings) Online Payment Receipt
#10 Annexure 'E'
Specimen Declaration of the applicant on a plain paper.
#11 Copy of Passport
Photocopy of First 5 pages of YOUR passport + last 2 pages. You can use an app based scanner.
First page with Photo, then page numbers 1, 2, 3, 4, 5.
Page number 34, 35, 36, and last page with the address.
Total of 10 pages.
#12 Marriage Certificate (Optional)
Are you are Married and want to add your Spouse name to the new passport?
If yes, then you need to send either of these only if they are listed in CKGS checklist as a required document:
Include Spouse's Passport's front (page with picture) and back page (with address) OR
Spouse Green Card
For some people, this is NOT required.
If the Checklist asks for it, then you may need to include Marriage Certificate (Indian or any other) too.
#13 US Legal Status
Current Valid US Visa (including dependent Visa) OR
I-797 OR
Green card OR
Employment Authorization Card (EAD) or
I- 797 approval notice or
Valid I-20
You can even use the USCIS receipt number copy.
H1B / H4 Extension pending with USCIS? Apply with i797C.
US Visa – B1/B2 is NOT a valid visa for passport reissue.
i94 is not a valid Proof either.
CKGS Passport Application Forms
Sample values: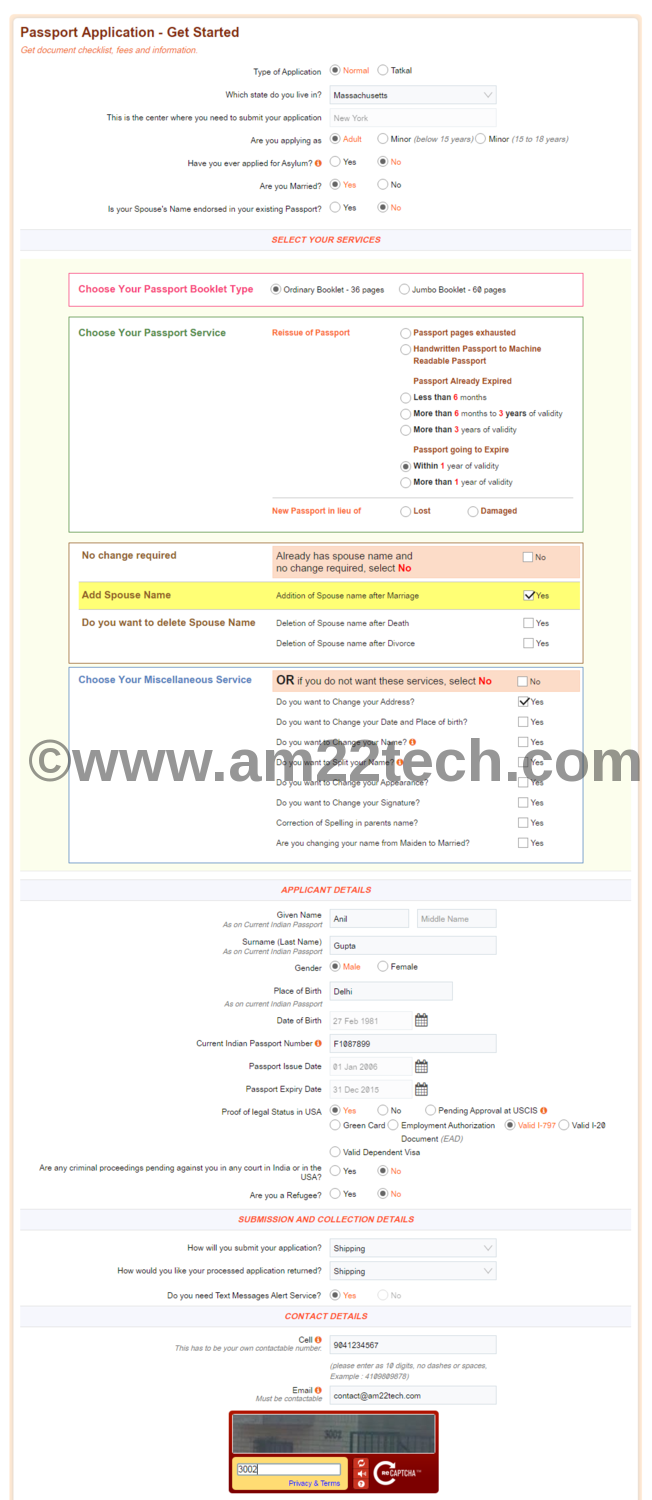 Indian passport online application form cox and kings.
Postal Envelope, Payment & CKGS shipping
We recommend CKGS's shipping option from UPS or FedEx. Both cost the same $15 each way ($30 total).
CKGS sometimes only accepts payment only by online mode at step 5 and sometimes just stops accepting it. I am not sure why do they do it.
Choose the option that's available at the time of your application.
Note down the application's web reference here before clicking the 'Pay Online' button.
If you decide to not use CKGS shipping, remember to NOT use USPS as it is not allowed by CKGS.
NRI Passport Application form
CKGS generates the Indian government's passport renewal USA application form.
This is an extra form required by the Indian embassy to fill up separately.
See Sample NRI online form and step by step filing instructions.
It covers 'amount to be paid', permanent US or Indian address and period of stay abroad questions with answers.
Self Sworn Affidavit
CKGS document lists me not show that this 'Self sworn affidavit' is required but they are asking to submit it if you are opting for printing the USA address.
"Indian Address is missing in the Gov't form. Please submit a self-sworn affidavit to confirm the last known address in India for Police Verification Report."
Here is the self sworn affidavit template to be printed on plain A4 size white paper.
Self Sworn Affidavit Indian address
I
[MY_NAME]
, son of Mr.
[MY_FATHER_NAME]
confirm that I have been living outside Indian continuously for last 5 years.
I am currently residing in the USA at this address:
ABC Parkway Apt 111
NY-12345
USA

Indian address:
House number 123
Indian Gate
Delhi, India
Signature:
Date:
Place:

USA_CITY_NAME
Indian address is always required as you hold Indian passport.
You can give your parent's or relatives Indian address by mentioning it on a plain piece of paper and then sign it. It will work as a self-sworn affidavit.
Self Attest & Notary
Self attest means that you should sign yourself on the photocopy. No notary is required.
Notarize the document only if it explicitly mentioned on the CKGS checklist.
Self Attest these documents:
Your passport copy of First Five and the Last two pages.
Copy of Visa or Green Card or I797 approval notice.
USA Address proof.
Indian Address proof (If Applicable for your case).
Copy of Marriage Certificate (ONLY If you are married).
Spouse Passport copy (ONLY If you are married).
Notarize Change of Appearance Form.
Is AFFIDAVIT FOR CHANGE IN APPEARANCE mandatory if mine has not changed?
Package, Mailing & Tracking
Arrange documents in the order of the CKGS document checklist with a checklist on top.
(Optional) Use a small letter style envelope to keep the passport just to have an extra layer of protection.
Original Expiring Passport.
Use a paper clip, paper pins, or a binder paper clip instead to tie all the documents together. Do NOT use a stapler.
Visit UPS/FedEx office, pick up the FREE envelope (included in the shipping fees you paid to CKGS), and send with CKGS shipping label within 15 days of generating label.
NOTE: No need to send a return envelope. It will be taken care of by CKGS if you opted for CKGS shipping.
CKGS allows you to track your passport application here.
FAQ
Is ECR or ECNR Proof Required for Indian Passport Renewal in USA?
The ECR, ECNR proof is not required for Indian passport renewal in the USA.

The ECR/ECNR status is available on page 2 of the Indian passport.

If it is not there or nothing is mentioned in your passport, you can select option ECNR (Emigration check not required) on point 13.
Can I send ECR, ECNR Proof even if it is not required?
You can send a photocopy of your highest educational qualification degree like MCA (Masters in Computer Applications) for ECNR proof.

If you do not attach any proof and your old passport did not have the ECR stamp, you will automatically be considered eligible for ECNR.

No notarization needed. Just Self-attest with your signature and clearly mark the photocopy with "For ECNR – Documentary proof".
How to Log In to CKGS website with Web Reference Number?
Use the CKGS web reference number on the box provided at the BOTTOM of their website to log back into the CKGS website.

You must have saved your application before you can try to log back again:


Where to Get Indian Passport Photo in USA?
You can get Indian Passport photos at Walmart, Costco, Sams Club, CVS, or Walgreens. ePassportPhoto offers free delivery and just $1.5 per picture.

Costco or Sam's club charge approximately $4.96 for 2 passport photo.
Where Can i get Free Notary for Indian passport Renewal?
Your local city library, Bank (like Bank of America, Chase), your own office are the FREE notary options for Indian passport renewal.

USPS, FedEx, and other local mail shops would charge around $5+ per page of the notary.