H1B Specialty Occupation RFE (Documents for Approval)
H1B specialty occupation RFE cover letter- job duties, similar job postings, client letter, university professor expert opinion letter, progressive work experience letter.
AM22Tech Team
Updated 3 Nov, 20
Request for Evidence to prove specialty occupation for H1B job is very dangerous and you should respond with all documents to avoid denials.
The most important is that your education degree should be a bachelor's or higher degree in a specific specialty that is directly related to the job position.
Specialty Occupation RFE Documents
Cover Letter for Duties, Roles & responsibilities.
University Professor Expert Letter – Specific educational and experience requirements of the offered position.
Progressive Work Experience Letter.
The H1B job description should tell the work and its correlation with the education requirements for the position.
If your education degree listed as the educational requirements for the position are in different specialties, you should describe how each specialty is related to your job.
If the degree requirement is a general term for multiple different specialties, such as "engineering" or "business administration" you should explain:
whether any degree under that general description would be sufficient or
if only those with certain specialization (for example, based on a combination of education and experience) would be acceptable.
Recently, USCIS denied QA-Analyst position for Specialty Occupation as the job description required anyone with bachelor or higher degree.
#1 Specialty Occupation Cover Letter Template
Write these points in your cover letter:
#A- H1B List of Duties
You can get the duties, work environment, education, training, skills, and other qualification requirements for your job code from the Department of Labor's Occupational Outlook Handbook (OOH)
Just search using your role name.
How the H1B job relates to the occupation listed in the OOH and
How the information in OOH demonstrates that a bachelor's or higher degree is required.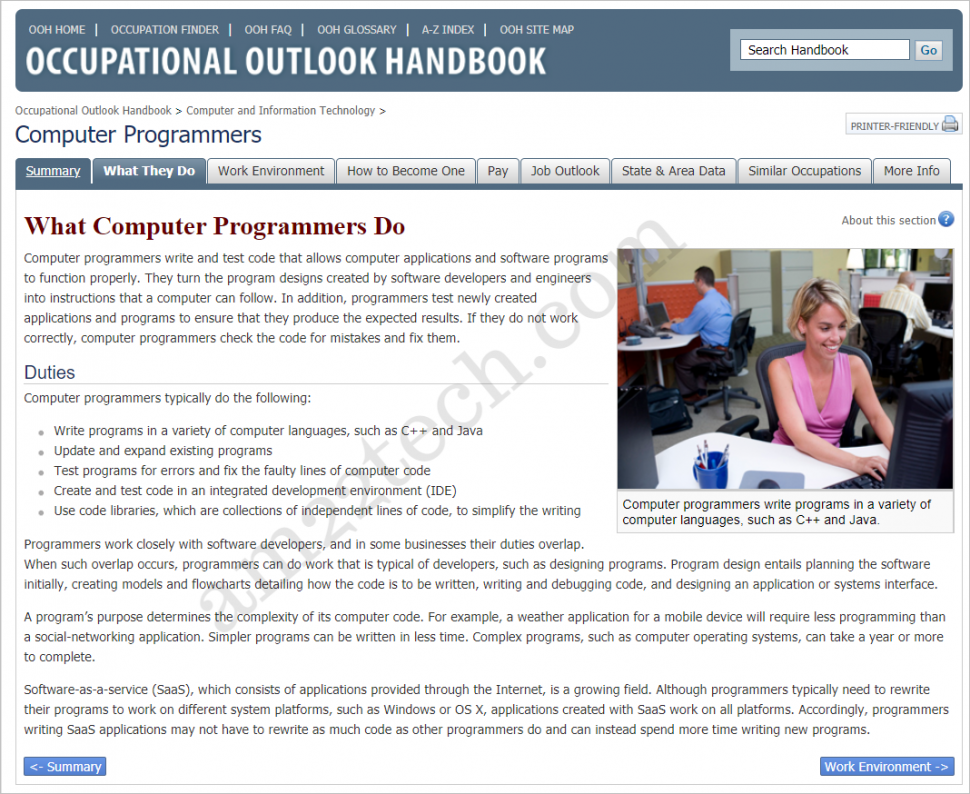 Example:
The Computer programmer job's requirement can be quoted from the OOH page.
You should clearly write a role like a C++ programmer, Java Coder, Hadoop Architect, or Networking Professional.
If the OOH shows that less than a bachelor's degree is needed to qualify for the occupation then you need to submit a university professor expert letter.
The letter should show that a bachelor or higher degree is required to perform daily H1B work.
You should also refer the O*Net page for your occupation in this section.
How to get O*Net page link:
Go to the OOH page for a computer programmer as an example.
Click the "More Info" tab. You will see a section for O*Net with a link to the O*Net page. Click it and you will see this: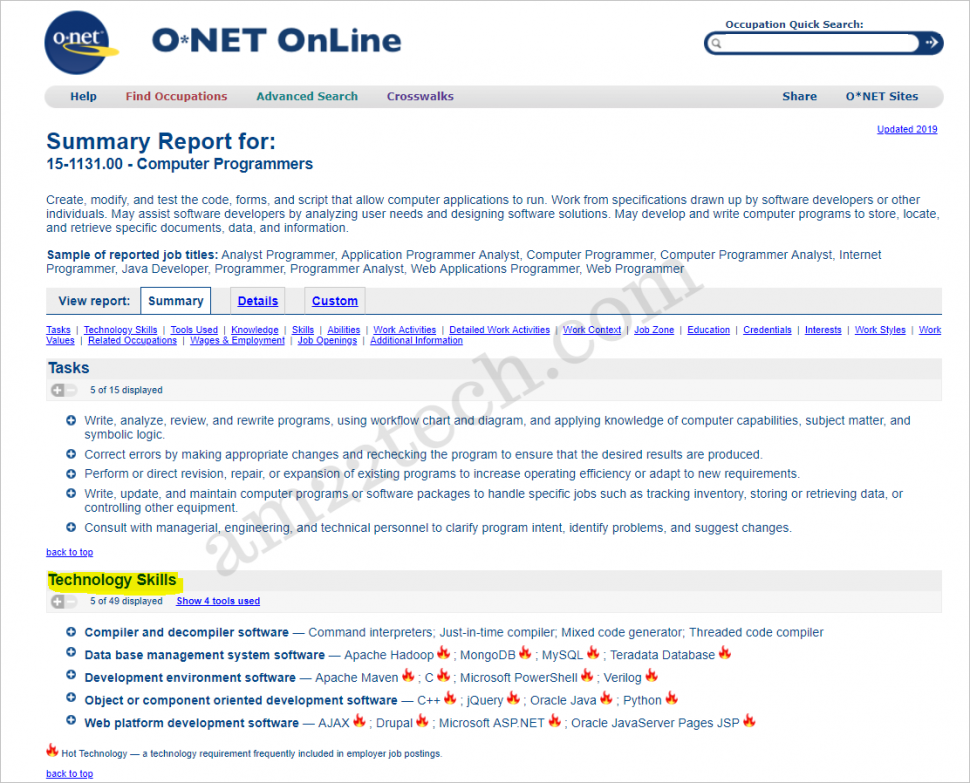 #B- Technical Terms Explanation
The technical terms used in your job or daily work should be explained clearly to help the USCIS officer understand the nature of your work.
Do not write statements that are vague and create confusion.
Example:
Responsible for the set of tasks and techniques used to work as a liaison among stakeholders in order to understand the structure, policies, and operations of an organization – VAGUE.
Working with a team of java developers, database administrators, and a technical product owner as a part of the team as a Software quality analyst – VAGUE.
Validating data retrieved from the DB – Explain what is DB here.
Test API Web services using Rest Assured using JSON format with JAVA and POSTMAN and work on Selenium-Grid to do the multi-browser – Too complex for the layman to understand. Explain what it means in simple language.
#C- Degree Requirement is Common In Industry
Share some similar job postings by similar employers in your field and present and past job postings from your own employer.
Same Industry: If you are a healthcare provider filing H1B, you should show job postings from a healthcare company and not from an IT company.
Similar Job: You are going to work as a QA Analyst but you show job advertisements for Computer programmers – This will not be accepted.
Similar Company level: Do not share a job posting from Facebook (fortune 500) if you are working for a small IT consulting company with 100 employees. Find a similar level of organization and use their job ads.
Client Letter
Your client letter should mention that the job requires a minimum of a
bachelor's or higher degree in a specific specialty.
Explanation of the specific duties for end client products and services like working in Bank of America on their proprietary software.
Explain how the proprietary software is different than other similar products and services from other employers in the same industry.
It is recommended to add the specific details of the specialization and complexity that's required.
#2 University Professor Expert Letter
An expert letter is highly recommended for specialty occupation recommendation. This letter should include:
The writer's qualifications as an expert.
The writer's knowledge of the petitioner's business.
An explanation of how the writer's conclusions were reached and
The basis for the writer's conclusions, supported by copies or citations of any materials used.
Remember that this letter must show that the position is so complex or unique that it can be performed only by a person with a bachelor's or higher degree in a specific specialty (or its equivalent) that is directly related to the proposed position.
#3 Progressive Work Experience Letter
A Progressive work experience letter is nothing but a skill experience letter from old (past) employers which clearly mention your roles and responsibilities while you worked with them.
This letter is the same that you may have used in your PERM or i140 filing.
This letter is highly recommended as USCIS has recently started asking for skill letters even when you include the University Professor expert letter.
FAQ
Chances of H1B Specialty Occupation RFE Approval?
The chances of H1B specialty occupation approval are 30%. Note that 30% is my estimate based on recent cases that people have reported on various am22tech social groups and forums.

People do get approvals if they submit all the required proofs.
Documents Required for H1B Specialty Occupation RFE?
You should include the H1B specialty occupation cover letter with details of job duties, similar job postings, client letter, university professor expert opinion letter, and progressive work experience letter.
Case Studies