form 221g
#Tag
Form 221g is an administrative processing form issued by US embassy to verify your application.
They may request you to submit more documents to prove your case.
By Anil Gupta
Updated 6 Mar, 20
Use power of attorney to sell car in USA if stuck in form 221g admin processing outside US. Color copy required. Online virtual notary service available.
#form 221g
#power of attorney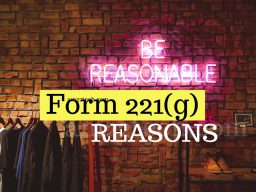 By Am22tech
Updated 2 Mar, 20
Form 221g reasons by US embassy for visa issuance. Pending h1B amendment, Changing US address frequently, working in EVC model, F1 to H1B Stamping, Working in Nuclear Technology.
#form 221g