USCIS allows Using EAD Approval Notice to start Employment (No card wait in COVID)
USCIS: Use EAD approval notice form i797 as proof of EAD approval to start employment (I-9) in COVID-19. No need to wait for physical card.
Anil Gupta
Updated 19 Aug, 20
USCIS has made an exception on Aug 19, 2020, and has allowed using the EAD approval notice form (i797) as a proof of work authorization without waiting for the physical EAD card.
This is a welcome step and is probably the first exception that USCIS has made since the Coronavirus national emergency started in March 2020.
Note that they have virtually not modified any of their rules until today for any type of visa including H1B, B1/B2, L, and others.
What this means for you:
You can use the EAD approval notice i.e. the paper i797 that you receive by USPS mail to start employment if the notice date is between Dec 1, 2019, to Aug 20, 2020.
You do not need to wait for a physical EAD card (legally called I-766 form) to verify your employment with a US employer.
US employer can legally use the 'approval' notice to fill I-9 employment verification with USCIS.
Notice vs Receipt Date
You can only use it if the notice date falls in the date range. The receipt date does not matter.
Notice Date = Between Dec 1, 2019 to Aug 20, 2020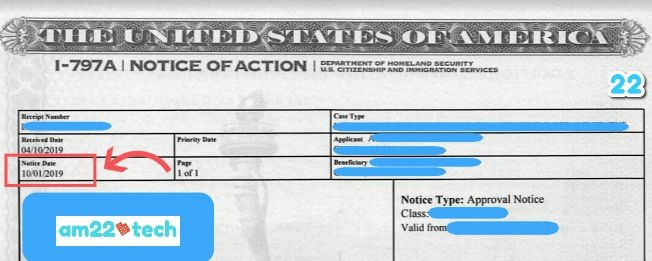 i797 Receipt notice vs Approval Notice
There is a difference between 'receipt notice' and 'approval notice. check the 'Notice Type' field and it should say 'Approval Notice' to be eligible.
Notice Type = Approval Notice
This has been specifically done after the lawsuit that forced USCIS to print all EAD cards within 7 days of approval. You might know that USCIS is currently facing problems in printing the credit card size EAD cards just because they canceled their printing company's contract.
H4, L2 EAD Exceptions?
The USCIS announcement does not mention any exceptions for any type of EAD.
This means that H4 or L2 EAD holders can also use this to continue or restart their employment.
All types of EAD categories can use the 'notice of action' including i485, OPT, CPT without waiting for the actual card.
Note that this is not an automatic extension of H4, L2 EAD if your current EAD card has expired. You still need to wait for the EAD approval before you can work.
The only help here is that the time between EAD approval and the card receiving has been removed temporarily.
My Suggestions
Is there any date criteria for Notice of action to use for employment?
Your EAD approval notice should show the 'notice date' between Dec 1, 2019, to Aug 20, 2020, to be eligible to use it for starting employment without a physical ID card.

It seems that card production will be increased starting Aug 21 as USCIS has allowed this exception till Aug 20, 2020.
Can Is use EAD approval notice even when it says "it is not evidence of employment authorization"?
USCIS has clearly mentioned that they will accept the notice of action as proof of EAD approval even though the form says that it is not evidence of employment authorization.

They do not accept it in normal circumstances but have made an exception for the COVID-19 situation.
Can I present notice of action as proof of EAD approval?
You can use the Form I-797 Notice of Action showing approval of your I-765 application as a List C document for Form I-9 compliance until December 1, 2020.

You can use it for recertification as well.
How long is this exception valid?
USCIS has allowed this exception until Dec 1, 2020. After Dec 1, 2020, you will be required to provide your EAD card for the re-verification of employment.