H4 EAD Premium Processing – Not Available Until 2025 (Sad News)
USCIS premium processing will NOT be available for H4, EAD until FY 2025. EB1-C i-140 premium to start in 2022. Fee varies from $1500-$2500. Processing time 15 to 45 days.
AM22Tech Team
Updated 30 Mar, 22
The H4 EAD premium processing is not yet available even though the bill was passed in Congress (2020).
As per the final rule published (29 Mar 2022), USCIS will NOT be able to start premium processing for H4 and H4 EAD until 30 Sep 2024.
This shows how difficult it is to move the dinosaur named USCIS. They take 2 years to reach the final rule stage and will take another 3 years to finally start implementing it.
To add salt to injury, the premium processing will be started immediately for EB1C i140 and EB2-NIW.
What this effectively means:
The EB1 Green card category is current anyway and hence the applicants do not really need it immediately.
USCIS has once again shown that the priority is EB1 and not EB2 or EB3 categories. The Indian H4 EAD spouses are the ones losing their job due to extreme processing delays. They have to now wait for another 3 years to see any daylight.
Until the fiscal year 2025 which starts on Oct 1, 2024, the only viable option would be filing the mandamus lawsuits to make USCIS work for timely approving EADs. Basically, the outdated immigration system is forcing you to spend the money either by paying a premium fee or paying lawyers for filing court cases.
We know that almost all H4 EAD applicants are eagerly waiting for it as they just want to save their hard-earned jobs even if they have to pay an extra fee for the approvals within 6 months. At this time, many people just file an EAD lawsuit court case which itself costs about $3-4k.
USCIS Cycle Time vs Processing Time
USCIS has shared a new term called 'cycle time' publicly today which is a metric that they track internally in their service centers.
They aim to reach these goals by end of 2023 which itself is about 1.5 years away.
These are their internal goals which are quite ambitious given the current pathetic situation.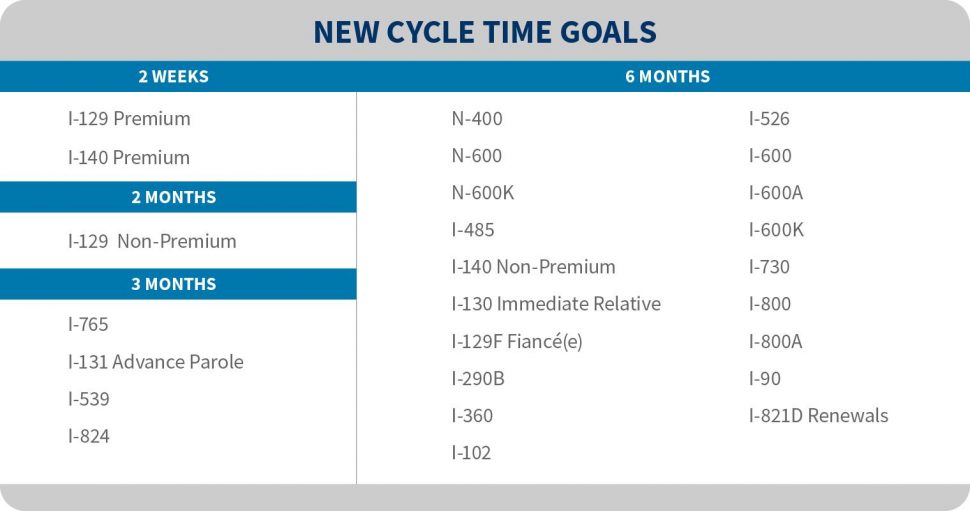 USCIS tweets how much they care for applicants regularly but never responds to the complaints that people make on those tweet threads.
It is good to know that they plan to return to 3 month time period for EAD approvals but it is easier said than done as the official processing times on their publicly available page are usually more than 12 months for each service center.
H4 EAD premium processing Bill
The Senate had passed the HR 8337 bill which adds Premium Processing service for H4 and L2 extensions including H4 EAD and L2 EAD applications.
This is a welcome step and will provide relief to many who are otherwise at the mercy of the USCIS officers to approve their EAD expedite request.
You can now just pay the money instead of begging for timely approval of your EAD.
Premium processing will now be available for:
i539, i-765 (EAD) – Employment-based primary and their dependents like H1B and L1 dependents.
All EB1, EB2, and EB3 i-140 including EB-1C multinational executives and managers, and EB-2 national interest waivers can now get the result faster by paying a premium fee.
Change of status applications like F1 to H4 or vice versa, H1B to H4 COS, and other such combinations will have premium processing service.
The new H1B and L1 premium fee will be $2500.
The fee will vary from $1500 to $2500 for other types of applications.
Biometric Appointment in Premium Processing Cases?
The clever part is that the premium processing timeline will not start until all the prerequisite steps for approving an application are completed.
Example:
H4 and L2 extension's premium processing timer will not start until the primary's H1B or L1 extension has been approved.
Similarly, the biometric appointment will also be a major hurdle in the H4/L2 extension's premium timeline.
USCIS should share more details on how the premium processing will work for H4, L2, and F extension cases when the biometric is an important step in the middle.
Pay one Premium fee for H1B, H4, EAD by filing together?
It is not clear if USCIS will allow one single premium processing fee together for primary and dependent applications.
It would be great if they can give a bundle price for premium processing of all three applications together like H1B + H4 + H4 EAD.
Back in the pre-biometric days, USCIS used to show big heart and approve H4 and H4 EAD along with H1B premium as a goodwill gesture.
We will update here if new information is made available for this.
FAQ
When will the H4 EAD premium processing service start?
USCIS should announce the date of the premium processing service start for the new types of applications soon.

The bill has just passed Senate on Sep 30, 2020. We expect the announcement to be made in 7-10 days after the president signs it.
Will the premium processing time be 15 days?
The maximum fee and processing time for EB-1C (multinational executives and managers) would be $2500 and 45 days respectively.

The change of status to F, J, and M fees will be a maximum of $1750 and will be processed within 30 days.

The extension or change of status to E, H, L, O, P, or R, will carry a cost of $1750 and the processing should be completed within 30 days.

The good news is that premium processing for EADs (H4 and L2 EAD included) will cost $1500 to get approval within 30 days.

This is much better than filing court litigations or losing a job.
Can I upgrade my pending H4 EAD application to premium processing?
You should be able to upgrade your existing pending H4 and H4 EAD applications to premium once the USCIS starts accepting them.