USCIS My case status does not recognize receipt number Entered 2021
USCIS My case status does not recognize receipt number - don't worry. Check on DHS website or use browswer private mode. Technical problem on USCIS server.
AM22Tech Team
Updated 5 Sep, 21
USCIS case status website is just showing blank screen with no status for many users. Many people have reported that they were able to get the status by clearing their browser cache or using the chrome's "in-cognitio mode".
Don't worry. It is an issue with USCIS website and will be resolved soon.
In the mean time, you can check the case status on DHS website as mentioned below.
Is USCIS Receipt Number Recognized Error Normal?
Many people receive the receipt number not recognized error. It is an issue with USCIS online website and not your receipt.
Is New DHS website better than USCIS website for case Status?
There are two websites to check your USCIS case status. One is maintained by DHS and other is by USCIS. Both seem to have different status in many cases. Most users have reported that DHS website gives more reliable and faster case status. We recommend using both.
Receipt number is not working on USCIS website or you receive the error saying your receipt number is not recognized. There is no need to worry or panic.
This could be an error on USCIS website if you have thoroughly verified your receipt number on i797C notice of receipt and everything matches correctly.
Check Case Status on DHS website
The first step to try is registering on DHS website here.
You should be able to add your case on DHS website which is new and is more reliable as far as case status updates are concerned.
Then, use your receipt number to check status. This works for most of the people who are seeing does not recognize receipt number  error on my USCIS website.
Receipt Not able to Add on DHS website
It is also possible that your case status is perfectly visible on USCIS my case status website but does not recognize receipt number on DHS website:
See this DHS error: There was an error syncing your case. Try again in few minutes.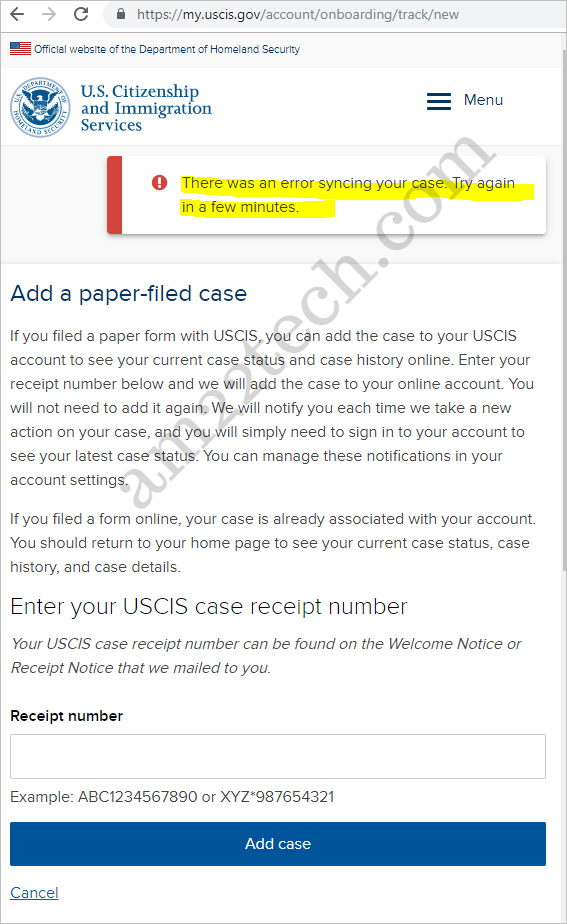 This same case that we tried to add on DHS website is already added on my case status USCIS website. So, the error can happen on both sites. Not sure how USCIS and DHS systems are connected when they fail to validate their own receipt numbers.
Try Browser's Private Mode
Many times, the USCIS website may not work correctly due to browser's cookie (technical term). Just open your browser's private mode (Chrome – 'In-cognitio mode'), launch USCIS case status website and now use your receipt number to check.
If it works, then you need to clear your 'browsing history' and cookies from normal window to make USCIS website work correctly. 
USCIS receipt not recognized validation Error
Validation Error(s) You must correct the following error(s) before proceeding:
My Case Status does not recognize the receipt number entered. Please check your receipt number and try again. If you need further assistance, please call the USCIS Contact Center at 1-800-375-5283.
If you are still not able to check your case status, it is a good idea to call the USCIS number mentioned (1-800-375-5283) and check what could be wrong with your receipt number.
None of the Options Work for you?
If you are not able to check your case status on either DHS website or USCIS website, then there is no need to worry.
As long as you have an official USCIS paper receipt with the receipt number printed on it, your case is valid. USCIS websites sometimes do not display the correct status or recognize case number of many people. You are not alone.