US Visa Stamping In Ciudad Juarez Mexico Experience
US visa stamping in Ciudad Juarez, Mexico is easy. ASC center located next to embassy. Hotels, mall on same street within 2 min walk. Take Mexico FMM. Form 221g can be issued.
AM22Tech Team
Updated 31 May, 21
US to Mexico by Land Border: You can either drive to El Paso or take a flight from your location. People who drive can park their car at airport for $7 a day.

Taking an Uber or Lyft from airport to Zaragoza bridge will cost about $25. This is the closest bridge to US embassy in Ciudad Juarez out of 4 bridges that connect it to Mexico.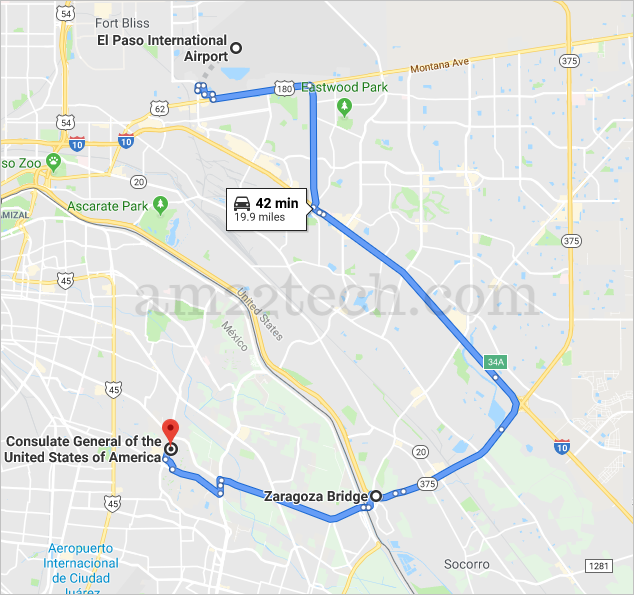 Enter Mexico by Walk: You can simply walk through the bridge using the sidewalk and enter Mexico. There is no one to stop you on the Mexican side or check your papers.
Mexico Tourist Permit (FMM)
We strongly recommend to get the Mexican Tourist permit (called FMM) as it is US equivalent of US i94 and gives you the permit to stay in Mexico.
They issue it for 7 days by default for free. We strongly suggest to get it for 180 days by paying the official fees of about USD $29.
If you get form 221g by any chance, your existing US visa will be marked canceled without prejudice and you will need this FMM to wait in Mexico.
Once your US visa is marked cancelled, Mexico immigration will NOT issue or extend the FMM. So, Beware.
No FMM, walk into Mexico and Go back to US – No Issue
You can walk into Mexico without taking an FMM card and go back to the US too. This is done by many people who come for H1B, H4, or F1 visa stamping.
The catch is that there is no explicit check on the Mexico side. You can walk in and walk out if you have the US visa and got no form 221g.
Taxi From Bridge to Hotel near US Embassy
Lyft app does not work in Mexico but Uber does. It is pretty cheap as the ride from Zaragoza bridge to the US embassy (and hotels around) would only cost about USD $3 to $4.
Hotel in Ciudad Juarez
I recommend these hotels based on their quality and cheaper cost of stay:
Extended Suits Consulado – Right across US embassy, 2 min walk, Mall is 1 min walk.
Holiday Inn Express – On the same street as the embassy, 2 min walk, the mall across the street. There is one more Holiday Inn in Ciudad Juarez but it is about 10 min drive away.
Mesaluna Hotel – On the same street as the embassy, 3 min walk to embassy, 6 min walk to the mall. It's an old hotel. You may not like it and prices are more than or equal to the other 2 hotels that I suggested.
Liverpool mall has good food courts and lot of options for shopping.
ASC Fingerprints Location
ASC location is on same street as US embassy and is just 2 minute walk away. All the hotels are on the same street as well.
So, you are well covered and can pick up passport as well easily.
Documents for Stamping – Recommended
Complete list of H1B stamping documents is given here.
Apart from the above documents, the Ciudad Consulate has asked for a CV (resume) and publications from many applicants who came for H1B stamping. If you do not have any publications, no need to worry.
An employment verification letter is most important. Do not forget it.
If you are working in the EVC model, do make sure that you carry a client letter to avoid a certain form 221g. They do send emails to clients for verification after the interview.
H1B Interview Questions in Mexico
Why did you come to Ciudad Juarez? – You can simply say that the you came here for visa stamping.
What do you do? – Explain your job details.
Who is your employer? – Name the employer who holds your H1B and not client name.
What is your Employer's Business domain? – If you work for banking company, say it.
How long have you been working with this Employer? – Say the truth including any time you were employed with him outside US too.
What is your highest education degree? – example, MBBS, or MCA – tell the full form of your degree too.
Which countries have you traveled in past 15 years? – Give the name of all countries you have visited for work or vacations. Do not name countries where you just landed for transit.
Have you ever been to Middle-East, Turkey or Pakistan? – Say yes or no. If you have visited Dubai for vacation, you should say yes as Dubai is not part of middle east.
Form 221g Admin Procesing Time?
Admin processing time varies by each case. You can never estimate it. People have got form 221g cleared within 5 days to 60 days here.
Ciudad Juarez also issues form 5535 security check too which may take more than 60 days to get result.
Send by DHL
US embassy can ask to submit form 221g documents by either email or by DHL.
If they ask for replying on email, you are lucky.
If the instructions on form 221g ask you to visit the official US embassy website and then generate a document sending request, you will get a DHL shipping label with tracking, free of cost to ship your documents.
There is a DHL express pick up center across liverpool mall which accepts the documents. You just take the print out of your documents and the mailing envelope will be given free by DHL.
DHL takes 1-2 days to deliver it to US embassy.
US embassy's information center or ASC location will not accept your form 221g documents if the instructions point you to consulate website.
Return to US
Once you have received your passport, you can pay your USD $6 i94 issuance fees online to avoid long queues at US immigration El Paso port of entry.