USCIS Receipt Number Format Explained
USCIS receipt number WAC / CSC - California, LIN / NSC - Nebraska, EAC / VSC - Vermont on i797C notice received in 1-3 weeks by mail. Check case staus online.
AM22Tech Team
Updated 28 Oct, 22
USCIS Receipt Number Format
Each USCIS application like H1B or L visa is issued a receipt number within 1-3 days of receiving.
Code
Service Center Name / Location
CSC / WAC
California Service Center
formerly known as Western Adjudication Center
VSC / EAC
Vermont Service Center
formerly known as Eastern Adjudication Center
MSC / NBC
National Benefits Center
LIN / NSC
Nebraska Service Center
TSC / SRC
Texas Service Center
formerly known as Southern Regional Center
YSC
Potomac Service Center
IOE
ELIS (E-Filing). Applications filed online.
Year
The two digits are the fiscal year (starts on Oct 1, and ends on Sep 30) in which USCIS received the petition. 
Example: "18″ means that the petition was received between Oct 1, 2017, to Sep 30, 2018.   Note that the government fiscal year runs from October 1st until September 30th.
Working Day Number
The three digits represent the working day during the current fiscal year on which the receipt was processed and the fee was taken.
Example: Above application was received on the 249th working day of the fiscal year starting counting from October 1st. Check yourself on the time and date calculator.
USCIS Case Number
The last five digits are unique sequential numbers (kind of counter). If you file two applications like H1B and H4 together, you might see these 5 numbers in sequence.
USCIS also uses a different receipt number generation number system that does not match with the above logic for some types of EAD and I130 applications.
We do not know the logic behind those receipt numbers. There is no need to worry and receipt numbers are perfectly legal.
i-797 Receipt Number
How long it takes to get the USCIS receipt number: 1-5 weeks. In 90% of cases, you do get a receipt within 7-10 days.
You can expect to receive an i-797C Notice of receipt with the receipt number printed on it within 1-3 weeks after USCIS received your application.
Fill G-1145 Form online using our app
If you had attached a form G-1145 with your application, you will receive an email and SMS (text message – free of cost) with your receipt number automatically after it's generated in the USCIS system.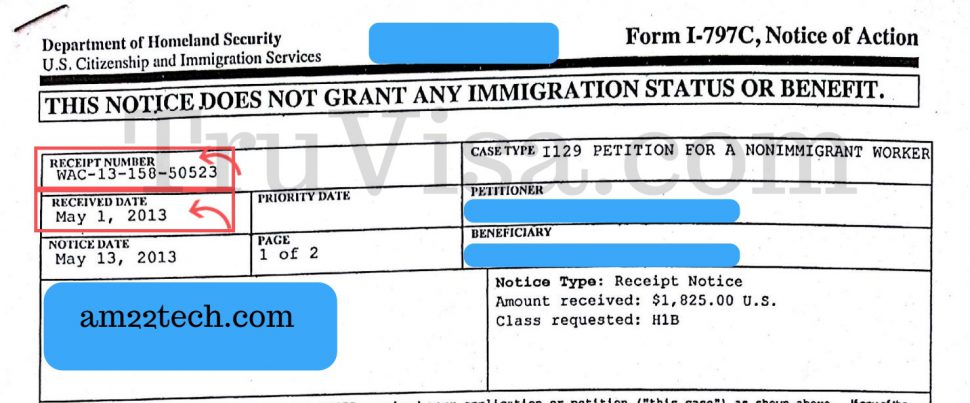 The date written on the i797C notice of receipt as "Received Date" should be used for tracking processing time.
Form i797C will still be sent by formal USPS mail either to you or your employer or attorney as mentioned on your application's mailing address.
My case status does not recognize the receipt number Entered
Don't worry. This error might be temporary. Try this solution for the USCIS case status error if it does not go away for your case after a day on the USCIS case status website.
USCIS Case Processing Times
You can check the processing time on the official USCIS website.
Check Case Status with Receipt Number
You need your USCIS case receipt number from the i797 notice of receipt to check the current case status online on the USCIS website.
Just enter your receipt number and you will be shown the status.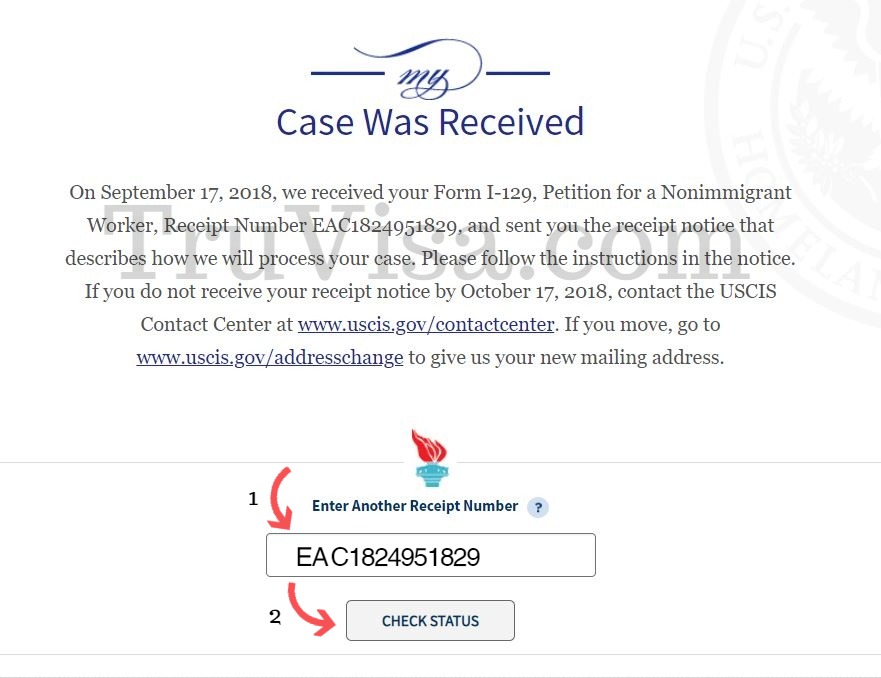 Approved Case Status
Case status 'Approved' means that your application has been approved by USCIS and you can expect to receive form i797A notice of action within 1-3 weeks by USPS mail.
USCIS status 'Name was updated' has nothing to worry including the address being updated.
Case Status Page Login
You can even register for a free account on the USCIS website and add your receipt number for easy tracking.
You will automatically receive an email as and when there is an update on your receipt number.
Account creation is recommended as you can track multiple cases in your account and it shows your complete case history too.
FAQ
USCIS my case status website does not recognize the receipt number entered.
Do not worry about the receipt number not being recognized by the USCIS case status website. It may a system glitch.

You can try the DHS USCIS website as many people are able to see their case there even if it is not visible on USCIS's 'my case status' website.