Australia Statutory Affidavit Sample – Co Worker Letter
Australia statutory letter sample - copy, paste and use for free. Notary and witness signature required. Print on plain or stamp paper in India.
AM22Tech Team
Updated 10 Aug, 22
Use this free Statutory declaration letter to support your work experience claims if your employer is not issuing skill letters on their letterhead.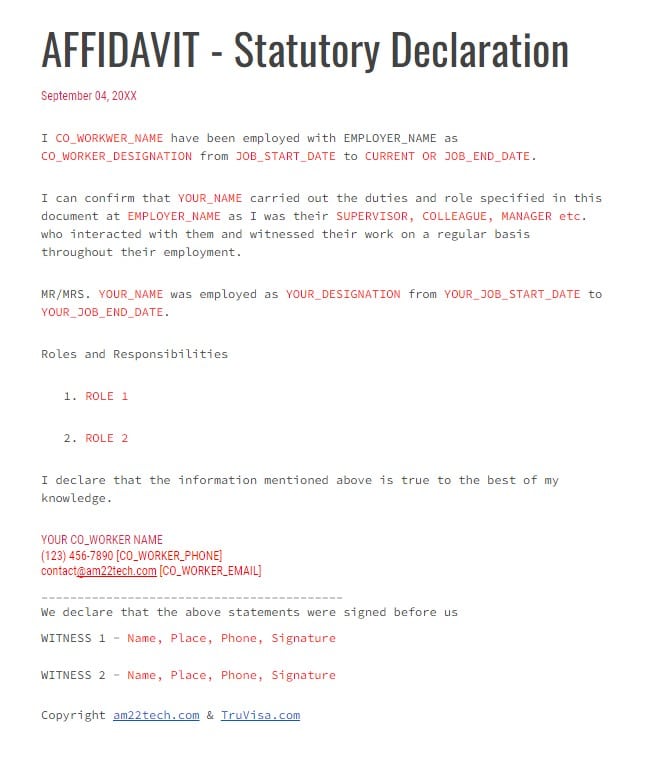 Statutory Document Support Proofs
You will need to submit any one of these proofs along with the statutory document for the Australia PR Assessment
Certified copy of your payslips – preferably first & last payslip for the employment period. OR
Certified copy of a Human Resource statement or Service Certificate with employment dates – Also called relieving letter in India. OR
An employment agreement or offer letter or Appointment or joining letter is not acceptable.
Certified copy of a Termination Letter with employment dates. 
What is a Certified Copy for Australia PR?
Employer Explanation For No Letter
If you are submitting a co-worker reference letter for ACS assessment, you also need to get a letter from your employer on official letterhead explaining the reason for not issuing a roles and responsibilities letter.
Sample Explanation Letter from Employer
ABC Ltd.
TO WHOMSOEVER IT MAY CONCERN
This is to notify that ABC Ltd. does not issue 'roles and responsibilities' letter for any employee as per official policy.
RAM GUPTA
HR Department
Phone: 123-456-9999
Email: contact@am22tech.com
Is HR email accepted for no employer roles letter?
ACS is not accepting emails from HR in lieu of an employer roles and responsibilities letter. ACS wants the explanation directly from the employer on their letterhead.
Is Stamp paper required for CO-Worker Letter?
Indian Stamp paper is not required for a co-worker letter. You can print it on plain paper too.
Skill experience letter for Australia from Colleague
This co-worker experience letter can be printed either on the employer's letterhead or a plain piece of paper or a stamp paper (India).
If the colleague has left the previous employer too, this should be clearly mentioned in the letter that the current person is NOT working with the previous employer.
Colleague Letter Notary
Notarization is required for your manager or colleague's letter. You may use this letter for ACS Assessment for Australia 189/190 permanent residency.