CEAC status showing Refused after Form 221g Admin Processing
CEAC case status changed to refused on Mar 3, 2020. No need to panic if last update date has not changed. Form 221g is refusal in lgal terms. CEAC changed status title & text.

By Anil Gupta
Updated 4 Mar, 20
Update 4 Mar, 2020 3 PM CST: A user has reported that their case status changed back to 'Administrative processing' today after it was showing 'Refused' on March 3, 2020. His H4 case is pending form 221g processing at Vancouver Canada.
Form 221g admin processing means a refusal in legal terms but it is not an actual denial of your visa.
Starting March 3, 2020, many people have reported that their visa status suddenly changed to 'Refused' after the 'administrative processing' status.
Many people have also reported that they were asked to submit passport last week and still their case status has changed to 'Refused' today.
Do NOT Panic – Refused Status is Form 221g
As per my analysis, there is no need to worry. There seems to be an update done to CEAC status language and their status title which has created panic all over the world.
Most H1B cases which were pending in form 221g processing for client letter have also been affected.
Example:
Active form 221g Cases from US embassy in Chennai, Hyderabad and Delhi were reported on our forums on March 3, 2020:
The F1, H4 visa, L visa and pretty much every visa type including non-immigrant and immigrant visa will see this change.
CEAC Case Status Refused Text
If the "last updated" date has not changed then it appears not to be an actual refusal, just change in the way the CEAC is showing AP cases."
This status was changed to Refused on March 3, 2020 even though the person received request to submit passport last week.
Note that 'Last updated' date has not changed in this case and hence, it is safe.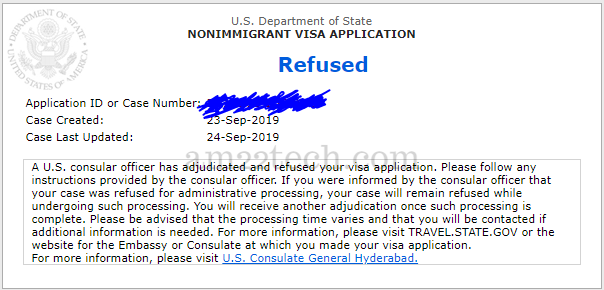 The new CEAC admin processing text creates a panic as the status title shows as 'Refused' and the details message also signals a visa denial.
"A U.S. consular officer has adjudicated and refused your visa application. Please follow any instructions provided by the consular officer.

If you were informed by the consular officer that your case was refused for administrative processing, your case will remain refused while undergoing such processing. You will receive another adjudication once such processing is complete.

Please be advised that the processing time varies and that you will be contacted if additional information is needed. For more information, please visit TRAVEL.STATE.GOV or the website for the Embassy or Consulate at which you made your visa application."
Immigration Attorney Clarification
Law offices of Joshua L Goldstein have clarified that this is an update to the normal language and the status title that CEAC uses and there is nothing to worry about it.
Open file in New Window