Dropbox Appointment in India, Processing Time, ReSchedule
Dropbox appointment is mandatory in India for US visa Stamping. Friend, relative, agent can drop. Rescheduling drop off date allowed. Processing Time 7-10 days.
AM22Tech Team
Updated 19 Oct, 22
The US consulate in India requires a dropbox appointment to drop off your documents.
You have to choose your preferred US embassy to take an appointment and then drop your documents at the corresponding drop-off location FREE of cost:
New Delhi Embassy– drop at New Delhi, Chandigarh, or Jalandhar processing centers.
Mumbai – drop off at Mumbai, Pune, or Ahmedabad processing centers.
Chennai – drop off at Chennai, Bangalore, or Kochi.
Hyderabad – drop documents at Hyderabad.
Kolkata – should drop off documents at Kolkata.
An additional fee of Rs 650 (subject to change) is charged if you drop your documents at a center that's not assigned to your US embassy location.
A visa application center (ASC) employee will review the document checklist before accepting the application for delivery to the U.S. Embassy or Consulate.
The ASC (Application Service Center) is also called OFC location and is also used for taking your fingerprints.
What if I Miss My Scheduled Drop-off Date?
If you miss your drop-off date, you are allowed to reschedule. After missing the appointment, your receipt will be marked as "unused" within 24 hours.

You will be allowed to select a new drop-off date and print a new drop-off letter once your receipt is marked "unused".
Can I Change my Dropbox Location?
You can change the drop-off location by rescheduling your appointment.
Can I Change US Embassy After Dropbox Appointment?
You will not be allowed to change your US embassy selection if you have been asked to come for a visa interview after dropping your documents.
Can I send my Documents by International Courier to India Drop Off?
You should be physically present in India to apply for a visa from a U.S. Embassy in India.

You are allowed to schedule your documents drop-off even when you are outside India but would need to be physically present to drop them off.

As a matter of fact, your passport is needed to be dropped off too.
Can my Friend, Relative, or Agent Drop the Documents?
Your friend, relative, or agent can drop the documents on your behalf on the date and time of your appointment.

An appointment is mandatory.
Is Paper Photo Required for Dropbox in India?
Yes, you need to carry a paper-based photo which is as per US visa requirements for Dropbox.
Dropbox Processing Time 10-30 Days
The US embassy has mentioned that you will receive a decision on your case within seven to ten business days of submission.
This should help speed up the total processing time for people working in the US on H1B and L visas and visiting India for their stamping.
Note that this timeline will not be honored if you are issued form 221g. These are part of administrative processing and there is no fixed timeline, especially in the case of DS 5535 security checks which are taking 14 days to 8+ months for security clearance.
Dropbox Appointment Dates Not Available?
It is possible that you may not see the available dates for future months as has been reported by many users.
For example, If the current month is Dec, then you may only see Dropbox availability for Dec only.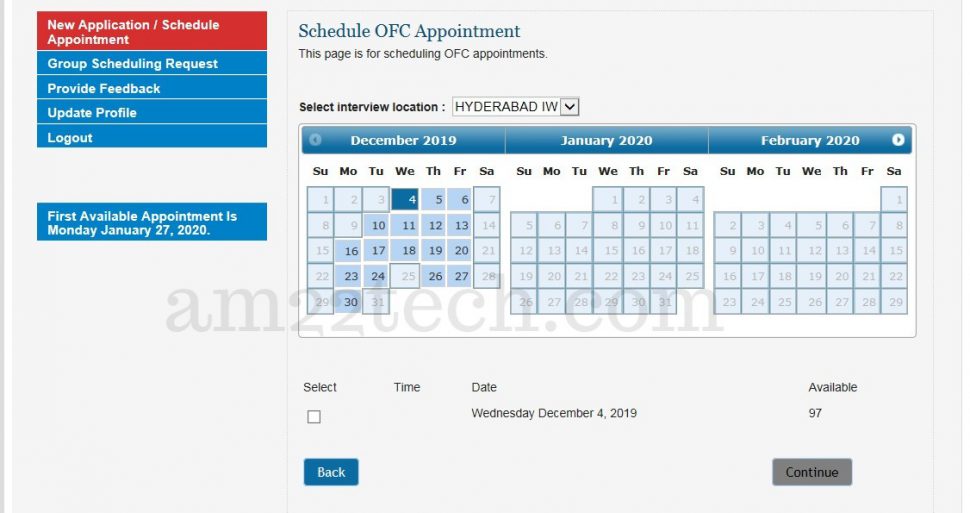 If you want an appointment next month, then you should wait till the next month's Dropbox slots are opened by USATravelDocs.
Missing Documents on Dropbox Day
The ASC employee will review your application package to make sure you have submitted all required documents for your visa class. If any documents are missing, you will be asked to provide them that same day.
If you do not provide all the required documentation, you might not qualify for an interview waiver and will be asked to schedule an interview appointment.