Refile EB2 i485 or Interfile After EB2 to EB3 Downgrade?
File new i485 using EB2 i485 instead of interfiling. Maintain H1B, H4 status to keep options open. H4 CSPA age protection is important.
AM22Tech Team
Updated 16 Mar, 22
USCIS visa bulletin is swinging fast in favor of the EB2 India queue in the current fiscal year while it gave all the opportunities to EB3 last year.
This is expected since US immigration law has employment-based queues similar to car lanes on the road. You see the next lane moving faster and your wife shouts on you to jump there, only to realize that your old queue has started moving now.
The question now is for people who have already filed EB3 i485 and now have the date current in EB2 Date of filing or final action chart.
EB2 Interfile
Interfiling is not an official USCIS process. It is an informal way of just sending your documents to USCIS and requesting them to add them to your Green card file.
Interfiling means:
There is no guarantee that USCIS will honor your request. Since they do not have any official process for this, they do not even send any kind of acknowledgement or receipt.
All you can do is that send the documents and pray that USCIS accepts them.
Interfiling request from EB3 to EB2 is treated like an amendment. This means that if your EB2 i485 interfile has been accepted by USCIS, you will have hard time asking them to change it to EB3 again.
Some people have tried getting the information from USCIS EMMA chat to get the status of their interfiled documents and have got success but USCIS does not officially commit that they will give any answer.
New EB2 i485 – Refile
Refiling i485 means that you file a new i485 application using your EB2 i140 while your other i485 (with EB3) is currently pending. This is an official process by USCIS and is much more reliable and concrete than interfiling.
Filing new EB2 i485 means:
You will pay the full USCIS fee again for filing this new i485.
Send new medical with this i485 even though you have already sent them with your other i485 application.
You can file new EB2 i765 (EAD) and i131 (Advance Parole).
USCIS will untimately approve only one i485. They will ask you to withdraw the other one once they are ready to approve your Green card.
While interfiling leaves you in dark about the status, filing a new i485 will get you a valid i485 receipt number which can be tracked on the USCIS website.
Interfile or New File?
We present here multiple situations where you may not be able to file a new i485.
The opinion here is divided among attorneys and many believe that a new i485 cannot be filed while others have successfully filed it.
We have collected this information after careful review of the various situations and have provided our best knowledge based on real-life experience.
#1 H1B/L Primary Has used EB3 EAD
If H1B has already used EB3 EAD by mentioning it on the employer's I-9 form, then all of his dependents have automatically been moved to 'pending-i485' status. This means that all of them have abandoned the non-immigrant visa status which was H1B and H4.
New EB2 i485: Possible if you get back to H1B and H4 status by travelling and re-entering using H1B, H4 visa stamps.

This is contradictory among attorneys. Some say you cannot file new EB2 i485 until you are on H1B status and others say you can.
Real life experience: We have verified and many people did file new EB2 i485 even though they were using EB3 EAD for work i.e. had abandoned H1B. They did get their Green card approved.

Interfile: Possible simply by sending interfile request to USCIS without travelling or doing anything else.
#2 H4/L2 Spouse Has used EB3 EAD
If H1B primary is still using H1B but H4 has already used EB3 EAD for work, then:
New EB2 i485: H1B can file new EB2 i485 but H4 dependent cannot. H4 needs to get back to H4 status by travelling and re-entering using H4 visa stamp and then can then file new EB2 i485 along.

This is contradictory among attorneys. Some say you cannot file new EB2 i485 until you are on H4 status while others say you can.

Interfile

: Possible simply by sending interfile request to USCIS without travelling or doing anything else.
#3 H1B Changed Employer using H1B Transfer
If you have changed employer using H1B transfer while your EB3 i485 was pending, then you have these options if your date is now current in the EB2 queue:
New EB2 i485: New employer should start your EB2 PERM process. Once PERM is approved, you can file both EB2 i140 and EB2 i485 together. Old employer who holds your EB2 i140 can file your new EB2 i140 too if they are still ready to offer you the EB2 job position.
Interfile: Interfiling is not an option with new employer since they do not have the EB2 PERM yet. Old employer can do the interfiling though with their own EB2 PERM.
#4 H4 Child Age Protection In EB3 Queue but Not in EB2
This is a very complex situation and is a result of the way US immigration law is designed.
Your child gets CSPA protection only if the date got current in the Final action chart.
A lot depends on what is the current age of your child and how soon it can get current in the EB2 final action chart.
I have H4/L2 Kid under 21 years: In cases of H4 children, we strongly suggest filing a new EB2 i485 always. This means that do not abandon H1B or H4 and just treat your i485 EAD as insurance. Do NOT interfile as it has a huge risk if you move from EB3 to EB2 and then your child turns 21+ waiting for the date to get current in EB2 Final Action chart.
I have H4/L2 Kid above 21 years: If your child is already not age locked, then he is not protected at all as he/she has already passed the age of 21. They might get relief if the H4 age protection lawsuit is won.
I Don't have H4 Kid: You are not affected. You can choose to file a new i485 or interfile.
Our Suggestions
We suggest filing a new EB2 i485 and getting a receipt number rather than interfiling. It is better to have something concrete in your hand that can be challenged in court if the need arises for a mandamus case.
These days, almost all things are resolved with court cases with USCIS, and interfiling is not a good thing to rely on.
You will spend money again on filing a new EB2 i485 but will get peace of mind in return.
Should I Do Nothing & Wait in EB3 i485 Queue?
This EB2 to EB3 lane-changing seesaw will continue for coming years and you will get mental stress no matter what you do.
As they say, all events have a precedent in history, we can learn this from the same phenomena experienced by China in the last 6 years: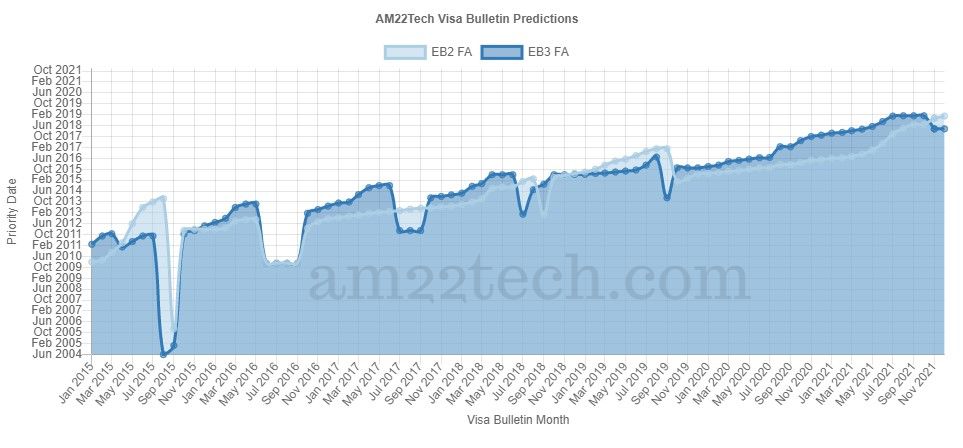 China has seen the same behavior which India is seeing now. If we go by this trend, the EB3 India will catch up sooner or later, and hence, you will get your Green card.
This means:
EB3 India will jump back and catch up with EB2 as soon as USCIS realizes that most people are in both queue.
EB2 India fast movement will stop at some point in 2022 and they may retrogress it as fast as they are moving it ahead.
FAQ
What happens to Child Age Protection While Filing EB2 i485 again?
The child age stays locked if it was protected using the currently pending i485. The new i485 should not affect the age protection.
Can I file multiple i485 using EB2 and EB3 i140?
Yes, you can file multiple i485.

You are not alone. Many people who have filed i485 using their EB3 downgrade will now file a second i485 using their EB2 i140 if their date is now current in the EB2 queue.
Will there be any Negative effect on EB3 i485 if I file a new EB2 i485?
There is no negative effect on your pending EB3 i485 application.

USCIS will simply process only one i485 and will ask you to withdraw the other one at the time of approving your green card.

Attorney Emily Neumann believes that USCIS will most probably use your fastest i485 to approve your green card. The chances are high that USCIS may reuse your biometrics, medicals, and security processing data from the oldest i485 application to save time.
Can I have both EB2 and EB3 EADs?
Yes, you can have two EADs approved based on separate EB2 and EB3 pending i485 applications.

You can use any one of them based on your choice.