How to file H4 EAD, Documents, Form i765 (New / Renewal Process)
File H4 EAD yourself with I-765 form, document checklist. Fees $410. Renew 180 days before expiry. H1B primary I797 receipt required. Processing time 2-7 month.
AM22Tech Team
Updated 1 Mar, 23
H4 EAD allows H4 visa holders to work legally in the US without any employer or location restrictions.
Check if you are eligible to apply for H4 EAD.
Documents for H4 EAD Application
#1 H4-EAD Fees Check / Credit Card
H4 EAD fees check for $410 payable to the 'U.S. Department of Homeland Security'. Short forms like USCIS are not allowed on personal or cashier or money orders.
Personal check from your checking or savings account in Bank of America, Chase, etc. is allowed. A certified check is not required.
EAD fees can be paid by credit card too.
Do not add biometric fees to the H4 EAD check. Calculate the current USCIS H4 EAD fee.
Biometrics is only required for H4 extension and not H4 EAD. If you send the wrong fee, USCIS will reject your application and send it back.
#2 Photo
Two identical 2×2 inch photographs clicked within the last 30 days are required for the H4 EAD application.
Write your name and i94 number (OR SSN OR Alien registration number) on the back of the photograph with a light gray colored pencil.
The admission record number on H4's i94 fetched from the CBP site is what should be written on the back of each photo.
Do not send an old photo with the I-765 application as USCIS will send RFE to submit new photos. This will increase your H4 EAD processing time.
#3 How to file H4 EAD using Form I-765
Download and fill USCIS i765 form. You can also use our app to fill out the form. The app validates and checks all form fields to make sure you do not make any mistakes.
You can use this app to fill the form, validate all and make sure the form is not rejected or an RFE is sent by USCIS:
Open App in new Window
#4 H4 Status Proof
Copy of H-4 visa holder's most recent I-797 Approval. If an H4 extension has been approved recently, use the extension approval. OR
Most recent H4 i-94 copy. If an H4 extension were approved recently, the new i94 would be attached to your H4 extension approval (i797) notice OR
A Copy of the pending H4 extension if it has not reached any result yet.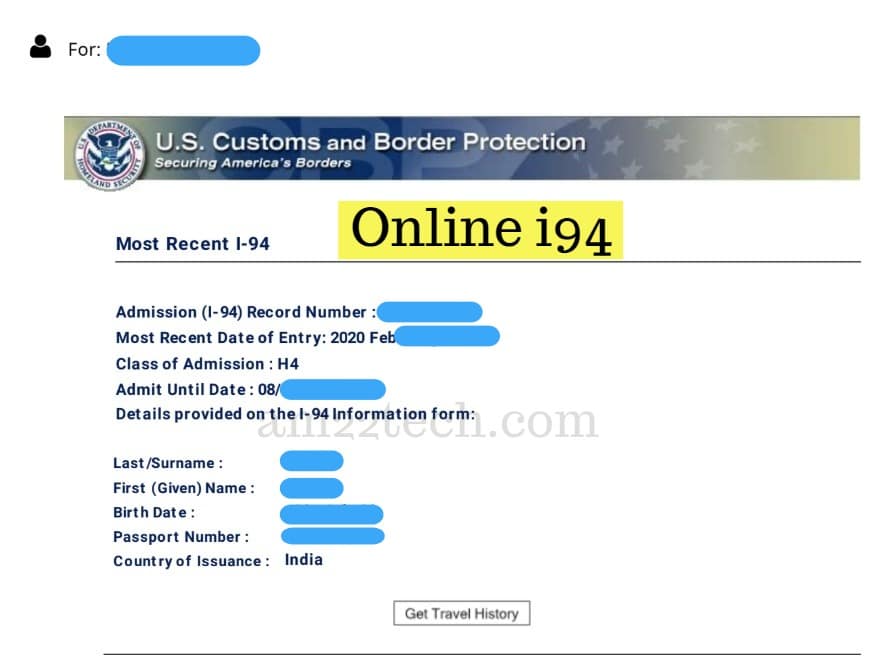 #5 Government-issued Photo ID Document
Copy of Passport's front (with Photo) and back pages (with address) OR
Copy of USA H4 Visa stamp page from the Passport OR
A copy of your last EAD – Both front and back (if any) OR
A birth certificate with a photo ID. For example, an Indian (or Chinese) birth certificate will work only if it has a photograph. OR
Any other national identity document with a photo. US State ID or Driving License is NOT acceptable.
#6 H4's Relationship with H-1B
A copy of your marriage certificate in English is required to prove the H4 dependent's relationship to primary H1B.
#7 H4 EAD Eligibility Proof
Primary H1B spouse's I-140 i797c approval notice is required to prove H4 EAD eligibility.
If your employer has not shared the I-140 approval copy with you, use the USCIS FOIA request to get I-140 details.
#8 Current H4-EAD copy for Renewal
An existing EAD copy is required only if you already have H4 EAD and you are applying for renewal or extension.
Only a black color ink pen is allowed as USCIS uses computer scanning to read forms.
Do NOT staple the documents. Use a paper clip to bind them together.
#9 Form G1145 (Optional but recommended)
Use form G1145 to let USCIS send you an SMS or an email once they receive your application. Attach this form at top of the EAD application package.
How to fill H4 EAD form
Concurrent Filing – H1B, H4, H4 EAD
If you are filing H1B, H4, and H4 EAD applications concurrently at the same time in the same package, you can write this in question 29 on form i765:
"Filed Concurrently" OR
Leave Blank OR
Write the current approved H1B receipt number
All three options have been tried and tested and all of them work fine. Our recommendation is to write "Filed concurrently" in Q29 or use our app and it will handle all text automatically.
Don't worry about the limited space to write it. You can just write with free handwriting.
H4-EAD Renewal Documents
The document list is the same for H4-EAD renewal or extension as for the new H4-EAD application mentioned above.
It is possible that the start date for the H4 EAD extension is in the future.
Example,
If your H4 expires in Sep, and you applied for renewal in Mar, of the same year, it is possible that your extended H4's start date is Sep instead of March.
It is on USCIS to give a current start date or future one (that correlates with your current H4's expiry date).
For the sake of filling up the i-765 form, we would consider the most recent H4 approval irrespective of its start date.
Based on it, your i94 number and primary H1B i797 approval receipt number will be decided while filing the i765.
Apply SSN with EAD
If you do not currently have SSN, select 'No' on Q 13.a. and then select 'Yes' on Q 14 and Q 15.
You will have to fill Q 16.a., 16.b. with your (H4's) father and mother's name to get an SSN card.
Your SSN card will be automatically generated after your EAD is approved within 3-4 weeks and mailed by USPS.
FAQ
What is H4 EAD Processing Time?
The current H4 EAD processing time is 2 to 7 months. It changes every month with each USCIS service center. 
What is the H4 EAD eligibility Category?
H4 EAD Eligibility category code is C(26).
How Much Time Does It Take To get EAD Card After 'new Card is Being Produced' Status?
You will receive your EAD card within 1-7 working days after New Card is Being Produced case status.
Which Receipt Number to Write in Question 29 on H4 EAD form?
Write H1B primary's most recent I-797 receipt number on the H4 EAD application form I-765 question 29.

This is not the I-140 approval receipt number.
Which i94 Number Should Be Written On H4 EAD form?
You should write an i94 number from the most recent H4 approval (i797 form) on the H4 EAD application form Question 21a.

Use this start date without any issues even if it is in the future.
What is the Reason for Applying for H4 EAD?
Choose option 1.a. for Question 1 on the H4 EAD form if you are applying for EAD for the first time.

For H4-EAD renewal applications, choose the renewal option as 1. c.
If you had any kind of EAD before (like L2-EAD), then you can consider H4 EAD as a new EAD.
When Can We Apply for H4 EAD Renewal?
You can apply for H4 EAD renewal 180 days before the current EAD card expiry.

USCIS allows us to file H4 EAD with H1B Amendment and H1B transfer applications even if the current card is valid for more than 180 days.
What is the Place of Last Arrival in the US on Form I-765?
You should write the name of the Airport or border that you used to enter the US.

For some people, this airport might be a non-US airport like Abu Dhabi where they complete the US immigration process at Abu Dhabi airport itself.

I would suggest writing either the "Port of Entry/Exit" as "MAA – ABU DHABI INTL" or the name of the US airport where you landed first.

For example, if you landed at Washington Airport after completing the immigration process at Abu Dhabi airport, your i94 record will show the "MAA – ABU DHABI INTL" as the port of entry.

You can then either write "Washington Airport" or "MAA – ABU DHABI INTL".
What is Spouse Eligibility Degree On Form I-765 for H4 EAD?
You can write 'N/A' or leave it blank for H4 EAD applications.
Can I file H4 EAD while H4 Extension is Pending?
Can H4 EAD Work if Current Card Expired and Extension Is Pending?
H4 EAD can work if the current card has expired and the H4 i94 is valid under the new USCIS automatic extension rule.
Can H4 EAD Start a Business?
H4 EAD allows you to open a business with no restrictions.

Many H1B spouses become real estate agents or start buying rental properties in the USA.
What address should I Mail the H4 EAD Application to?
Check the USCIS address to mail the H4 EAD application using H1B's receipt number.

The first three letters of the H1B application number IOE, EAC, LIN, SRC, and WAC decide the mailing address.