H4 Visa Interview Blue Form 221g – Incomplete Indian Marriage
H4 visa interview before full & final Indian marriage ceremony can result in form 221g denial. Visa officer asking for authentic photo album with relatives.
AM22Tech Team
Updated 9 Nov, 20
US visa officers have started asking about your marriage ceremony in H4 visa interview to check if full wedding has been conducted. They are looking for authentic pictures with your relatives and friends from your public marriage function.
You should be very careful as U.S. Consulates consider partial marriage ceremony as fraud, misrepresentation and a serious offence of human smuggling. This can result in permanent ban to enter US.
What is Incomplete Indian Marriage?
If you just did a small marriage function like a ring ceremony and plan to complete the final marriage according to Hindu marriage act 1955 of India after H4 visa stamping, your marriage will be considered an incomplete marriage.
The visa officer may consider your marriage as partial even if you register under Indian law and procure a legal marriage certificate from the local government authority unless the full ceremony has been conducted.
Visa office expects you to perform all the rituals as are NORMALLY expected like 7 rounds of sacred fire (7 Phere) etc. to complete the marriage. He may ask you questions to check the validity of the marriage.
In this case reported on our whatsApp group 3, visa officer called an Indian lady from same caste to validate the marriage ceremony pictures: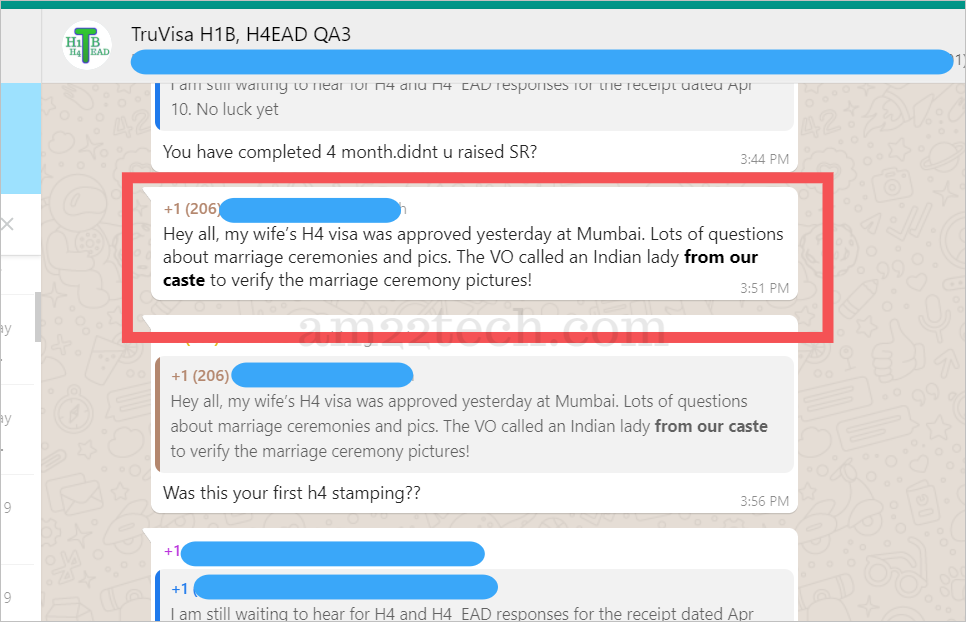 US Visa officers have been trained to understand the Indian marriage culture and can smell fraud with ease. Since the marriage certificate can be easily fabricated in India with bribe, US consulate relies more on real marriage photos and other such proofs in addition to marriage certificate.
H4 Blue Form 221g for New Marriage
You have high chance of getting a H4 form 221g if you have first H4 stamping in cases:
Half marriage ceremony completed – Applying H4 stamp before full fledged marriage is completed.
Applying H4 visa stamp immediately after marriage.
Going for H4 stamp with only registered marriage and no public function.
Example:
The future husband is working in US on H1B visa. He plans to visit India for 3 weeks to get married with Indian girl. You plan to do a small ceremony at home and exchange wedding rings. Then, you register the marriage and get a government signed marriage certification.
You now attend the H4 visa interview in second week along with H1B primary. The full marriage ceremony with all relatives, friends and others is planned after H4 visa interview.
There is a good chance that your marriage will be seen with suspicion of alien trafficking for money. You may be issued a blue form 221g to submit your marriage photo album with photos with your relatives attending the marriage.
See this recent case blue form 221g for H4 case reported on our forum exactly same as the example that i have talked about: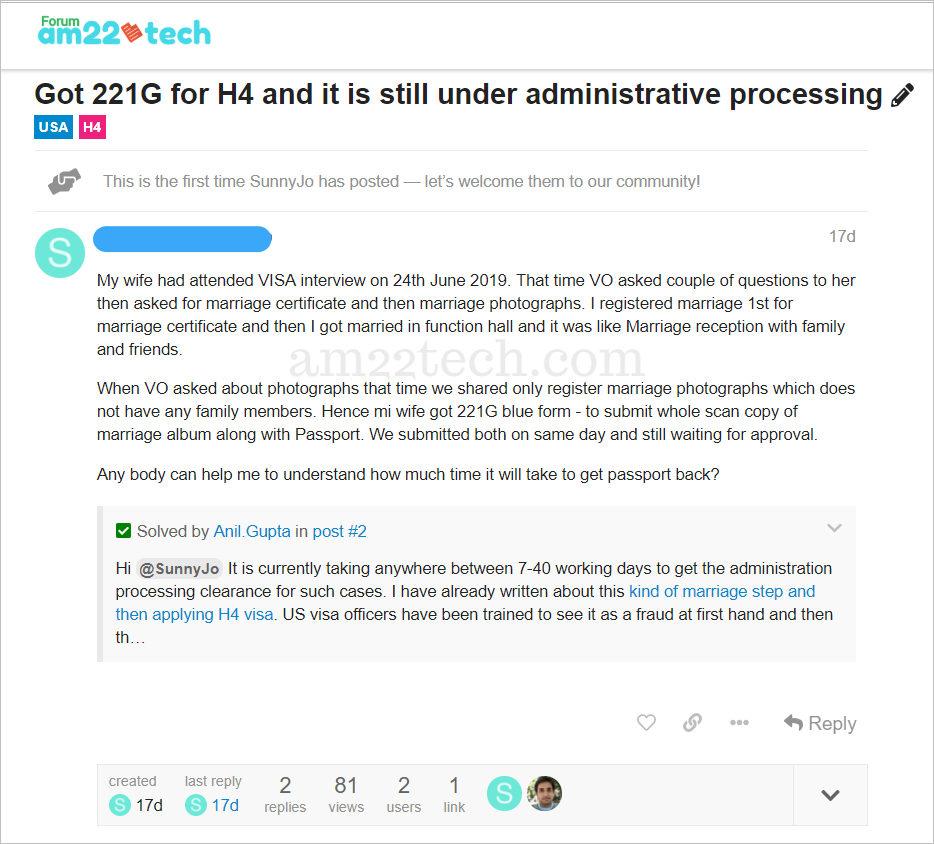 Another similar case reported on our WhatsApp Group: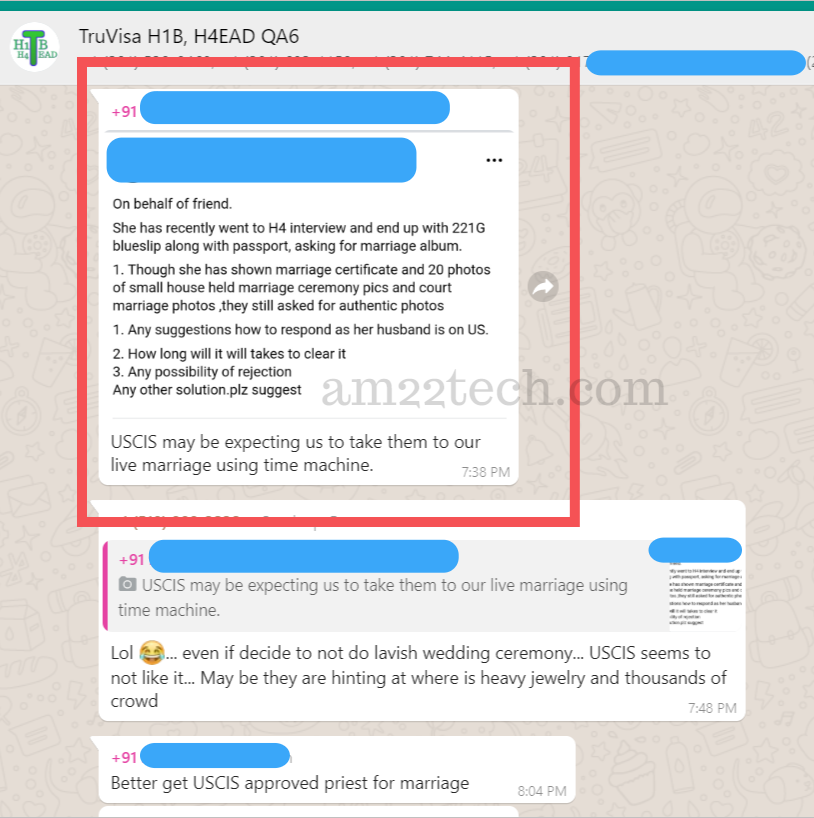 All this was normal and acceptable earlier but with the current level of security, US embassy is leaving no stone un-turned to check the legitimacy of marriages.
Example Cases
Another case on our forum where the H4 visa was stamped and then it was explicitly revoked by US embassy within 30 days with the reason that new information was available. The reason for revocation is not clear but it was the quick marriage and then H4 visa application in India that may have sparked a doubt.
One more case reported from Mumbai consulate where the visa officer only asked for Marriage certificate in H1B + H4 visa stamping. Visa officer had doubt on marriage and issued blue form 221g.
Can Form 221g be Issued for H4 Visa Stamping?
Yes, form 221g can be issued to submit marriage photos and other documents to prove your marriage as per your religious trends.
Can we take H4 visa Appointment before Marriage?
You can fill DS160 and take H4 visa appointment before the real marriage is completed but make sure that you use the correct marriage date.
Can Marriage ceremony date and Registration date be different?
Real marriage ceremony date and date on marriage registration should be same. US visa officer will issue a blue form 221g if you attend h4 visa interview before your real marriage ceremony.