S386 Voting in Senate (with New Deal – Not passed)
S386, HR1044 News - Mike Lee, Illinois Senator Dick Durbin debate continue in Senate. New deal available and chances of passing are better with a fair deal.

By Am22tech
Updated 5 Aug, 20
Update Aug 5, 2020: S386 news today – A new S386 deal was leaked and UC voting was attempted on Aug 5 but this time, a senator from Florida has blocked it!
Florida senator wants to add his own amendments to add a reservation based on the language they speak specifically from Taiwan and other such countries.
Lee did not agree to add a reservation based on the language they speak as it does not make sense to add another discrimination when we are trying to remove 'country of birth' limits.
It does appear like a race between democrats and republicans to claim the vote points in election year given that president Trump is trying to bring merit-based immigration soon.
Florida senator did say that he spoke to White house about S386 effects. He confirmed that they communicated to him that the White House needs more time to understand the effects on the US immigration system!
Interestingly, Durbin agreed to remove his hold today based on the new deal!
This means that focus is now shifted from Durbin to another Senator.
Durbin still kept iterating his own demand for increasing the total number of Green cards. If we think straight, it does seem that someone is intentionally playing the game by asking others to block the bill.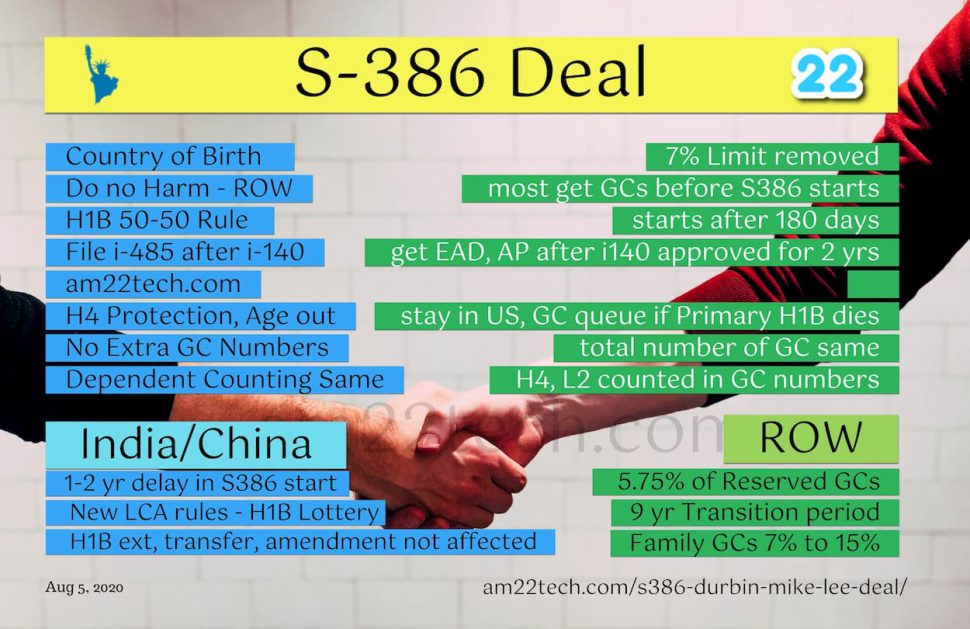 Senate Recess
The Senate will now go into recess from Aug 10 to Sep 7.
This means that S386 will probably not be back for any new voting attempt until September.
The chances are high that it has been delayed until elections as the current hold by Rick Scott seems to be backed by White House.
The S386 bill will expire in the new Senate that will start in Jan 2021. This means that everything will have to be restarted and the bill will have to be reintroduced with a new number unless it can pass before expiring.
S386 Journey
A similar bill HR1044 has already been passed by House but it has not seen traction in Senate.
S386 is quite similar to HR1044 (which is a new version of HR 392) but the passing of S386 in the senate does not mean that house approval can be skipped.
S386 will need approval from House after it has passed Senate.
How to Help S386
We cover S386 events like rallies, protests, and other ways that various organizations are trying to help remove the country based green card discrimination.
Two voluntary organizations are actively working on spreading positive information about removing Green card country limits.
#1 Immigration Voice
TV Ads: Immigration Voice has started airing TV commercials on channels like CNN highlighting H4 Aging out issues, dependent's self deporting in case of primary H1B's death.
Donation: They are looking for volunteers to contribute monthly to their advertising budget. If you can, you should help and can donate here.
Calling Durbin Racist: They have taken a hard stand against Dick Durbin and have created a website that calls him racist. We do not agree with their idea of calling someone racist and hence have not shared the site link here.
#2 Immigration Forum
Talking to Dick Durbin Staff: Started with the name Illinois immigration forum after breaking off from Immigration voice, this non-profit organization is talking to Dick Durbin's staff to reach a common minimum ground.
Public Demonstrations: They do hold open demonstrations to gain public attention and try to show positive aspects of S386 which affects thousands of families.
CIS S386 analysis report
Earlier in March 2002, CIS published the S386 analysis report by Congressional Research Service which claims that S386 will not stop the growth of backlogs in the future.
This report describes:
The 10-year impact of eliminating the 7% per country ceiling on the first three employment-based immigration categories: EB1, EB2, and EB3.
S386 has the potential of eliminating the Indian & Chinese EB1, EB2, and EB3 backlog in 3, 17, and 7 years respectively if it is implemented in 2020.
The S386 may just help reduce the Green card wait times for Indian and Chinese nationals initially but it would create a backlog for other countries.
If there is no S386 law, CATO institute projects that this employment-based backlog will double by FY 2030 to 2 million as compared to the current 1 million.
Amendments in S386 – Deals
Several amendments have been introduced in S386 since it was first introduced.
With each new amendment, a reservation is being added for a certain section of immigrants diluting the real benefit of 'Green card country of birth' removal.
Feb 2020: Immigration Voice shared that Dick Durbin has requested further amendments required to bring other senators on board like extending the phase-out period from 3 years to 9 years.
Dick Durbin Deal: Mike Lee and Dick Durbin had reached an S386 deal earlier which added quite a number of safeguards for countries other than Indian and China.
Senator Rand Paul Agreement: Senator Paul had agreed to remove his hold on the S386 bill in 2019. His demand for a fixed quota of 5k green cards for Schedule-A jobs which includes Healthcare workers was added as an amendment.
Dick Durbin's own Relief Act: Illinois Senator Dick Durbin introduced his own RELIEF act. Durbin's unanimous consent voting attempt on Oct 16 for his S2603 RELIEF act was blocked as expected. it aims to increase the total number of green cards which is practically not possible.
Senator David Perdue Agreement: Earlier on Sep 19, 2019, Green card country limit removal did not pass the Senate as a new hold was placed by Georgia Senator with objections on the language in the bill. The language was edited to remove Perdue's hold on voting.
Chuck Grassley Amendment: Chuck had added several limitations on the H1B work visa program in lieu of removing his hold on S386. Higher wages, restrictions on hiring the foreign worker, and no work allowed on B1/B2 were some of his amendments.
Indian GC Priority Date Movement
The 150 year US green card wait times for tax-paying skilled immigrants from India and China will be reduced to 10 years if the bill becomes law.
As per my estimation,
The Indian green card EB1, EB2, and EB3 dates should get current up-to Sep 2014 immediately if the bill passes.
The rest of the PD dates after Sep 2014 will get current in the subsequent 4 years.
The PD dates from Sep 2014 to Sep 2016 should get current by Oct 2024 and so on.
Once the backlog of people waiting in the queue from 2009 till today is cleared, the new applicants with i140 approval from 2021 onward should expect to get Green card within a year as it happens for other countries today.
Opposition
There is widespread friction and opposition from other countries who are used to get green cards within 6 to 12 months at this time.
Iran's natives have been teaming up and have been quite vocal about the country limit removal in the recent past. They run their own campaigns on Twitter and banner advertising on trucks in major cities like Manhattan to catch media attention.
Chinese also oppose S386 leaving the Indians alone in the fight to remove country limit removals. They feel that they are better off getting cards slowly in the current world.
We hope that the law passes and makes the system fair for all countries irrespective of their size, skills, and color. The green card should be awarded on the first come first served basis rather than country of birth.
Trump has already geared up to make the idea of merit-based immigration a front runner topic for his election speeches.
Support – Apple CEO Tim Cook
After Durbin blocked S386, Apple CEO Tim Cook has tweeted in favor of Green card country based limits removal bill.
This is a welcome gesture and means a lot for the skilled immigrant community.
S386 Passing Process
Pass Senate – Currently pending
Pass House – Not reached House Yet.
President Signature: The final step after both Senate and House approval is President's sign. Once he signs, the 7% country of birth based GC limits will be removed.