S386 Passes Senate, Need House Approval (Starts Oct 1, 2022 if president signs)
S386 passed in Senate. Moves to House for Amendment approval. If passed without changes, will be active on Oct 1, 2022 after president's signature.

By Am22tech
Updated 3 Dec, 20
Update Dec 3, 2020: HR 1044/S386 has passed Senate on Dec 2, 2020, without any objections after Mike Lee attempted a unanimous consent voting.
The House bill status now shows 'passed Senate':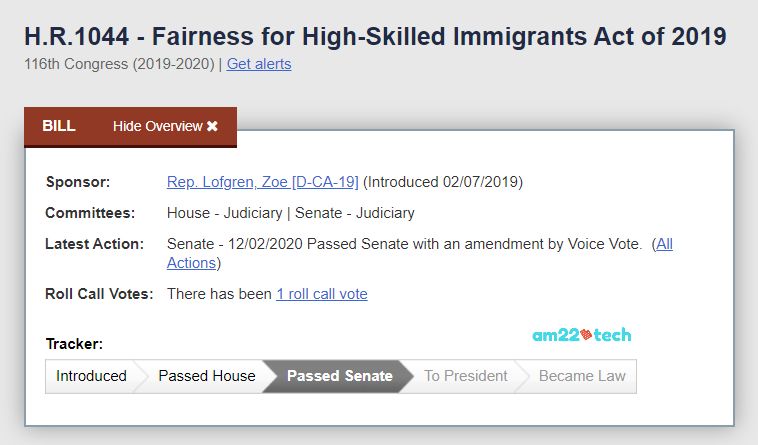 What next?
As they say, there are many slips between the cup and the lips, we still have a long way to go to see the light of the day without country-based discrimination.
Reconcile differences: House 1044 and Senate S386 have quite a number of differences. These need to be resolved.
House Vote for Reconciled Bill: Once the differences are reconciled, the new reconciled bill will need to be passed again in both House and Senate separately. This may again take months if not years.
Senate Re-Approval Not Required (If): If the House approves the HR 1044 with Senate Amendments as marked in this December 2020 deal, then it may not need Senate approval again. Chances are low for straight approval in the house as many might object to Senate amendments there. This is commonly known as ping-pong between the House and Senate if they keep changing and rejecting each other's amendments. We hope they will work in good faith and try to reconcile as fast as possible.
President Sign: The final step would be the President's signature. The chances of Joe Biden not signing the bill are low as Kamala Harris is one of the sponsors and a condition of a maximum of 50% GCs for work-based H1B visas has been added to the current deal.
Timeline
Do not celebrate yet as the above can again take months and years before the law takes effect. The congressman still needs to talk to each other and reach a common ground.
House and Senate should approve the bill by Dec 10 (last date for congress session at this time – new congress starts Jan 3) to make it a law in the current house/Senate term.
If not approved by Dec 10, the bill would need to be re-introduced as a new bill in Jan 2021 (with a new number in the new congress). It may then take more time to go through the same voting process in both houses even though the elected congressman is pretty much the same people.
Will Trump veto it or deny signing it? We do not expect Trump to not sign it as the republicans demand of not increasing the total number of green cards has been met.
There is no fixed timeline for this activity.
When will S386 implementation be started?
Once it is approved and signed by the President, it will be applicable starting Oct 1, 2022, at the earliest if it is passed before Oct 1, 2021.
Chances of HR1044, S386 Approval?
Zoe Lofgren, who introduced HR 1044 in House says that amendments do make it tough to convince house congress members to approve them but she will give it a try.
As per our opinion, the chances of approval of this bill to become law are still low and about 40%. Passing the bill by Senate after so many blocks and holds is a positive sign though. It has never reached this stage in the last 15 years.
The only thing that worries is the addition of numerous restrictions again on the distribution of GCs even after removing country based limit. The limit has not been shifted to 'work-based H1B visas' effectively.
The more clauses you add, the more people you hurt in the House or Senate.
Anyways, given the current political scenario in America, it does not seem that there was any other way to move forward. If this does become a law, then it would set up a great example of how big immigration changes can be achieved with persistence, negotiations, and small give and take.
No one can get all the cake.
New Deal
A new deal was reached to pass S386 which has placed some restrictions on the Green cards specifically for H1B workers and their families.
For years 1 to 9 after the bill enacted, the H1B visa holders can only get a maximum of 70% green cards.
Year 10 onwards, no more than 50% of the Green Cards can go to H1 visa holders & their dependents.
What's the Future Now?

#1 Family GC spillover to Employment Queue

An interesting point that people ask these days is the family-based green card spillover to employment-based queue which resulted in the rapid movement especially for EB2 and EB3 queues for both India and China recently.

The spillover happened primarily because of Trump's travel ban which Biden has vowed to take off in Jan 2021.

Democrats were never in favor of family-based GC spillover to the employment-based category even though it is the law. They did add a clause in the second COVID stimulus bill to stop this spillover but fortunately for high-skilled people, the bill did not pass the Senate.

We are expecting a good amount of at least 35k family green card spillover for the period Oct 2020 to Dec 2020 (travel ban period) to happen in Oct 2021 visa bulletin. But, given the past Democrat record, they will most probably not let this spill happen and hence the Indian EB queues may return to usual snail speed starting Oct 2021.

The current spillover has already happened for Oct 2020 to Sep 2021 fiscal year and this is not easy to revert.

#2 Democrats President – Status Quo

Democrat party win may give relief from sudden and abrupt changes to H1B and wage rules as Joe Biden will probably undo all the Trump's executive order.

But, the longer-term target of employment-based Green card which was possible with Trump's merit-based immigration overhaul will remain a distant dream.

Unless the country based GC limits are removed or the immigration system is changed to prefer merit-based workers, Indians have virtually no chance of seeing the green card in their current life.

Listen to this podcast where David J. Bier and Caleb O. Brown from CATO institute talk about the growing green card backlog with no solutions provided by congress whatsoever.



Open file in New Window > &nbsp&nbsp&nbsp&nbsp&nbsp



Our estimation says that people whose priority date is after 1 Oct 2016 in the EB2 queue will probably have a green card waiting time of at least 80 years.

#3 DACA vs DALCA kids

Biden has promised to direct Congress to pass a bill and provide a passage to become legal citizens for undocumented immigrants and their kids.

Note that they have very smartly kept the legal immigrants out of this.

Does it mean that Democrats probably do not consider employment-based immigrants their vote bank? It may be right as at the time of writing the DACA bill, democrats categorically asked to keep H4 kids (known as DALCA kids) out of the Act.

Most H4 kids will age out if their parents cannot get a green card before they turn 21.
How to Help S386
We cover S386 events like rallies, protests, and other ways that various organizations are trying to help remove the country based green card discrimination.
Two voluntary organizations are actively working on spreading positive information about removing Green card country limits.
#1 Immigration Voice
TV Ads: Immigration Voice has started airing TV commercials on channels like CNN highlighting H4 Aging out issues, dependent's self deporting in case of primary H1B's death.
Donation: They are looking for volunteers to contribute monthly to their advertising budget. If you can, you should help and can donate here.
Calling Durbin Racist: They have taken a hard stand against Dick Durbin and have created a website that calls him racist. We do not agree with their idea of calling someone racist and hence have not shared the site link here.
#2 Immigration Forum
Talking to Dick Durbin Staff: Started with the name Illinois immigration forum after breaking off from Immigration voice, this non-profit organization is talking to Dick Durbin's staff to reach a common minimum ground.
Public Demonstrations: They do hold open demonstrations to gain public attention and try to show positive aspects of S386 which affects thousands of families.
CIS S386 analysis report
Earlier in March 2002, CIS published the S386 analysis report by Congressional Research Service which claims that S386 will not stop the growth of backlogs in the future.
This report describes:
The 10-year impact of eliminating the 7% per country ceiling on the first three employment-based immigration categories: EB1, EB2, and EB3.
S386 has the potential of eliminating the Indian & Chinese EB1, EB2, and EB3 backlog in 3, 17, and 7 years respectively if it is implemented in 2020.
The S386 may just help reduce the Green card wait times for Indian and Chinese nationals initially but it would create a backlog for other countries.
If there is no S386 law, CATO institute projects that this employment-based backlog will double by FY 2030 to 2 million as compared to the current 1 million.
Amendments in S386 – Deals
Several amendments have been introduced in S386 since it was first introduced.
With each new amendment, a reservation is being added for a certain section of immigrants diluting the real benefit of 'Green card country of birth' removal.
Feb 2020: Immigration Voice shared that Dick Durbin has requested further amendments required to bring other senators on board like extending the phase-out period from 3 years to 9 years.
Dick Durbin Deal: Mike Lee and Dick Durbin had reached an S386 deal earlier which added quite a number of safeguards for countries other than Indian and China.
Senator Rand Paul Agreement: Senator Paul had agreed to remove his hold on the S386 bill in 2019. His demand for a fixed quota of 5k green cards for Schedule-A jobs which includes Healthcare workers was added as an amendment.
Dick Durbin's own Relief Act: Illinois Senator Dick Durbin introduced his own RELIEF act. Durbin's unanimous consent voting attempt on Oct 16 for his S2603 RELIEF act was blocked as expected. it aims to increase the total number of green cards which is practically not possible.
Senator David Perdue Agreement: Earlier on Sep 19, 2019, Green card country limit removal did not pass the Senate as a new hold was placed by Georgia Senator with objections on the language in the bill. The language was edited to remove Perdue's hold on voting.
Chuck Grassley Amendment: Chuck had added several limitations on the H1B work visa program in lieu of removing his hold on S386. Higher wages, restrictions on hiring the foreign worker, and no work allowed on B1/B2 were some of his amendments.
Indian GC Priority Date Movement
The 150 year US green card wait times for tax-paying skilled immigrants from India and China will be reduced to 10 years if the bill becomes law.
As per my estimation,
The Indian green card EB1, EB2, and EB3 dates should get current up-to Sep 2014 immediately if the bill passes.
The rest of the PD dates after Sep 2014 will get current in the subsequent 4 years.
The PD dates from Sep 2014 to Sep 2016 should get current by Oct 2024 and so on.
Once the backlog of people waiting in the queue from 2009 till today is cleared, the new applicants with i140 approval from 2021 onward should expect to get Green card within a year as it happens for other countries today.
Opposition
There is widespread friction and opposition from other countries who are used to get green cards within 6 to 12 months at this time.
Iran's natives have been teaming up and have been quite vocal about the country limit removal in the recent past. They run their own campaigns on Twitter and banner advertising on trucks in major cities like Manhattan to catch media attention.
Chinese also oppose S386 leaving the Indians alone in the fight to remove country limit removals. They feel that they are better off getting cards slowly in the current world.
We hope that the law passes and makes the system fair for all countries irrespective of their size, skills, and color. The green card should be awarded on the first come first served basis rather than country of birth.
Trump has already geared up to make the idea of merit-based immigration a front runner topic for his election speeches.
Support – Apple CEO Tim Cook
After Durbin blocked S386, Apple CEO Tim Cook has tweeted in favor of Green card country based limits removal bill.
This is a welcome gesture and means a lot for the skilled immigrant community.
S386 Passing Process
Pass Senate – Passed 1044 with Amendments. Needs to pass again with Reconciled differences.
Pass House – House 1044 passed earlier. S386 + 1044 differences need resolution and then vote again.
President Signature: The final step after both Senate and House approval is President's sign. Once he signs, the 7% country of birth based GC limits will be removed.