USCIS Medical Interfile with Barcode for Pending i485 (Send without RFE)
Create USCIS medical interfile letter for pending i-485 application. Send to service center without RFE at address printed on i-485 receipt notice.
AM22Tech Team
Updated 31 Mar, 23
You can send the i-693 medical form without RFE and request USCIS to interfile your sealed health record with the pending i-485 application.
This same interfile letter can be used as a cover letter to send with your medical RFE. Since it has your receipt barcode, USCIS can easily scan it and find your file quickly.
You can use our app to generate this medical RFE interfiling cover letter and keep it on top of the i693 package that a USCIS-approved Civil doctor would have given you.
You can also use this letter if you are sending medical records in response to USCIS RFE (Request for Evidence).
Generate Medical Interfile Letter
This article will discuss:
How to Create Medical Cover Letter
The app creates a PDF file that can be printed on a plain A4 size white or colored paper sheet. Some attorneys recommend using green or pink-colored paper just to highlight it.
It is okay even if you use plain white standard paper.
#Step 1
Log in to apps.am22tech.com and fill in your i-485 receipt details.
Note that the current status of your i485 application should be 'Pending'. You can check the current status on the USCIS case status website here by using your receipt number.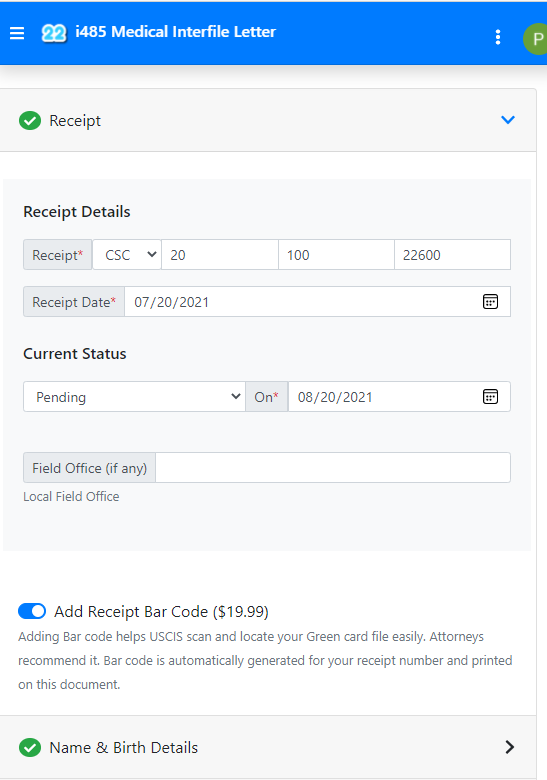 Printing Receipt Barcode
You can select the option of automatically generating and printing the receipt bar code on your medical interfile letter.
Adding a Barcode helps USCIS scan and locate your Green card file easily.
Attorneys recommend it to make it easier for USCIS.
Since this is a premium feature, you can pay for it and get it embedded automatically.
Sample Barcode printed on medical interfile letter:

#Step 2
Enter your Name and Birth Details. The name should match the one printed on your i-485 receipt.
If your name is different on your passport or has spelling mistakes, then we strongly suggest creating a one and the same person affidavit and sending it with your package.
#Step 3
Enter your A-number. This is required for USCIS to locate your i-485 file in their mail/storage room.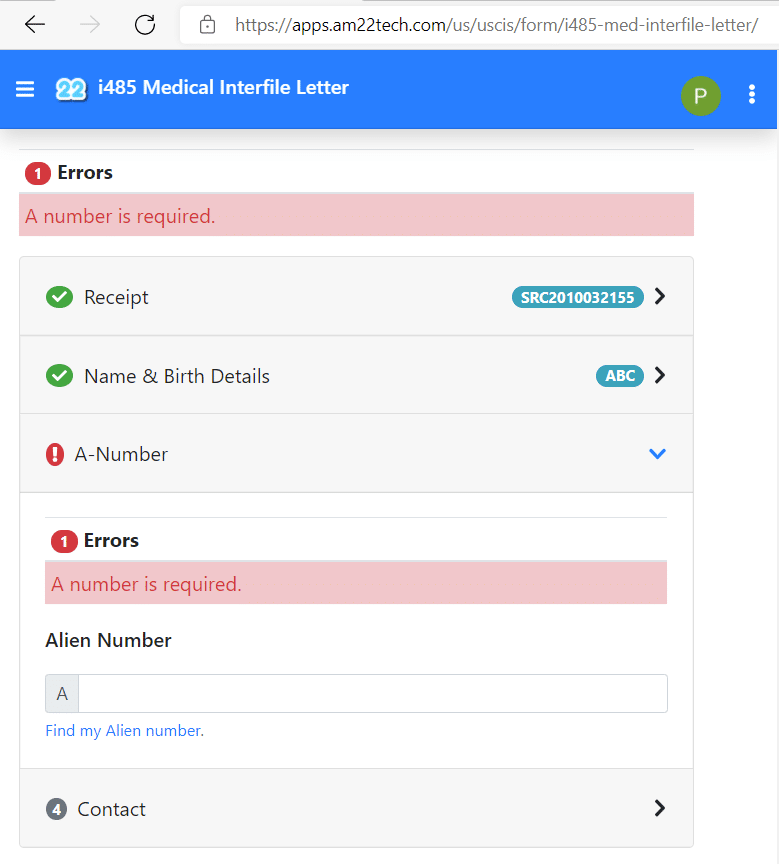 #Step 4
The next step is to enter your contact details. You should use your US mail or physical address here.
Also, make sure that you enter the correct email and phone number where you can be reached easily.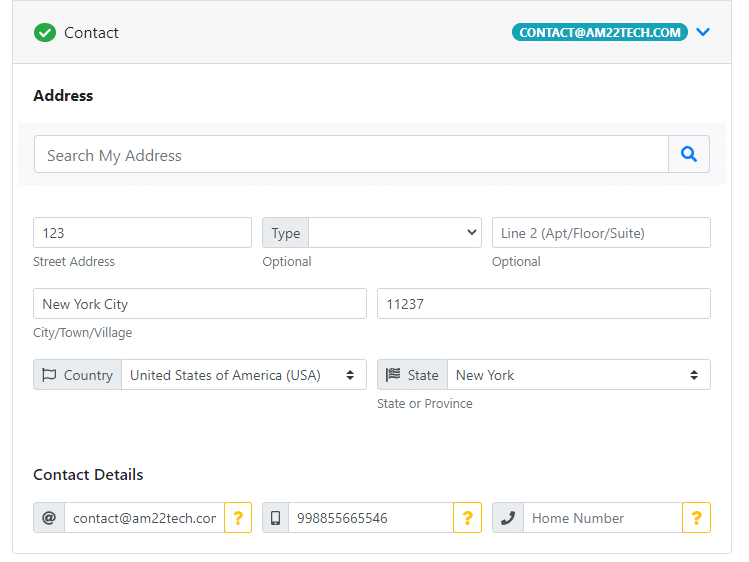 #Step 5 – Place and Date (Optional)
Add the date and place of sighing. You can leave it blank if you want to write the date later when you send it.
#Step 6 – Header & Footer (Optional)
An attorney or a company sending this letter can add their name in the header and custom information in the footer if required.
Example Header:

For people sending this letter on their own without using an attorney service, leave the header and footer fields blank. You do not need to print them.
Similarly, the footer can be printed at the bottom of the page:

Last Steps
Make the payment as required securely using the payment gateway. All your card information is securely processed by PCI-compliant (safety standards for online payments) Stripe/Paypal services and never shared with us.
The app will bring you back to the same screen after the payment.
Once you have entered all values and there are no errors, click the 'Fill Form & Email me" button.
The app will automatically create the PDF letter and send it to your registered email address within 1-5 minutes.
If you made a mistake in the document, do not worry. Contact us and we will help you fix the error and regenerate the letter without paying again.
Your chances of getting ahead in the i485 queue increase if USCIS accepts your medical as it saves time by cutting down all the time consumed by medical RFE.
Interfiling Risks vs Benefits
Please note that there is no official medical interfiling process designed or published by USCIS.
The interfiling simply means that you send the documents as per your wish and then request USCIS to add them to your file. All this is done without USCIS requesting these documents through the official process of RFE (request for evidence).
Since it is an unsolicited request, USCIS may or may not add these documents to your file.
Many people have seen success with sending the i485 medicals without RFE but there is no guarantee.
Also, your attorney may or may not agree to send it without RFE. So, it is entirely your choice. You can send the medical interfile letter directly yourself without asking your attorney to do it.
Benefits of interfiling
There is a 50% chance that your interfiled medical application will end up in your green card file at the USCIS service center.
Now, a 50% chance is a very good chance given that there are thousands of applications waiting to receive medical RFE.
If your interfile request is successful, then your file has a better chance of
Getting ahead in the queue even though your PD date or the i485 receipt maybe after someone who has an earlier PD date.
The USCIS officer working on your case may not issue medical RFE at all if they see your interfiled medical in your file. This will easily save about 30 days of processing time on your case.
Risks of interfiling
There is virtually no risk in sending the i693 form without an RFE except that you may lose the doctor's fee if USCIS does not add it to your file.
The Doctor usually charges about $350 per application and you stand to lose it. We know that most Indians will happily take this risk even if it gives them a slight chance to get ahead in line.
Your pending i485 application will not see any adverse effect simply because you tried to interfile.
USCIS will issue the medical RFE. In this case, you will have to redo the medical and send it with an RFE letter.
Our Suggestion
Send the sealed medical letter along with the cover letter and the i485 receipt bar code.
There is nothing to lose here. Just try every possible option to help move your application ahead in the queue and get a green card faster. You may have waited for a decade for your Green card. Do not leave any stone unturned to push your application forward.
We understand that this effort may go to waste but think of the situation where it may get accepted. Your application will certainly save time and may get approved earlier than others.
60-day rule
On Mar 31, 2023 – USCIS removed the 60-day rule of doctor signature. This means that i693 will be accepted even if the doctor signed it more than 60 days ago.
Earlier, the i693 form was considered valid only if the doctor had signed it within 60 days of submitting it to USCIS. There is no such requirement now after 31 Mar 2023.
Interfiling Address
You should ideally send the medical interfile package to the address printed on your i485 receipt notice. The service center address will be mentioned in the bottom left corner of the i-485 receipt notice.
Sending to USCIS Field Office?
You can also send it to the USCIS field office if your green card file has been transferred there. You should confirm this by first checking with USCIS Emma chat.
How to Get Your File's Field Office Location?
To ask for the current location of your Green card file from Emma's agent, follow these steps:
Visit uscis.gov and click the top right "Ask Emma" button to start chatting with Emma's agent.
Once the chat box is open, type "representative".
When you see the list of options, click "case status".
Click "connect to live chat" and enter your i-485 receipt number.
When prompted for your request, type "location of file".
At this time, you should be connected to a live agent.
Ask them "I would like to know where my I-485 file is right now"? The agent should provide the name of a service center or local field office.
Once you know the field office, ask them if they have the office's address. If they give it, use it to send your medical interfile letter. If they can't give the address, you can search it on the USCIS website by field office name or search on Google.
FAQ
Which USCIS center should we send the Medical Interfile Letter to?
You should send the medical interfile letter to the USCIS service center address that's printed on the left bottom corner of your i-485 application receipt notice.

The receipt notice is usually called form i-797C (notice of action).
Will USCIS send any receipts after getting the Interfile letter?
USCIS usually does not send any receipt or acknowledgment for interfiling letters.

They send receipts when they have requested the documents by way of issuing RFEs.
Can I use the interfile letter like the cover letter to send with my Medical RFE?
Yes, you can use the same interfile letter as a cover letter for your medical RFE response.

It certainly helps USCIS since you are adding your i485 receipt bar code.